Warning: Undefined variable $blocks in /customers/c/9/8/wpin4.1prod.one/httpd.www/landing-v2/wp-content/themes/onecom-landing-page-v2/functions.php on line 1431 Warning: Trying to access array offset on value of type null in /customers/c/9/8/wpin4.1prod.one/httpd.www/landing-v2/wp-content/themes/onecom-landing-page-v2/functions.php on line 1431 Warning: Trying to access array offset on value of type null in /customers/c/9/8/wpin4.1prod.one/httpd.www/landing-v2/wp-content/themes/onecom-landing-page-v2/functions.php on line 1431 Deprecated: str_replace(): Passing null to parameter #3 ($subject) of type array|string is deprecated in /customers/c/9/8/wpin4.1prod.one/httpd.www/landing-v2/wp-content/themes/onecom-landing-page-v2/functions.php on line 1431 Warning: Undefined variable $blocks in /customers/c/9/8/wpin4.1prod.one/httpd.www/landing-v2/wp-content/themes/onecom-landing-page-v2/functions.php on line 1441 Warning: Trying to access array offset on value of type null in /customers/c/9/8/wpin4.1prod.one/httpd.www/landing-v2/wp-content/themes/onecom-landing-page-v2/functions.php on line 1441 Warning: Trying to access array offset on value of type null in /customers/c/9/8/wpin4.1prod.one/httpd.www/landing-v2/wp-content/themes/onecom-landing-page-v2/functions.php on line 1441 Deprecated: preg_match(): Passing null to parameter #2 ($subject) of type string is deprecated in /customers/c/9/8/wpin4.1prod.one/httpd.www/landing-v2/wp-content/themes/onecom-landing-page-v2/functions.php on line 1442 Warning: Undefined variable $blocks in /customers/c/9/8/wpin4.1prod.one/httpd.www/landing-v2/wp-content/themes/onecom-landing-page-v2/functions.php on line 1441 Warning: Trying to access array offset on value of type null in /customers/c/9/8/wpin4.1prod.one/httpd.www/landing-v2/wp-content/themes/onecom-landing-page-v2/functions.php on line 1441 Warning: Trying to access array offset on value of type null in /customers/c/9/8/wpin4.1prod.one/httpd.www/landing-v2/wp-content/themes/onecom-landing-page-v2/functions.php on line 1441 Deprecated: preg_match(): Passing null to parameter #2 ($subject) of type string is deprecated in /customers/c/9/8/wpin4.1prod.one/httpd.www/landing-v2/wp-content/themes/onecom-landing-page-v2/functions.php on line 1442 Warning: Undefined variable $blocks in /customers/c/9/8/wpin4.1prod.one/httpd.www/landing-v2/wp-content/themes/onecom-landing-page-v2/functions.php on line 1441 Warning: Trying to access array offset on value of type null in /customers/c/9/8/wpin4.1prod.one/httpd.www/landing-v2/wp-content/themes/onecom-landing-page-v2/functions.php on line 1441 Warning: Trying to access array offset on value of type null in /customers/c/9/8/wpin4.1prod.one/httpd.www/landing-v2/wp-content/themes/onecom-landing-page-v2/functions.php on line 1441 Deprecated: preg_match(): Passing null to parameter #2 ($subject) of type string is deprecated in /customers/c/9/8/wpin4.1prod.one/httpd.www/landing-v2/wp-content/themes/onecom-landing-page-v2/functions.php on line 1442 Warning: Undefined variable $blocks in /customers/c/9/8/wpin4.1prod.one/httpd.www/landing-v2/wp-content/themes/onecom-landing-page-v2/functions.php on line 1441 Warning: Trying to access array offset on value of type null in /customers/c/9/8/wpin4.1prod.one/httpd.www/landing-v2/wp-content/themes/onecom-landing-page-v2/functions.php on line 1441 Warning: Trying to access array offset on value of type null in /customers/c/9/8/wpin4.1prod.one/httpd.www/landing-v2/wp-content/themes/onecom-landing-page-v2/functions.php on line 1441 Deprecated: preg_match(): Passing null to parameter #2 ($subject) of type string is deprecated in /customers/c/9/8/wpin4.1prod.one/httpd.www/landing-v2/wp-content/themes/onecom-landing-page-v2/functions.php on line 1442 Warning: Undefined variable $blocks in /customers/c/9/8/wpin4.1prod.one/httpd.www/landing-v2/wp-content/themes/onecom-landing-page-v2/functions.php on line 1441 Warning: Trying to access array offset on value of type null in /customers/c/9/8/wpin4.1prod.one/httpd.www/landing-v2/wp-content/themes/onecom-landing-page-v2/functions.php on line 1441 Warning: Trying to access array offset on value of type null in /customers/c/9/8/wpin4.1prod.one/httpd.www/landing-v2/wp-content/themes/onecom-landing-page-v2/functions.php on line 1441 Deprecated: preg_match(): Passing null to parameter #2 ($subject) of type string is deprecated in /customers/c/9/8/wpin4.1prod.one/httpd.www/landing-v2/wp-content/themes/onecom-landing-page-v2/functions.php on line 1442 Warning: Undefined variable $blocks in /customers/c/9/8/wpin4.1prod.one/httpd.www/landing-v2/wp-content/themes/onecom-landing-page-v2/functions.php on line 1441 Warning: Trying to access array offset on value of type null in /customers/c/9/8/wpin4.1prod.one/httpd.www/landing-v2/wp-content/themes/onecom-landing-page-v2/functions.php on line 1441 Warning: Trying to access array offset on value of type null in /customers/c/9/8/wpin4.1prod.one/httpd.www/landing-v2/wp-content/themes/onecom-landing-page-v2/functions.php on line 1441 Deprecated: preg_match(): Passing null to parameter #2 ($subject) of type string is deprecated in /customers/c/9/8/wpin4.1prod.one/httpd.www/landing-v2/wp-content/themes/onecom-landing-page-v2/functions.php on line 1442 Warning: Undefined variable $blocks in /customers/c/9/8/wpin4.1prod.one/httpd.www/landing-v2/wp-content/themes/onecom-landing-page-v2/functions.php on line 1441 Warning: Trying to access array offset on value of type null in /customers/c/9/8/wpin4.1prod.one/httpd.www/landing-v2/wp-content/themes/onecom-landing-page-v2/functions.php on line 1441 Warning: Trying to access array offset on value of type null in /customers/c/9/8/wpin4.1prod.one/httpd.www/landing-v2/wp-content/themes/onecom-landing-page-v2/functions.php on line 1441 Deprecated: preg_match(): Passing null to parameter #2 ($subject) of type string is deprecated in /customers/c/9/8/wpin4.1prod.one/httpd.www/landing-v2/wp-content/themes/onecom-landing-page-v2/functions.php on line 1442 Warning: Undefined variable $blocks in /customers/c/9/8/wpin4.1prod.one/httpd.www/landing-v2/wp-content/themes/onecom-landing-page-v2/functions.php on line 1441 Warning: Trying to access array offset on value of type null in /customers/c/9/8/wpin4.1prod.one/httpd.www/landing-v2/wp-content/themes/onecom-landing-page-v2/functions.php on line 1441 Warning: Trying to access array offset on value of type null in /customers/c/9/8/wpin4.1prod.one/httpd.www/landing-v2/wp-content/themes/onecom-landing-page-v2/functions.php on line 1441 Deprecated: preg_match(): Passing null to parameter #2 ($subject) of type string is deprecated in /customers/c/9/8/wpin4.1prod.one/httpd.www/landing-v2/wp-content/themes/onecom-landing-page-v2/functions.php on line 1442 Warning: Undefined variable $blocks in /customers/c/9/8/wpin4.1prod.one/httpd.www/landing-v2/wp-content/themes/onecom-landing-page-v2/functions.php on line 1441 Warning: Trying to access array offset on value of type null in /customers/c/9/8/wpin4.1prod.one/httpd.www/landing-v2/wp-content/themes/onecom-landing-page-v2/functions.php on line 1441 Warning: Trying to access array offset on value of type null in /customers/c/9/8/wpin4.1prod.one/httpd.www/landing-v2/wp-content/themes/onecom-landing-page-v2/functions.php on line 1441 Deprecated: preg_match(): Passing null to parameter #2 ($subject) of type string is deprecated in /customers/c/9/8/wpin4.1prod.one/httpd.www/landing-v2/wp-content/themes/onecom-landing-page-v2/functions.php on line 1442 Warning: Undefined variable $blocks in /customers/c/9/8/wpin4.1prod.one/httpd.www/landing-v2/wp-content/themes/onecom-landing-page-v2/functions.php on line 1441 Warning: Trying to access array offset on value of type null in /customers/c/9/8/wpin4.1prod.one/httpd.www/landing-v2/wp-content/themes/onecom-landing-page-v2/functions.php on line 1441 Warning: Trying to access array offset on value of type null in /customers/c/9/8/wpin4.1prod.one/httpd.www/landing-v2/wp-content/themes/onecom-landing-page-v2/functions.php on line 1441 Deprecated: preg_match(): Passing null to parameter #2 ($subject) of type string is deprecated in /customers/c/9/8/wpin4.1prod.one/httpd.www/landing-v2/wp-content/themes/onecom-landing-page-v2/functions.php on line 1442 Warning: Undefined variable $blocks in /customers/c/9/8/wpin4.1prod.one/httpd.www/landing-v2/wp-content/themes/onecom-landing-page-v2/functions.php on line 1441 Warning: Trying to access array offset on value of type null in /customers/c/9/8/wpin4.1prod.one/httpd.www/landing-v2/wp-content/themes/onecom-landing-page-v2/functions.php on line 1441 Warning: Trying to access array offset on value of type null in /customers/c/9/8/wpin4.1prod.one/httpd.www/landing-v2/wp-content/themes/onecom-landing-page-v2/functions.php on line 1441 Deprecated: preg_match(): Passing null to parameter #2 ($subject) of type string is deprecated in /customers/c/9/8/wpin4.1prod.one/httpd.www/landing-v2/wp-content/themes/onecom-landing-page-v2/functions.php on line 1442 Warning: Undefined variable $blocks in /customers/c/9/8/wpin4.1prod.one/httpd.www/landing-v2/wp-content/themes/onecom-landing-page-v2/functions.php on line 1441 Warning: Trying to access array offset on value of type null in /customers/c/9/8/wpin4.1prod.one/httpd.www/landing-v2/wp-content/themes/onecom-landing-page-v2/functions.php on line 1441 Warning: Trying to access array offset on value of type null in /customers/c/9/8/wpin4.1prod.one/httpd.www/landing-v2/wp-content/themes/onecom-landing-page-v2/functions.php on line 1441 Deprecated: preg_match(): Passing null to parameter #2 ($subject) of type string is deprecated in /customers/c/9/8/wpin4.1prod.one/httpd.www/landing-v2/wp-content/themes/onecom-landing-page-v2/functions.php on line 1442 Warning: Undefined variable $blocks in /customers/c/9/8/wpin4.1prod.one/httpd.www/landing-v2/wp-content/themes/onecom-landing-page-v2/functions.php on line 1441 Warning: Trying to access array offset on value of type null in /customers/c/9/8/wpin4.1prod.one/httpd.www/landing-v2/wp-content/themes/onecom-landing-page-v2/functions.php on line 1441 Warning: Trying to access array offset on value of type null in /customers/c/9/8/wpin4.1prod.one/httpd.www/landing-v2/wp-content/themes/onecom-landing-page-v2/functions.php on line 1441 Deprecated: preg_match(): Passing null to parameter #2 ($subject) of type string is deprecated in /customers/c/9/8/wpin4.1prod.one/httpd.www/landing-v2/wp-content/themes/onecom-landing-page-v2/functions.php on line 1442 Warning: Undefined variable $blocks in /customers/c/9/8/wpin4.1prod.one/httpd.www/landing-v2/wp-content/themes/onecom-landing-page-v2/functions.php on line 1441 Warning: Trying to access array offset on value of type null in /customers/c/9/8/wpin4.1prod.one/httpd.www/landing-v2/wp-content/themes/onecom-landing-page-v2/functions.php on line 1441 Warning: Trying to access array offset on value of type null in /customers/c/9/8/wpin4.1prod.one/httpd.www/landing-v2/wp-content/themes/onecom-landing-page-v2/functions.php on line 1441 Deprecated: preg_match(): Passing null to parameter #2 ($subject) of type string is deprecated in /customers/c/9/8/wpin4.1prod.one/httpd.www/landing-v2/wp-content/themes/onecom-landing-page-v2/functions.php on line 1442 Warning: Undefined variable $blocks in /customers/c/9/8/wpin4.1prod.one/httpd.www/landing-v2/wp-content/themes/onecom-landing-page-v2/functions.php on line 1441 Warning: Trying to access array offset on value of type null in /customers/c/9/8/wpin4.1prod.one/httpd.www/landing-v2/wp-content/themes/onecom-landing-page-v2/functions.php on line 1441 Warning: Trying to access array offset on value of type null in /customers/c/9/8/wpin4.1prod.one/httpd.www/landing-v2/wp-content/themes/onecom-landing-page-v2/functions.php on line 1441 Deprecated: preg_match(): Passing null to parameter #2 ($subject) of type string is deprecated in /customers/c/9/8/wpin4.1prod.one/httpd.www/landing-v2/wp-content/themes/onecom-landing-page-v2/functions.php on line 1442
Anycast DNS
Find ud af, hvordan Anycast DNS kan gavne dig
Anycast er en netværksmetode, der gør det muligt for én IP-adresse at være koblet sammen med flere servere. Når en internetbruger fremsætter en anmodning (når du klikker på et link for at besøge en hjemmeside), bestemmer netværket, hvor din anmodning vil blive dirigeret hen baseret på routingprotokoller og tilgængeligheden af serverkapacitet. For at forenkle det yderligere, så betyder brugen af Anycast DNS, at enhver tilgængelig DNS-server kan svare på din anmodning. Som nævnt ovenfor er svaret baseret på protokoller og tilgængelighed men også lokation. Den nærmeste server til din placering vil svare på din anmodning. Anycast DNS har mange fordele, som vi dykker ned i og behandler i denne artikel.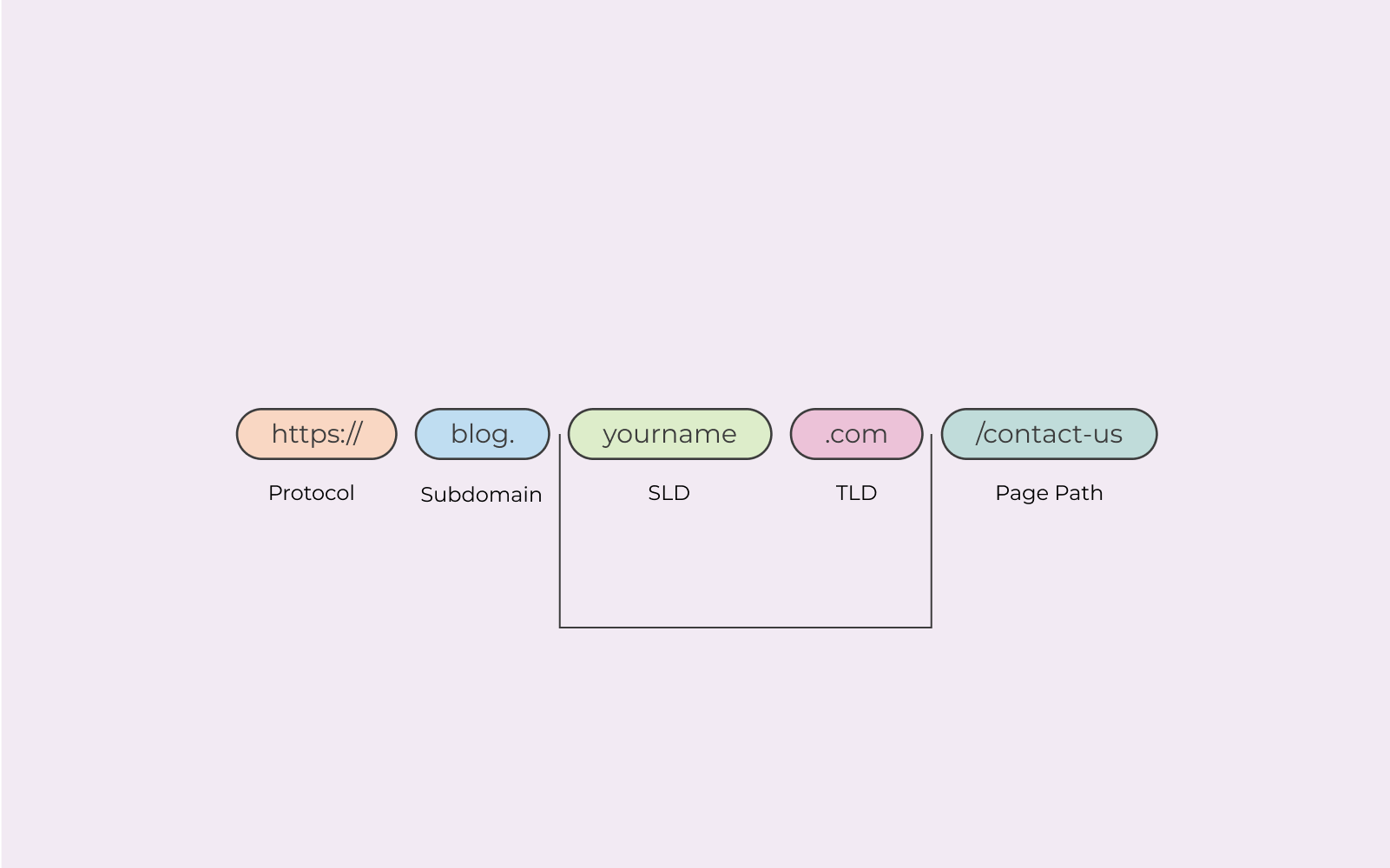 Hvorfor skiller Anycast DNS sig ud som noget særligt?
Normalt opretter en server eller en enhed forbindelse til internettet ved hjælp af en IP-adresse (en IP-adresse kan sammenlignes med en gadeadresse). Hver computerenhed og server skal have en IP-adresse for at kunne spores og være i stand til at oprette forbindelse til internettet.
Typisk er det 1+1, når det gælder koblingen mellem IP-adresser og internettet. Forbindelsen oprettes fra én enhed/server til netværket.
Det differentierende punkt ved Anycast DNS er, at det tillader flere enheder/servere, og altså ikke kun én, at oprette forbindelse til internettet ved hjælp af den samme IP-adresse. Med Anycast DNS benyttes altså princippet 1 + flere servere/enheder.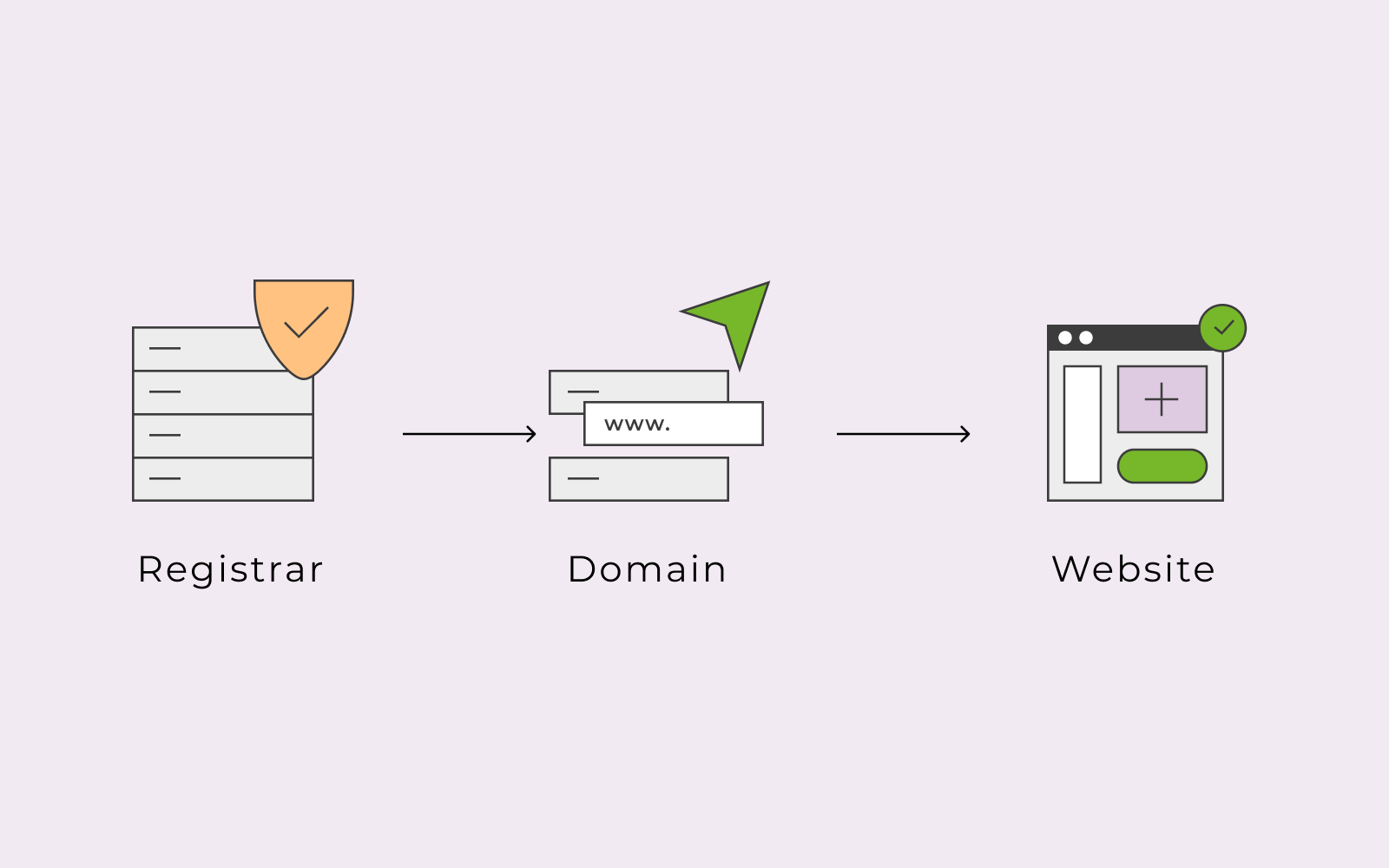 Hvordan virker Anycast DNS?
DNS, også kendt som Domain Name System, bruges til at oversætte domænenavne, for eksempel din hjemmesides navn, til en IP-adresse, så en computer kan læse adressen og finde frem til dig.
Når en DNS oversætter forskellige navne, omtales dette som resolving. Så hvis du hører eller læser om DNS-resolver, refererer det til servere, der arbejder med at oversætte et domænenavn til en talkode (IP-adresse).
Hver gang, at du vil besøge en hjemmeside, så sendes der en anmodning til en DNS-resolver, der derefter returnerer IP-adressen på det pågældende website. Vi indtaster f.eks. www.one.com, som serveren så vil oversætte det til den talkode, som gør dig i stand til at besøge hjemmesiden.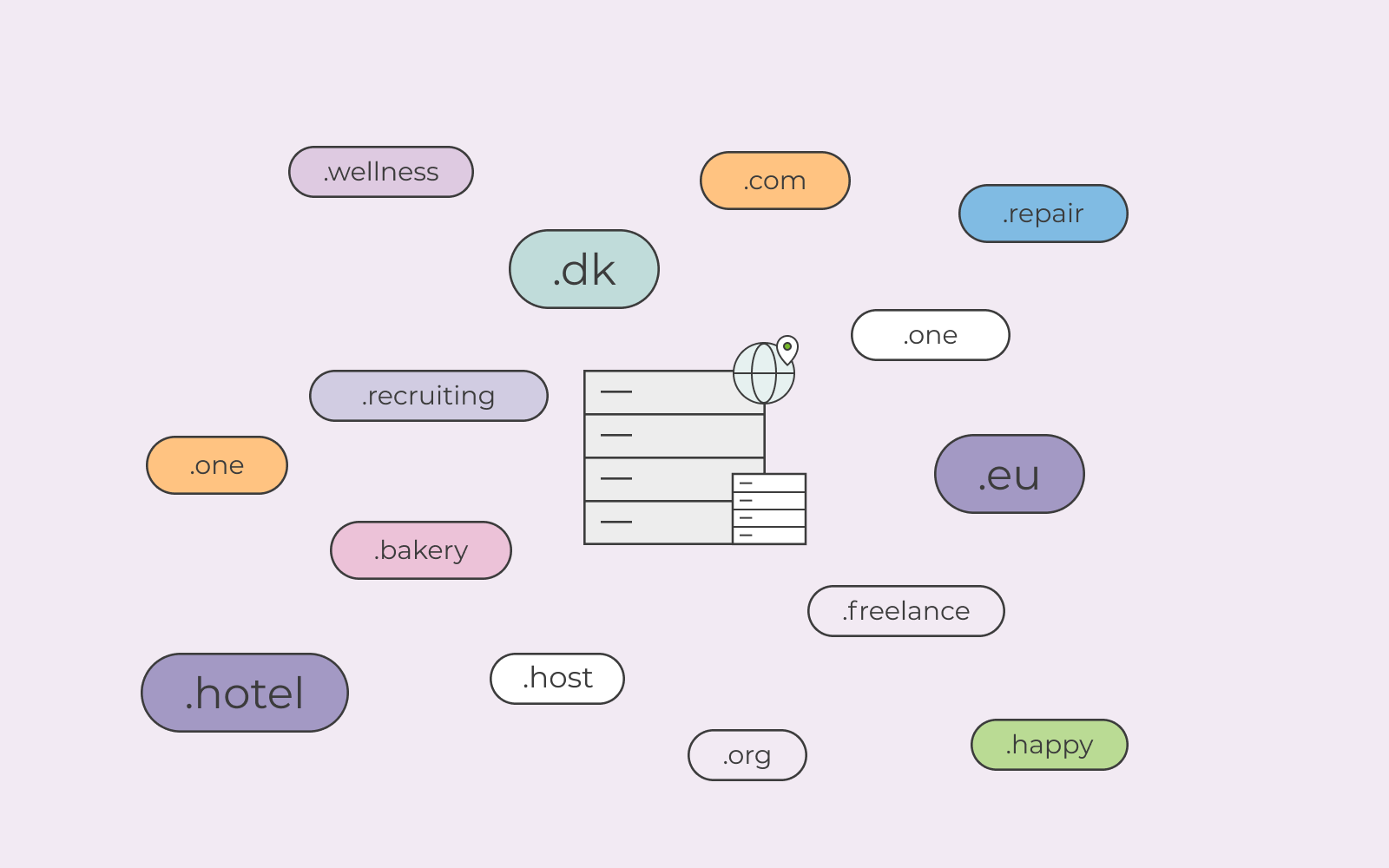 Hvad sker der, hvis jeg ikke har Anycast DNS?
Hvis du ikke bruger Anycast DNS, så vil det bremse processen med at omdanne et domænenavn til en IP-adresse. Du bruger højst sandsynligt unicast-routing, hvis ikke du bruger Anycast DNS. Unicast fungerer anderledes end Anycast. Unicast sender forespørgslen til én bestemt server, ikke til flere. Hvis resolveren efterfølgende er utilgængelig eller ikke fungerer på tidspunktet for anmodningen, så bliver klienten nødt til at finde en anden måde at løse opgaven på. Det gøres ved at sende forespørgsler til andre DNS-resolvere, men den proces vil altså være med til at påvirke tempoet.
Hvorfor bruge Anycast DNS?
Der er mange gode grunde til at bruge Anycast DNS. Nedenfor har vi beskrevet de tre væsentligste grunde til, hvorfor du bør bruge Anycast DNS.
Principperne for den måde, som Anycast DNS reagerer på en forespørgsel, er med til at reducere det tidsspænd, der er mellem, at du som bruger laver en anmodning, og til at serveren svarer på din anmodning. Det som kaldes for reaktionstiden, kan være et problem, fordi du højst sandsynligt vil have svar på din anmodning med det samme. Som brugere ønsker vi ganske enkelt ikke at vente på, at hjemmesiden indlæses; du vil have browseren til at indlæse siden på et splitsekund.
Anycast DNS løser derfor denne opgave bedst. Anycast DNS tillader DNS-løsningen at arbejde ultra hurtigt, fordi forespørgslen vil blive sendt til flere DNS-resolvere og ikke kun til én specifik server. Som det næste og sidste trin finder den altid den nærmeste DNS-resolver, som er tilgængelig.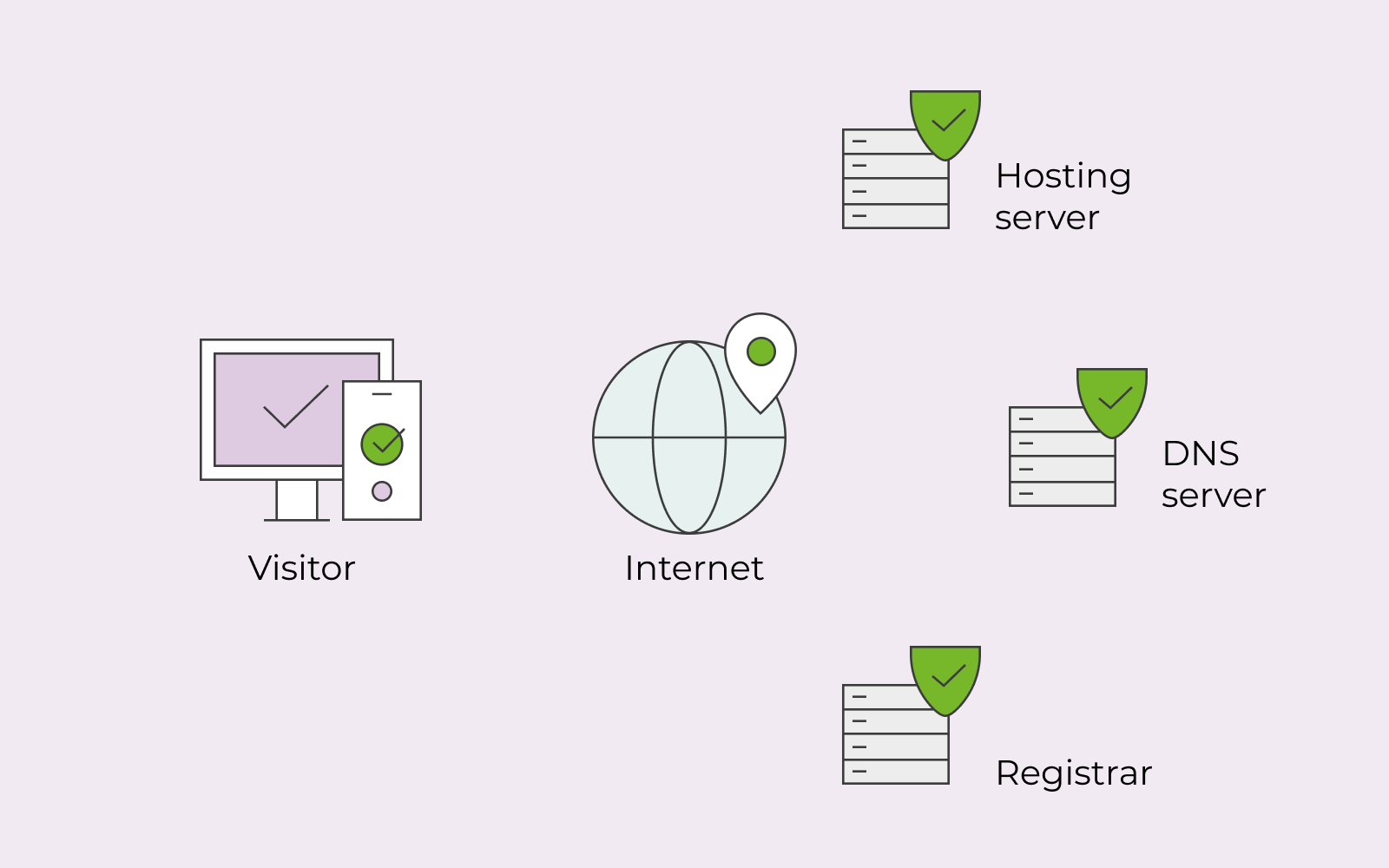 Anycast DNS forbedrer oppetiden for DNS-tjenesten. Hvis du ikke bruger Anycast DNS, er der risiko for, at en server ikke er tilgængelig, hvilket medfører, at forespørgslen skal løses på anden vis. Men bruger du Anycast DNS, er der en minimal risiko for, at det samme sker, da forespørgslen som allerede nævnt går til flere servere. Således vil tjenesten automatisk vælge en server, der er både tilgængelig og rent geografisk er tæt på den enhed, hvorfra forespørgslen kommer.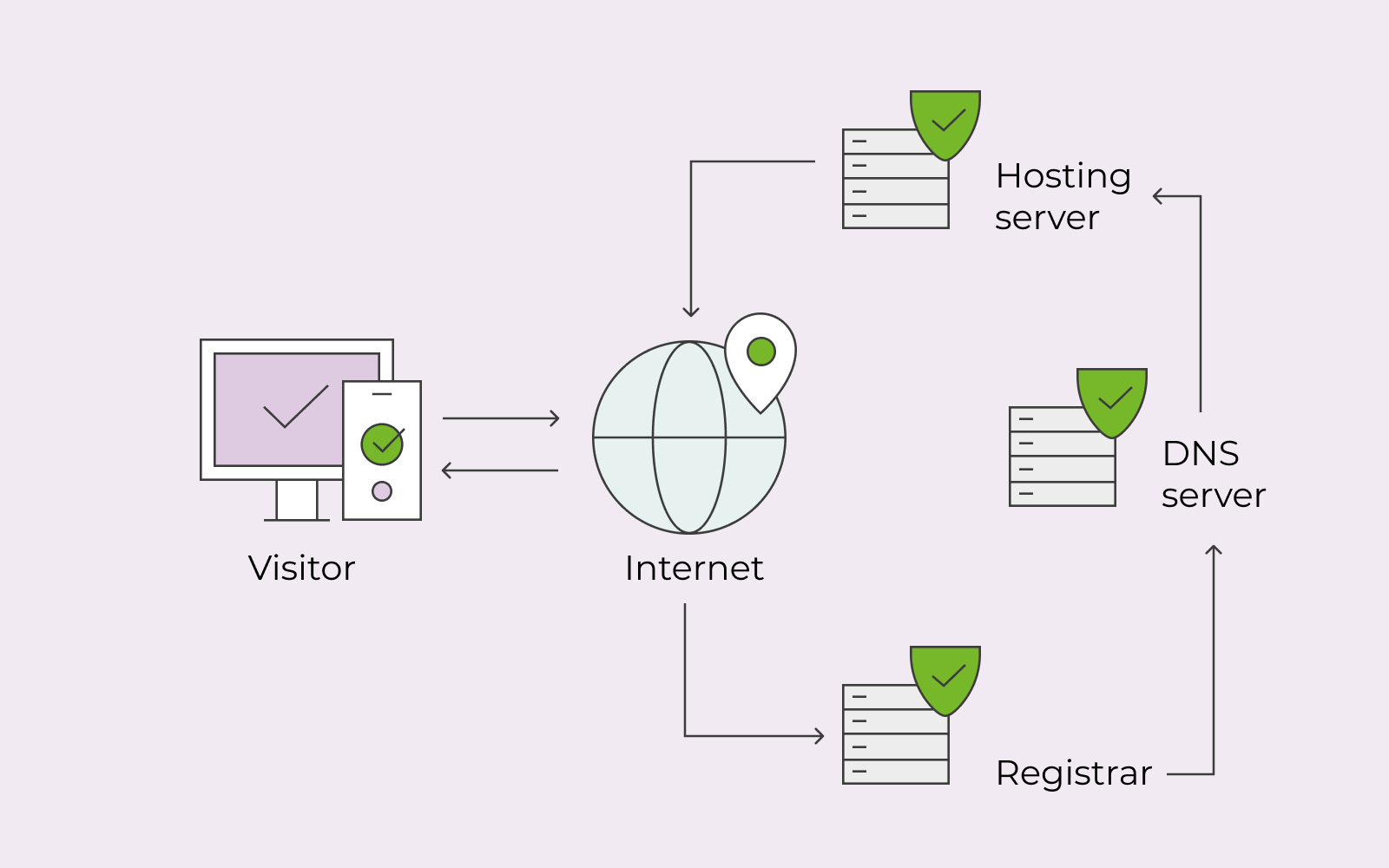 Anycast DNS vil samtidig også beskyttelse dig mod DDoS-angreb. DDoS-angreb retter sig mod DNS-resolvere. Angrebet kaldes DNS flood. Hackeren, eller den it-kriminelle, sender en vanvittig mængde DNS-forespørgsler afsted på samme tid, så hjemmesidens webresource bliver overbelastet. Det betyder, at serveren ikke kan svare på anmodninger fra reelle brugere.
Men Anycast beskytter dig mod et DDoS-angreb ved at sprede trafikken. I stedet for at bruge én specifik server, som nævnt ovenfor, så bruger DNS Anycast (in the english text the 'A' is missing in Anycast) flere servere, hvilket gør det svært for angriberne at nedlægge serverne. Derimod kan et DNS flood angreb sagtens overbelaste én server ved at sende et ubegrænset antal forespørgsler.