Deprecated: Creation of dynamic property WP_Term::$cat_ID is deprecated in /customers/c/9/8/wpin4.1prod.one/httpd.www/landing-v2/wp-includes/category.php on line 378 Deprecated: Creation of dynamic property WP_Term::$category_count is deprecated in /customers/c/9/8/wpin4.1prod.one/httpd.www/landing-v2/wp-includes/category.php on line 379 Deprecated: Creation of dynamic property WP_Term::$category_description is deprecated in /customers/c/9/8/wpin4.1prod.one/httpd.www/landing-v2/wp-includes/category.php on line 380 Deprecated: Creation of dynamic property WP_Term::$cat_name is deprecated in /customers/c/9/8/wpin4.1prod.one/httpd.www/landing-v2/wp-includes/category.php on line 381 Deprecated: Creation of dynamic property WP_Term::$category_nicename is deprecated in /customers/c/9/8/wpin4.1prod.one/httpd.www/landing-v2/wp-includes/category.php on line 382 Deprecated: Creation of dynamic property WP_Term::$category_parent is deprecated in /customers/c/9/8/wpin4.1prod.one/httpd.www/landing-v2/wp-includes/category.php on line 383 Warning: Undefined variable $blocks in /customers/c/9/8/wpin4.1prod.one/httpd.www/landing-v2/wp-content/themes/onecom-landing-page-v2/functions.php on line 1431 Warning: Trying to access array offset on value of type null in /customers/c/9/8/wpin4.1prod.one/httpd.www/landing-v2/wp-content/themes/onecom-landing-page-v2/functions.php on line 1431 Warning: Trying to access array offset on value of type null in /customers/c/9/8/wpin4.1prod.one/httpd.www/landing-v2/wp-content/themes/onecom-landing-page-v2/functions.php on line 1431 Deprecated: str_replace(): Passing null to parameter #3 ($subject) of type array|string is deprecated in /customers/c/9/8/wpin4.1prod.one/httpd.www/landing-v2/wp-content/themes/onecom-landing-page-v2/functions.php on line 1431 Deprecated: Creation of dynamic property WP_Term::$cat_ID is deprecated in /customers/c/9/8/wpin4.1prod.one/httpd.www/landing-v2/wp-includes/category.php on line 378 Deprecated: Creation of dynamic property WP_Term::$category_count is deprecated in /customers/c/9/8/wpin4.1prod.one/httpd.www/landing-v2/wp-includes/category.php on line 379 Deprecated: Creation of dynamic property WP_Term::$category_description is deprecated in /customers/c/9/8/wpin4.1prod.one/httpd.www/landing-v2/wp-includes/category.php on line 380 Deprecated: Creation of dynamic property WP_Term::$cat_name is deprecated in /customers/c/9/8/wpin4.1prod.one/httpd.www/landing-v2/wp-includes/category.php on line 381 Deprecated: Creation of dynamic property WP_Term::$category_nicename is deprecated in /customers/c/9/8/wpin4.1prod.one/httpd.www/landing-v2/wp-includes/category.php on line 382 Deprecated: Creation of dynamic property WP_Term::$category_parent is deprecated in /customers/c/9/8/wpin4.1prod.one/httpd.www/landing-v2/wp-includes/category.php on line 383 Deprecated: Creation of dynamic property WP_Term::$cat_ID is deprecated in /customers/c/9/8/wpin4.1prod.one/httpd.www/landing-v2/wp-includes/category.php on line 378 Deprecated: Creation of dynamic property WP_Term::$category_count is deprecated in /customers/c/9/8/wpin4.1prod.one/httpd.www/landing-v2/wp-includes/category.php on line 379 Deprecated: Creation of dynamic property WP_Term::$category_description is deprecated in /customers/c/9/8/wpin4.1prod.one/httpd.www/landing-v2/wp-includes/category.php on line 380 Deprecated: Creation of dynamic property WP_Term::$cat_name is deprecated in /customers/c/9/8/wpin4.1prod.one/httpd.www/landing-v2/wp-includes/category.php on line 381 Deprecated: Creation of dynamic property WP_Term::$category_nicename is deprecated in /customers/c/9/8/wpin4.1prod.one/httpd.www/landing-v2/wp-includes/category.php on line 382 Deprecated: Creation of dynamic property WP_Term::$category_parent is deprecated in /customers/c/9/8/wpin4.1prod.one/httpd.www/landing-v2/wp-includes/category.php on line 383 Warning: Undefined variable $blocks in /customers/c/9/8/wpin4.1prod.one/httpd.www/landing-v2/wp-content/themes/onecom-landing-page-v2/functions.php on line 1441 Warning: Trying to access array offset on value of type null in /customers/c/9/8/wpin4.1prod.one/httpd.www/landing-v2/wp-content/themes/onecom-landing-page-v2/functions.php on line 1441 Warning: Trying to access array offset on value of type null in /customers/c/9/8/wpin4.1prod.one/httpd.www/landing-v2/wp-content/themes/onecom-landing-page-v2/functions.php on line 1441 Deprecated: preg_match(): Passing null to parameter #2 ($subject) of type string is deprecated in /customers/c/9/8/wpin4.1prod.one/httpd.www/landing-v2/wp-content/themes/onecom-landing-page-v2/functions.php on line 1442 Deprecated: Creation of dynamic property WP_Term::$cat_ID is deprecated in /customers/c/9/8/wpin4.1prod.one/httpd.www/landing-v2/wp-includes/category.php on line 378 Deprecated: Creation of dynamic property WP_Term::$category_count is deprecated in /customers/c/9/8/wpin4.1prod.one/httpd.www/landing-v2/wp-includes/category.php on line 379 Deprecated: Creation of dynamic property WP_Term::$category_description is deprecated in /customers/c/9/8/wpin4.1prod.one/httpd.www/landing-v2/wp-includes/category.php on line 380 Deprecated: Creation of dynamic property WP_Term::$cat_name is deprecated in /customers/c/9/8/wpin4.1prod.one/httpd.www/landing-v2/wp-includes/category.php on line 381 Deprecated: Creation of dynamic property WP_Term::$category_nicename is deprecated in /customers/c/9/8/wpin4.1prod.one/httpd.www/landing-v2/wp-includes/category.php on line 382 Deprecated: Creation of dynamic property WP_Term::$category_parent is deprecated in /customers/c/9/8/wpin4.1prod.one/httpd.www/landing-v2/wp-includes/category.php on line 383 Warning: Undefined variable $blocks in /customers/c/9/8/wpin4.1prod.one/httpd.www/landing-v2/wp-content/themes/onecom-landing-page-v2/functions.php on line 1441 Warning: Trying to access array offset on value of type null in /customers/c/9/8/wpin4.1prod.one/httpd.www/landing-v2/wp-content/themes/onecom-landing-page-v2/functions.php on line 1441 Warning: Trying to access array offset on value of type null in /customers/c/9/8/wpin4.1prod.one/httpd.www/landing-v2/wp-content/themes/onecom-landing-page-v2/functions.php on line 1441 Deprecated: preg_match(): Passing null to parameter #2 ($subject) of type string is deprecated in /customers/c/9/8/wpin4.1prod.one/httpd.www/landing-v2/wp-content/themes/onecom-landing-page-v2/functions.php on line 1442 Deprecated: Creation of dynamic property WP_Term::$cat_ID is deprecated in /customers/c/9/8/wpin4.1prod.one/httpd.www/landing-v2/wp-includes/category.php on line 378 Deprecated: Creation of dynamic property WP_Term::$category_count is deprecated in /customers/c/9/8/wpin4.1prod.one/httpd.www/landing-v2/wp-includes/category.php on line 379 Deprecated: Creation of dynamic property WP_Term::$category_description is deprecated in /customers/c/9/8/wpin4.1prod.one/httpd.www/landing-v2/wp-includes/category.php on line 380 Deprecated: Creation of dynamic property WP_Term::$cat_name is deprecated in /customers/c/9/8/wpin4.1prod.one/httpd.www/landing-v2/wp-includes/category.php on line 381 Deprecated: Creation of dynamic property WP_Term::$category_nicename is deprecated in /customers/c/9/8/wpin4.1prod.one/httpd.www/landing-v2/wp-includes/category.php on line 382 Deprecated: Creation of dynamic property WP_Term::$category_parent is deprecated in /customers/c/9/8/wpin4.1prod.one/httpd.www/landing-v2/wp-includes/category.php on line 383 Deprecated: Creation of dynamic property WP_Term::$cat_ID is deprecated in /customers/c/9/8/wpin4.1prod.one/httpd.www/landing-v2/wp-includes/category.php on line 378 Deprecated: Creation of dynamic property WP_Term::$category_count is deprecated in /customers/c/9/8/wpin4.1prod.one/httpd.www/landing-v2/wp-includes/category.php on line 379 Deprecated: Creation of dynamic property WP_Term::$category_description is deprecated in /customers/c/9/8/wpin4.1prod.one/httpd.www/landing-v2/wp-includes/category.php on line 380 Deprecated: Creation of dynamic property WP_Term::$cat_name is deprecated in /customers/c/9/8/wpin4.1prod.one/httpd.www/landing-v2/wp-includes/category.php on line 381 Deprecated: Creation of dynamic property WP_Term::$category_nicename is deprecated in /customers/c/9/8/wpin4.1prod.one/httpd.www/landing-v2/wp-includes/category.php on line 382 Deprecated: Creation of dynamic property WP_Term::$category_parent is deprecated in /customers/c/9/8/wpin4.1prod.one/httpd.www/landing-v2/wp-includes/category.php on line 383 Deprecated: Creation of dynamic property WP_Term::$cat_ID is deprecated in /customers/c/9/8/wpin4.1prod.one/httpd.www/landing-v2/wp-includes/category.php on line 378 Deprecated: Creation of dynamic property WP_Term::$category_count is deprecated in /customers/c/9/8/wpin4.1prod.one/httpd.www/landing-v2/wp-includes/category.php on line 379 Deprecated: Creation of dynamic property WP_Term::$category_description is deprecated in /customers/c/9/8/wpin4.1prod.one/httpd.www/landing-v2/wp-includes/category.php on line 380 Deprecated: Creation of dynamic property WP_Term::$cat_name is deprecated in /customers/c/9/8/wpin4.1prod.one/httpd.www/landing-v2/wp-includes/category.php on line 381 Deprecated: Creation of dynamic property WP_Term::$category_nicename is deprecated in /customers/c/9/8/wpin4.1prod.one/httpd.www/landing-v2/wp-includes/category.php on line 382 Deprecated: Creation of dynamic property WP_Term::$category_parent is deprecated in /customers/c/9/8/wpin4.1prod.one/httpd.www/landing-v2/wp-includes/category.php on line 383 Deprecated: Creation of dynamic property WP_Term::$cat_ID is deprecated in /customers/c/9/8/wpin4.1prod.one/httpd.www/landing-v2/wp-includes/category.php on line 378 Deprecated: Creation of dynamic property WP_Term::$category_count is deprecated in /customers/c/9/8/wpin4.1prod.one/httpd.www/landing-v2/wp-includes/category.php on line 379 Deprecated: Creation of dynamic property WP_Term::$category_description is deprecated in /customers/c/9/8/wpin4.1prod.one/httpd.www/landing-v2/wp-includes/category.php on line 380 Deprecated: Creation of dynamic property WP_Term::$cat_name is deprecated in /customers/c/9/8/wpin4.1prod.one/httpd.www/landing-v2/wp-includes/category.php on line 381 Deprecated: Creation of dynamic property WP_Term::$category_nicename is deprecated in /customers/c/9/8/wpin4.1prod.one/httpd.www/landing-v2/wp-includes/category.php on line 382 Deprecated: Creation of dynamic property WP_Term::$category_parent is deprecated in /customers/c/9/8/wpin4.1prod.one/httpd.www/landing-v2/wp-includes/category.php on line 383 Warning: Undefined variable $blocks in /customers/c/9/8/wpin4.1prod.one/httpd.www/landing-v2/wp-content/themes/onecom-landing-page-v2/functions.php on line 1441 Warning: Trying to access array offset on value of type null in /customers/c/9/8/wpin4.1prod.one/httpd.www/landing-v2/wp-content/themes/onecom-landing-page-v2/functions.php on line 1441 Warning: Trying to access array offset on value of type null in /customers/c/9/8/wpin4.1prod.one/httpd.www/landing-v2/wp-content/themes/onecom-landing-page-v2/functions.php on line 1441 Deprecated: preg_match(): Passing null to parameter #2 ($subject) of type string is deprecated in /customers/c/9/8/wpin4.1prod.one/httpd.www/landing-v2/wp-content/themes/onecom-landing-page-v2/functions.php on line 1442 Deprecated: Creation of dynamic property WP_Term::$cat_ID is deprecated in /customers/c/9/8/wpin4.1prod.one/httpd.www/landing-v2/wp-includes/category.php on line 378 Deprecated: Creation of dynamic property WP_Term::$category_count is deprecated in /customers/c/9/8/wpin4.1prod.one/httpd.www/landing-v2/wp-includes/category.php on line 379 Deprecated: Creation of dynamic property WP_Term::$category_description is deprecated in /customers/c/9/8/wpin4.1prod.one/httpd.www/landing-v2/wp-includes/category.php on line 380 Deprecated: Creation of dynamic property WP_Term::$cat_name is deprecated in /customers/c/9/8/wpin4.1prod.one/httpd.www/landing-v2/wp-includes/category.php on line 381 Deprecated: Creation of dynamic property WP_Term::$category_nicename is deprecated in /customers/c/9/8/wpin4.1prod.one/httpd.www/landing-v2/wp-includes/category.php on line 382 Deprecated: Creation of dynamic property WP_Term::$category_parent is deprecated in /customers/c/9/8/wpin4.1prod.one/httpd.www/landing-v2/wp-includes/category.php on line 383 Deprecated: Creation of dynamic property WP_Term::$cat_ID is deprecated in /customers/c/9/8/wpin4.1prod.one/httpd.www/landing-v2/wp-includes/category.php on line 378 Deprecated: Creation of dynamic property WP_Term::$category_count is deprecated in /customers/c/9/8/wpin4.1prod.one/httpd.www/landing-v2/wp-includes/category.php on line 379 Deprecated: Creation of dynamic property WP_Term::$category_description is deprecated in /customers/c/9/8/wpin4.1prod.one/httpd.www/landing-v2/wp-includes/category.php on line 380 Deprecated: Creation of dynamic property WP_Term::$cat_name is deprecated in /customers/c/9/8/wpin4.1prod.one/httpd.www/landing-v2/wp-includes/category.php on line 381 Deprecated: Creation of dynamic property WP_Term::$category_nicename is deprecated in /customers/c/9/8/wpin4.1prod.one/httpd.www/landing-v2/wp-includes/category.php on line 382 Deprecated: Creation of dynamic property WP_Term::$category_parent is deprecated in /customers/c/9/8/wpin4.1prod.one/httpd.www/landing-v2/wp-includes/category.php on line 383 Deprecated: Creation of dynamic property WP_Term::$cat_ID is deprecated in /customers/c/9/8/wpin4.1prod.one/httpd.www/landing-v2/wp-includes/category.php on line 378 Deprecated: Creation of dynamic property WP_Term::$category_count is deprecated in /customers/c/9/8/wpin4.1prod.one/httpd.www/landing-v2/wp-includes/category.php on line 379 Deprecated: Creation of dynamic property WP_Term::$category_description is deprecated in /customers/c/9/8/wpin4.1prod.one/httpd.www/landing-v2/wp-includes/category.php on line 380 Deprecated: Creation of dynamic property WP_Term::$cat_name is deprecated in /customers/c/9/8/wpin4.1prod.one/httpd.www/landing-v2/wp-includes/category.php on line 381 Deprecated: Creation of dynamic property WP_Term::$category_nicename is deprecated in /customers/c/9/8/wpin4.1prod.one/httpd.www/landing-v2/wp-includes/category.php on line 382 Deprecated: Creation of dynamic property WP_Term::$category_parent is deprecated in /customers/c/9/8/wpin4.1prod.one/httpd.www/landing-v2/wp-includes/category.php on line 383 Deprecated: Creation of dynamic property WP_Term::$cat_ID is deprecated in /customers/c/9/8/wpin4.1prod.one/httpd.www/landing-v2/wp-includes/category.php on line 378 Deprecated: Creation of dynamic property WP_Term::$category_count is deprecated in /customers/c/9/8/wpin4.1prod.one/httpd.www/landing-v2/wp-includes/category.php on line 379 Deprecated: Creation of dynamic property WP_Term::$category_description is deprecated in /customers/c/9/8/wpin4.1prod.one/httpd.www/landing-v2/wp-includes/category.php on line 380 Deprecated: Creation of dynamic property WP_Term::$cat_name is deprecated in /customers/c/9/8/wpin4.1prod.one/httpd.www/landing-v2/wp-includes/category.php on line 381 Deprecated: Creation of dynamic property WP_Term::$category_nicename is deprecated in /customers/c/9/8/wpin4.1prod.one/httpd.www/landing-v2/wp-includes/category.php on line 382 Deprecated: Creation of dynamic property WP_Term::$category_parent is deprecated in /customers/c/9/8/wpin4.1prod.one/httpd.www/landing-v2/wp-includes/category.php on line 383 Deprecated: Creation of dynamic property WP_Term::$cat_ID is deprecated in /customers/c/9/8/wpin4.1prod.one/httpd.www/landing-v2/wp-includes/category.php on line 378 Deprecated: Creation of dynamic property WP_Term::$category_count is deprecated in /customers/c/9/8/wpin4.1prod.one/httpd.www/landing-v2/wp-includes/category.php on line 379 Deprecated: Creation of dynamic property WP_Term::$category_description is deprecated in /customers/c/9/8/wpin4.1prod.one/httpd.www/landing-v2/wp-includes/category.php on line 380 Deprecated: Creation of dynamic property WP_Term::$cat_name is deprecated in /customers/c/9/8/wpin4.1prod.one/httpd.www/landing-v2/wp-includes/category.php on line 381 Deprecated: Creation of dynamic property WP_Term::$category_nicename is deprecated in /customers/c/9/8/wpin4.1prod.one/httpd.www/landing-v2/wp-includes/category.php on line 382 Deprecated: Creation of dynamic property WP_Term::$category_parent is deprecated in /customers/c/9/8/wpin4.1prod.one/httpd.www/landing-v2/wp-includes/category.php on line 383 Deprecated: Creation of dynamic property WP_Block::$attributes is deprecated in /customers/c/9/8/wpin4.1prod.one/httpd.www/landing-v2/wp-includes/class-wp-block.php on line 179 Deprecated: Creation of dynamic property WP_Term::$cat_ID is deprecated in /customers/c/9/8/wpin4.1prod.one/httpd.www/landing-v2/wp-includes/category.php on line 378 Deprecated: Creation of dynamic property WP_Term::$category_count is deprecated in /customers/c/9/8/wpin4.1prod.one/httpd.www/landing-v2/wp-includes/category.php on line 379 Deprecated: Creation of dynamic property WP_Term::$category_description is deprecated in /customers/c/9/8/wpin4.1prod.one/httpd.www/landing-v2/wp-includes/category.php on line 380 Deprecated: Creation of dynamic property WP_Term::$cat_name is deprecated in /customers/c/9/8/wpin4.1prod.one/httpd.www/landing-v2/wp-includes/category.php on line 381 Deprecated: Creation of dynamic property WP_Term::$category_nicename is deprecated in /customers/c/9/8/wpin4.1prod.one/httpd.www/landing-v2/wp-includes/category.php on line 382 Deprecated: Creation of dynamic property WP_Term::$category_parent is deprecated in /customers/c/9/8/wpin4.1prod.one/httpd.www/landing-v2/wp-includes/category.php on line 383 Deprecated: Creation of dynamic property WP_Term::$cat_ID is deprecated in /customers/c/9/8/wpin4.1prod.one/httpd.www/landing-v2/wp-includes/category.php on line 378 Deprecated: Creation of dynamic property WP_Term::$category_count is deprecated in /customers/c/9/8/wpin4.1prod.one/httpd.www/landing-v2/wp-includes/category.php on line 379 Deprecated: Creation of dynamic property WP_Term::$category_description is deprecated in /customers/c/9/8/wpin4.1prod.one/httpd.www/landing-v2/wp-includes/category.php on line 380 Deprecated: Creation of dynamic property WP_Term::$cat_name is deprecated in /customers/c/9/8/wpin4.1prod.one/httpd.www/landing-v2/wp-includes/category.php on line 381 Deprecated: Creation of dynamic property WP_Term::$category_nicename is deprecated in /customers/c/9/8/wpin4.1prod.one/httpd.www/landing-v2/wp-includes/category.php on line 382 Deprecated: Creation of dynamic property WP_Term::$category_parent is deprecated in /customers/c/9/8/wpin4.1prod.one/httpd.www/landing-v2/wp-includes/category.php on line 383 Warning: Undefined variable $blocks in /customers/c/9/8/wpin4.1prod.one/httpd.www/landing-v2/wp-content/themes/onecom-landing-page-v2/functions.php on line 1441 Warning: Trying to access array offset on value of type null in /customers/c/9/8/wpin4.1prod.one/httpd.www/landing-v2/wp-content/themes/onecom-landing-page-v2/functions.php on line 1441 Warning: Trying to access array offset on value of type null in /customers/c/9/8/wpin4.1prod.one/httpd.www/landing-v2/wp-content/themes/onecom-landing-page-v2/functions.php on line 1441 Deprecated: preg_match(): Passing null to parameter #2 ($subject) of type string is deprecated in /customers/c/9/8/wpin4.1prod.one/httpd.www/landing-v2/wp-content/themes/onecom-landing-page-v2/functions.php on line 1442 Deprecated: Creation of dynamic property WP_Term::$cat_ID is deprecated in /customers/c/9/8/wpin4.1prod.one/httpd.www/landing-v2/wp-includes/category.php on line 378 Deprecated: Creation of dynamic property WP_Term::$category_count is deprecated in /customers/c/9/8/wpin4.1prod.one/httpd.www/landing-v2/wp-includes/category.php on line 379 Deprecated: Creation of dynamic property WP_Term::$category_description is deprecated in /customers/c/9/8/wpin4.1prod.one/httpd.www/landing-v2/wp-includes/category.php on line 380 Deprecated: Creation of dynamic property WP_Term::$cat_name is deprecated in /customers/c/9/8/wpin4.1prod.one/httpd.www/landing-v2/wp-includes/category.php on line 381 Deprecated: Creation of dynamic property WP_Term::$category_nicename is deprecated in /customers/c/9/8/wpin4.1prod.one/httpd.www/landing-v2/wp-includes/category.php on line 382 Deprecated: Creation of dynamic property WP_Term::$category_parent is deprecated in /customers/c/9/8/wpin4.1prod.one/httpd.www/landing-v2/wp-includes/category.php on line 383 Warning: Undefined variable $blocks in /customers/c/9/8/wpin4.1prod.one/httpd.www/landing-v2/wp-content/themes/onecom-landing-page-v2/functions.php on line 1441 Warning: Trying to access array offset on value of type null in /customers/c/9/8/wpin4.1prod.one/httpd.www/landing-v2/wp-content/themes/onecom-landing-page-v2/functions.php on line 1441 Warning: Trying to access array offset on value of type null in /customers/c/9/8/wpin4.1prod.one/httpd.www/landing-v2/wp-content/themes/onecom-landing-page-v2/functions.php on line 1441 Deprecated: preg_match(): Passing null to parameter #2 ($subject) of type string is deprecated in /customers/c/9/8/wpin4.1prod.one/httpd.www/landing-v2/wp-content/themes/onecom-landing-page-v2/functions.php on line 1442 Deprecated: Creation of dynamic property WP_Term::$cat_ID is deprecated in /customers/c/9/8/wpin4.1prod.one/httpd.www/landing-v2/wp-includes/category.php on line 378 Deprecated: Creation of dynamic property WP_Term::$category_count is deprecated in /customers/c/9/8/wpin4.1prod.one/httpd.www/landing-v2/wp-includes/category.php on line 379 Deprecated: Creation of dynamic property WP_Term::$category_description is deprecated in /customers/c/9/8/wpin4.1prod.one/httpd.www/landing-v2/wp-includes/category.php on line 380 Deprecated: Creation of dynamic property WP_Term::$cat_name is deprecated in /customers/c/9/8/wpin4.1prod.one/httpd.www/landing-v2/wp-includes/category.php on line 381 Deprecated: Creation of dynamic property WP_Term::$category_nicename is deprecated in /customers/c/9/8/wpin4.1prod.one/httpd.www/landing-v2/wp-includes/category.php on line 382 Deprecated: Creation of dynamic property WP_Term::$category_parent is deprecated in /customers/c/9/8/wpin4.1prod.one/httpd.www/landing-v2/wp-includes/category.php on line 383 Deprecated: Creation of dynamic property WP_Term::$cat_ID is deprecated in /customers/c/9/8/wpin4.1prod.one/httpd.www/landing-v2/wp-includes/category.php on line 378 Deprecated: Creation of dynamic property WP_Term::$category_count is deprecated in /customers/c/9/8/wpin4.1prod.one/httpd.www/landing-v2/wp-includes/category.php on line 379 Deprecated: Creation of dynamic property WP_Term::$category_description is deprecated in /customers/c/9/8/wpin4.1prod.one/httpd.www/landing-v2/wp-includes/category.php on line 380 Deprecated: Creation of dynamic property WP_Term::$cat_name is deprecated in /customers/c/9/8/wpin4.1prod.one/httpd.www/landing-v2/wp-includes/category.php on line 381 Deprecated: Creation of dynamic property WP_Term::$category_nicename is deprecated in /customers/c/9/8/wpin4.1prod.one/httpd.www/landing-v2/wp-includes/category.php on line 382 Deprecated: Creation of dynamic property WP_Term::$category_parent is deprecated in /customers/c/9/8/wpin4.1prod.one/httpd.www/landing-v2/wp-includes/category.php on line 383 Deprecated: Creation of dynamic property WP_Block::$attributes is deprecated in /customers/c/9/8/wpin4.1prod.one/httpd.www/landing-v2/wp-includes/class-wp-block.php on line 179 Deprecated: Creation of dynamic property WP_Term::$cat_ID is deprecated in /customers/c/9/8/wpin4.1prod.one/httpd.www/landing-v2/wp-includes/category.php on line 378 Deprecated: Creation of dynamic property WP_Term::$category_count is deprecated in /customers/c/9/8/wpin4.1prod.one/httpd.www/landing-v2/wp-includes/category.php on line 379 Deprecated: Creation of dynamic property WP_Term::$category_description is deprecated in /customers/c/9/8/wpin4.1prod.one/httpd.www/landing-v2/wp-includes/category.php on line 380 Deprecated: Creation of dynamic property WP_Term::$cat_name is deprecated in /customers/c/9/8/wpin4.1prod.one/httpd.www/landing-v2/wp-includes/category.php on line 381 Deprecated: Creation of dynamic property WP_Term::$category_nicename is deprecated in /customers/c/9/8/wpin4.1prod.one/httpd.www/landing-v2/wp-includes/category.php on line 382 Deprecated: Creation of dynamic property WP_Term::$category_parent is deprecated in /customers/c/9/8/wpin4.1prod.one/httpd.www/landing-v2/wp-includes/category.php on line 383 Deprecated: Creation of dynamic property WP_Term::$cat_ID is deprecated in /customers/c/9/8/wpin4.1prod.one/httpd.www/landing-v2/wp-includes/category.php on line 378 Deprecated: Creation of dynamic property WP_Term::$category_count is deprecated in /customers/c/9/8/wpin4.1prod.one/httpd.www/landing-v2/wp-includes/category.php on line 379 Deprecated: Creation of dynamic property WP_Term::$category_description is deprecated in /customers/c/9/8/wpin4.1prod.one/httpd.www/landing-v2/wp-includes/category.php on line 380 Deprecated: Creation of dynamic property WP_Term::$cat_name is deprecated in /customers/c/9/8/wpin4.1prod.one/httpd.www/landing-v2/wp-includes/category.php on line 381 Deprecated: Creation of dynamic property WP_Term::$category_nicename is deprecated in /customers/c/9/8/wpin4.1prod.one/httpd.www/landing-v2/wp-includes/category.php on line 382 Deprecated: Creation of dynamic property WP_Term::$category_parent is deprecated in /customers/c/9/8/wpin4.1prod.one/httpd.www/landing-v2/wp-includes/category.php on line 383 Warning: Undefined variable $blocks in /customers/c/9/8/wpin4.1prod.one/httpd.www/landing-v2/wp-content/themes/onecom-landing-page-v2/functions.php on line 1441 Warning: Trying to access array offset on value of type null in /customers/c/9/8/wpin4.1prod.one/httpd.www/landing-v2/wp-content/themes/onecom-landing-page-v2/functions.php on line 1441 Warning: Trying to access array offset on value of type null in /customers/c/9/8/wpin4.1prod.one/httpd.www/landing-v2/wp-content/themes/onecom-landing-page-v2/functions.php on line 1441 Deprecated: preg_match(): Passing null to parameter #2 ($subject) of type string is deprecated in /customers/c/9/8/wpin4.1prod.one/httpd.www/landing-v2/wp-content/themes/onecom-landing-page-v2/functions.php on line 1442 Deprecated: Creation of dynamic property WP_Term::$cat_ID is deprecated in /customers/c/9/8/wpin4.1prod.one/httpd.www/landing-v2/wp-includes/category.php on line 378 Deprecated: Creation of dynamic property WP_Term::$category_count is deprecated in /customers/c/9/8/wpin4.1prod.one/httpd.www/landing-v2/wp-includes/category.php on line 379 Deprecated: Creation of dynamic property WP_Term::$category_description is deprecated in /customers/c/9/8/wpin4.1prod.one/httpd.www/landing-v2/wp-includes/category.php on line 380 Deprecated: Creation of dynamic property WP_Term::$cat_name is deprecated in /customers/c/9/8/wpin4.1prod.one/httpd.www/landing-v2/wp-includes/category.php on line 381 Deprecated: Creation of dynamic property WP_Term::$category_nicename is deprecated in /customers/c/9/8/wpin4.1prod.one/httpd.www/landing-v2/wp-includes/category.php on line 382 Deprecated: Creation of dynamic property WP_Term::$category_parent is deprecated in /customers/c/9/8/wpin4.1prod.one/httpd.www/landing-v2/wp-includes/category.php on line 383 Warning: Undefined variable $blocks in /customers/c/9/8/wpin4.1prod.one/httpd.www/landing-v2/wp-content/themes/onecom-landing-page-v2/functions.php on line 1441 Warning: Trying to access array offset on value of type null in /customers/c/9/8/wpin4.1prod.one/httpd.www/landing-v2/wp-content/themes/onecom-landing-page-v2/functions.php on line 1441 Warning: Trying to access array offset on value of type null in /customers/c/9/8/wpin4.1prod.one/httpd.www/landing-v2/wp-content/themes/onecom-landing-page-v2/functions.php on line 1441 Deprecated: preg_match(): Passing null to parameter #2 ($subject) of type string is deprecated in /customers/c/9/8/wpin4.1prod.one/httpd.www/landing-v2/wp-content/themes/onecom-landing-page-v2/functions.php on line 1442 Deprecated: Creation of dynamic property WP_Term::$cat_ID is deprecated in /customers/c/9/8/wpin4.1prod.one/httpd.www/landing-v2/wp-includes/category.php on line 378 Deprecated: Creation of dynamic property WP_Term::$category_count is deprecated in /customers/c/9/8/wpin4.1prod.one/httpd.www/landing-v2/wp-includes/category.php on line 379 Deprecated: Creation of dynamic property WP_Term::$category_description is deprecated in /customers/c/9/8/wpin4.1prod.one/httpd.www/landing-v2/wp-includes/category.php on line 380 Deprecated: Creation of dynamic property WP_Term::$cat_name is deprecated in /customers/c/9/8/wpin4.1prod.one/httpd.www/landing-v2/wp-includes/category.php on line 381 Deprecated: Creation of dynamic property WP_Term::$category_nicename is deprecated in /customers/c/9/8/wpin4.1prod.one/httpd.www/landing-v2/wp-includes/category.php on line 382 Deprecated: Creation of dynamic property WP_Term::$category_parent is deprecated in /customers/c/9/8/wpin4.1prod.one/httpd.www/landing-v2/wp-includes/category.php on line 383 Warning: Undefined variable $blocks in /customers/c/9/8/wpin4.1prod.one/httpd.www/landing-v2/wp-content/themes/onecom-landing-page-v2/functions.php on line 1441 Warning: Trying to access array offset on value of type null in /customers/c/9/8/wpin4.1prod.one/httpd.www/landing-v2/wp-content/themes/onecom-landing-page-v2/functions.php on line 1441 Warning: Trying to access array offset on value of type null in /customers/c/9/8/wpin4.1prod.one/httpd.www/landing-v2/wp-content/themes/onecom-landing-page-v2/functions.php on line 1441 Deprecated: preg_match(): Passing null to parameter #2 ($subject) of type string is deprecated in /customers/c/9/8/wpin4.1prod.one/httpd.www/landing-v2/wp-content/themes/onecom-landing-page-v2/functions.php on line 1442 Deprecated: Creation of dynamic property WP_Term::$cat_ID is deprecated in /customers/c/9/8/wpin4.1prod.one/httpd.www/landing-v2/wp-includes/category.php on line 378 Deprecated: Creation of dynamic property WP_Term::$category_count is deprecated in /customers/c/9/8/wpin4.1prod.one/httpd.www/landing-v2/wp-includes/category.php on line 379 Deprecated: Creation of dynamic property WP_Term::$category_description is deprecated in /customers/c/9/8/wpin4.1prod.one/httpd.www/landing-v2/wp-includes/category.php on line 380 Deprecated: Creation of dynamic property WP_Term::$cat_name is deprecated in /customers/c/9/8/wpin4.1prod.one/httpd.www/landing-v2/wp-includes/category.php on line 381 Deprecated: Creation of dynamic property WP_Term::$category_nicename is deprecated in /customers/c/9/8/wpin4.1prod.one/httpd.www/landing-v2/wp-includes/category.php on line 382 Deprecated: Creation of dynamic property WP_Term::$category_parent is deprecated in /customers/c/9/8/wpin4.1prod.one/httpd.www/landing-v2/wp-includes/category.php on line 383 Deprecated: Creation of dynamic property WP_Block::$attributes is deprecated in /customers/c/9/8/wpin4.1prod.one/httpd.www/landing-v2/wp-includes/class-wp-block.php on line 179 Deprecated: Creation of dynamic property WP_Term::$cat_ID is deprecated in /customers/c/9/8/wpin4.1prod.one/httpd.www/landing-v2/wp-includes/category.php on line 378 Deprecated: Creation of dynamic property WP_Term::$category_count is deprecated in /customers/c/9/8/wpin4.1prod.one/httpd.www/landing-v2/wp-includes/category.php on line 379 Deprecated: Creation of dynamic property WP_Term::$category_description is deprecated in /customers/c/9/8/wpin4.1prod.one/httpd.www/landing-v2/wp-includes/category.php on line 380 Deprecated: Creation of dynamic property WP_Term::$cat_name is deprecated in /customers/c/9/8/wpin4.1prod.one/httpd.www/landing-v2/wp-includes/category.php on line 381 Deprecated: Creation of dynamic property WP_Term::$category_nicename is deprecated in /customers/c/9/8/wpin4.1prod.one/httpd.www/landing-v2/wp-includes/category.php on line 382 Deprecated: Creation of dynamic property WP_Term::$category_parent is deprecated in /customers/c/9/8/wpin4.1prod.one/httpd.www/landing-v2/wp-includes/category.php on line 383 Deprecated: Creation of dynamic property WP_Term::$cat_ID is deprecated in /customers/c/9/8/wpin4.1prod.one/httpd.www/landing-v2/wp-includes/category.php on line 378 Deprecated: Creation of dynamic property WP_Term::$category_count is deprecated in /customers/c/9/8/wpin4.1prod.one/httpd.www/landing-v2/wp-includes/category.php on line 379 Deprecated: Creation of dynamic property WP_Term::$category_description is deprecated in /customers/c/9/8/wpin4.1prod.one/httpd.www/landing-v2/wp-includes/category.php on line 380 Deprecated: Creation of dynamic property WP_Term::$cat_name is deprecated in /customers/c/9/8/wpin4.1prod.one/httpd.www/landing-v2/wp-includes/category.php on line 381 Deprecated: Creation of dynamic property WP_Term::$category_nicename is deprecated in /customers/c/9/8/wpin4.1prod.one/httpd.www/landing-v2/wp-includes/category.php on line 382 Deprecated: Creation of dynamic property WP_Term::$category_parent is deprecated in /customers/c/9/8/wpin4.1prod.one/httpd.www/landing-v2/wp-includes/category.php on line 383 Warning: Undefined variable $blocks in /customers/c/9/8/wpin4.1prod.one/httpd.www/landing-v2/wp-content/themes/onecom-landing-page-v2/functions.php on line 1441 Warning: Trying to access array offset on value of type null in /customers/c/9/8/wpin4.1prod.one/httpd.www/landing-v2/wp-content/themes/onecom-landing-page-v2/functions.php on line 1441 Warning: Trying to access array offset on value of type null in /customers/c/9/8/wpin4.1prod.one/httpd.www/landing-v2/wp-content/themes/onecom-landing-page-v2/functions.php on line 1441 Deprecated: preg_match(): Passing null to parameter #2 ($subject) of type string is deprecated in /customers/c/9/8/wpin4.1prod.one/httpd.www/landing-v2/wp-content/themes/onecom-landing-page-v2/functions.php on line 1442 Deprecated: Creation of dynamic property WP_Term::$cat_ID is deprecated in /customers/c/9/8/wpin4.1prod.one/httpd.www/landing-v2/wp-includes/category.php on line 378 Deprecated: Creation of dynamic property WP_Term::$category_count is deprecated in /customers/c/9/8/wpin4.1prod.one/httpd.www/landing-v2/wp-includes/category.php on line 379 Deprecated: Creation of dynamic property WP_Term::$category_description is deprecated in /customers/c/9/8/wpin4.1prod.one/httpd.www/landing-v2/wp-includes/category.php on line 380 Deprecated: Creation of dynamic property WP_Term::$cat_name is deprecated in /customers/c/9/8/wpin4.1prod.one/httpd.www/landing-v2/wp-includes/category.php on line 381 Deprecated: Creation of dynamic property WP_Term::$category_nicename is deprecated in /customers/c/9/8/wpin4.1prod.one/httpd.www/landing-v2/wp-includes/category.php on line 382 Deprecated: Creation of dynamic property WP_Term::$category_parent is deprecated in /customers/c/9/8/wpin4.1prod.one/httpd.www/landing-v2/wp-includes/category.php on line 383 Deprecated: Creation of dynamic property WP_Term::$cat_ID is deprecated in /customers/c/9/8/wpin4.1prod.one/httpd.www/landing-v2/wp-includes/category.php on line 378 Deprecated: Creation of dynamic property WP_Term::$category_count is deprecated in /customers/c/9/8/wpin4.1prod.one/httpd.www/landing-v2/wp-includes/category.php on line 379 Deprecated: Creation of dynamic property WP_Term::$category_description is deprecated in /customers/c/9/8/wpin4.1prod.one/httpd.www/landing-v2/wp-includes/category.php on line 380 Deprecated: Creation of dynamic property WP_Term::$cat_name is deprecated in /customers/c/9/8/wpin4.1prod.one/httpd.www/landing-v2/wp-includes/category.php on line 381 Deprecated: Creation of dynamic property WP_Term::$category_nicename is deprecated in /customers/c/9/8/wpin4.1prod.one/httpd.www/landing-v2/wp-includes/category.php on line 382 Deprecated: Creation of dynamic property WP_Term::$category_parent is deprecated in /customers/c/9/8/wpin4.1prod.one/httpd.www/landing-v2/wp-includes/category.php on line 383 Warning: Undefined variable $blocks in /customers/c/9/8/wpin4.1prod.one/httpd.www/landing-v2/wp-content/themes/onecom-landing-page-v2/functions.php on line 1441 Warning: Trying to access array offset on value of type null in /customers/c/9/8/wpin4.1prod.one/httpd.www/landing-v2/wp-content/themes/onecom-landing-page-v2/functions.php on line 1441 Warning: Trying to access array offset on value of type null in /customers/c/9/8/wpin4.1prod.one/httpd.www/landing-v2/wp-content/themes/onecom-landing-page-v2/functions.php on line 1441 Deprecated: preg_match(): Passing null to parameter #2 ($subject) of type string is deprecated in /customers/c/9/8/wpin4.1prod.one/httpd.www/landing-v2/wp-content/themes/onecom-landing-page-v2/functions.php on line 1442 Deprecated: Creation of dynamic property WP_Term::$cat_ID is deprecated in /customers/c/9/8/wpin4.1prod.one/httpd.www/landing-v2/wp-includes/category.php on line 378 Deprecated: Creation of dynamic property WP_Term::$category_count is deprecated in /customers/c/9/8/wpin4.1prod.one/httpd.www/landing-v2/wp-includes/category.php on line 379 Deprecated: Creation of dynamic property WP_Term::$category_description is deprecated in /customers/c/9/8/wpin4.1prod.one/httpd.www/landing-v2/wp-includes/category.php on line 380 Deprecated: Creation of dynamic property WP_Term::$cat_name is deprecated in /customers/c/9/8/wpin4.1prod.one/httpd.www/landing-v2/wp-includes/category.php on line 381 Deprecated: Creation of dynamic property WP_Term::$category_nicename is deprecated in /customers/c/9/8/wpin4.1prod.one/httpd.www/landing-v2/wp-includes/category.php on line 382 Deprecated: Creation of dynamic property WP_Term::$category_parent is deprecated in /customers/c/9/8/wpin4.1prod.one/httpd.www/landing-v2/wp-includes/category.php on line 383 Deprecated: Creation of dynamic property WP_Term::$cat_ID is deprecated in /customers/c/9/8/wpin4.1prod.one/httpd.www/landing-v2/wp-includes/category.php on line 378 Deprecated: Creation of dynamic property WP_Term::$category_count is deprecated in /customers/c/9/8/wpin4.1prod.one/httpd.www/landing-v2/wp-includes/category.php on line 379 Deprecated: Creation of dynamic property WP_Term::$category_description is deprecated in /customers/c/9/8/wpin4.1prod.one/httpd.www/landing-v2/wp-includes/category.php on line 380 Deprecated: Creation of dynamic property WP_Term::$cat_name is deprecated in /customers/c/9/8/wpin4.1prod.one/httpd.www/landing-v2/wp-includes/category.php on line 381 Deprecated: Creation of dynamic property WP_Term::$category_nicename is deprecated in /customers/c/9/8/wpin4.1prod.one/httpd.www/landing-v2/wp-includes/category.php on line 382 Deprecated: Creation of dynamic property WP_Term::$category_parent is deprecated in /customers/c/9/8/wpin4.1prod.one/httpd.www/landing-v2/wp-includes/category.php on line 383 Deprecated: Creation of dynamic property WP_Term::$cat_ID is deprecated in /customers/c/9/8/wpin4.1prod.one/httpd.www/landing-v2/wp-includes/category.php on line 378 Deprecated: Creation of dynamic property WP_Term::$category_count is deprecated in /customers/c/9/8/wpin4.1prod.one/httpd.www/landing-v2/wp-includes/category.php on line 379 Deprecated: Creation of dynamic property WP_Term::$category_description is deprecated in /customers/c/9/8/wpin4.1prod.one/httpd.www/landing-v2/wp-includes/category.php on line 380 Deprecated: Creation of dynamic property WP_Term::$cat_name is deprecated in /customers/c/9/8/wpin4.1prod.one/httpd.www/landing-v2/wp-includes/category.php on line 381 Deprecated: Creation of dynamic property WP_Term::$category_nicename is deprecated in /customers/c/9/8/wpin4.1prod.one/httpd.www/landing-v2/wp-includes/category.php on line 382 Deprecated: Creation of dynamic property WP_Term::$category_parent is deprecated in /customers/c/9/8/wpin4.1prod.one/httpd.www/landing-v2/wp-includes/category.php on line 383 Deprecated: Creation of dynamic property WP_Term::$cat_ID is deprecated in /customers/c/9/8/wpin4.1prod.one/httpd.www/landing-v2/wp-includes/category.php on line 378 Deprecated: Creation of dynamic property WP_Term::$category_count is deprecated in /customers/c/9/8/wpin4.1prod.one/httpd.www/landing-v2/wp-includes/category.php on line 379 Deprecated: Creation of dynamic property WP_Term::$category_description is deprecated in /customers/c/9/8/wpin4.1prod.one/httpd.www/landing-v2/wp-includes/category.php on line 380 Deprecated: Creation of dynamic property WP_Term::$cat_name is deprecated in /customers/c/9/8/wpin4.1prod.one/httpd.www/landing-v2/wp-includes/category.php on line 381 Deprecated: Creation of dynamic property WP_Term::$category_nicename is deprecated in /customers/c/9/8/wpin4.1prod.one/httpd.www/landing-v2/wp-includes/category.php on line 382 Deprecated: Creation of dynamic property WP_Term::$category_parent is deprecated in /customers/c/9/8/wpin4.1prod.one/httpd.www/landing-v2/wp-includes/category.php on line 383 Warning: Undefined variable $blocks in /customers/c/9/8/wpin4.1prod.one/httpd.www/landing-v2/wp-content/themes/onecom-landing-page-v2/functions.php on line 1441 Warning: Trying to access array offset on value of type null in /customers/c/9/8/wpin4.1prod.one/httpd.www/landing-v2/wp-content/themes/onecom-landing-page-v2/functions.php on line 1441 Warning: Trying to access array offset on value of type null in /customers/c/9/8/wpin4.1prod.one/httpd.www/landing-v2/wp-content/themes/onecom-landing-page-v2/functions.php on line 1441 Deprecated: preg_match(): Passing null to parameter #2 ($subject) of type string is deprecated in /customers/c/9/8/wpin4.1prod.one/httpd.www/landing-v2/wp-content/themes/onecom-landing-page-v2/functions.php on line 1442 Deprecated: Creation of dynamic property WP_Block::$attributes is deprecated in /customers/c/9/8/wpin4.1prod.one/httpd.www/landing-v2/wp-includes/class-wp-block.php on line 179 Deprecated: Creation of dynamic property WP_Term::$object_id is deprecated in /customers/c/9/8/wpin4.1prod.one/httpd.www/landing-v2/wp-includes/class-wp-term-query.php on line 1118 Deprecated: Creation of dynamic property WP_Term::$cat_ID is deprecated in /customers/c/9/8/wpin4.1prod.one/httpd.www/landing-v2/wp-includes/category.php on line 378 Deprecated: Creation of dynamic property WP_Term::$category_count is deprecated in /customers/c/9/8/wpin4.1prod.one/httpd.www/landing-v2/wp-includes/category.php on line 379 Deprecated: Creation of dynamic property WP_Term::$category_description is deprecated in /customers/c/9/8/wpin4.1prod.one/httpd.www/landing-v2/wp-includes/category.php on line 380 Deprecated: Creation of dynamic property WP_Term::$cat_name is deprecated in /customers/c/9/8/wpin4.1prod.one/httpd.www/landing-v2/wp-includes/category.php on line 381 Deprecated: Creation of dynamic property WP_Term::$category_nicename is deprecated in /customers/c/9/8/wpin4.1prod.one/httpd.www/landing-v2/wp-includes/category.php on line 382 Deprecated: Creation of dynamic property WP_Term::$category_parent is deprecated in /customers/c/9/8/wpin4.1prod.one/httpd.www/landing-v2/wp-includes/category.php on line 383 Deprecated: Creation of dynamic property WP_Term::$cat_ID is deprecated in /customers/c/9/8/wpin4.1prod.one/httpd.www/landing-v2/wp-includes/category.php on line 378 Deprecated: Creation of dynamic property WP_Term::$category_count is deprecated in /customers/c/9/8/wpin4.1prod.one/httpd.www/landing-v2/wp-includes/category.php on line 379 Deprecated: Creation of dynamic property WP_Term::$category_description is deprecated in /customers/c/9/8/wpin4.1prod.one/httpd.www/landing-v2/wp-includes/category.php on line 380 Deprecated: Creation of dynamic property WP_Term::$cat_name is deprecated in /customers/c/9/8/wpin4.1prod.one/httpd.www/landing-v2/wp-includes/category.php on line 381 Deprecated: Creation of dynamic property WP_Term::$category_nicename is deprecated in /customers/c/9/8/wpin4.1prod.one/httpd.www/landing-v2/wp-includes/category.php on line 382 Deprecated: Creation of dynamic property WP_Term::$category_parent is deprecated in /customers/c/9/8/wpin4.1prod.one/httpd.www/landing-v2/wp-includes/category.php on line 383 Deprecated: Creation of dynamic property WP_Term::$cat_ID is deprecated in /customers/c/9/8/wpin4.1prod.one/httpd.www/landing-v2/wp-includes/category.php on line 378 Deprecated: Creation of dynamic property WP_Term::$category_count is deprecated in /customers/c/9/8/wpin4.1prod.one/httpd.www/landing-v2/wp-includes/category.php on line 379 Deprecated: Creation of dynamic property WP_Term::$category_description is deprecated in /customers/c/9/8/wpin4.1prod.one/httpd.www/landing-v2/wp-includes/category.php on line 380 Deprecated: Creation of dynamic property WP_Term::$cat_name is deprecated in /customers/c/9/8/wpin4.1prod.one/httpd.www/landing-v2/wp-includes/category.php on line 381 Deprecated: Creation of dynamic property WP_Term::$category_nicename is deprecated in /customers/c/9/8/wpin4.1prod.one/httpd.www/landing-v2/wp-includes/category.php on line 382 Deprecated: Creation of dynamic property WP_Term::$category_parent is deprecated in /customers/c/9/8/wpin4.1prod.one/httpd.www/landing-v2/wp-includes/category.php on line 383 Warning: Undefined variable $blocks in /customers/c/9/8/wpin4.1prod.one/httpd.www/landing-v2/wp-content/themes/onecom-landing-page-v2/functions.php on line 1441 Warning: Trying to access array offset on value of type null in /customers/c/9/8/wpin4.1prod.one/httpd.www/landing-v2/wp-content/themes/onecom-landing-page-v2/functions.php on line 1441 Warning: Trying to access array offset on value of type null in /customers/c/9/8/wpin4.1prod.one/httpd.www/landing-v2/wp-content/themes/onecom-landing-page-v2/functions.php on line 1441 Deprecated: preg_match(): Passing null to parameter #2 ($subject) of type string is deprecated in /customers/c/9/8/wpin4.1prod.one/httpd.www/landing-v2/wp-content/themes/onecom-landing-page-v2/functions.php on line 1442 Deprecated: Creation of dynamic property WP_Term::$cat_ID is deprecated in /customers/c/9/8/wpin4.1prod.one/httpd.www/landing-v2/wp-includes/category.php on line 378 Deprecated: Creation of dynamic property WP_Term::$category_count is deprecated in /customers/c/9/8/wpin4.1prod.one/httpd.www/landing-v2/wp-includes/category.php on line 379 Deprecated: Creation of dynamic property WP_Term::$category_description is deprecated in /customers/c/9/8/wpin4.1prod.one/httpd.www/landing-v2/wp-includes/category.php on line 380 Deprecated: Creation of dynamic property WP_Term::$cat_name is deprecated in /customers/c/9/8/wpin4.1prod.one/httpd.www/landing-v2/wp-includes/category.php on line 381 Deprecated: Creation of dynamic property WP_Term::$category_nicename is deprecated in /customers/c/9/8/wpin4.1prod.one/httpd.www/landing-v2/wp-includes/category.php on line 382 Deprecated: Creation of dynamic property WP_Term::$category_parent is deprecated in /customers/c/9/8/wpin4.1prod.one/httpd.www/landing-v2/wp-includes/category.php on line 383 Warning: Undefined variable $blocks in /customers/c/9/8/wpin4.1prod.one/httpd.www/landing-v2/wp-content/themes/onecom-landing-page-v2/functions.php on line 1441 Warning: Trying to access array offset on value of type null in /customers/c/9/8/wpin4.1prod.one/httpd.www/landing-v2/wp-content/themes/onecom-landing-page-v2/functions.php on line 1441 Warning: Trying to access array offset on value of type null in /customers/c/9/8/wpin4.1prod.one/httpd.www/landing-v2/wp-content/themes/onecom-landing-page-v2/functions.php on line 1441 Deprecated: preg_match(): Passing null to parameter #2 ($subject) of type string is deprecated in /customers/c/9/8/wpin4.1prod.one/httpd.www/landing-v2/wp-content/themes/onecom-landing-page-v2/functions.php on line 1442 Deprecated: Creation of dynamic property WP_Term::$cat_ID is deprecated in /customers/c/9/8/wpin4.1prod.one/httpd.www/landing-v2/wp-includes/category.php on line 378 Deprecated: Creation of dynamic property WP_Term::$category_count is deprecated in /customers/c/9/8/wpin4.1prod.one/httpd.www/landing-v2/wp-includes/category.php on line 379 Deprecated: Creation of dynamic property WP_Term::$category_description is deprecated in /customers/c/9/8/wpin4.1prod.one/httpd.www/landing-v2/wp-includes/category.php on line 380 Deprecated: Creation of dynamic property WP_Term::$cat_name is deprecated in /customers/c/9/8/wpin4.1prod.one/httpd.www/landing-v2/wp-includes/category.php on line 381 Deprecated: Creation of dynamic property WP_Term::$category_nicename is deprecated in /customers/c/9/8/wpin4.1prod.one/httpd.www/landing-v2/wp-includes/category.php on line 382 Deprecated: Creation of dynamic property WP_Term::$category_parent is deprecated in /customers/c/9/8/wpin4.1prod.one/httpd.www/landing-v2/wp-includes/category.php on line 383 Warning: Undefined variable $blocks in /customers/c/9/8/wpin4.1prod.one/httpd.www/landing-v2/wp-content/themes/onecom-landing-page-v2/functions.php on line 1441 Warning: Trying to access array offset on value of type null in /customers/c/9/8/wpin4.1prod.one/httpd.www/landing-v2/wp-content/themes/onecom-landing-page-v2/functions.php on line 1441 Warning: Trying to access array offset on value of type null in /customers/c/9/8/wpin4.1prod.one/httpd.www/landing-v2/wp-content/themes/onecom-landing-page-v2/functions.php on line 1441 Deprecated: preg_match(): Passing null to parameter #2 ($subject) of type string is deprecated in /customers/c/9/8/wpin4.1prod.one/httpd.www/landing-v2/wp-content/themes/onecom-landing-page-v2/functions.php on line 1442 Deprecated: Creation of dynamic property WP_Term::$cat_ID is deprecated in /customers/c/9/8/wpin4.1prod.one/httpd.www/landing-v2/wp-includes/category.php on line 378 Deprecated: Creation of dynamic property WP_Term::$category_count is deprecated in /customers/c/9/8/wpin4.1prod.one/httpd.www/landing-v2/wp-includes/category.php on line 379 Deprecated: Creation of dynamic property WP_Term::$category_description is deprecated in /customers/c/9/8/wpin4.1prod.one/httpd.www/landing-v2/wp-includes/category.php on line 380 Deprecated: Creation of dynamic property WP_Term::$cat_name is deprecated in /customers/c/9/8/wpin4.1prod.one/httpd.www/landing-v2/wp-includes/category.php on line 381 Deprecated: Creation of dynamic property WP_Term::$category_nicename is deprecated in /customers/c/9/8/wpin4.1prod.one/httpd.www/landing-v2/wp-includes/category.php on line 382 Deprecated: Creation of dynamic property WP_Term::$category_parent is deprecated in /customers/c/9/8/wpin4.1prod.one/httpd.www/landing-v2/wp-includes/category.php on line 383 Deprecated: Creation of dynamic property WP_Term::$cat_ID is deprecated in /customers/c/9/8/wpin4.1prod.one/httpd.www/landing-v2/wp-includes/category.php on line 378 Deprecated: Creation of dynamic property WP_Term::$category_count is deprecated in /customers/c/9/8/wpin4.1prod.one/httpd.www/landing-v2/wp-includes/category.php on line 379 Deprecated: Creation of dynamic property WP_Term::$category_description is deprecated in /customers/c/9/8/wpin4.1prod.one/httpd.www/landing-v2/wp-includes/category.php on line 380 Deprecated: Creation of dynamic property WP_Term::$cat_name is deprecated in /customers/c/9/8/wpin4.1prod.one/httpd.www/landing-v2/wp-includes/category.php on line 381 Deprecated: Creation of dynamic property WP_Term::$category_nicename is deprecated in /customers/c/9/8/wpin4.1prod.one/httpd.www/landing-v2/wp-includes/category.php on line 382 Deprecated: Creation of dynamic property WP_Term::$category_parent is deprecated in /customers/c/9/8/wpin4.1prod.one/httpd.www/landing-v2/wp-includes/category.php on line 383 Warning: Undefined variable $blocks in /customers/c/9/8/wpin4.1prod.one/httpd.www/landing-v2/wp-content/themes/onecom-landing-page-v2/functions.php on line 1441 Warning: Trying to access array offset on value of type null in /customers/c/9/8/wpin4.1prod.one/httpd.www/landing-v2/wp-content/themes/onecom-landing-page-v2/functions.php on line 1441 Warning: Trying to access array offset on value of type null in /customers/c/9/8/wpin4.1prod.one/httpd.www/landing-v2/wp-content/themes/onecom-landing-page-v2/functions.php on line 1441 Deprecated: preg_match(): Passing null to parameter #2 ($subject) of type string is deprecated in /customers/c/9/8/wpin4.1prod.one/httpd.www/landing-v2/wp-content/themes/onecom-landing-page-v2/functions.php on line 1442 Deprecated: Creation of dynamic property WP_Term::$cat_ID is deprecated in /customers/c/9/8/wpin4.1prod.one/httpd.www/landing-v2/wp-includes/category.php on line 378 Deprecated: Creation of dynamic property WP_Term::$category_count is deprecated in /customers/c/9/8/wpin4.1prod.one/httpd.www/landing-v2/wp-includes/category.php on line 379 Deprecated: Creation of dynamic property WP_Term::$category_description is deprecated in /customers/c/9/8/wpin4.1prod.one/httpd.www/landing-v2/wp-includes/category.php on line 380 Deprecated: Creation of dynamic property WP_Term::$cat_name is deprecated in /customers/c/9/8/wpin4.1prod.one/httpd.www/landing-v2/wp-includes/category.php on line 381 Deprecated: Creation of dynamic property WP_Term::$category_nicename is deprecated in /customers/c/9/8/wpin4.1prod.one/httpd.www/landing-v2/wp-includes/category.php on line 382 Deprecated: Creation of dynamic property WP_Term::$category_parent is deprecated in /customers/c/9/8/wpin4.1prod.one/httpd.www/landing-v2/wp-includes/category.php on line 383 Deprecated: Creation of dynamic property WP_Term::$cat_ID is deprecated in /customers/c/9/8/wpin4.1prod.one/httpd.www/landing-v2/wp-includes/category.php on line 378 Deprecated: Creation of dynamic property WP_Term::$category_count is deprecated in /customers/c/9/8/wpin4.1prod.one/httpd.www/landing-v2/wp-includes/category.php on line 379 Deprecated: Creation of dynamic property WP_Term::$category_description is deprecated in /customers/c/9/8/wpin4.1prod.one/httpd.www/landing-v2/wp-includes/category.php on line 380 Deprecated: Creation of dynamic property WP_Term::$cat_name is deprecated in /customers/c/9/8/wpin4.1prod.one/httpd.www/landing-v2/wp-includes/category.php on line 381 Deprecated: Creation of dynamic property WP_Term::$category_nicename is deprecated in /customers/c/9/8/wpin4.1prod.one/httpd.www/landing-v2/wp-includes/category.php on line 382 Deprecated: Creation of dynamic property WP_Term::$category_parent is deprecated in /customers/c/9/8/wpin4.1prod.one/httpd.www/landing-v2/wp-includes/category.php on line 383 Warning: Undefined variable $blocks in /customers/c/9/8/wpin4.1prod.one/httpd.www/landing-v2/wp-content/themes/onecom-landing-page-v2/functions.php on line 1441 Warning: Trying to access array offset on value of type null in /customers/c/9/8/wpin4.1prod.one/httpd.www/landing-v2/wp-content/themes/onecom-landing-page-v2/functions.php on line 1441 Warning: Trying to access array offset on value of type null in /customers/c/9/8/wpin4.1prod.one/httpd.www/landing-v2/wp-content/themes/onecom-landing-page-v2/functions.php on line 1441 Deprecated: preg_match(): Passing null to parameter #2 ($subject) of type string is deprecated in /customers/c/9/8/wpin4.1prod.one/httpd.www/landing-v2/wp-content/themes/onecom-landing-page-v2/functions.php on line 1442 Deprecated: Creation of dynamic property WP_Term::$cat_ID is deprecated in /customers/c/9/8/wpin4.1prod.one/httpd.www/landing-v2/wp-includes/category.php on line 378 Deprecated: Creation of dynamic property WP_Term::$category_count is deprecated in /customers/c/9/8/wpin4.1prod.one/httpd.www/landing-v2/wp-includes/category.php on line 379 Deprecated: Creation of dynamic property WP_Term::$category_description is deprecated in /customers/c/9/8/wpin4.1prod.one/httpd.www/landing-v2/wp-includes/category.php on line 380 Deprecated: Creation of dynamic property WP_Term::$cat_name is deprecated in /customers/c/9/8/wpin4.1prod.one/httpd.www/landing-v2/wp-includes/category.php on line 381 Deprecated: Creation of dynamic property WP_Term::$category_nicename is deprecated in /customers/c/9/8/wpin4.1prod.one/httpd.www/landing-v2/wp-includes/category.php on line 382 Deprecated: Creation of dynamic property WP_Term::$category_parent is deprecated in /customers/c/9/8/wpin4.1prod.one/httpd.www/landing-v2/wp-includes/category.php on line 383 Deprecated: Creation of dynamic property WP_Term::$cat_ID is deprecated in /customers/c/9/8/wpin4.1prod.one/httpd.www/landing-v2/wp-includes/category.php on line 378 Deprecated: Creation of dynamic property WP_Term::$category_count is deprecated in /customers/c/9/8/wpin4.1prod.one/httpd.www/landing-v2/wp-includes/category.php on line 379 Deprecated: Creation of dynamic property WP_Term::$category_description is deprecated in /customers/c/9/8/wpin4.1prod.one/httpd.www/landing-v2/wp-includes/category.php on line 380 Deprecated: Creation of dynamic property WP_Term::$cat_name is deprecated in /customers/c/9/8/wpin4.1prod.one/httpd.www/landing-v2/wp-includes/category.php on line 381 Deprecated: Creation of dynamic property WP_Term::$category_nicename is deprecated in /customers/c/9/8/wpin4.1prod.one/httpd.www/landing-v2/wp-includes/category.php on line 382 Deprecated: Creation of dynamic property WP_Term::$category_parent is deprecated in /customers/c/9/8/wpin4.1prod.one/httpd.www/landing-v2/wp-includes/category.php on line 383 Deprecated: Creation of dynamic property WP_Term::$cat_ID is deprecated in /customers/c/9/8/wpin4.1prod.one/httpd.www/landing-v2/wp-includes/category.php on line 378 Deprecated: Creation of dynamic property WP_Term::$category_count is deprecated in /customers/c/9/8/wpin4.1prod.one/httpd.www/landing-v2/wp-includes/category.php on line 379 Deprecated: Creation of dynamic property WP_Term::$category_description is deprecated in /customers/c/9/8/wpin4.1prod.one/httpd.www/landing-v2/wp-includes/category.php on line 380 Deprecated: Creation of dynamic property WP_Term::$cat_name is deprecated in /customers/c/9/8/wpin4.1prod.one/httpd.www/landing-v2/wp-includes/category.php on line 381 Deprecated: Creation of dynamic property WP_Term::$category_nicename is deprecated in /customers/c/9/8/wpin4.1prod.one/httpd.www/landing-v2/wp-includes/category.php on line 382 Deprecated: Creation of dynamic property WP_Term::$category_parent is deprecated in /customers/c/9/8/wpin4.1prod.one/httpd.www/landing-v2/wp-includes/category.php on line 383 Deprecated: Creation of dynamic property WP_Term::$object_id is deprecated in /customers/c/9/8/wpin4.1prod.one/httpd.www/landing-v2/wp-includes/class-wp-term-query.php on line 1118 Deprecated: Creation of dynamic property WP_Term::$object_id is deprecated in /customers/c/9/8/wpin4.1prod.one/httpd.www/landing-v2/wp-includes/class-wp-term-query.php on line 1118 Deprecated: Creation of dynamic property WP_Term::$object_id is deprecated in /customers/c/9/8/wpin4.1prod.one/httpd.www/landing-v2/wp-includes/class-wp-term-query.php on line 1118 Deprecated: Creation of dynamic property WP_Term::$object_id is deprecated in /customers/c/9/8/wpin4.1prod.one/httpd.www/landing-v2/wp-includes/class-wp-term-query.php on line 1118 Deprecated: Creation of dynamic property WP_Term::$object_id is deprecated in /customers/c/9/8/wpin4.1prod.one/httpd.www/landing-v2/wp-includes/class-wp-term-query.php on line 1118 Deprecated: Creation of dynamic property WP_Term::$object_id is deprecated in /customers/c/9/8/wpin4.1prod.one/httpd.www/landing-v2/wp-includes/class-wp-term-query.php on line 1118 Deprecated: Creation of dynamic property WP_Term::$object_id is deprecated in /customers/c/9/8/wpin4.1prod.one/httpd.www/landing-v2/wp-includes/class-wp-term-query.php on line 1118 Deprecated: Creation of dynamic property WP_Term::$object_id is deprecated in /customers/c/9/8/wpin4.1prod.one/httpd.www/landing-v2/wp-includes/class-wp-term-query.php on line 1118 Deprecated: Creation of dynamic property WP_Term::$object_id is deprecated in /customers/c/9/8/wpin4.1prod.one/httpd.www/landing-v2/wp-includes/class-wp-term-query.php on line 1118 Deprecated: Creation of dynamic property WP_Term::$object_id is deprecated in /customers/c/9/8/wpin4.1prod.one/httpd.www/landing-v2/wp-includes/class-wp-term-query.php on line 1118 Deprecated: Creation of dynamic property WP_Term::$object_id is deprecated in /customers/c/9/8/wpin4.1prod.one/httpd.www/landing-v2/wp-includes/class-wp-term-query.php on line 1118 Deprecated: Creation of dynamic property WP_Term::$object_id is deprecated in /customers/c/9/8/wpin4.1prod.one/httpd.www/landing-v2/wp-includes/class-wp-term-query.php on line 1118 Deprecated: Creation of dynamic property WP_Term::$object_id is deprecated in /customers/c/9/8/wpin4.1prod.one/httpd.www/landing-v2/wp-includes/class-wp-term-query.php on line 1118 Deprecated: Creation of dynamic property WP_Term::$object_id is deprecated in /customers/c/9/8/wpin4.1prod.one/httpd.www/landing-v2/wp-includes/class-wp-term-query.php on line 1118 Deprecated: Creation of dynamic property WP_Term::$object_id is deprecated in /customers/c/9/8/wpin4.1prod.one/httpd.www/landing-v2/wp-includes/class-wp-term-query.php on line 1118 Deprecated: Creation of dynamic property WP_Term::$object_id is deprecated in /customers/c/9/8/wpin4.1prod.one/httpd.www/landing-v2/wp-includes/class-wp-term-query.php on line 1118 Deprecated: Creation of dynamic property WP_Term::$object_id is deprecated in /customers/c/9/8/wpin4.1prod.one/httpd.www/landing-v2/wp-includes/class-wp-term-query.php on line 1118 Deprecated: Creation of dynamic property WP_Term::$object_id is deprecated in /customers/c/9/8/wpin4.1prod.one/httpd.www/landing-v2/wp-includes/class-wp-term-query.php on line 1118 Deprecated: Creation of dynamic property WP_Term::$object_id is deprecated in /customers/c/9/8/wpin4.1prod.one/httpd.www/landing-v2/wp-includes/class-wp-term-query.php on line 1118
Guide til registrering af domænenavn
Skab et brand online for dig selv, dit projekt eller din virksomhed
At have et domænenavn giver dig et sted du kan høre hjemme på internettet. Dette ligemeget om det er for dit firma, et projekt eller branding af dig selv. I dag er det så nemt og billigt at registrere et domæne, at folk gør det af mange forskellige grunde, bl.a. for at skabe en særlig identitet om sig selv online, have sin professionelle e-mailadresse på sit eget domæne, samt for at have sin hjemmeside tilgængelig på flere forskellige sprog. Nogle registrerer og køber endda domæner som investering.
Husk på at domænenavne er unikke, og at de mest gængse hurtigt forsvinder. Har du en rigtig god idé allerede, så find straks ud af om det er tilgængeligt.
Hvordan registrerer jeg et domæne?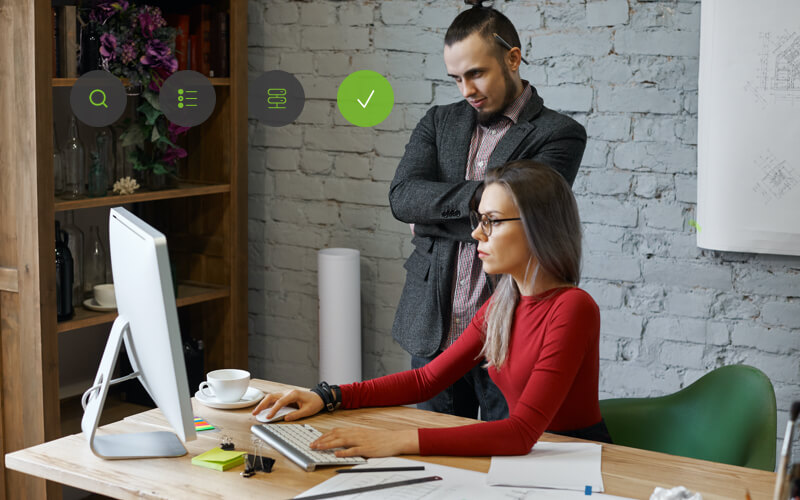 Et domænenavn kan registreres af en hostingudbyder. Når du har valgt et givent domænenavn og færdiggjort din ordre, ejer du det domænenavn i ét år. Det er ikke muligt at registrere et domænenavn ubegrænset. Hos one.com bliver det dog fornyet automatisk, så du behøver ikke bekymre dig om at miste det. Vi informerer dig altid i god tid inden en kommende fornyelse.
Du kan nemt registrere et domæne på one.com.
Søg efter et domænenavn i domænesøgebaren.
Find og vælg et tilgængeligt domæne.
Tilføj en hostingpakke, hvis du gerne vil have en hjemmeside eller en e-mail på dit domæne.
Færdiggør din ordre.
Hvordan vælger jeg et godt domænenavn?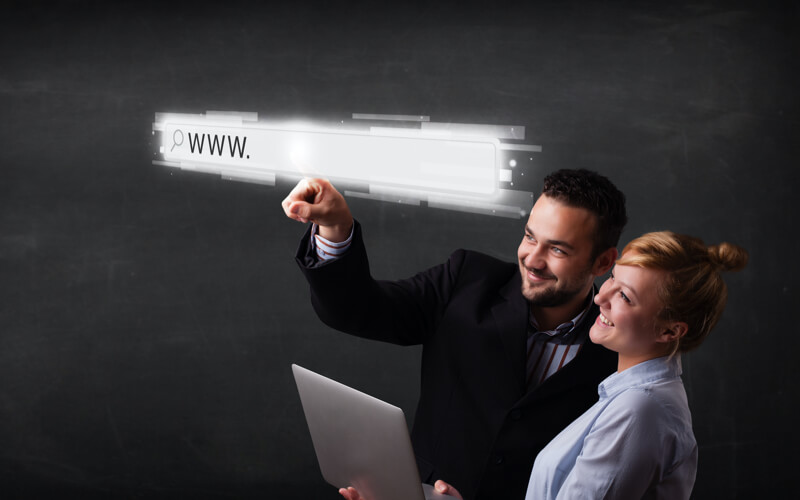 Generelt set bør du overveje dit firmanavn, projekt eller endda dit eget navn som dit domænenavn i en populær TLD, hvis de er tilgængelige. Du bør også overveje at tilføje domæner og TLD'er der beskriver siden, for at gøre det nemmere for dine kunder. Endeligt bør du registrere et domænenavn der er nemt at huske samt stave, så hvis nogen prøver at indtaste adressen, så skal de kun prøve én gang.
Hvis du ikke er sikker på, hvilken TLD du bør vælge, så er det ofte bedst at vælge en af de populære. Du kan ikke gå helt galt i byen med .com eller .dk. Ulempen ved disse TLD'er er, at der er større sandsynlighed for, at dit foretrukne domæne er optaget. Derfor kan du også vælge et mere moderne TLD, såsom .online eller .shop.
Her er et eksempel på en solid strategi for domæneregistrering. Forestil dig, at Jonas starter et cykelværksted i København kaldet "Jonas' bikes". Han bør registrere sit firmanavn på både .com og .dk, de to mest populære TLD'er i Danmark. Jonasbikes.com og jonasbikes.dk, samt oversættelsen jonascykler.dk. Ved at undersøge SEO- og marketingstrategier, finder Jonas ud af, at mange af hans potentielle købere blot vil søge på "cykler København", så han vil også registrere cyklerkoebenhavn.dk, som vil viderestille til den primære hjemmeside. Endelig vil Jonas også støde på jonas.bike, som han registrerer, da det ser godt ud, og nemt kan bruges i en marketingstrategi. Altså har Jonas identificeret fire domænenavne, som han skal registrere, for at sikre sit brand online.
Hvilke regler og begrænsninger gælder for domænenavne?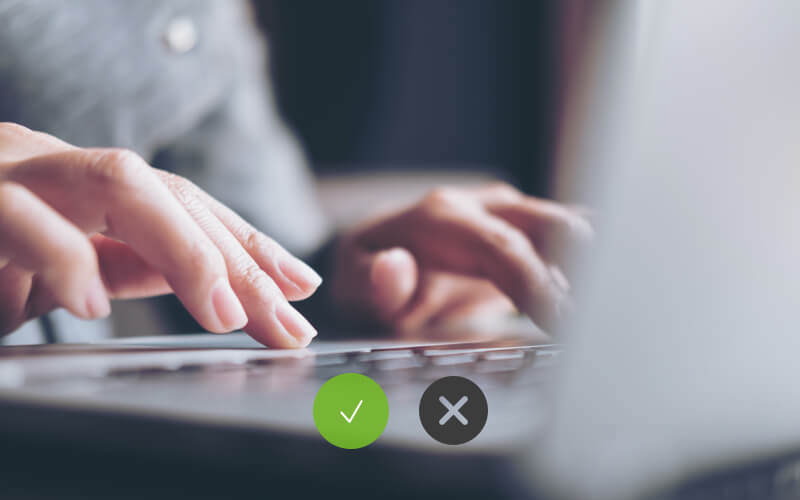 Hvilke domænenavne du gerne vil registrere, er op til dig. Du har friheden til at registrere nærmest ethvert domæne du har lyst til, så længe det er tilgængeligt. Der er dog et par begrænsninger:
Et domænenavn kan kun bestå af bogstaver, tal og bindestreg. Du kan ikke bruge andre specialtegn.
Minimumslængden på et domænenavn er tre karakterer, eksklusiv domæneendelsen.
Den maksimale længde er 63 eller 64 karakterer, alt efter domæneendelsen.
Nogle domæneendelser kan kun registreres af visse organisationer, så som .gov eller .edu.
Nogle landspecifikke domæneendelser, såsom .dk, .no, .fr og .ca, kan kun registreres hvis dit firma er bosiddende i det pågældende land.
En anden ting du bør overveje, er andre brands og firmaer. Du kan overtræde loven for varemærker, hvis du registrerer et brand der ligner eller lyder som et allerede eksisterende brand, produkt eller firma.
Hvad så når jeg har registreret mit domæne?
Så snart det er aktivt, er der en masse ting du kan gøre med dit domæne, især på one.com. Du kan starte med at bygge din hjemmeside, eller oprette e-mailadresser på dit domæne.
Til virksomheden der ønsker success online
200 GB
Ubegrænsede e-mailkonti
Hjemmesideprogram
1-klik WordPress
5 hjemmesider
Byg en hjemmeside
Hos one.com har du flere muligheder for at lave din egen hjemmeside:
Du kan prøve vores brugervenlige Hjemmesideprogram, der gør det muligt for dig at lave en hjemmeside ud fra mere end hundrede professionelt designede temaer. Ingen kendskab til kodning er nødvendig, du kan nemt og hurtigt lave din hjemmeside som du ønsker.
En anden måde at bygge din hjemmeside på er med WordPress-hosting. Du kan nemt installere det mest populære content management system med vores 1-kliks-installation, og komme i gang med at lave en WordPress-hjemmeside med det samme.
E-mailhosting
Vores alt-i-én-pakker inkluderer e-mailhosting, så du kan nemt opsætte professionelle firma-e-mailadresser på dit eget domæne. Det virker med apps og kommer med sin egen reklamefrie webmail-platform. Den er fuldt ud funktionsdygtig, professionelt designet og supernem at bruge.
DNS management
Du kan også omdirigere domænenavnet du har registreret til en eksisterende hjemmeside eller en anden side, som f.eks. din LinkedIn-profil eller Instagram-feed. Avancerede bruger kan få fuld kontrol over DNS-indstillingerne, og dermed opsætte forskellige vilkår for domænets funktion