Warning: Undefined variable $blocks in /customers/c/9/8/wpin4.1prod.one/httpd.www/landing-v2/wp-content/themes/onecom-landing-page-v2/functions.php on line 1431 Warning: Trying to access array offset on value of type null in /customers/c/9/8/wpin4.1prod.one/httpd.www/landing-v2/wp-content/themes/onecom-landing-page-v2/functions.php on line 1431 Warning: Trying to access array offset on value of type null in /customers/c/9/8/wpin4.1prod.one/httpd.www/landing-v2/wp-content/themes/onecom-landing-page-v2/functions.php on line 1431 Deprecated: str_replace(): Passing null to parameter #3 ($subject) of type array|string is deprecated in /customers/c/9/8/wpin4.1prod.one/httpd.www/landing-v2/wp-content/themes/onecom-landing-page-v2/functions.php on line 1431 Warning: Undefined variable $blocks in /customers/c/9/8/wpin4.1prod.one/httpd.www/landing-v2/wp-content/themes/onecom-landing-page-v2/functions.php on line 1441 Warning: Trying to access array offset on value of type null in /customers/c/9/8/wpin4.1prod.one/httpd.www/landing-v2/wp-content/themes/onecom-landing-page-v2/functions.php on line 1441 Warning: Trying to access array offset on value of type null in /customers/c/9/8/wpin4.1prod.one/httpd.www/landing-v2/wp-content/themes/onecom-landing-page-v2/functions.php on line 1441 Deprecated: preg_match(): Passing null to parameter #2 ($subject) of type string is deprecated in /customers/c/9/8/wpin4.1prod.one/httpd.www/landing-v2/wp-content/themes/onecom-landing-page-v2/functions.php on line 1442 Warning: Undefined variable $blocks in /customers/c/9/8/wpin4.1prod.one/httpd.www/landing-v2/wp-content/themes/onecom-landing-page-v2/functions.php on line 1441 Warning: Trying to access array offset on value of type null in /customers/c/9/8/wpin4.1prod.one/httpd.www/landing-v2/wp-content/themes/onecom-landing-page-v2/functions.php on line 1441 Warning: Trying to access array offset on value of type null in /customers/c/9/8/wpin4.1prod.one/httpd.www/landing-v2/wp-content/themes/onecom-landing-page-v2/functions.php on line 1441 Deprecated: preg_match(): Passing null to parameter #2 ($subject) of type string is deprecated in /customers/c/9/8/wpin4.1prod.one/httpd.www/landing-v2/wp-content/themes/onecom-landing-page-v2/functions.php on line 1442 Warning: Undefined variable $blocks in /customers/c/9/8/wpin4.1prod.one/httpd.www/landing-v2/wp-content/themes/onecom-landing-page-v2/functions.php on line 1441 Warning: Trying to access array offset on value of type null in /customers/c/9/8/wpin4.1prod.one/httpd.www/landing-v2/wp-content/themes/onecom-landing-page-v2/functions.php on line 1441 Warning: Trying to access array offset on value of type null in /customers/c/9/8/wpin4.1prod.one/httpd.www/landing-v2/wp-content/themes/onecom-landing-page-v2/functions.php on line 1441 Deprecated: preg_match(): Passing null to parameter #2 ($subject) of type string is deprecated in /customers/c/9/8/wpin4.1prod.one/httpd.www/landing-v2/wp-content/themes/onecom-landing-page-v2/functions.php on line 1442 Warning: Undefined variable $blocks in /customers/c/9/8/wpin4.1prod.one/httpd.www/landing-v2/wp-content/themes/onecom-landing-page-v2/functions.php on line 1441 Warning: Trying to access array offset on value of type null in /customers/c/9/8/wpin4.1prod.one/httpd.www/landing-v2/wp-content/themes/onecom-landing-page-v2/functions.php on line 1441 Warning: Trying to access array offset on value of type null in /customers/c/9/8/wpin4.1prod.one/httpd.www/landing-v2/wp-content/themes/onecom-landing-page-v2/functions.php on line 1441 Deprecated: preg_match(): Passing null to parameter #2 ($subject) of type string is deprecated in /customers/c/9/8/wpin4.1prod.one/httpd.www/landing-v2/wp-content/themes/onecom-landing-page-v2/functions.php on line 1442 Warning: Undefined variable $blocks in /customers/c/9/8/wpin4.1prod.one/httpd.www/landing-v2/wp-content/themes/onecom-landing-page-v2/functions.php on line 1441 Warning: Trying to access array offset on value of type null in /customers/c/9/8/wpin4.1prod.one/httpd.www/landing-v2/wp-content/themes/onecom-landing-page-v2/functions.php on line 1441 Warning: Trying to access array offset on value of type null in /customers/c/9/8/wpin4.1prod.one/httpd.www/landing-v2/wp-content/themes/onecom-landing-page-v2/functions.php on line 1441 Deprecated: preg_match(): Passing null to parameter #2 ($subject) of type string is deprecated in /customers/c/9/8/wpin4.1prod.one/httpd.www/landing-v2/wp-content/themes/onecom-landing-page-v2/functions.php on line 1442 Warning: Undefined variable $blocks in /customers/c/9/8/wpin4.1prod.one/httpd.www/landing-v2/wp-content/themes/onecom-landing-page-v2/functions.php on line 1441 Warning: Trying to access array offset on value of type null in /customers/c/9/8/wpin4.1prod.one/httpd.www/landing-v2/wp-content/themes/onecom-landing-page-v2/functions.php on line 1441 Warning: Trying to access array offset on value of type null in /customers/c/9/8/wpin4.1prod.one/httpd.www/landing-v2/wp-content/themes/onecom-landing-page-v2/functions.php on line 1441 Deprecated: preg_match(): Passing null to parameter #2 ($subject) of type string is deprecated in /customers/c/9/8/wpin4.1prod.one/httpd.www/landing-v2/wp-content/themes/onecom-landing-page-v2/functions.php on line 1442 Warning: Undefined variable $blocks in /customers/c/9/8/wpin4.1prod.one/httpd.www/landing-v2/wp-content/themes/onecom-landing-page-v2/functions.php on line 1441 Warning: Trying to access array offset on value of type null in /customers/c/9/8/wpin4.1prod.one/httpd.www/landing-v2/wp-content/themes/onecom-landing-page-v2/functions.php on line 1441 Warning: Trying to access array offset on value of type null in /customers/c/9/8/wpin4.1prod.one/httpd.www/landing-v2/wp-content/themes/onecom-landing-page-v2/functions.php on line 1441 Deprecated: preg_match(): Passing null to parameter #2 ($subject) of type string is deprecated in /customers/c/9/8/wpin4.1prod.one/httpd.www/landing-v2/wp-content/themes/onecom-landing-page-v2/functions.php on line 1442 Warning: Undefined variable $blocks in /customers/c/9/8/wpin4.1prod.one/httpd.www/landing-v2/wp-content/themes/onecom-landing-page-v2/functions.php on line 1441 Warning: Trying to access array offset on value of type null in /customers/c/9/8/wpin4.1prod.one/httpd.www/landing-v2/wp-content/themes/onecom-landing-page-v2/functions.php on line 1441 Warning: Trying to access array offset on value of type null in /customers/c/9/8/wpin4.1prod.one/httpd.www/landing-v2/wp-content/themes/onecom-landing-page-v2/functions.php on line 1441 Deprecated: preg_match(): Passing null to parameter #2 ($subject) of type string is deprecated in /customers/c/9/8/wpin4.1prod.one/httpd.www/landing-v2/wp-content/themes/onecom-landing-page-v2/functions.php on line 1442 Warning: Undefined variable $blocks in /customers/c/9/8/wpin4.1prod.one/httpd.www/landing-v2/wp-content/themes/onecom-landing-page-v2/functions.php on line 1441 Warning: Trying to access array offset on value of type null in /customers/c/9/8/wpin4.1prod.one/httpd.www/landing-v2/wp-content/themes/onecom-landing-page-v2/functions.php on line 1441 Warning: Trying to access array offset on value of type null in /customers/c/9/8/wpin4.1prod.one/httpd.www/landing-v2/wp-content/themes/onecom-landing-page-v2/functions.php on line 1441 Deprecated: preg_match(): Passing null to parameter #2 ($subject) of type string is deprecated in /customers/c/9/8/wpin4.1prod.one/httpd.www/landing-v2/wp-content/themes/onecom-landing-page-v2/functions.php on line 1442 Warning: Undefined variable $blocks in /customers/c/9/8/wpin4.1prod.one/httpd.www/landing-v2/wp-content/themes/onecom-landing-page-v2/functions.php on line 1441 Warning: Trying to access array offset on value of type null in /customers/c/9/8/wpin4.1prod.one/httpd.www/landing-v2/wp-content/themes/onecom-landing-page-v2/functions.php on line 1441 Warning: Trying to access array offset on value of type null in /customers/c/9/8/wpin4.1prod.one/httpd.www/landing-v2/wp-content/themes/onecom-landing-page-v2/functions.php on line 1441 Deprecated: preg_match(): Passing null to parameter #2 ($subject) of type string is deprecated in /customers/c/9/8/wpin4.1prod.one/httpd.www/landing-v2/wp-content/themes/onecom-landing-page-v2/functions.php on line 1442 Warning: Undefined variable $blocks in /customers/c/9/8/wpin4.1prod.one/httpd.www/landing-v2/wp-content/themes/onecom-landing-page-v2/functions.php on line 1441 Warning: Trying to access array offset on value of type null in /customers/c/9/8/wpin4.1prod.one/httpd.www/landing-v2/wp-content/themes/onecom-landing-page-v2/functions.php on line 1441 Warning: Trying to access array offset on value of type null in /customers/c/9/8/wpin4.1prod.one/httpd.www/landing-v2/wp-content/themes/onecom-landing-page-v2/functions.php on line 1441 Deprecated: preg_match(): Passing null to parameter #2 ($subject) of type string is deprecated in /customers/c/9/8/wpin4.1prod.one/httpd.www/landing-v2/wp-content/themes/onecom-landing-page-v2/functions.php on line 1442 Warning: Undefined variable $blocks in /customers/c/9/8/wpin4.1prod.one/httpd.www/landing-v2/wp-content/themes/onecom-landing-page-v2/functions.php on line 1441 Warning: Trying to access array offset on value of type null in /customers/c/9/8/wpin4.1prod.one/httpd.www/landing-v2/wp-content/themes/onecom-landing-page-v2/functions.php on line 1441 Warning: Trying to access array offset on value of type null in /customers/c/9/8/wpin4.1prod.one/httpd.www/landing-v2/wp-content/themes/onecom-landing-page-v2/functions.php on line 1441 Deprecated: preg_match(): Passing null to parameter #2 ($subject) of type string is deprecated in /customers/c/9/8/wpin4.1prod.one/httpd.www/landing-v2/wp-content/themes/onecom-landing-page-v2/functions.php on line 1442 Warning: Undefined variable $blocks in /customers/c/9/8/wpin4.1prod.one/httpd.www/landing-v2/wp-content/themes/onecom-landing-page-v2/functions.php on line 1441 Warning: Trying to access array offset on value of type null in /customers/c/9/8/wpin4.1prod.one/httpd.www/landing-v2/wp-content/themes/onecom-landing-page-v2/functions.php on line 1441 Warning: Trying to access array offset on value of type null in /customers/c/9/8/wpin4.1prod.one/httpd.www/landing-v2/wp-content/themes/onecom-landing-page-v2/functions.php on line 1441 Deprecated: preg_match(): Passing null to parameter #2 ($subject) of type string is deprecated in /customers/c/9/8/wpin4.1prod.one/httpd.www/landing-v2/wp-content/themes/onecom-landing-page-v2/functions.php on line 1442 Warning: Undefined variable $blocks in /customers/c/9/8/wpin4.1prod.one/httpd.www/landing-v2/wp-content/themes/onecom-landing-page-v2/functions.php on line 1441 Warning: Trying to access array offset on value of type null in /customers/c/9/8/wpin4.1prod.one/httpd.www/landing-v2/wp-content/themes/onecom-landing-page-v2/functions.php on line 1441 Warning: Trying to access array offset on value of type null in /customers/c/9/8/wpin4.1prod.one/httpd.www/landing-v2/wp-content/themes/onecom-landing-page-v2/functions.php on line 1441 Deprecated: preg_match(): Passing null to parameter #2 ($subject) of type string is deprecated in /customers/c/9/8/wpin4.1prod.one/httpd.www/landing-v2/wp-content/themes/onecom-landing-page-v2/functions.php on line 1442 Warning: Undefined variable $blocks in /customers/c/9/8/wpin4.1prod.one/httpd.www/landing-v2/wp-content/themes/onecom-landing-page-v2/functions.php on line 1441 Warning: Trying to access array offset on value of type null in /customers/c/9/8/wpin4.1prod.one/httpd.www/landing-v2/wp-content/themes/onecom-landing-page-v2/functions.php on line 1441 Warning: Trying to access array offset on value of type null in /customers/c/9/8/wpin4.1prod.one/httpd.www/landing-v2/wp-content/themes/onecom-landing-page-v2/functions.php on line 1441 Deprecated: preg_match(): Passing null to parameter #2 ($subject) of type string is deprecated in /customers/c/9/8/wpin4.1prod.one/httpd.www/landing-v2/wp-content/themes/onecom-landing-page-v2/functions.php on line 1442
De juiste domeinnaam kiezen: 3 onmisbare tips
3 tips voor het bedenken van de juiste domeinnaam
Ooit wel eens een website beheerd? Of geprobeerd er eentje op te zetten? In dat geval zul je de volgende scenario's waarschijnlijk maar al te goed herkennen: je zit bij de computer op zoek naar beschikbare domeinen. Je komt er vervolgens achter dat:
je eigenlijk geen flauw idee hebt wat je voor website zou willen
als je al een idee had voor een domeinnaam, deze al bezet is
Het is op zijn zachtst gezegd frustrerend als je website niet kan functioneren zoals je zou willen, puur omdat je niet de juiste domeinnaam gekozen hebt. In dit artikel vind je concrete tips voor het kiezen van een domeinnaam voor je project en wat je kunt doen als je gewenste naam al in gebruik is.
Zo kies jij de juiste domeinnaam
Op de eerste plaats moet je vooral jezelf een belangrijke vraag stellen, die moeilijker te beantwoorden is dan dat het lijkt: wat is het doel van je toekomstige website? De reden waarom je een eigen website wilt oprichten, is iets dat alleen jij kunt beantwoorden. Misschien heb je al een succesvol bedrijf en is het je doel om je online aanwezigheid te vergroten. Het kan zijn dat je website dan een manier om een nieuwe doelgroep te bereiken.
Er zijn veel opties als het gaat om het kiezen van een domeinnaam, maar er is één algemene regel waar je je aan zal moeten houden. Laat de domeinnaam het doel van je site weerspiegelen. Als je een webshop hebt die schoenen verkoopt, het domein broekenwinkel.nl of wijhebbengeenschoenen.nl is misschien niet echt the way to go. Tenzij all-in gaan op ironie de stijl van je merk is. Dan hebben we niets gezegd.
Tip 1: Kies je domeinnaam op basis van je doel
Zoals eerder vermeld, moet de domeinnaam verbonden zijn met het doel van je website. Een goede domeinnaam zegt iets over jou, je bedrijf of je producten en diensten. Je domeinnaam is jouw merk.
Blogs
Als je een domeinnaam kiest voor je blog, is het gebruik van je eigen naam een nogal voor de hand liggende en misschien eenvoudige route. Als je blog echter een specifieke niche heeft, waarom zou je hier dan niet van profiteren? Een goede manier om aan de slag te gaan, is door te brainstormen. Denk creatief na over trefwoorden. Begin ze vervolgens aan elkaar te koppelen, totdat je iets vindt dat voor jou werkt en dat goed voelt.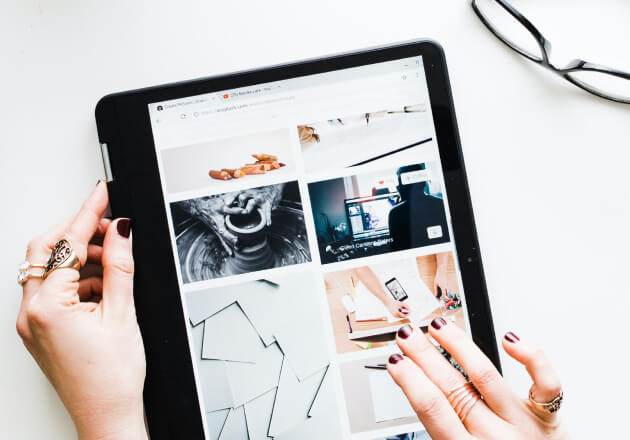 Eigen projecten
De laatste jaren komt het steeds vaker voor dat particulieren hun eigen websites maken. Een reden hiervoor is om een professionele uitstraling te geven die kan worden opgepikt door toekomstige werkgevers. Je kan je persoonlijke domein gebruiken alsof het je eigen visitekaartje is. Dit kan een domein zijn dat bestaat uit het cv van jou als individu of een domein dat bezoekers omleidt naar je LinkedIn-pagina. Bij het kiezen van een domeinnaam voor een dergelijk privé project is het handig om je voor- en achternaam te gebruiken. Als dit al in gebruik is, kun je creatief worden. Heb je een tweede naam? Gooi deze in de strijd om iets moois te creëren.
Een domein voor jouw bedrijf
Zoals al eerder gezegd moet je proberen om zoekwoorden te gebruiken die je site vertegenwoordigen. Je selecteert de beste domeinnaam op basis van een aantal criteria:
Houd het kort
Richt je op de juiste markt
Vermijd cijfers en koppeltekens
Kies iets wat blijft hangen
Wacht niet te lang; voor je het weet pakt een ander jouw domeinnaam.
Tip 2: Zorg dat je domeinnaam super relevant is
Het kiezen van een domeinnaam maken met de naam van je bedrijf is de meest logische en uiteraard een vaak gekozen optie. Het werkt echter niet als de naam van je bedrijf lang is. We raden dan aan om een verkorte versie of een afkorting te proberen. De meeste mensen schrijven een domeinnaam handmatig in de browser. Verplaats jezelf daarom in de schoenen van je bezoekers. Wat is gemakkelijker te typen? devriesenaderendsenbouwbedrijf.nl of dveabouwbedrijf.nl
In dit geval kan het ook een goed idee zijn om beide domeinen te registreren. Via de ene kan je de bezoeker naar andere website leiden. Ingewikkeld? Nee hoor. Om je te helpen kan je onze praktische en stapsgewijze handleiding over het omleiden van een domein lezen.
Tip 3: Bescherm jouw merknaam met meerdere domeinen
Dus je hebt een domeinnaam gekozen. Nu is het tijd om meer domeinnamen te registreren om je merk te beschermen. Dit klinkt gek, maar zien wij als essentieel. Heb je namelijk bijvoorbeeld een bedrijf met internationale klanten? Dan kan het handig zijn om je website te registreren met het landspecifieke topleveldomein voor de landen waarin je actief bent (bijv. .fr voor Frankrijk of .de voor Duitsland). Niet alle landen staan je als ondernemer toe om hun land domein te registreren, tenzij je daar woont of jouw bedrijf een licentie heeft in dat land. Zorg ervoor dat je het domein van het specifieke land mag registreren voordat je verder gaat.
Onze domeinnaam tips samengevat
Het is nu vast wel duidelijk dat het kiezen van je domeinnaam een handeling is die goed moet worden overwogen. Toch moet je ook wel weer snel handelen. Elke dag worden er namelijk een groot aantal nieuwe domeinen geregistreerd op de top level domeinen (zoals .com en .nl). Het risico dat je domeinnaam door iemand anders wordt opgepikt, neemt elke seconde toe. We begrijpen dat je vast kan lopen bij het vinden van de perfecte domeinnaam, maar vergeet niet dat een redelijk goede domeinnaam beter is dan geen domeinnaam.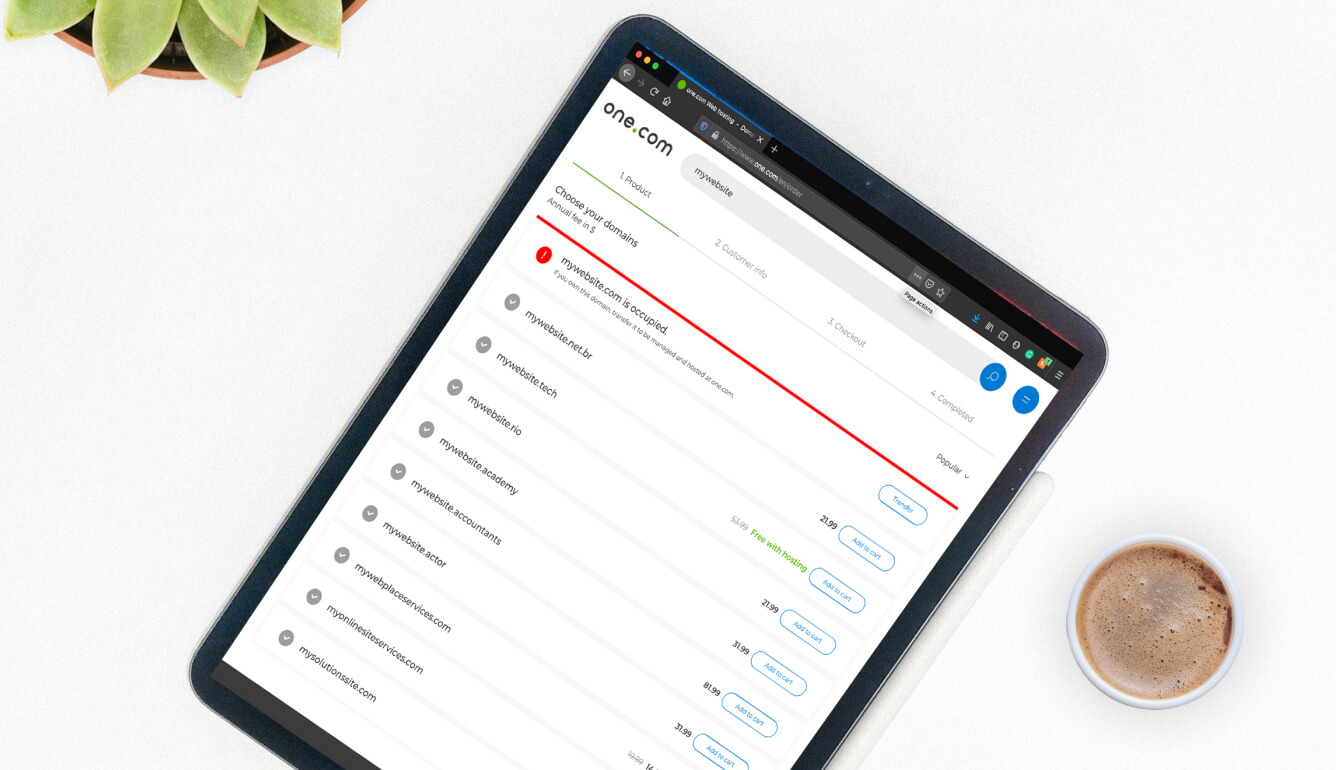 Dus, even een samenvatting. Wanneer je zover bent om een domeinnaam te kiezen, dan houd je rekening met het volgende:
Registreer een domeinnaam die past bij het doel van de site
Registreer meerdere domeinen / hoofddomeinen om je merk te beschermen
Kies een betrouwbare domein registrar, zoals one.com
Houd de naam zo kort mogelijk (zolang het logisch is)
Vermijd cijfers en koppeltekens in de domeinnaam
Probeer niet de perfecte domeinnaam te vinden: die bestaat niet. "Een gemiddelde domeinnaam is beter dan geen domeinnaam." – Google
Mocht het nou zo zijn dat je gewenste domeinnaam al bezet is, dan kun je het volgende doen:
Is het mogelijk om de domeinnaam op een of andere manier in te korten?
Kun je een andere domeinextensie kiezen die beschikbaar is?
Neem contact op met de persoon die je gewenste domeinnaam bezit en kijk of hij / zij bereid is deze te verkopen
Ontdek wie de eigenaar is van een domein door een gratis WHOIS-zoekopdracht uit te voeren