Deprecated: Creation of dynamic property WP_Term::$cat_ID is deprecated in /customers/c/9/8/wpin4.1prod.one/httpd.www/landing-v2/wp-includes/category.php on line 378 Deprecated: Creation of dynamic property WP_Term::$category_count is deprecated in /customers/c/9/8/wpin4.1prod.one/httpd.www/landing-v2/wp-includes/category.php on line 379 Deprecated: Creation of dynamic property WP_Term::$category_description is deprecated in /customers/c/9/8/wpin4.1prod.one/httpd.www/landing-v2/wp-includes/category.php on line 380 Deprecated: Creation of dynamic property WP_Term::$cat_name is deprecated in /customers/c/9/8/wpin4.1prod.one/httpd.www/landing-v2/wp-includes/category.php on line 381 Deprecated: Creation of dynamic property WP_Term::$category_nicename is deprecated in /customers/c/9/8/wpin4.1prod.one/httpd.www/landing-v2/wp-includes/category.php on line 382 Deprecated: Creation of dynamic property WP_Term::$category_parent is deprecated in /customers/c/9/8/wpin4.1prod.one/httpd.www/landing-v2/wp-includes/category.php on line 383 Warning: Undefined variable $blocks in /customers/c/9/8/wpin4.1prod.one/httpd.www/landing-v2/wp-content/themes/onecom-landing-page-v2/functions.php on line 1431 Warning: Trying to access array offset on value of type null in /customers/c/9/8/wpin4.1prod.one/httpd.www/landing-v2/wp-content/themes/onecom-landing-page-v2/functions.php on line 1431 Warning: Trying to access array offset on value of type null in /customers/c/9/8/wpin4.1prod.one/httpd.www/landing-v2/wp-content/themes/onecom-landing-page-v2/functions.php on line 1431 Deprecated: str_replace(): Passing null to parameter #3 ($subject) of type array|string is deprecated in /customers/c/9/8/wpin4.1prod.one/httpd.www/landing-v2/wp-content/themes/onecom-landing-page-v2/functions.php on line 1431 Deprecated: Creation of dynamic property WP_Term::$cat_ID is deprecated in /customers/c/9/8/wpin4.1prod.one/httpd.www/landing-v2/wp-includes/category.php on line 378 Deprecated: Creation of dynamic property WP_Term::$category_count is deprecated in /customers/c/9/8/wpin4.1prod.one/httpd.www/landing-v2/wp-includes/category.php on line 379 Deprecated: Creation of dynamic property WP_Term::$category_description is deprecated in /customers/c/9/8/wpin4.1prod.one/httpd.www/landing-v2/wp-includes/category.php on line 380 Deprecated: Creation of dynamic property WP_Term::$cat_name is deprecated in /customers/c/9/8/wpin4.1prod.one/httpd.www/landing-v2/wp-includes/category.php on line 381 Deprecated: Creation of dynamic property WP_Term::$category_nicename is deprecated in /customers/c/9/8/wpin4.1prod.one/httpd.www/landing-v2/wp-includes/category.php on line 382 Deprecated: Creation of dynamic property WP_Term::$category_parent is deprecated in /customers/c/9/8/wpin4.1prod.one/httpd.www/landing-v2/wp-includes/category.php on line 383 Deprecated: Creation of dynamic property WP_Term::$cat_ID is deprecated in /customers/c/9/8/wpin4.1prod.one/httpd.www/landing-v2/wp-includes/category.php on line 378 Deprecated: Creation of dynamic property WP_Term::$category_count is deprecated in /customers/c/9/8/wpin4.1prod.one/httpd.www/landing-v2/wp-includes/category.php on line 379 Deprecated: Creation of dynamic property WP_Term::$category_description is deprecated in /customers/c/9/8/wpin4.1prod.one/httpd.www/landing-v2/wp-includes/category.php on line 380 Deprecated: Creation of dynamic property WP_Term::$cat_name is deprecated in /customers/c/9/8/wpin4.1prod.one/httpd.www/landing-v2/wp-includes/category.php on line 381 Deprecated: Creation of dynamic property WP_Term::$category_nicename is deprecated in /customers/c/9/8/wpin4.1prod.one/httpd.www/landing-v2/wp-includes/category.php on line 382 Deprecated: Creation of dynamic property WP_Term::$category_parent is deprecated in /customers/c/9/8/wpin4.1prod.one/httpd.www/landing-v2/wp-includes/category.php on line 383 Warning: Undefined variable $blocks in /customers/c/9/8/wpin4.1prod.one/httpd.www/landing-v2/wp-content/themes/onecom-landing-page-v2/functions.php on line 1441 Warning: Trying to access array offset on value of type null in /customers/c/9/8/wpin4.1prod.one/httpd.www/landing-v2/wp-content/themes/onecom-landing-page-v2/functions.php on line 1441 Warning: Trying to access array offset on value of type null in /customers/c/9/8/wpin4.1prod.one/httpd.www/landing-v2/wp-content/themes/onecom-landing-page-v2/functions.php on line 1441 Deprecated: preg_match(): Passing null to parameter #2 ($subject) of type string is deprecated in /customers/c/9/8/wpin4.1prod.one/httpd.www/landing-v2/wp-content/themes/onecom-landing-page-v2/functions.php on line 1442 Deprecated: Creation of dynamic property WP_Term::$cat_ID is deprecated in /customers/c/9/8/wpin4.1prod.one/httpd.www/landing-v2/wp-includes/category.php on line 378 Deprecated: Creation of dynamic property WP_Term::$category_count is deprecated in /customers/c/9/8/wpin4.1prod.one/httpd.www/landing-v2/wp-includes/category.php on line 379 Deprecated: Creation of dynamic property WP_Term::$category_description is deprecated in /customers/c/9/8/wpin4.1prod.one/httpd.www/landing-v2/wp-includes/category.php on line 380 Deprecated: Creation of dynamic property WP_Term::$cat_name is deprecated in /customers/c/9/8/wpin4.1prod.one/httpd.www/landing-v2/wp-includes/category.php on line 381 Deprecated: Creation of dynamic property WP_Term::$category_nicename is deprecated in /customers/c/9/8/wpin4.1prod.one/httpd.www/landing-v2/wp-includes/category.php on line 382 Deprecated: Creation of dynamic property WP_Term::$category_parent is deprecated in /customers/c/9/8/wpin4.1prod.one/httpd.www/landing-v2/wp-includes/category.php on line 383 Warning: Undefined variable $blocks in /customers/c/9/8/wpin4.1prod.one/httpd.www/landing-v2/wp-content/themes/onecom-landing-page-v2/functions.php on line 1441 Warning: Trying to access array offset on value of type null in /customers/c/9/8/wpin4.1prod.one/httpd.www/landing-v2/wp-content/themes/onecom-landing-page-v2/functions.php on line 1441 Warning: Trying to access array offset on value of type null in /customers/c/9/8/wpin4.1prod.one/httpd.www/landing-v2/wp-content/themes/onecom-landing-page-v2/functions.php on line 1441 Deprecated: preg_match(): Passing null to parameter #2 ($subject) of type string is deprecated in /customers/c/9/8/wpin4.1prod.one/httpd.www/landing-v2/wp-content/themes/onecom-landing-page-v2/functions.php on line 1442 Deprecated: Creation of dynamic property WP_Term::$cat_ID is deprecated in /customers/c/9/8/wpin4.1prod.one/httpd.www/landing-v2/wp-includes/category.php on line 378 Deprecated: Creation of dynamic property WP_Term::$category_count is deprecated in /customers/c/9/8/wpin4.1prod.one/httpd.www/landing-v2/wp-includes/category.php on line 379 Deprecated: Creation of dynamic property WP_Term::$category_description is deprecated in /customers/c/9/8/wpin4.1prod.one/httpd.www/landing-v2/wp-includes/category.php on line 380 Deprecated: Creation of dynamic property WP_Term::$cat_name is deprecated in /customers/c/9/8/wpin4.1prod.one/httpd.www/landing-v2/wp-includes/category.php on line 381 Deprecated: Creation of dynamic property WP_Term::$category_nicename is deprecated in /customers/c/9/8/wpin4.1prod.one/httpd.www/landing-v2/wp-includes/category.php on line 382 Deprecated: Creation of dynamic property WP_Term::$category_parent is deprecated in /customers/c/9/8/wpin4.1prod.one/httpd.www/landing-v2/wp-includes/category.php on line 383 Deprecated: Creation of dynamic property WP_Term::$cat_ID is deprecated in /customers/c/9/8/wpin4.1prod.one/httpd.www/landing-v2/wp-includes/category.php on line 378 Deprecated: Creation of dynamic property WP_Term::$category_count is deprecated in /customers/c/9/8/wpin4.1prod.one/httpd.www/landing-v2/wp-includes/category.php on line 379 Deprecated: Creation of dynamic property WP_Term::$category_description is deprecated in /customers/c/9/8/wpin4.1prod.one/httpd.www/landing-v2/wp-includes/category.php on line 380 Deprecated: Creation of dynamic property WP_Term::$cat_name is deprecated in /customers/c/9/8/wpin4.1prod.one/httpd.www/landing-v2/wp-includes/category.php on line 381 Deprecated: Creation of dynamic property WP_Term::$category_nicename is deprecated in /customers/c/9/8/wpin4.1prod.one/httpd.www/landing-v2/wp-includes/category.php on line 382 Deprecated: Creation of dynamic property WP_Term::$category_parent is deprecated in /customers/c/9/8/wpin4.1prod.one/httpd.www/landing-v2/wp-includes/category.php on line 383 Deprecated: Creation of dynamic property WP_Term::$cat_ID is deprecated in /customers/c/9/8/wpin4.1prod.one/httpd.www/landing-v2/wp-includes/category.php on line 378 Deprecated: Creation of dynamic property WP_Term::$category_count is deprecated in /customers/c/9/8/wpin4.1prod.one/httpd.www/landing-v2/wp-includes/category.php on line 379 Deprecated: Creation of dynamic property WP_Term::$category_description is deprecated in /customers/c/9/8/wpin4.1prod.one/httpd.www/landing-v2/wp-includes/category.php on line 380 Deprecated: Creation of dynamic property WP_Term::$cat_name is deprecated in /customers/c/9/8/wpin4.1prod.one/httpd.www/landing-v2/wp-includes/category.php on line 381 Deprecated: Creation of dynamic property WP_Term::$category_nicename is deprecated in /customers/c/9/8/wpin4.1prod.one/httpd.www/landing-v2/wp-includes/category.php on line 382 Deprecated: Creation of dynamic property WP_Term::$category_parent is deprecated in /customers/c/9/8/wpin4.1prod.one/httpd.www/landing-v2/wp-includes/category.php on line 383 Deprecated: Creation of dynamic property WP_Term::$cat_ID is deprecated in /customers/c/9/8/wpin4.1prod.one/httpd.www/landing-v2/wp-includes/category.php on line 378 Deprecated: Creation of dynamic property WP_Term::$category_count is deprecated in /customers/c/9/8/wpin4.1prod.one/httpd.www/landing-v2/wp-includes/category.php on line 379 Deprecated: Creation of dynamic property WP_Term::$category_description is deprecated in /customers/c/9/8/wpin4.1prod.one/httpd.www/landing-v2/wp-includes/category.php on line 380 Deprecated: Creation of dynamic property WP_Term::$cat_name is deprecated in /customers/c/9/8/wpin4.1prod.one/httpd.www/landing-v2/wp-includes/category.php on line 381 Deprecated: Creation of dynamic property WP_Term::$category_nicename is deprecated in /customers/c/9/8/wpin4.1prod.one/httpd.www/landing-v2/wp-includes/category.php on line 382 Deprecated: Creation of dynamic property WP_Term::$category_parent is deprecated in /customers/c/9/8/wpin4.1prod.one/httpd.www/landing-v2/wp-includes/category.php on line 383 Warning: Undefined variable $blocks in /customers/c/9/8/wpin4.1prod.one/httpd.www/landing-v2/wp-content/themes/onecom-landing-page-v2/functions.php on line 1441 Warning: Trying to access array offset on value of type null in /customers/c/9/8/wpin4.1prod.one/httpd.www/landing-v2/wp-content/themes/onecom-landing-page-v2/functions.php on line 1441 Warning: Trying to access array offset on value of type null in /customers/c/9/8/wpin4.1prod.one/httpd.www/landing-v2/wp-content/themes/onecom-landing-page-v2/functions.php on line 1441 Deprecated: preg_match(): Passing null to parameter #2 ($subject) of type string is deprecated in /customers/c/9/8/wpin4.1prod.one/httpd.www/landing-v2/wp-content/themes/onecom-landing-page-v2/functions.php on line 1442 Deprecated: Creation of dynamic property WP_Term::$cat_ID is deprecated in /customers/c/9/8/wpin4.1prod.one/httpd.www/landing-v2/wp-includes/category.php on line 378 Deprecated: Creation of dynamic property WP_Term::$category_count is deprecated in /customers/c/9/8/wpin4.1prod.one/httpd.www/landing-v2/wp-includes/category.php on line 379 Deprecated: Creation of dynamic property WP_Term::$category_description is deprecated in /customers/c/9/8/wpin4.1prod.one/httpd.www/landing-v2/wp-includes/category.php on line 380 Deprecated: Creation of dynamic property WP_Term::$cat_name is deprecated in /customers/c/9/8/wpin4.1prod.one/httpd.www/landing-v2/wp-includes/category.php on line 381 Deprecated: Creation of dynamic property WP_Term::$category_nicename is deprecated in /customers/c/9/8/wpin4.1prod.one/httpd.www/landing-v2/wp-includes/category.php on line 382 Deprecated: Creation of dynamic property WP_Term::$category_parent is deprecated in /customers/c/9/8/wpin4.1prod.one/httpd.www/landing-v2/wp-includes/category.php on line 383 Deprecated: Creation of dynamic property WP_Term::$cat_ID is deprecated in /customers/c/9/8/wpin4.1prod.one/httpd.www/landing-v2/wp-includes/category.php on line 378 Deprecated: Creation of dynamic property WP_Term::$category_count is deprecated in /customers/c/9/8/wpin4.1prod.one/httpd.www/landing-v2/wp-includes/category.php on line 379 Deprecated: Creation of dynamic property WP_Term::$category_description is deprecated in /customers/c/9/8/wpin4.1prod.one/httpd.www/landing-v2/wp-includes/category.php on line 380 Deprecated: Creation of dynamic property WP_Term::$cat_name is deprecated in /customers/c/9/8/wpin4.1prod.one/httpd.www/landing-v2/wp-includes/category.php on line 381 Deprecated: Creation of dynamic property WP_Term::$category_nicename is deprecated in /customers/c/9/8/wpin4.1prod.one/httpd.www/landing-v2/wp-includes/category.php on line 382 Deprecated: Creation of dynamic property WP_Term::$category_parent is deprecated in /customers/c/9/8/wpin4.1prod.one/httpd.www/landing-v2/wp-includes/category.php on line 383 Deprecated: Creation of dynamic property WP_Term::$cat_ID is deprecated in /customers/c/9/8/wpin4.1prod.one/httpd.www/landing-v2/wp-includes/category.php on line 378 Deprecated: Creation of dynamic property WP_Term::$category_count is deprecated in /customers/c/9/8/wpin4.1prod.one/httpd.www/landing-v2/wp-includes/category.php on line 379 Deprecated: Creation of dynamic property WP_Term::$category_description is deprecated in /customers/c/9/8/wpin4.1prod.one/httpd.www/landing-v2/wp-includes/category.php on line 380 Deprecated: Creation of dynamic property WP_Term::$cat_name is deprecated in /customers/c/9/8/wpin4.1prod.one/httpd.www/landing-v2/wp-includes/category.php on line 381 Deprecated: Creation of dynamic property WP_Term::$category_nicename is deprecated in /customers/c/9/8/wpin4.1prod.one/httpd.www/landing-v2/wp-includes/category.php on line 382 Deprecated: Creation of dynamic property WP_Term::$category_parent is deprecated in /customers/c/9/8/wpin4.1prod.one/httpd.www/landing-v2/wp-includes/category.php on line 383 Deprecated: Creation of dynamic property WP_Term::$cat_ID is deprecated in /customers/c/9/8/wpin4.1prod.one/httpd.www/landing-v2/wp-includes/category.php on line 378 Deprecated: Creation of dynamic property WP_Term::$category_count is deprecated in /customers/c/9/8/wpin4.1prod.one/httpd.www/landing-v2/wp-includes/category.php on line 379 Deprecated: Creation of dynamic property WP_Term::$category_description is deprecated in /customers/c/9/8/wpin4.1prod.one/httpd.www/landing-v2/wp-includes/category.php on line 380 Deprecated: Creation of dynamic property WP_Term::$cat_name is deprecated in /customers/c/9/8/wpin4.1prod.one/httpd.www/landing-v2/wp-includes/category.php on line 381 Deprecated: Creation of dynamic property WP_Term::$category_nicename is deprecated in /customers/c/9/8/wpin4.1prod.one/httpd.www/landing-v2/wp-includes/category.php on line 382 Deprecated: Creation of dynamic property WP_Term::$category_parent is deprecated in /customers/c/9/8/wpin4.1prod.one/httpd.www/landing-v2/wp-includes/category.php on line 383 Deprecated: Creation of dynamic property WP_Term::$cat_ID is deprecated in /customers/c/9/8/wpin4.1prod.one/httpd.www/landing-v2/wp-includes/category.php on line 378 Deprecated: Creation of dynamic property WP_Term::$category_count is deprecated in /customers/c/9/8/wpin4.1prod.one/httpd.www/landing-v2/wp-includes/category.php on line 379 Deprecated: Creation of dynamic property WP_Term::$category_description is deprecated in /customers/c/9/8/wpin4.1prod.one/httpd.www/landing-v2/wp-includes/category.php on line 380 Deprecated: Creation of dynamic property WP_Term::$cat_name is deprecated in /customers/c/9/8/wpin4.1prod.one/httpd.www/landing-v2/wp-includes/category.php on line 381 Deprecated: Creation of dynamic property WP_Term::$category_nicename is deprecated in /customers/c/9/8/wpin4.1prod.one/httpd.www/landing-v2/wp-includes/category.php on line 382 Deprecated: Creation of dynamic property WP_Term::$category_parent is deprecated in /customers/c/9/8/wpin4.1prod.one/httpd.www/landing-v2/wp-includes/category.php on line 383 Deprecated: Creation of dynamic property WP_Term::$cat_ID is deprecated in /customers/c/9/8/wpin4.1prod.one/httpd.www/landing-v2/wp-includes/category.php on line 378 Deprecated: Creation of dynamic property WP_Term::$category_count is deprecated in /customers/c/9/8/wpin4.1prod.one/httpd.www/landing-v2/wp-includes/category.php on line 379 Deprecated: Creation of dynamic property WP_Term::$category_description is deprecated in /customers/c/9/8/wpin4.1prod.one/httpd.www/landing-v2/wp-includes/category.php on line 380 Deprecated: Creation of dynamic property WP_Term::$cat_name is deprecated in /customers/c/9/8/wpin4.1prod.one/httpd.www/landing-v2/wp-includes/category.php on line 381 Deprecated: Creation of dynamic property WP_Term::$category_nicename is deprecated in /customers/c/9/8/wpin4.1prod.one/httpd.www/landing-v2/wp-includes/category.php on line 382 Deprecated: Creation of dynamic property WP_Term::$category_parent is deprecated in /customers/c/9/8/wpin4.1prod.one/httpd.www/landing-v2/wp-includes/category.php on line 383 Deprecated: Creation of dynamic property WP_Term::$cat_ID is deprecated in /customers/c/9/8/wpin4.1prod.one/httpd.www/landing-v2/wp-includes/category.php on line 378 Deprecated: Creation of dynamic property WP_Term::$category_count is deprecated in /customers/c/9/8/wpin4.1prod.one/httpd.www/landing-v2/wp-includes/category.php on line 379 Deprecated: Creation of dynamic property WP_Term::$category_description is deprecated in /customers/c/9/8/wpin4.1prod.one/httpd.www/landing-v2/wp-includes/category.php on line 380 Deprecated: Creation of dynamic property WP_Term::$cat_name is deprecated in /customers/c/9/8/wpin4.1prod.one/httpd.www/landing-v2/wp-includes/category.php on line 381 Deprecated: Creation of dynamic property WP_Term::$category_nicename is deprecated in /customers/c/9/8/wpin4.1prod.one/httpd.www/landing-v2/wp-includes/category.php on line 382 Deprecated: Creation of dynamic property WP_Term::$category_parent is deprecated in /customers/c/9/8/wpin4.1prod.one/httpd.www/landing-v2/wp-includes/category.php on line 383 Deprecated: Creation of dynamic property WP_Term::$cat_ID is deprecated in /customers/c/9/8/wpin4.1prod.one/httpd.www/landing-v2/wp-includes/category.php on line 378 Deprecated: Creation of dynamic property WP_Term::$category_count is deprecated in /customers/c/9/8/wpin4.1prod.one/httpd.www/landing-v2/wp-includes/category.php on line 379 Deprecated: Creation of dynamic property WP_Term::$category_description is deprecated in /customers/c/9/8/wpin4.1prod.one/httpd.www/landing-v2/wp-includes/category.php on line 380 Deprecated: Creation of dynamic property WP_Term::$cat_name is deprecated in /customers/c/9/8/wpin4.1prod.one/httpd.www/landing-v2/wp-includes/category.php on line 381 Deprecated: Creation of dynamic property WP_Term::$category_nicename is deprecated in /customers/c/9/8/wpin4.1prod.one/httpd.www/landing-v2/wp-includes/category.php on line 382 Deprecated: Creation of dynamic property WP_Term::$category_parent is deprecated in /customers/c/9/8/wpin4.1prod.one/httpd.www/landing-v2/wp-includes/category.php on line 383 Warning: Undefined variable $blocks in /customers/c/9/8/wpin4.1prod.one/httpd.www/landing-v2/wp-content/themes/onecom-landing-page-v2/functions.php on line 1441 Warning: Trying to access array offset on value of type null in /customers/c/9/8/wpin4.1prod.one/httpd.www/landing-v2/wp-content/themes/onecom-landing-page-v2/functions.php on line 1441 Warning: Trying to access array offset on value of type null in /customers/c/9/8/wpin4.1prod.one/httpd.www/landing-v2/wp-content/themes/onecom-landing-page-v2/functions.php on line 1441 Deprecated: preg_match(): Passing null to parameter #2 ($subject) of type string is deprecated in /customers/c/9/8/wpin4.1prod.one/httpd.www/landing-v2/wp-content/themes/onecom-landing-page-v2/functions.php on line 1442 Deprecated: Creation of dynamic property WP_Block::$attributes is deprecated in /customers/c/9/8/wpin4.1prod.one/httpd.www/landing-v2/wp-includes/class-wp-block.php on line 179 Deprecated: Creation of dynamic property WP_Term::$cat_ID is deprecated in /customers/c/9/8/wpin4.1prod.one/httpd.www/landing-v2/wp-includes/category.php on line 378 Deprecated: Creation of dynamic property WP_Term::$category_count is deprecated in /customers/c/9/8/wpin4.1prod.one/httpd.www/landing-v2/wp-includes/category.php on line 379 Deprecated: Creation of dynamic property WP_Term::$category_description is deprecated in /customers/c/9/8/wpin4.1prod.one/httpd.www/landing-v2/wp-includes/category.php on line 380 Deprecated: Creation of dynamic property WP_Term::$cat_name is deprecated in /customers/c/9/8/wpin4.1prod.one/httpd.www/landing-v2/wp-includes/category.php on line 381 Deprecated: Creation of dynamic property WP_Term::$category_nicename is deprecated in /customers/c/9/8/wpin4.1prod.one/httpd.www/landing-v2/wp-includes/category.php on line 382 Deprecated: Creation of dynamic property WP_Term::$category_parent is deprecated in /customers/c/9/8/wpin4.1prod.one/httpd.www/landing-v2/wp-includes/category.php on line 383 Deprecated: Creation of dynamic property WP_Term::$cat_ID is deprecated in /customers/c/9/8/wpin4.1prod.one/httpd.www/landing-v2/wp-includes/category.php on line 378 Deprecated: Creation of dynamic property WP_Term::$category_count is deprecated in /customers/c/9/8/wpin4.1prod.one/httpd.www/landing-v2/wp-includes/category.php on line 379 Deprecated: Creation of dynamic property WP_Term::$category_description is deprecated in /customers/c/9/8/wpin4.1prod.one/httpd.www/landing-v2/wp-includes/category.php on line 380 Deprecated: Creation of dynamic property WP_Term::$cat_name is deprecated in /customers/c/9/8/wpin4.1prod.one/httpd.www/landing-v2/wp-includes/category.php on line 381 Deprecated: Creation of dynamic property WP_Term::$category_nicename is deprecated in /customers/c/9/8/wpin4.1prod.one/httpd.www/landing-v2/wp-includes/category.php on line 382 Deprecated: Creation of dynamic property WP_Term::$category_parent is deprecated in /customers/c/9/8/wpin4.1prod.one/httpd.www/landing-v2/wp-includes/category.php on line 383 Deprecated: Creation of dynamic property WP_Term::$cat_ID is deprecated in /customers/c/9/8/wpin4.1prod.one/httpd.www/landing-v2/wp-includes/category.php on line 378 Deprecated: Creation of dynamic property WP_Term::$category_count is deprecated in /customers/c/9/8/wpin4.1prod.one/httpd.www/landing-v2/wp-includes/category.php on line 379 Deprecated: Creation of dynamic property WP_Term::$category_description is deprecated in /customers/c/9/8/wpin4.1prod.one/httpd.www/landing-v2/wp-includes/category.php on line 380 Deprecated: Creation of dynamic property WP_Term::$cat_name is deprecated in /customers/c/9/8/wpin4.1prod.one/httpd.www/landing-v2/wp-includes/category.php on line 381 Deprecated: Creation of dynamic property WP_Term::$category_nicename is deprecated in /customers/c/9/8/wpin4.1prod.one/httpd.www/landing-v2/wp-includes/category.php on line 382 Deprecated: Creation of dynamic property WP_Term::$category_parent is deprecated in /customers/c/9/8/wpin4.1prod.one/httpd.www/landing-v2/wp-includes/category.php on line 383 Warning: Undefined variable $blocks in /customers/c/9/8/wpin4.1prod.one/httpd.www/landing-v2/wp-content/themes/onecom-landing-page-v2/functions.php on line 1441 Warning: Trying to access array offset on value of type null in /customers/c/9/8/wpin4.1prod.one/httpd.www/landing-v2/wp-content/themes/onecom-landing-page-v2/functions.php on line 1441 Warning: Trying to access array offset on value of type null in /customers/c/9/8/wpin4.1prod.one/httpd.www/landing-v2/wp-content/themes/onecom-landing-page-v2/functions.php on line 1441 Deprecated: preg_match(): Passing null to parameter #2 ($subject) of type string is deprecated in /customers/c/9/8/wpin4.1prod.one/httpd.www/landing-v2/wp-content/themes/onecom-landing-page-v2/functions.php on line 1442 Deprecated: Creation of dynamic property WP_Term::$cat_ID is deprecated in /customers/c/9/8/wpin4.1prod.one/httpd.www/landing-v2/wp-includes/category.php on line 378 Deprecated: Creation of dynamic property WP_Term::$category_count is deprecated in /customers/c/9/8/wpin4.1prod.one/httpd.www/landing-v2/wp-includes/category.php on line 379 Deprecated: Creation of dynamic property WP_Term::$category_description is deprecated in /customers/c/9/8/wpin4.1prod.one/httpd.www/landing-v2/wp-includes/category.php on line 380 Deprecated: Creation of dynamic property WP_Term::$cat_name is deprecated in /customers/c/9/8/wpin4.1prod.one/httpd.www/landing-v2/wp-includes/category.php on line 381 Deprecated: Creation of dynamic property WP_Term::$category_nicename is deprecated in /customers/c/9/8/wpin4.1prod.one/httpd.www/landing-v2/wp-includes/category.php on line 382 Deprecated: Creation of dynamic property WP_Term::$category_parent is deprecated in /customers/c/9/8/wpin4.1prod.one/httpd.www/landing-v2/wp-includes/category.php on line 383 Warning: Undefined variable $blocks in /customers/c/9/8/wpin4.1prod.one/httpd.www/landing-v2/wp-content/themes/onecom-landing-page-v2/functions.php on line 1441 Warning: Trying to access array offset on value of type null in /customers/c/9/8/wpin4.1prod.one/httpd.www/landing-v2/wp-content/themes/onecom-landing-page-v2/functions.php on line 1441 Warning: Trying to access array offset on value of type null in /customers/c/9/8/wpin4.1prod.one/httpd.www/landing-v2/wp-content/themes/onecom-landing-page-v2/functions.php on line 1441 Deprecated: preg_match(): Passing null to parameter #2 ($subject) of type string is deprecated in /customers/c/9/8/wpin4.1prod.one/httpd.www/landing-v2/wp-content/themes/onecom-landing-page-v2/functions.php on line 1442 Deprecated: Creation of dynamic property WP_Term::$cat_ID is deprecated in /customers/c/9/8/wpin4.1prod.one/httpd.www/landing-v2/wp-includes/category.php on line 378 Deprecated: Creation of dynamic property WP_Term::$category_count is deprecated in /customers/c/9/8/wpin4.1prod.one/httpd.www/landing-v2/wp-includes/category.php on line 379 Deprecated: Creation of dynamic property WP_Term::$category_description is deprecated in /customers/c/9/8/wpin4.1prod.one/httpd.www/landing-v2/wp-includes/category.php on line 380 Deprecated: Creation of dynamic property WP_Term::$cat_name is deprecated in /customers/c/9/8/wpin4.1prod.one/httpd.www/landing-v2/wp-includes/category.php on line 381 Deprecated: Creation of dynamic property WP_Term::$category_nicename is deprecated in /customers/c/9/8/wpin4.1prod.one/httpd.www/landing-v2/wp-includes/category.php on line 382 Deprecated: Creation of dynamic property WP_Term::$category_parent is deprecated in /customers/c/9/8/wpin4.1prod.one/httpd.www/landing-v2/wp-includes/category.php on line 383 Warning: Undefined variable $blocks in /customers/c/9/8/wpin4.1prod.one/httpd.www/landing-v2/wp-content/themes/onecom-landing-page-v2/functions.php on line 1441 Warning: Trying to access array offset on value of type null in /customers/c/9/8/wpin4.1prod.one/httpd.www/landing-v2/wp-content/themes/onecom-landing-page-v2/functions.php on line 1441 Warning: Trying to access array offset on value of type null in /customers/c/9/8/wpin4.1prod.one/httpd.www/landing-v2/wp-content/themes/onecom-landing-page-v2/functions.php on line 1441 Deprecated: preg_match(): Passing null to parameter #2 ($subject) of type string is deprecated in /customers/c/9/8/wpin4.1prod.one/httpd.www/landing-v2/wp-content/themes/onecom-landing-page-v2/functions.php on line 1442 Deprecated: Creation of dynamic property WP_Term::$cat_ID is deprecated in /customers/c/9/8/wpin4.1prod.one/httpd.www/landing-v2/wp-includes/category.php on line 378 Deprecated: Creation of dynamic property WP_Term::$category_count is deprecated in /customers/c/9/8/wpin4.1prod.one/httpd.www/landing-v2/wp-includes/category.php on line 379 Deprecated: Creation of dynamic property WP_Term::$category_description is deprecated in /customers/c/9/8/wpin4.1prod.one/httpd.www/landing-v2/wp-includes/category.php on line 380 Deprecated: Creation of dynamic property WP_Term::$cat_name is deprecated in /customers/c/9/8/wpin4.1prod.one/httpd.www/landing-v2/wp-includes/category.php on line 381 Deprecated: Creation of dynamic property WP_Term::$category_nicename is deprecated in /customers/c/9/8/wpin4.1prod.one/httpd.www/landing-v2/wp-includes/category.php on line 382 Deprecated: Creation of dynamic property WP_Term::$category_parent is deprecated in /customers/c/9/8/wpin4.1prod.one/httpd.www/landing-v2/wp-includes/category.php on line 383 Deprecated: Creation of dynamic property WP_Term::$cat_ID is deprecated in /customers/c/9/8/wpin4.1prod.one/httpd.www/landing-v2/wp-includes/category.php on line 378 Deprecated: Creation of dynamic property WP_Term::$category_count is deprecated in /customers/c/9/8/wpin4.1prod.one/httpd.www/landing-v2/wp-includes/category.php on line 379 Deprecated: Creation of dynamic property WP_Term::$category_description is deprecated in /customers/c/9/8/wpin4.1prod.one/httpd.www/landing-v2/wp-includes/category.php on line 380 Deprecated: Creation of dynamic property WP_Term::$cat_name is deprecated in /customers/c/9/8/wpin4.1prod.one/httpd.www/landing-v2/wp-includes/category.php on line 381 Deprecated: Creation of dynamic property WP_Term::$category_nicename is deprecated in /customers/c/9/8/wpin4.1prod.one/httpd.www/landing-v2/wp-includes/category.php on line 382 Deprecated: Creation of dynamic property WP_Term::$category_parent is deprecated in /customers/c/9/8/wpin4.1prod.one/httpd.www/landing-v2/wp-includes/category.php on line 383 Warning: Undefined variable $blocks in /customers/c/9/8/wpin4.1prod.one/httpd.www/landing-v2/wp-content/themes/onecom-landing-page-v2/functions.php on line 1441 Warning: Trying to access array offset on value of type null in /customers/c/9/8/wpin4.1prod.one/httpd.www/landing-v2/wp-content/themes/onecom-landing-page-v2/functions.php on line 1441 Warning: Trying to access array offset on value of type null in /customers/c/9/8/wpin4.1prod.one/httpd.www/landing-v2/wp-content/themes/onecom-landing-page-v2/functions.php on line 1441 Deprecated: preg_match(): Passing null to parameter #2 ($subject) of type string is deprecated in /customers/c/9/8/wpin4.1prod.one/httpd.www/landing-v2/wp-content/themes/onecom-landing-page-v2/functions.php on line 1442 Deprecated: Creation of dynamic property WP_Term::$cat_ID is deprecated in /customers/c/9/8/wpin4.1prod.one/httpd.www/landing-v2/wp-includes/category.php on line 378 Deprecated: Creation of dynamic property WP_Term::$category_count is deprecated in /customers/c/9/8/wpin4.1prod.one/httpd.www/landing-v2/wp-includes/category.php on line 379 Deprecated: Creation of dynamic property WP_Term::$category_description is deprecated in /customers/c/9/8/wpin4.1prod.one/httpd.www/landing-v2/wp-includes/category.php on line 380 Deprecated: Creation of dynamic property WP_Term::$cat_name is deprecated in /customers/c/9/8/wpin4.1prod.one/httpd.www/landing-v2/wp-includes/category.php on line 381 Deprecated: Creation of dynamic property WP_Term::$category_nicename is deprecated in /customers/c/9/8/wpin4.1prod.one/httpd.www/landing-v2/wp-includes/category.php on line 382 Deprecated: Creation of dynamic property WP_Term::$category_parent is deprecated in /customers/c/9/8/wpin4.1prod.one/httpd.www/landing-v2/wp-includes/category.php on line 383 Warning: Undefined variable $blocks in /customers/c/9/8/wpin4.1prod.one/httpd.www/landing-v2/wp-content/themes/onecom-landing-page-v2/functions.php on line 1441 Warning: Trying to access array offset on value of type null in /customers/c/9/8/wpin4.1prod.one/httpd.www/landing-v2/wp-content/themes/onecom-landing-page-v2/functions.php on line 1441 Warning: Trying to access array offset on value of type null in /customers/c/9/8/wpin4.1prod.one/httpd.www/landing-v2/wp-content/themes/onecom-landing-page-v2/functions.php on line 1441 Deprecated: preg_match(): Passing null to parameter #2 ($subject) of type string is deprecated in /customers/c/9/8/wpin4.1prod.one/httpd.www/landing-v2/wp-content/themes/onecom-landing-page-v2/functions.php on line 1442 Deprecated: Creation of dynamic property WP_Block::$attributes is deprecated in /customers/c/9/8/wpin4.1prod.one/httpd.www/landing-v2/wp-includes/class-wp-block.php on line 179 Deprecated: Creation of dynamic property WP_Term::$cat_ID is deprecated in /customers/c/9/8/wpin4.1prod.one/httpd.www/landing-v2/wp-includes/category.php on line 378 Deprecated: Creation of dynamic property WP_Term::$category_count is deprecated in /customers/c/9/8/wpin4.1prod.one/httpd.www/landing-v2/wp-includes/category.php on line 379 Deprecated: Creation of dynamic property WP_Term::$category_description is deprecated in /customers/c/9/8/wpin4.1prod.one/httpd.www/landing-v2/wp-includes/category.php on line 380 Deprecated: Creation of dynamic property WP_Term::$cat_name is deprecated in /customers/c/9/8/wpin4.1prod.one/httpd.www/landing-v2/wp-includes/category.php on line 381 Deprecated: Creation of dynamic property WP_Term::$category_nicename is deprecated in /customers/c/9/8/wpin4.1prod.one/httpd.www/landing-v2/wp-includes/category.php on line 382 Deprecated: Creation of dynamic property WP_Term::$category_parent is deprecated in /customers/c/9/8/wpin4.1prod.one/httpd.www/landing-v2/wp-includes/category.php on line 383 Deprecated: Creation of dynamic property WP_Term::$cat_ID is deprecated in /customers/c/9/8/wpin4.1prod.one/httpd.www/landing-v2/wp-includes/category.php on line 378 Deprecated: Creation of dynamic property WP_Term::$category_count is deprecated in /customers/c/9/8/wpin4.1prod.one/httpd.www/landing-v2/wp-includes/category.php on line 379 Deprecated: Creation of dynamic property WP_Term::$category_description is deprecated in /customers/c/9/8/wpin4.1prod.one/httpd.www/landing-v2/wp-includes/category.php on line 380 Deprecated: Creation of dynamic property WP_Term::$cat_name is deprecated in /customers/c/9/8/wpin4.1prod.one/httpd.www/landing-v2/wp-includes/category.php on line 381 Deprecated: Creation of dynamic property WP_Term::$category_nicename is deprecated in /customers/c/9/8/wpin4.1prod.one/httpd.www/landing-v2/wp-includes/category.php on line 382 Deprecated: Creation of dynamic property WP_Term::$category_parent is deprecated in /customers/c/9/8/wpin4.1prod.one/httpd.www/landing-v2/wp-includes/category.php on line 383 Deprecated: Creation of dynamic property WP_Term::$cat_ID is deprecated in /customers/c/9/8/wpin4.1prod.one/httpd.www/landing-v2/wp-includes/category.php on line 378 Deprecated: Creation of dynamic property WP_Term::$category_count is deprecated in /customers/c/9/8/wpin4.1prod.one/httpd.www/landing-v2/wp-includes/category.php on line 379 Deprecated: Creation of dynamic property WP_Term::$category_description is deprecated in /customers/c/9/8/wpin4.1prod.one/httpd.www/landing-v2/wp-includes/category.php on line 380 Deprecated: Creation of dynamic property WP_Term::$cat_name is deprecated in /customers/c/9/8/wpin4.1prod.one/httpd.www/landing-v2/wp-includes/category.php on line 381 Deprecated: Creation of dynamic property WP_Term::$category_nicename is deprecated in /customers/c/9/8/wpin4.1prod.one/httpd.www/landing-v2/wp-includes/category.php on line 382 Deprecated: Creation of dynamic property WP_Term::$category_parent is deprecated in /customers/c/9/8/wpin4.1prod.one/httpd.www/landing-v2/wp-includes/category.php on line 383 Warning: Undefined variable $blocks in /customers/c/9/8/wpin4.1prod.one/httpd.www/landing-v2/wp-content/themes/onecom-landing-page-v2/functions.php on line 1441 Warning: Trying to access array offset on value of type null in /customers/c/9/8/wpin4.1prod.one/httpd.www/landing-v2/wp-content/themes/onecom-landing-page-v2/functions.php on line 1441 Warning: Trying to access array offset on value of type null in /customers/c/9/8/wpin4.1prod.one/httpd.www/landing-v2/wp-content/themes/onecom-landing-page-v2/functions.php on line 1441 Deprecated: preg_match(): Passing null to parameter #2 ($subject) of type string is deprecated in /customers/c/9/8/wpin4.1prod.one/httpd.www/landing-v2/wp-content/themes/onecom-landing-page-v2/functions.php on line 1442 Deprecated: Creation of dynamic property WP_Term::$cat_ID is deprecated in /customers/c/9/8/wpin4.1prod.one/httpd.www/landing-v2/wp-includes/category.php on line 378 Deprecated: Creation of dynamic property WP_Term::$category_count is deprecated in /customers/c/9/8/wpin4.1prod.one/httpd.www/landing-v2/wp-includes/category.php on line 379 Deprecated: Creation of dynamic property WP_Term::$category_description is deprecated in /customers/c/9/8/wpin4.1prod.one/httpd.www/landing-v2/wp-includes/category.php on line 380 Deprecated: Creation of dynamic property WP_Term::$cat_name is deprecated in /customers/c/9/8/wpin4.1prod.one/httpd.www/landing-v2/wp-includes/category.php on line 381 Deprecated: Creation of dynamic property WP_Term::$category_nicename is deprecated in /customers/c/9/8/wpin4.1prod.one/httpd.www/landing-v2/wp-includes/category.php on line 382 Deprecated: Creation of dynamic property WP_Term::$category_parent is deprecated in /customers/c/9/8/wpin4.1prod.one/httpd.www/landing-v2/wp-includes/category.php on line 383 Deprecated: Creation of dynamic property WP_Term::$cat_ID is deprecated in /customers/c/9/8/wpin4.1prod.one/httpd.www/landing-v2/wp-includes/category.php on line 378 Deprecated: Creation of dynamic property WP_Term::$category_count is deprecated in /customers/c/9/8/wpin4.1prod.one/httpd.www/landing-v2/wp-includes/category.php on line 379 Deprecated: Creation of dynamic property WP_Term::$category_description is deprecated in /customers/c/9/8/wpin4.1prod.one/httpd.www/landing-v2/wp-includes/category.php on line 380 Deprecated: Creation of dynamic property WP_Term::$cat_name is deprecated in /customers/c/9/8/wpin4.1prod.one/httpd.www/landing-v2/wp-includes/category.php on line 381 Deprecated: Creation of dynamic property WP_Term::$category_nicename is deprecated in /customers/c/9/8/wpin4.1prod.one/httpd.www/landing-v2/wp-includes/category.php on line 382 Deprecated: Creation of dynamic property WP_Term::$category_parent is deprecated in /customers/c/9/8/wpin4.1prod.one/httpd.www/landing-v2/wp-includes/category.php on line 383 Warning: Undefined variable $blocks in /customers/c/9/8/wpin4.1prod.one/httpd.www/landing-v2/wp-content/themes/onecom-landing-page-v2/functions.php on line 1441 Warning: Trying to access array offset on value of type null in /customers/c/9/8/wpin4.1prod.one/httpd.www/landing-v2/wp-content/themes/onecom-landing-page-v2/functions.php on line 1441 Warning: Trying to access array offset on value of type null in /customers/c/9/8/wpin4.1prod.one/httpd.www/landing-v2/wp-content/themes/onecom-landing-page-v2/functions.php on line 1441 Deprecated: preg_match(): Passing null to parameter #2 ($subject) of type string is deprecated in /customers/c/9/8/wpin4.1prod.one/httpd.www/landing-v2/wp-content/themes/onecom-landing-page-v2/functions.php on line 1442 Deprecated: Creation of dynamic property WP_Term::$cat_ID is deprecated in /customers/c/9/8/wpin4.1prod.one/httpd.www/landing-v2/wp-includes/category.php on line 378 Deprecated: Creation of dynamic property WP_Term::$category_count is deprecated in /customers/c/9/8/wpin4.1prod.one/httpd.www/landing-v2/wp-includes/category.php on line 379 Deprecated: Creation of dynamic property WP_Term::$category_description is deprecated in /customers/c/9/8/wpin4.1prod.one/httpd.www/landing-v2/wp-includes/category.php on line 380 Deprecated: Creation of dynamic property WP_Term::$cat_name is deprecated in /customers/c/9/8/wpin4.1prod.one/httpd.www/landing-v2/wp-includes/category.php on line 381 Deprecated: Creation of dynamic property WP_Term::$category_nicename is deprecated in /customers/c/9/8/wpin4.1prod.one/httpd.www/landing-v2/wp-includes/category.php on line 382 Deprecated: Creation of dynamic property WP_Term::$category_parent is deprecated in /customers/c/9/8/wpin4.1prod.one/httpd.www/landing-v2/wp-includes/category.php on line 383 Warning: Undefined variable $blocks in /customers/c/9/8/wpin4.1prod.one/httpd.www/landing-v2/wp-content/themes/onecom-landing-page-v2/functions.php on line 1441 Warning: Trying to access array offset on value of type null in /customers/c/9/8/wpin4.1prod.one/httpd.www/landing-v2/wp-content/themes/onecom-landing-page-v2/functions.php on line 1441 Warning: Trying to access array offset on value of type null in /customers/c/9/8/wpin4.1prod.one/httpd.www/landing-v2/wp-content/themes/onecom-landing-page-v2/functions.php on line 1441 Deprecated: preg_match(): Passing null to parameter #2 ($subject) of type string is deprecated in /customers/c/9/8/wpin4.1prod.one/httpd.www/landing-v2/wp-content/themes/onecom-landing-page-v2/functions.php on line 1442 Deprecated: Creation of dynamic property WP_Term::$cat_ID is deprecated in /customers/c/9/8/wpin4.1prod.one/httpd.www/landing-v2/wp-includes/category.php on line 378 Deprecated: Creation of dynamic property WP_Term::$category_count is deprecated in /customers/c/9/8/wpin4.1prod.one/httpd.www/landing-v2/wp-includes/category.php on line 379 Deprecated: Creation of dynamic property WP_Term::$category_description is deprecated in /customers/c/9/8/wpin4.1prod.one/httpd.www/landing-v2/wp-includes/category.php on line 380 Deprecated: Creation of dynamic property WP_Term::$cat_name is deprecated in /customers/c/9/8/wpin4.1prod.one/httpd.www/landing-v2/wp-includes/category.php on line 381 Deprecated: Creation of dynamic property WP_Term::$category_nicename is deprecated in /customers/c/9/8/wpin4.1prod.one/httpd.www/landing-v2/wp-includes/category.php on line 382 Deprecated: Creation of dynamic property WP_Term::$category_parent is deprecated in /customers/c/9/8/wpin4.1prod.one/httpd.www/landing-v2/wp-includes/category.php on line 383 Deprecated: Creation of dynamic property WP_Term::$cat_ID is deprecated in /customers/c/9/8/wpin4.1prod.one/httpd.www/landing-v2/wp-includes/category.php on line 378 Deprecated: Creation of dynamic property WP_Term::$category_count is deprecated in /customers/c/9/8/wpin4.1prod.one/httpd.www/landing-v2/wp-includes/category.php on line 379 Deprecated: Creation of dynamic property WP_Term::$category_description is deprecated in /customers/c/9/8/wpin4.1prod.one/httpd.www/landing-v2/wp-includes/category.php on line 380 Deprecated: Creation of dynamic property WP_Term::$cat_name is deprecated in /customers/c/9/8/wpin4.1prod.one/httpd.www/landing-v2/wp-includes/category.php on line 381 Deprecated: Creation of dynamic property WP_Term::$category_nicename is deprecated in /customers/c/9/8/wpin4.1prod.one/httpd.www/landing-v2/wp-includes/category.php on line 382 Deprecated: Creation of dynamic property WP_Term::$category_parent is deprecated in /customers/c/9/8/wpin4.1prod.one/httpd.www/landing-v2/wp-includes/category.php on line 383 Deprecated: Creation of dynamic property WP_Term::$cat_ID is deprecated in /customers/c/9/8/wpin4.1prod.one/httpd.www/landing-v2/wp-includes/category.php on line 378 Deprecated: Creation of dynamic property WP_Term::$category_count is deprecated in /customers/c/9/8/wpin4.1prod.one/httpd.www/landing-v2/wp-includes/category.php on line 379 Deprecated: Creation of dynamic property WP_Term::$category_description is deprecated in /customers/c/9/8/wpin4.1prod.one/httpd.www/landing-v2/wp-includes/category.php on line 380 Deprecated: Creation of dynamic property WP_Term::$cat_name is deprecated in /customers/c/9/8/wpin4.1prod.one/httpd.www/landing-v2/wp-includes/category.php on line 381 Deprecated: Creation of dynamic property WP_Term::$category_nicename is deprecated in /customers/c/9/8/wpin4.1prod.one/httpd.www/landing-v2/wp-includes/category.php on line 382 Deprecated: Creation of dynamic property WP_Term::$category_parent is deprecated in /customers/c/9/8/wpin4.1prod.one/httpd.www/landing-v2/wp-includes/category.php on line 383 Warning: Undefined variable $blocks in /customers/c/9/8/wpin4.1prod.one/httpd.www/landing-v2/wp-content/themes/onecom-landing-page-v2/functions.php on line 1441 Warning: Trying to access array offset on value of type null in /customers/c/9/8/wpin4.1prod.one/httpd.www/landing-v2/wp-content/themes/onecom-landing-page-v2/functions.php on line 1441 Warning: Trying to access array offset on value of type null in /customers/c/9/8/wpin4.1prod.one/httpd.www/landing-v2/wp-content/themes/onecom-landing-page-v2/functions.php on line 1441 Deprecated: preg_match(): Passing null to parameter #2 ($subject) of type string is deprecated in /customers/c/9/8/wpin4.1prod.one/httpd.www/landing-v2/wp-content/themes/onecom-landing-page-v2/functions.php on line 1442 Deprecated: Creation of dynamic property WP_Term::$cat_ID is deprecated in /customers/c/9/8/wpin4.1prod.one/httpd.www/landing-v2/wp-includes/category.php on line 378 Deprecated: Creation of dynamic property WP_Term::$category_count is deprecated in /customers/c/9/8/wpin4.1prod.one/httpd.www/landing-v2/wp-includes/category.php on line 379 Deprecated: Creation of dynamic property WP_Term::$category_description is deprecated in /customers/c/9/8/wpin4.1prod.one/httpd.www/landing-v2/wp-includes/category.php on line 380 Deprecated: Creation of dynamic property WP_Term::$cat_name is deprecated in /customers/c/9/8/wpin4.1prod.one/httpd.www/landing-v2/wp-includes/category.php on line 381 Deprecated: Creation of dynamic property WP_Term::$category_nicename is deprecated in /customers/c/9/8/wpin4.1prod.one/httpd.www/landing-v2/wp-includes/category.php on line 382 Deprecated: Creation of dynamic property WP_Term::$category_parent is deprecated in /customers/c/9/8/wpin4.1prod.one/httpd.www/landing-v2/wp-includes/category.php on line 383
Waar je aan moet denken als je een domeinnaam koopt
Belangrijke overwegingen waar je anders misschien niet aan gedacht had!
Je neemt eindelijk een stap in jouw nieuwe online reis en je denkt erover om een nieuwe domeinnaam te kopen. Geloof het of niet, je moet goed nadenken over wat je wil bereiken als je een domeinnaam koopt. Als eerste wil je een authentiek bericht uitstralen naar jouw toekomstige gebruikers en klanten. Ten tweede zal jouw domeinnaam een groot deel zijn van jouw merk en iets waar jouw bedrijf aan herkend wordt. Daarom is het belangrijk om veel aandacht aan jouw domeinnaam te besteden.
Dit artikel kijkt naar wat jij moet overwegen voor je een domeinnaam koopt.
Vier dingen om over na te denken voordat je een domeinnaam koopt
Hieronder hebben we vier dingen opgesomd waar je over na moet denken voor je jouw domeinnaam kiest. Hou ook in de gaten dat je de beschikbaarheid van de domeinnaam moet controleren als je een domeinnaam hebt gekozen. Hieronder lees je daar meer over. should consider before deciding on your domain name. Also, keep in mind that you need to check the name's domain availability once you've decided on your domain name. More on this further down.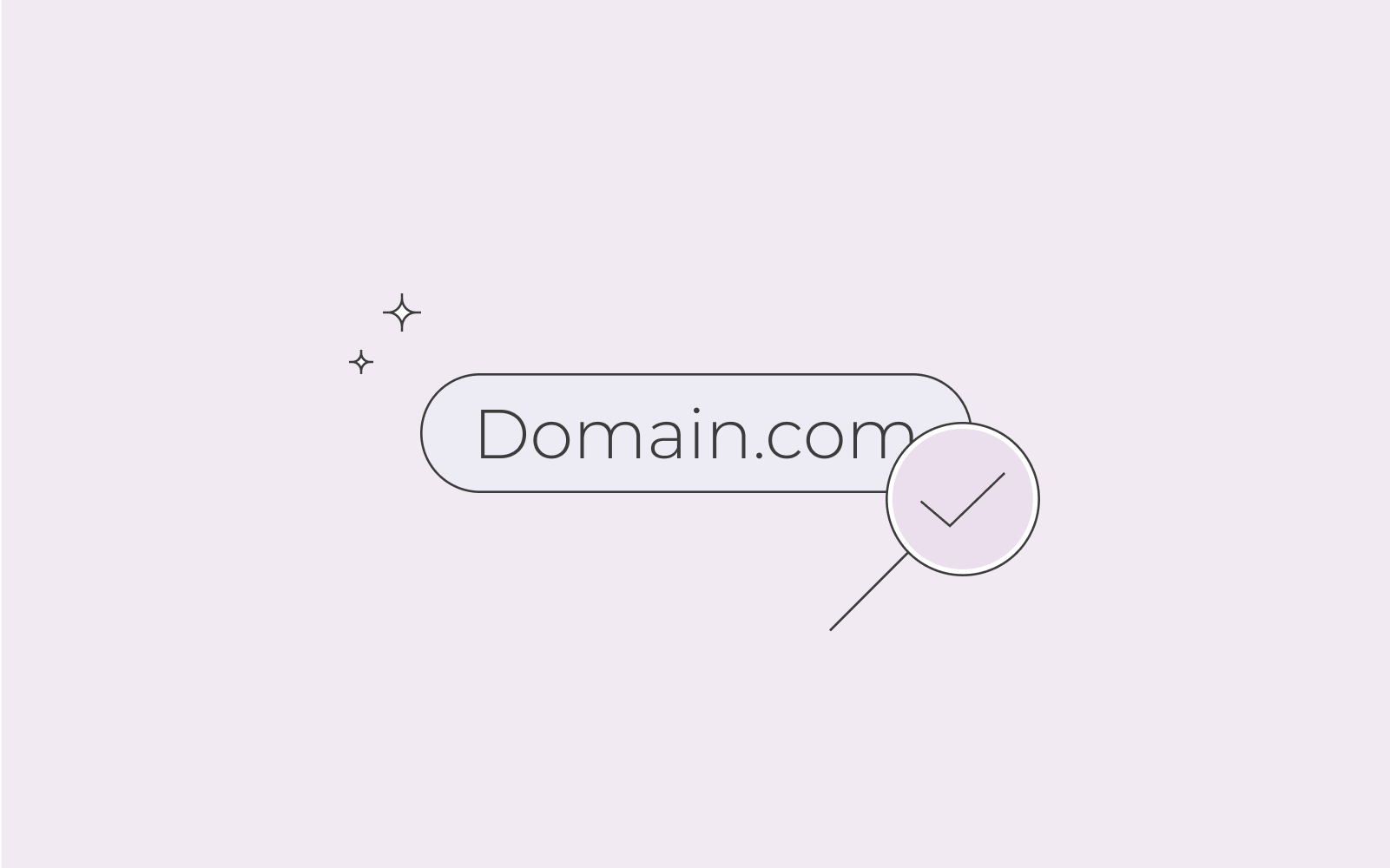 Is het slim om je eigen naam als domeinnaam te gebruiken?
Veel mensen gebruiken hun echte namen als domeinnaam. Er is niks mis met deze keuze, maar er zijn wel een aantal dingen waar je op moet letten als je ervoor kiest om dat te doen.
Het probleem met het hebben van jouw persoonlijke naam als domeinnaam is dat het niet veel zegt over jouw bedrijf. Het is over het algemeen goed als de domeinnaam aangeeft wat voor type bedrijf je hebt.
Desondanks zijn er veel bekende bedrijven met domeinnamen die niet aangeven wat voor bedrijf het is en zij zijn ook succesvol geworden.
Het is wel iets wat je in de gaten moet houden als je ervoor kiest om jouw naam te gebruiken; let op dat je misschien op andere manieren opheldering moet geven over het doel van jouw bedrijf.
Een trefwoord als domeinnaam
Als je ervoor kiest om een domeinnaam te kopen die indicatief is voor jouw bedrijf, is het slim om een trefwoord in de domeinnaam te gebruiken. Dit zal niet alleen duidelijk maken aan, bijvoorbeeld een vreemde, wat voor bedrijf jij hebt maar het kan ook helpen met jouw SEO. Zorg daarom dat je een aantal trefwoorden paraat hebt die je eventueel wil gebruiken voordat je domeinnamen gaat controleren op beschikbaarheid.
Het is misschien moeilijk om jouw droom naam te vinden als je kijkt naar beschikbare domeinnamen; het is slim om meerdere trefwoorden bij de hand houden om zo een grotere kans te hebben dat ten minste een van die trefwoorden beschikbaar is.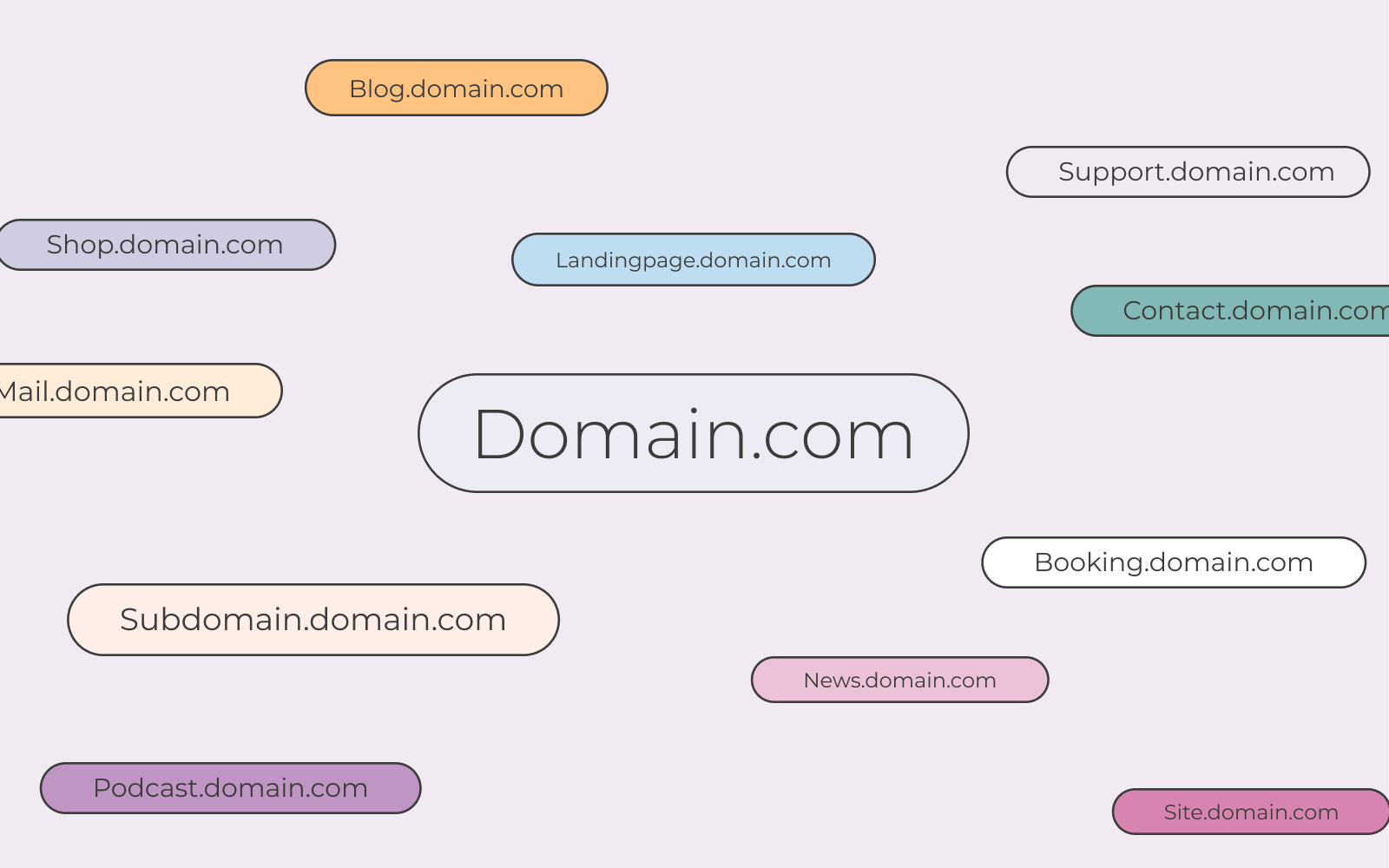 Zoeken op Google
Als je eenmaal jouw domeinnaam hebt en weet dat deze beschikbaar is, is het handig om de naam op te zoeken op Google. Je wil het risico dat een domeinnaam te veel op de domeinnaam van iemand anders lijkt elimineren. Je wil geen verwarring als iemand zoekt naar jouw website op Google; je wil niet dat ze bij de verkeerde website eindigen.
Domeinnaam check
Als je alles klaar hebt ga je naar de naam checker en typ je jouw beoogde domeinnaam in. Deze domein zoeker zal alle social media afzoeken voor de domeinnaam die je wil gebruiken om er zeker van te zijn dat je deze naam op alle platformen kan gebruiken. Het is bijvoorbeeld niet ideaal als je een domeinnaam koopt om er later achter te komen dat je geen account kan openen op Facebook omdat de naam al bezet is.
Zelfs als je niet van plan bent om een account op alle social media platformen te creeeren, wil je er zeker van zijn dat niemand anders jouw domeinnaam kan gebruiken als hun Facebook naam – dit weer om verwarring voorkomen en te zorgen dat niemand zich kan voordoen als jouw bedrijf.