Warning: Undefined variable $blocks in /customers/c/9/8/wpin4.1prod.one/httpd.www/landing-v2/wp-content/themes/onecom-landing-page-v2/functions.php on line 1431 Warning: Trying to access array offset on value of type null in /customers/c/9/8/wpin4.1prod.one/httpd.www/landing-v2/wp-content/themes/onecom-landing-page-v2/functions.php on line 1431 Warning: Trying to access array offset on value of type null in /customers/c/9/8/wpin4.1prod.one/httpd.www/landing-v2/wp-content/themes/onecom-landing-page-v2/functions.php on line 1431 Deprecated: str_replace(): Passing null to parameter #3 ($subject) of type array|string is deprecated in /customers/c/9/8/wpin4.1prod.one/httpd.www/landing-v2/wp-content/themes/onecom-landing-page-v2/functions.php on line 1431 Warning: Undefined variable $blocks in /customers/c/9/8/wpin4.1prod.one/httpd.www/landing-v2/wp-content/themes/onecom-landing-page-v2/functions.php on line 1441 Warning: Trying to access array offset on value of type null in /customers/c/9/8/wpin4.1prod.one/httpd.www/landing-v2/wp-content/themes/onecom-landing-page-v2/functions.php on line 1441 Warning: Trying to access array offset on value of type null in /customers/c/9/8/wpin4.1prod.one/httpd.www/landing-v2/wp-content/themes/onecom-landing-page-v2/functions.php on line 1441 Deprecated: preg_match(): Passing null to parameter #2 ($subject) of type string is deprecated in /customers/c/9/8/wpin4.1prod.one/httpd.www/landing-v2/wp-content/themes/onecom-landing-page-v2/functions.php on line 1442 Warning: Undefined variable $blocks in /customers/c/9/8/wpin4.1prod.one/httpd.www/landing-v2/wp-content/themes/onecom-landing-page-v2/functions.php on line 1441 Warning: Trying to access array offset on value of type null in /customers/c/9/8/wpin4.1prod.one/httpd.www/landing-v2/wp-content/themes/onecom-landing-page-v2/functions.php on line 1441 Warning: Trying to access array offset on value of type null in /customers/c/9/8/wpin4.1prod.one/httpd.www/landing-v2/wp-content/themes/onecom-landing-page-v2/functions.php on line 1441 Deprecated: preg_match(): Passing null to parameter #2 ($subject) of type string is deprecated in /customers/c/9/8/wpin4.1prod.one/httpd.www/landing-v2/wp-content/themes/onecom-landing-page-v2/functions.php on line 1442 Warning: Undefined variable $blocks in /customers/c/9/8/wpin4.1prod.one/httpd.www/landing-v2/wp-content/themes/onecom-landing-page-v2/functions.php on line 1441 Warning: Trying to access array offset on value of type null in /customers/c/9/8/wpin4.1prod.one/httpd.www/landing-v2/wp-content/themes/onecom-landing-page-v2/functions.php on line 1441 Warning: Trying to access array offset on value of type null in /customers/c/9/8/wpin4.1prod.one/httpd.www/landing-v2/wp-content/themes/onecom-landing-page-v2/functions.php on line 1441 Deprecated: preg_match(): Passing null to parameter #2 ($subject) of type string is deprecated in /customers/c/9/8/wpin4.1prod.one/httpd.www/landing-v2/wp-content/themes/onecom-landing-page-v2/functions.php on line 1442 Warning: Undefined variable $blocks in /customers/c/9/8/wpin4.1prod.one/httpd.www/landing-v2/wp-content/themes/onecom-landing-page-v2/functions.php on line 1441 Warning: Trying to access array offset on value of type null in /customers/c/9/8/wpin4.1prod.one/httpd.www/landing-v2/wp-content/themes/onecom-landing-page-v2/functions.php on line 1441 Warning: Trying to access array offset on value of type null in /customers/c/9/8/wpin4.1prod.one/httpd.www/landing-v2/wp-content/themes/onecom-landing-page-v2/functions.php on line 1441 Deprecated: preg_match(): Passing null to parameter #2 ($subject) of type string is deprecated in /customers/c/9/8/wpin4.1prod.one/httpd.www/landing-v2/wp-content/themes/onecom-landing-page-v2/functions.php on line 1442 Warning: Undefined variable $blocks in /customers/c/9/8/wpin4.1prod.one/httpd.www/landing-v2/wp-content/themes/onecom-landing-page-v2/functions.php on line 1441 Warning: Trying to access array offset on value of type null in /customers/c/9/8/wpin4.1prod.one/httpd.www/landing-v2/wp-content/themes/onecom-landing-page-v2/functions.php on line 1441 Warning: Trying to access array offset on value of type null in /customers/c/9/8/wpin4.1prod.one/httpd.www/landing-v2/wp-content/themes/onecom-landing-page-v2/functions.php on line 1441 Deprecated: preg_match(): Passing null to parameter #2 ($subject) of type string is deprecated in /customers/c/9/8/wpin4.1prod.one/httpd.www/landing-v2/wp-content/themes/onecom-landing-page-v2/functions.php on line 1442 Warning: Undefined variable $blocks in /customers/c/9/8/wpin4.1prod.one/httpd.www/landing-v2/wp-content/themes/onecom-landing-page-v2/functions.php on line 1441 Warning: Trying to access array offset on value of type null in /customers/c/9/8/wpin4.1prod.one/httpd.www/landing-v2/wp-content/themes/onecom-landing-page-v2/functions.php on line 1441 Warning: Trying to access array offset on value of type null in /customers/c/9/8/wpin4.1prod.one/httpd.www/landing-v2/wp-content/themes/onecom-landing-page-v2/functions.php on line 1441 Deprecated: preg_match(): Passing null to parameter #2 ($subject) of type string is deprecated in /customers/c/9/8/wpin4.1prod.one/httpd.www/landing-v2/wp-content/themes/onecom-landing-page-v2/functions.php on line 1442 Warning: Undefined variable $blocks in /customers/c/9/8/wpin4.1prod.one/httpd.www/landing-v2/wp-content/themes/onecom-landing-page-v2/functions.php on line 1441 Warning: Trying to access array offset on value of type null in /customers/c/9/8/wpin4.1prod.one/httpd.www/landing-v2/wp-content/themes/onecom-landing-page-v2/functions.php on line 1441 Warning: Trying to access array offset on value of type null in /customers/c/9/8/wpin4.1prod.one/httpd.www/landing-v2/wp-content/themes/onecom-landing-page-v2/functions.php on line 1441 Deprecated: preg_match(): Passing null to parameter #2 ($subject) of type string is deprecated in /customers/c/9/8/wpin4.1prod.one/httpd.www/landing-v2/wp-content/themes/onecom-landing-page-v2/functions.php on line 1442 Warning: Undefined variable $blocks in /customers/c/9/8/wpin4.1prod.one/httpd.www/landing-v2/wp-content/themes/onecom-landing-page-v2/functions.php on line 1441 Warning: Trying to access array offset on value of type null in /customers/c/9/8/wpin4.1prod.one/httpd.www/landing-v2/wp-content/themes/onecom-landing-page-v2/functions.php on line 1441 Warning: Trying to access array offset on value of type null in /customers/c/9/8/wpin4.1prod.one/httpd.www/landing-v2/wp-content/themes/onecom-landing-page-v2/functions.php on line 1441 Deprecated: preg_match(): Passing null to parameter #2 ($subject) of type string is deprecated in /customers/c/9/8/wpin4.1prod.one/httpd.www/landing-v2/wp-content/themes/onecom-landing-page-v2/functions.php on line 1442 Warning: Undefined variable $blocks in /customers/c/9/8/wpin4.1prod.one/httpd.www/landing-v2/wp-content/themes/onecom-landing-page-v2/functions.php on line 1441 Warning: Trying to access array offset on value of type null in /customers/c/9/8/wpin4.1prod.one/httpd.www/landing-v2/wp-content/themes/onecom-landing-page-v2/functions.php on line 1441 Warning: Trying to access array offset on value of type null in /customers/c/9/8/wpin4.1prod.one/httpd.www/landing-v2/wp-content/themes/onecom-landing-page-v2/functions.php on line 1441 Deprecated: preg_match(): Passing null to parameter #2 ($subject) of type string is deprecated in /customers/c/9/8/wpin4.1prod.one/httpd.www/landing-v2/wp-content/themes/onecom-landing-page-v2/functions.php on line 1442 Warning: Undefined variable $blocks in /customers/c/9/8/wpin4.1prod.one/httpd.www/landing-v2/wp-content/themes/onecom-landing-page-v2/functions.php on line 1441 Warning: Trying to access array offset on value of type null in /customers/c/9/8/wpin4.1prod.one/httpd.www/landing-v2/wp-content/themes/onecom-landing-page-v2/functions.php on line 1441 Warning: Trying to access array offset on value of type null in /customers/c/9/8/wpin4.1prod.one/httpd.www/landing-v2/wp-content/themes/onecom-landing-page-v2/functions.php on line 1441 Deprecated: preg_match(): Passing null to parameter #2 ($subject) of type string is deprecated in /customers/c/9/8/wpin4.1prod.one/httpd.www/landing-v2/wp-content/themes/onecom-landing-page-v2/functions.php on line 1442 Warning: Undefined variable $blocks in /customers/c/9/8/wpin4.1prod.one/httpd.www/landing-v2/wp-content/themes/onecom-landing-page-v2/functions.php on line 1441 Warning: Trying to access array offset on value of type null in /customers/c/9/8/wpin4.1prod.one/httpd.www/landing-v2/wp-content/themes/onecom-landing-page-v2/functions.php on line 1441 Warning: Trying to access array offset on value of type null in /customers/c/9/8/wpin4.1prod.one/httpd.www/landing-v2/wp-content/themes/onecom-landing-page-v2/functions.php on line 1441 Deprecated: preg_match(): Passing null to parameter #2 ($subject) of type string is deprecated in /customers/c/9/8/wpin4.1prod.one/httpd.www/landing-v2/wp-content/themes/onecom-landing-page-v2/functions.php on line 1442 Warning: Undefined variable $blocks in /customers/c/9/8/wpin4.1prod.one/httpd.www/landing-v2/wp-content/themes/onecom-landing-page-v2/functions.php on line 1441 Warning: Trying to access array offset on value of type null in /customers/c/9/8/wpin4.1prod.one/httpd.www/landing-v2/wp-content/themes/onecom-landing-page-v2/functions.php on line 1441 Warning: Trying to access array offset on value of type null in /customers/c/9/8/wpin4.1prod.one/httpd.www/landing-v2/wp-content/themes/onecom-landing-page-v2/functions.php on line 1441 Deprecated: preg_match(): Passing null to parameter #2 ($subject) of type string is deprecated in /customers/c/9/8/wpin4.1prod.one/httpd.www/landing-v2/wp-content/themes/onecom-landing-page-v2/functions.php on line 1442 Warning: Undefined variable $blocks in /customers/c/9/8/wpin4.1prod.one/httpd.www/landing-v2/wp-content/themes/onecom-landing-page-v2/functions.php on line 1441 Warning: Trying to access array offset on value of type null in /customers/c/9/8/wpin4.1prod.one/httpd.www/landing-v2/wp-content/themes/onecom-landing-page-v2/functions.php on line 1441 Warning: Trying to access array offset on value of type null in /customers/c/9/8/wpin4.1prod.one/httpd.www/landing-v2/wp-content/themes/onecom-landing-page-v2/functions.php on line 1441 Deprecated: preg_match(): Passing null to parameter #2 ($subject) of type string is deprecated in /customers/c/9/8/wpin4.1prod.one/httpd.www/landing-v2/wp-content/themes/onecom-landing-page-v2/functions.php on line 1442 Warning: Undefined variable $blocks in /customers/c/9/8/wpin4.1prod.one/httpd.www/landing-v2/wp-content/themes/onecom-landing-page-v2/functions.php on line 1441 Warning: Trying to access array offset on value of type null in /customers/c/9/8/wpin4.1prod.one/httpd.www/landing-v2/wp-content/themes/onecom-landing-page-v2/functions.php on line 1441 Warning: Trying to access array offset on value of type null in /customers/c/9/8/wpin4.1prod.one/httpd.www/landing-v2/wp-content/themes/onecom-landing-page-v2/functions.php on line 1441 Deprecated: preg_match(): Passing null to parameter #2 ($subject) of type string is deprecated in /customers/c/9/8/wpin4.1prod.one/httpd.www/landing-v2/wp-content/themes/onecom-landing-page-v2/functions.php on line 1442 Warning: Undefined variable $blocks in /customers/c/9/8/wpin4.1prod.one/httpd.www/landing-v2/wp-content/themes/onecom-landing-page-v2/functions.php on line 1441 Warning: Trying to access array offset on value of type null in /customers/c/9/8/wpin4.1prod.one/httpd.www/landing-v2/wp-content/themes/onecom-landing-page-v2/functions.php on line 1441 Warning: Trying to access array offset on value of type null in /customers/c/9/8/wpin4.1prod.one/httpd.www/landing-v2/wp-content/themes/onecom-landing-page-v2/functions.php on line 1441 Deprecated: preg_match(): Passing null to parameter #2 ($subject) of type string is deprecated in /customers/c/9/8/wpin4.1prod.one/httpd.www/landing-v2/wp-content/themes/onecom-landing-page-v2/functions.php on line 1442 Warning: Undefined variable $blocks in /customers/c/9/8/wpin4.1prod.one/httpd.www/landing-v2/wp-content/themes/onecom-landing-page-v2/functions.php on line 1441 Warning: Trying to access array offset on value of type null in /customers/c/9/8/wpin4.1prod.one/httpd.www/landing-v2/wp-content/themes/onecom-landing-page-v2/functions.php on line 1441 Warning: Trying to access array offset on value of type null in /customers/c/9/8/wpin4.1prod.one/httpd.www/landing-v2/wp-content/themes/onecom-landing-page-v2/functions.php on line 1441 Deprecated: preg_match(): Passing null to parameter #2 ($subject) of type string is deprecated in /customers/c/9/8/wpin4.1prod.one/httpd.www/landing-v2/wp-content/themes/onecom-landing-page-v2/functions.php on line 1442 Warning: Undefined variable $blocks in /customers/c/9/8/wpin4.1prod.one/httpd.www/landing-v2/wp-content/themes/onecom-landing-page-v2/functions.php on line 1441 Warning: Trying to access array offset on value of type null in /customers/c/9/8/wpin4.1prod.one/httpd.www/landing-v2/wp-content/themes/onecom-landing-page-v2/functions.php on line 1441 Warning: Trying to access array offset on value of type null in /customers/c/9/8/wpin4.1prod.one/httpd.www/landing-v2/wp-content/themes/onecom-landing-page-v2/functions.php on line 1441 Deprecated: preg_match(): Passing null to parameter #2 ($subject) of type string is deprecated in /customers/c/9/8/wpin4.1prod.one/httpd.www/landing-v2/wp-content/themes/onecom-landing-page-v2/functions.php on line 1442 Warning: Undefined variable $blocks in /customers/c/9/8/wpin4.1prod.one/httpd.www/landing-v2/wp-content/themes/onecom-landing-page-v2/functions.php on line 1441 Warning: Trying to access array offset on value of type null in /customers/c/9/8/wpin4.1prod.one/httpd.www/landing-v2/wp-content/themes/onecom-landing-page-v2/functions.php on line 1441 Warning: Trying to access array offset on value of type null in /customers/c/9/8/wpin4.1prod.one/httpd.www/landing-v2/wp-content/themes/onecom-landing-page-v2/functions.php on line 1441 Deprecated: preg_match(): Passing null to parameter #2 ($subject) of type string is deprecated in /customers/c/9/8/wpin4.1prod.one/httpd.www/landing-v2/wp-content/themes/onecom-landing-page-v2/functions.php on line 1442 Warning: Undefined variable $blocks in /customers/c/9/8/wpin4.1prod.one/httpd.www/landing-v2/wp-content/themes/onecom-landing-page-v2/functions.php on line 1441 Warning: Trying to access array offset on value of type null in /customers/c/9/8/wpin4.1prod.one/httpd.www/landing-v2/wp-content/themes/onecom-landing-page-v2/functions.php on line 1441 Warning: Trying to access array offset on value of type null in /customers/c/9/8/wpin4.1prod.one/httpd.www/landing-v2/wp-content/themes/onecom-landing-page-v2/functions.php on line 1441 Deprecated: preg_match(): Passing null to parameter #2 ($subject) of type string is deprecated in /customers/c/9/8/wpin4.1prod.one/httpd.www/landing-v2/wp-content/themes/onecom-landing-page-v2/functions.php on line 1442 Warning: Undefined variable $blocks in /customers/c/9/8/wpin4.1prod.one/httpd.www/landing-v2/wp-content/themes/onecom-landing-page-v2/functions.php on line 1441 Warning: Trying to access array offset on value of type null in /customers/c/9/8/wpin4.1prod.one/httpd.www/landing-v2/wp-content/themes/onecom-landing-page-v2/functions.php on line 1441 Warning: Trying to access array offset on value of type null in /customers/c/9/8/wpin4.1prod.one/httpd.www/landing-v2/wp-content/themes/onecom-landing-page-v2/functions.php on line 1441 Deprecated: preg_match(): Passing null to parameter #2 ($subject) of type string is deprecated in /customers/c/9/8/wpin4.1prod.one/httpd.www/landing-v2/wp-content/themes/onecom-landing-page-v2/functions.php on line 1442 Warning: Undefined variable $blocks in /customers/c/9/8/wpin4.1prod.one/httpd.www/landing-v2/wp-content/themes/onecom-landing-page-v2/functions.php on line 1441 Warning: Trying to access array offset on value of type null in /customers/c/9/8/wpin4.1prod.one/httpd.www/landing-v2/wp-content/themes/onecom-landing-page-v2/functions.php on line 1441 Warning: Trying to access array offset on value of type null in /customers/c/9/8/wpin4.1prod.one/httpd.www/landing-v2/wp-content/themes/onecom-landing-page-v2/functions.php on line 1441 Deprecated: preg_match(): Passing null to parameter #2 ($subject) of type string is deprecated in /customers/c/9/8/wpin4.1prod.one/httpd.www/landing-v2/wp-content/themes/onecom-landing-page-v2/functions.php on line 1442
Sådan stopper du spam mails
Stop spam mails, så de ikke ender i din indbakke
Bliver du ved med at modtage spam mails med pinligt indhold, der vedrører forskellige voksentjenester, eller bliver du jævnligt tilbudt en kæmpearv fra en nigeriansk prins?
Vi har vist alle været udsat for at modtage forskellige spam mails, hvad enten det drejer sig om lægemidler eller nogen der forsøger at sælge dig noget eller prøver at lokke dig til at optage et lån. Desværre er det næsten umuligt fuldstændigt at stoppe strømmen af disse uønskede e-mails. Men vi giver dig her 6 tips til, hvordan du løser en del af problemet, og undgår at din indbakke bliver bombarderet med spam mails.
Hvad er spam mails?
Spam emails har forskellige navne. Du har sikkert hørt om phishing e-mails, som er falske, uønskede e-mails, hvor hackere forsøger at hive personlige oplysninger ud af dig.
Spam mails refererer typisk til mails, hvor afsenderen ønsker at få dig til at afgive personlige oplysninger, der typisk vedrører din økonomi. Du kan risikere, at nogen beder dig om at donere et beløb, optage et lån eller måske modtager du en email, der informerer dig om, at du er den heldige vinder af en ny bil. Formålet med disse e-mails er at få dig til at klikke på et link og dermed åbne porten for mulige virusangreb. Disse vira angriber din computer eller mobilenhed for at få adgang til dine personlige oplysninger.
Hvordan genkendes spam mails?
Sommetider er det let at genkende spam mails, mens det andre gange kan være svært at gennemskue, om mailen kommer fra en pålidelig afsender eller ej. Vi giver dig her fire måder, hvorpå du nemt kan få øje på uønskede mails:
En måde at identificere spam mails på er ved at kigge på, hvem afsenderen er. Hvis afsenderen f.eks. har en mailadresse som denne lottery-winner@tX93053533aka09q2.com, så er det en god ide at bruge sin sunde fornuft, og spørge sig selv om ikke dette ser lidt for mystisk ud.
Læs altid hvad der står i emnefeltet, førend du klikker på noget i en mail, som du har modtaget. Det gælder især, hvis det er fra en afsender, som du ikke kender. Ofte vil der i netop emnefeltet kunne være tegn på, at mailen kan være en phishing mail.
Tjek også hvem mailen er sendt til. Nogle gange sendes disse spam mails til en lang række modtagere på én gang.
Endelig, og måske i virkeligheden den nemmeste måde at genkende uønskede e-mails på, er ved at læse indholdet af mailen. Er det skrevet i et korrekt sprog eller bærer stavemåder og grammatik præg af, at afsenderen måske ikke har reelle hensigter, men snarere forsøger at spamme dig.
Forhold dig kritisk til det, og spørg dig selv, når du først har læst indholdet, om du virkelig har tænkt dig at ansøge om et lån uden at have kontrolleret virksomhedens legitimitet. Det kan også være, at du bliver bedt om tilmelde dig og videregive personlige oplysninger for at kunne vinde en bil? Her gælder det også om at bruge din kritiske sans. Og hvor sandsynligt er det lige, at du har vundet stort i lotteriet og nu bliver bedt om at afgive dine bankoplysninger, så pengene kan blive indsat på din konto? Kunne alt dette ikke godt være tegn på spam mails? Hvis det lyder for godt til at være sandt, så er det det sandsynligvis også.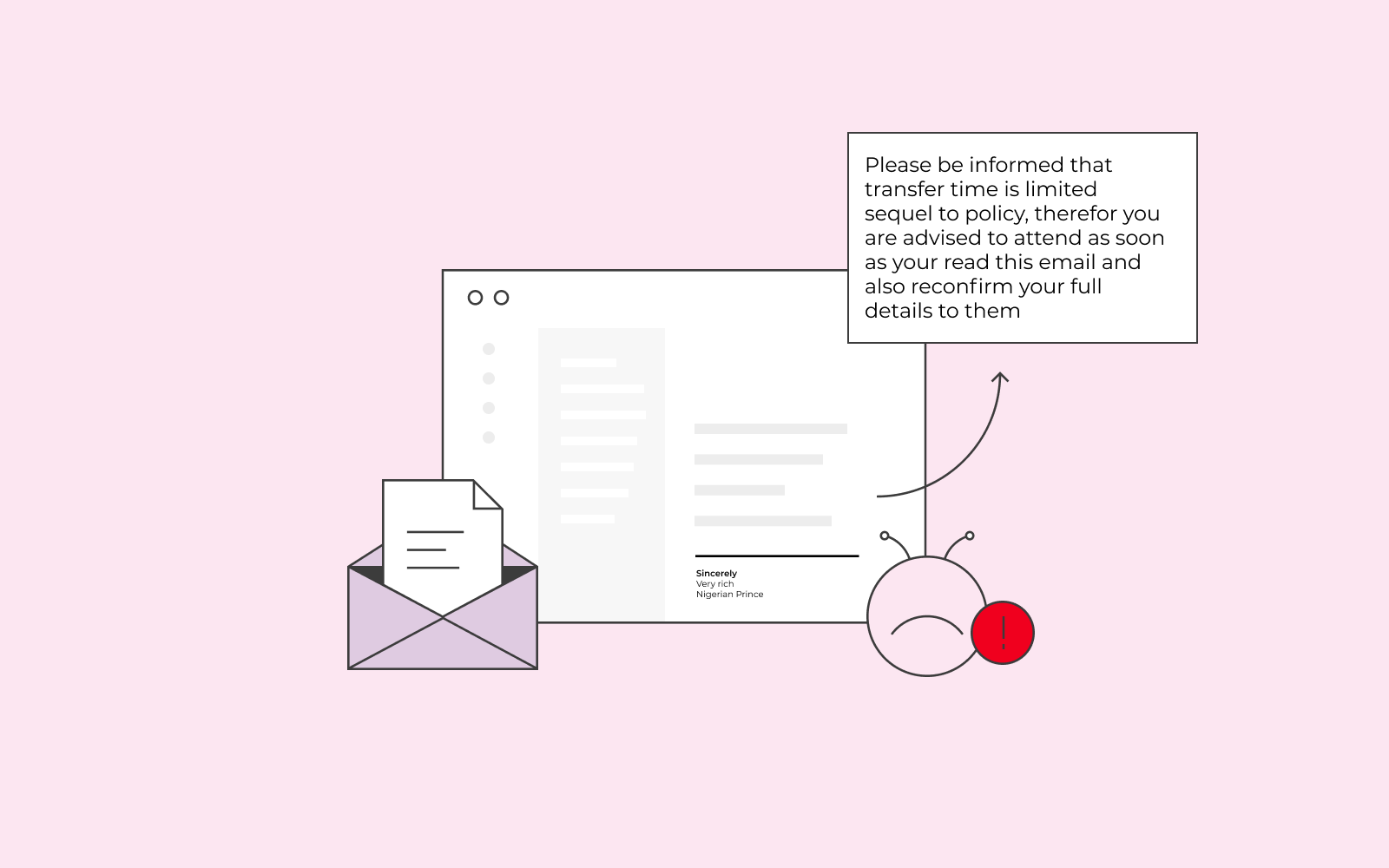 6 tips til hvordan du undgår spam mails
Tilmeld dig ikke uden videre en mailliste
Sørg for at du ved, hvad du tilmelder dig, og husk på at du skal have tillid til afsenderen, inden du sender din e-mail. Spammere forsøger at opsnappe din mailadresse på mange forskellige måder, og begynder så at bombardere dig med uønskede mails. Du kan også bruge en midlertidig e-mailadresse, når du vil tilmelde dig nyhedsbreve osv. Dette er en god måde at udvise ekstra forsigtighed.
Åbn aldrig en spam mail
Havner der en spam mail i din indbakke, skal du straks sørge for at få den slettet. Tænk dig om og bliv aldrig fristet til at klikke på nogen links i mailen. Gør du det, så er skaden allerede sket.
Afmeld dig aldrig en spam mail
Det kan lyde mærkeligt, men ikke desto mindre er det vigtigt, at du ikke hopper i fælden, og klikker på et link for at afmelde dig en spam mail. Normalt vil der ske det, når du klikker på afmelding, at du over for spammerne viser, at din email konto er aktiv. Det vil blot føre til endnu flere spam mails i din indbakke.
Del ikke din e-mailadresse
Del kun din e-mailadresse med folk, du kender, og skriv ikke din e-mailadresse på dine profiler på de sociale medier. Logikken siger, at hvis spammerne ikke har mulighed for at få fat på din mailadresse, så vil du sandsynligvis ikke modtage uønskede e-mails.
Brug en kontaktformular
Hvis du vil have dine besøgende på din hjemmeside til at kontakte dig, så er en kontaktformular helt klart den bedste måde at gøre det på. På den måde kan du blive kontaktet uden at e-mail-crawlere opsnapper din e-mailadresse og begynder at sende dig spam mails.
Rapporter spam-e-mail
Jo mere du klikker på 'rapporter spam', når du modtager en spam mail, jo bedre bliver din emailkonto i stand til at genkende spam mails, når de havner i din indbakke. På denne måde behøver du ikke engang at se spam mails, da de med tiden automatisk bliver frasorteret.
Hvordan hjælper one.com dig med at blokere for spam mails?
One.com tilbyder forskellige løsninger, der kan hjælpe til med at blokere for spam mails. Nedenfor giver vi dig en kort oversigt over fire af de muligheder, som one.com tilbyder til dig. Disse løsninger er til dig, som gerne vil have stoppet og blokeret for strømmen af spam mails i din indbakke.
Aktiver 'Privatliv' ved registrering
Når vi registrerer et domænenavn på vegne af vores kunder, er vi forpligtet til at tilføje registrantoplysningerne til WHOIS-databasen, der er et offentligt bibliotek, hvor man kan slå op, hvem der står som ansvarlig for et domæne eller IP-adresse. Denne database er imidlertidig også tilgængelig for spammere, som kan gå ind og trække data ud, selvom det er forbudt. Oplysningspligten er et krav fra ICANN, der er den organisation, der administrerer internettet. Spammere kan bruge de data, som de finder, til bl.a. at sende målrettet spam-tilbud via e-mail. Det kan være uønskede e-mails, der tilbyder tjenester til SEO-optimering eller fejlagtigt forsøger at advare dig om udløb på den ene eller anden tjeneste.
Men der er faktisk en mulighed, som du kan udnytte for at forhindre, at dine kontaktoplysninger i fremtiden bliver vist offentligt. Det eneste, som du skal gøre er at aktivere 'Privatliv', når du får registreret dit domæne. Det er nemt at gøre, når du bestiller dit domæne, og på den måde sikre du dig, at dine detaljer aldrig bliver vist offentligt. Vælger du at gøre det på et senere tidspunkt, så kan det gøres inde i dit kontrolpanel.
Brug en midlertidig e-mailadresse
Det er en god ide at bruge en midlertidig e-mailadresse, og ikke din primære mailadresse, når du f.eks. vil tilmelde dig et nyhedsbrev. Du kan nemt oprette et e-mail-alias, der videresender alle mails til din primære konto. Du opretter derefter et filter, der automatisk flytter alle e-mails, som er adresseret til dit alias på din primære konto til en bestemt mappe, for eksempel 'Nyhedsbreve'.
Hvis du begynder at modtage for meget spam, kan du bare slette aliaset. På one.com kan du oprette så mange e-mailkonti og aliasser, som du vil, så du løber aldrig tør.
Aktivér antivirus
Du kan let aktivere antivirusfiltrering for din e-mailadresse. Det gør du inde i kontrolpanelet via din konto hos one.com. Vores filtre flytter derefter mistænkelige e-mails til spam-mappen.
Tip: Tjek regelmæssigt din spam-mappe for legitime e-mails, der fejlagtigt er blevet markeret som spam.
Blokker spam mails
Hvis spam mails har infiltreret din indbakke, så skal du i stedet for bare at slette den, vælge at blokere afsenderen eller oprette filtre, der er med til at sikre, at mails fra denne afsender ikke igen ender i din indbakke. Hvis du blokerer en afsender, vil alle e-mails, fra denne adresse, ende direkte i din spam-mappe. Du kan også blokere e-mails fra et domæne og ikke kun en bestemt e-mailadresse. Det gøres ved at oprette et filter, hvor du flytter mails fra et domæne til din spam-mappe.
Husk, at vores support er tilgængelig døgnet rundt og kan hjælpe dig med eventuelle spørgsmål eller problemer du måtte have.
Hjælp, jeg har svaret på en spam mail!
Hvis du ved en fejl kommer til at svare på en uønsket mail, fortæller du spammerne, at din e-mailkonto er aktiv. Det vil sandsynligvis gøre det sværere fremadrettet at blokere spam mails fra denne afsender. Og afsenderen vil igen og igen forsøge at lokke personlige oplysninger ud af dig. Hvis du har sendt et generisk svar, kan du sandsynligvis løse problemet ved at slette din e-mailkonto og starte påny. Men har du afgivet personlige oplysninger, skal du straks ændre dine adgangskoder og alt andet omkring de oplysninger, du har givet. Det er også vigtigt at underrette din bank og sikre dig, at der ikke har fundet nogen mistænkelige aktiviteter sted.