Warning: Undefined variable $blocks in /customers/c/9/8/wpin4.1prod.one/httpd.www/landing-v2/wp-content/themes/onecom-landing-page-v2/functions.php on line 1431 Warning: Trying to access array offset on value of type null in /customers/c/9/8/wpin4.1prod.one/httpd.www/landing-v2/wp-content/themes/onecom-landing-page-v2/functions.php on line 1431 Warning: Trying to access array offset on value of type null in /customers/c/9/8/wpin4.1prod.one/httpd.www/landing-v2/wp-content/themes/onecom-landing-page-v2/functions.php on line 1431 Warning: Undefined variable $blocks in /customers/c/9/8/wpin4.1prod.one/httpd.www/landing-v2/wp-content/themes/onecom-landing-page-v2/functions.php on line 1441 Warning: Trying to access array offset on value of type null in /customers/c/9/8/wpin4.1prod.one/httpd.www/landing-v2/wp-content/themes/onecom-landing-page-v2/functions.php on line 1441 Warning: Trying to access array offset on value of type null in /customers/c/9/8/wpin4.1prod.one/httpd.www/landing-v2/wp-content/themes/onecom-landing-page-v2/functions.php on line 1441 Warning: Undefined variable $blocks in /customers/c/9/8/wpin4.1prod.one/httpd.www/landing-v2/wp-content/themes/onecom-landing-page-v2/functions.php on line 1441 Warning: Trying to access array offset on value of type null in /customers/c/9/8/wpin4.1prod.one/httpd.www/landing-v2/wp-content/themes/onecom-landing-page-v2/functions.php on line 1441 Warning: Trying to access array offset on value of type null in /customers/c/9/8/wpin4.1prod.one/httpd.www/landing-v2/wp-content/themes/onecom-landing-page-v2/functions.php on line 1441 Warning: Undefined variable $blocks in /customers/c/9/8/wpin4.1prod.one/httpd.www/landing-v2/wp-content/themes/onecom-landing-page-v2/functions.php on line 1441 Warning: Trying to access array offset on value of type null in /customers/c/9/8/wpin4.1prod.one/httpd.www/landing-v2/wp-content/themes/onecom-landing-page-v2/functions.php on line 1441 Warning: Trying to access array offset on value of type null in /customers/c/9/8/wpin4.1prod.one/httpd.www/landing-v2/wp-content/themes/onecom-landing-page-v2/functions.php on line 1441 Warning: Undefined variable $blocks in /customers/c/9/8/wpin4.1prod.one/httpd.www/landing-v2/wp-content/themes/onecom-landing-page-v2/functions.php on line 1441 Warning: Trying to access array offset on value of type null in /customers/c/9/8/wpin4.1prod.one/httpd.www/landing-v2/wp-content/themes/onecom-landing-page-v2/functions.php on line 1441 Warning: Trying to access array offset on value of type null in /customers/c/9/8/wpin4.1prod.one/httpd.www/landing-v2/wp-content/themes/onecom-landing-page-v2/functions.php on line 1441 Warning: Undefined variable $blocks in /customers/c/9/8/wpin4.1prod.one/httpd.www/landing-v2/wp-content/themes/onecom-landing-page-v2/functions.php on line 1441 Warning: Trying to access array offset on value of type null in /customers/c/9/8/wpin4.1prod.one/httpd.www/landing-v2/wp-content/themes/onecom-landing-page-v2/functions.php on line 1441 Warning: Trying to access array offset on value of type null in /customers/c/9/8/wpin4.1prod.one/httpd.www/landing-v2/wp-content/themes/onecom-landing-page-v2/functions.php on line 1441 Warning: Undefined variable $blocks in /customers/c/9/8/wpin4.1prod.one/httpd.www/landing-v2/wp-content/themes/onecom-landing-page-v2/functions.php on line 1441 Warning: Trying to access array offset on value of type null in /customers/c/9/8/wpin4.1prod.one/httpd.www/landing-v2/wp-content/themes/onecom-landing-page-v2/functions.php on line 1441 Warning: Trying to access array offset on value of type null in /customers/c/9/8/wpin4.1prod.one/httpd.www/landing-v2/wp-content/themes/onecom-landing-page-v2/functions.php on line 1441 Warning: Undefined variable $blocks in /customers/c/9/8/wpin4.1prod.one/httpd.www/landing-v2/wp-content/themes/onecom-landing-page-v2/functions.php on line 1441 Warning: Trying to access array offset on value of type null in /customers/c/9/8/wpin4.1prod.one/httpd.www/landing-v2/wp-content/themes/onecom-landing-page-v2/functions.php on line 1441 Warning: Trying to access array offset on value of type null in /customers/c/9/8/wpin4.1prod.one/httpd.www/landing-v2/wp-content/themes/onecom-landing-page-v2/functions.php on line 1441 Warning: Undefined variable $blocks in /customers/c/9/8/wpin4.1prod.one/httpd.www/landing-v2/wp-content/themes/onecom-landing-page-v2/functions.php on line 1441 Warning: Trying to access array offset on value of type null in /customers/c/9/8/wpin4.1prod.one/httpd.www/landing-v2/wp-content/themes/onecom-landing-page-v2/functions.php on line 1441 Warning: Trying to access array offset on value of type null in /customers/c/9/8/wpin4.1prod.one/httpd.www/landing-v2/wp-content/themes/onecom-landing-page-v2/functions.php on line 1441 Warning: Undefined variable $blocks in /customers/c/9/8/wpin4.1prod.one/httpd.www/landing-v2/wp-content/themes/onecom-landing-page-v2/functions.php on line 1441 Warning: Trying to access array offset on value of type null in /customers/c/9/8/wpin4.1prod.one/httpd.www/landing-v2/wp-content/themes/onecom-landing-page-v2/functions.php on line 1441 Warning: Trying to access array offset on value of type null in /customers/c/9/8/wpin4.1prod.one/httpd.www/landing-v2/wp-content/themes/onecom-landing-page-v2/functions.php on line 1441
Lav en personlig CV-hjemmeside
Imponér din kommende arbejdsgiver med et online-CV
Når du søger efter et arbejde, så er et CV der skiller sig ud fra mængden (på en positiv måde) tit det, der kan være med til at sikre dig at blive kaldt til samtale. En god måde at opnå det på, er ved at lave en CV-hjemmeside.
En CV-hjemmeside tager sig tit bedre ud end et simpelt Worddokument eller en PDF-fil. Det kan være den lille smule ekstra, der gør det muligt at overbevise ansættelseslederen om, at det er netop dig, vedkommende skal ansætte.
I denne artikel forklarer vi, hvordan du kan opbygge en overbevisende og professionel personlig hjemmeside.
Hvorfor laver man en CV-hjemmeside?
At have sit CV online kan virkelig hjælpe dig under jobsøgningen. Når du skriver en ansøgning til et job, vil dit navn som regel blive googlet. Hvis man derpå med det samme får præsenteret en flot hjemmeside med en personlig beskrivelse og et CV, kan det give dig en klar fordel ift. andre kandidater. Ud over at vise dine færdigheder og jobhistorik, kan du også fortælle om dig selv. Dette kan der sjældent være plads til på et mere traditionelt CV, og det er derfor en nem og indirekte måde at få din kommende arbejdsgiver til at kende dig bedre på. Derudover er det ganske enkelt sjovt at bygge og vedligeholde sin egen personlige hjemmeside. Du kan endda lave det til en portfolio-hjemmeside ved at tilføje tidligere projekter.
Guide til at lave en CV-hjemmeside
Følg blot følgende trin for at få dit CV online på din personlige hjemmeside:
Vælg en hostingpakke. Tag et kig på vores forskellige pakker, og vælg den der passer dig bedst.
Vælg et domænenavn. For en personlig CV-hjemmeside anbefales det at vælge dit eget navn, eller en variation heraf.
Byg din CV-hjemmeside med vores Hjemmesideprogram eller med WordPress. Vælg hernæst et tema til din hjemmeside, som du senere kan ændre lige som du har lyst.
Fyld din hjemmeside op med personlig information, jobhistorik, dine evner, færdigheder og kvalifikationer, samt anden information.
Hjemmesideprogram er den nemmeste måde at bygge en simpel men professionel CV-hjemmeside på. Hvis du er på udkig efter flere funktioner og temaer, kan du også vælge WordPress. Med de fleste hostingpakker kan du installere WordPress med vores 1-kliks-installation.
CV-hjemmesidetemaer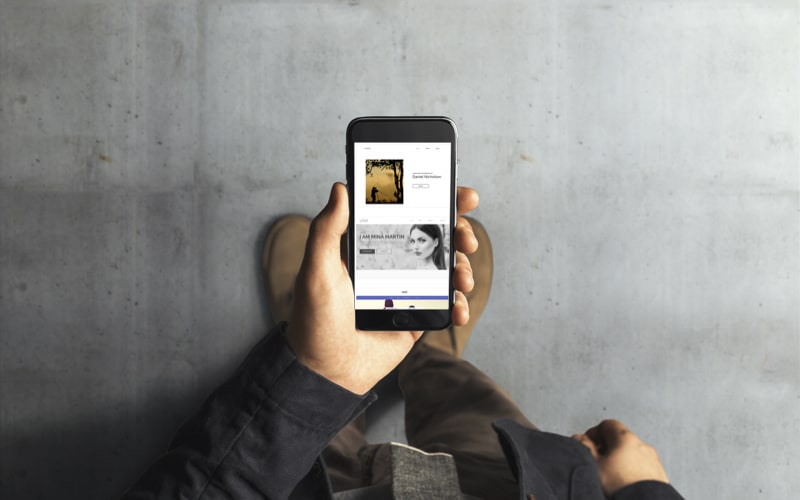 Når du bygger din CV-hjemmeside med Hjemmesideprogram kan du vælge mellem flere CV-temaer. Samtidig kan du arbejde med mobileditoren, for at sikre dig en mobilvenlig hjemmeside.
Med WordPress har du flere temaer at vælge mellem. Søg på dit WordPress dashboard via udseende -> temaer efter et passende tema med ordene "CV" eller "resume". Temaerne du finder her er gratis, og kan installeres med det samme. De gratis funktioner er dog begrænsede, så hvis du vil have endnu flere temaer med mere avancerede funktioner, kan du søge online efter betalte temaer og installere dem på din hjemmeside, f.eks. med ThemeForest.