Warning: Undefined variable $blocks in /customers/c/9/8/wpin4.1prod.one/httpd.www/landing-v2/wp-content/themes/onecom-landing-page-v2/functions.php on line 1431 Warning: Trying to access array offset on value of type null in /customers/c/9/8/wpin4.1prod.one/httpd.www/landing-v2/wp-content/themes/onecom-landing-page-v2/functions.php on line 1431 Warning: Trying to access array offset on value of type null in /customers/c/9/8/wpin4.1prod.one/httpd.www/landing-v2/wp-content/themes/onecom-landing-page-v2/functions.php on line 1431 Deprecated: str_replace(): Passing null to parameter #3 ($subject) of type array|string is deprecated in /customers/c/9/8/wpin4.1prod.one/httpd.www/landing-v2/wp-content/themes/onecom-landing-page-v2/functions.php on line 1431 Warning: Undefined variable $blocks in /customers/c/9/8/wpin4.1prod.one/httpd.www/landing-v2/wp-content/themes/onecom-landing-page-v2/functions.php on line 1441 Warning: Trying to access array offset on value of type null in /customers/c/9/8/wpin4.1prod.one/httpd.www/landing-v2/wp-content/themes/onecom-landing-page-v2/functions.php on line 1441 Warning: Trying to access array offset on value of type null in /customers/c/9/8/wpin4.1prod.one/httpd.www/landing-v2/wp-content/themes/onecom-landing-page-v2/functions.php on line 1441 Deprecated: preg_match(): Passing null to parameter #2 ($subject) of type string is deprecated in /customers/c/9/8/wpin4.1prod.one/httpd.www/landing-v2/wp-content/themes/onecom-landing-page-v2/functions.php on line 1442 Warning: Undefined variable $blocks in /customers/c/9/8/wpin4.1prod.one/httpd.www/landing-v2/wp-content/themes/onecom-landing-page-v2/functions.php on line 1441 Warning: Trying to access array offset on value of type null in /customers/c/9/8/wpin4.1prod.one/httpd.www/landing-v2/wp-content/themes/onecom-landing-page-v2/functions.php on line 1441 Warning: Trying to access array offset on value of type null in /customers/c/9/8/wpin4.1prod.one/httpd.www/landing-v2/wp-content/themes/onecom-landing-page-v2/functions.php on line 1441 Deprecated: preg_match(): Passing null to parameter #2 ($subject) of type string is deprecated in /customers/c/9/8/wpin4.1prod.one/httpd.www/landing-v2/wp-content/themes/onecom-landing-page-v2/functions.php on line 1442 Warning: Undefined variable $blocks in /customers/c/9/8/wpin4.1prod.one/httpd.www/landing-v2/wp-content/themes/onecom-landing-page-v2/functions.php on line 1441 Warning: Trying to access array offset on value of type null in /customers/c/9/8/wpin4.1prod.one/httpd.www/landing-v2/wp-content/themes/onecom-landing-page-v2/functions.php on line 1441 Warning: Trying to access array offset on value of type null in /customers/c/9/8/wpin4.1prod.one/httpd.www/landing-v2/wp-content/themes/onecom-landing-page-v2/functions.php on line 1441 Deprecated: preg_match(): Passing null to parameter #2 ($subject) of type string is deprecated in /customers/c/9/8/wpin4.1prod.one/httpd.www/landing-v2/wp-content/themes/onecom-landing-page-v2/functions.php on line 1442 Warning: Undefined variable $blocks in /customers/c/9/8/wpin4.1prod.one/httpd.www/landing-v2/wp-content/themes/onecom-landing-page-v2/functions.php on line 1441 Warning: Trying to access array offset on value of type null in /customers/c/9/8/wpin4.1prod.one/httpd.www/landing-v2/wp-content/themes/onecom-landing-page-v2/functions.php on line 1441 Warning: Trying to access array offset on value of type null in /customers/c/9/8/wpin4.1prod.one/httpd.www/landing-v2/wp-content/themes/onecom-landing-page-v2/functions.php on line 1441 Deprecated: preg_match(): Passing null to parameter #2 ($subject) of type string is deprecated in /customers/c/9/8/wpin4.1prod.one/httpd.www/landing-v2/wp-content/themes/onecom-landing-page-v2/functions.php on line 1442 Warning: Undefined variable $blocks in /customers/c/9/8/wpin4.1prod.one/httpd.www/landing-v2/wp-content/themes/onecom-landing-page-v2/functions.php on line 1441 Warning: Trying to access array offset on value of type null in /customers/c/9/8/wpin4.1prod.one/httpd.www/landing-v2/wp-content/themes/onecom-landing-page-v2/functions.php on line 1441 Warning: Trying to access array offset on value of type null in /customers/c/9/8/wpin4.1prod.one/httpd.www/landing-v2/wp-content/themes/onecom-landing-page-v2/functions.php on line 1441 Deprecated: preg_match(): Passing null to parameter #2 ($subject) of type string is deprecated in /customers/c/9/8/wpin4.1prod.one/httpd.www/landing-v2/wp-content/themes/onecom-landing-page-v2/functions.php on line 1442 Warning: Undefined variable $blocks in /customers/c/9/8/wpin4.1prod.one/httpd.www/landing-v2/wp-content/themes/onecom-landing-page-v2/functions.php on line 1441 Warning: Trying to access array offset on value of type null in /customers/c/9/8/wpin4.1prod.one/httpd.www/landing-v2/wp-content/themes/onecom-landing-page-v2/functions.php on line 1441 Warning: Trying to access array offset on value of type null in /customers/c/9/8/wpin4.1prod.one/httpd.www/landing-v2/wp-content/themes/onecom-landing-page-v2/functions.php on line 1441 Deprecated: preg_match(): Passing null to parameter #2 ($subject) of type string is deprecated in /customers/c/9/8/wpin4.1prod.one/httpd.www/landing-v2/wp-content/themes/onecom-landing-page-v2/functions.php on line 1442 Warning: Undefined variable $blocks in /customers/c/9/8/wpin4.1prod.one/httpd.www/landing-v2/wp-content/themes/onecom-landing-page-v2/functions.php on line 1441 Warning: Trying to access array offset on value of type null in /customers/c/9/8/wpin4.1prod.one/httpd.www/landing-v2/wp-content/themes/onecom-landing-page-v2/functions.php on line 1441 Warning: Trying to access array offset on value of type null in /customers/c/9/8/wpin4.1prod.one/httpd.www/landing-v2/wp-content/themes/onecom-landing-page-v2/functions.php on line 1441 Deprecated: preg_match(): Passing null to parameter #2 ($subject) of type string is deprecated in /customers/c/9/8/wpin4.1prod.one/httpd.www/landing-v2/wp-content/themes/onecom-landing-page-v2/functions.php on line 1442 Warning: Undefined variable $blocks in /customers/c/9/8/wpin4.1prod.one/httpd.www/landing-v2/wp-content/themes/onecom-landing-page-v2/functions.php on line 1441 Warning: Trying to access array offset on value of type null in /customers/c/9/8/wpin4.1prod.one/httpd.www/landing-v2/wp-content/themes/onecom-landing-page-v2/functions.php on line 1441 Warning: Trying to access array offset on value of type null in /customers/c/9/8/wpin4.1prod.one/httpd.www/landing-v2/wp-content/themes/onecom-landing-page-v2/functions.php on line 1441 Deprecated: preg_match(): Passing null to parameter #2 ($subject) of type string is deprecated in /customers/c/9/8/wpin4.1prod.one/httpd.www/landing-v2/wp-content/themes/onecom-landing-page-v2/functions.php on line 1442 Warning: Undefined variable $blocks in /customers/c/9/8/wpin4.1prod.one/httpd.www/landing-v2/wp-content/themes/onecom-landing-page-v2/functions.php on line 1441 Warning: Trying to access array offset on value of type null in /customers/c/9/8/wpin4.1prod.one/httpd.www/landing-v2/wp-content/themes/onecom-landing-page-v2/functions.php on line 1441 Warning: Trying to access array offset on value of type null in /customers/c/9/8/wpin4.1prod.one/httpd.www/landing-v2/wp-content/themes/onecom-landing-page-v2/functions.php on line 1441 Deprecated: preg_match(): Passing null to parameter #2 ($subject) of type string is deprecated in /customers/c/9/8/wpin4.1prod.one/httpd.www/landing-v2/wp-content/themes/onecom-landing-page-v2/functions.php on line 1442 Warning: Undefined variable $blocks in /customers/c/9/8/wpin4.1prod.one/httpd.www/landing-v2/wp-content/themes/onecom-landing-page-v2/functions.php on line 1441 Warning: Trying to access array offset on value of type null in /customers/c/9/8/wpin4.1prod.one/httpd.www/landing-v2/wp-content/themes/onecom-landing-page-v2/functions.php on line 1441 Warning: Trying to access array offset on value of type null in /customers/c/9/8/wpin4.1prod.one/httpd.www/landing-v2/wp-content/themes/onecom-landing-page-v2/functions.php on line 1441 Deprecated: preg_match(): Passing null to parameter #2 ($subject) of type string is deprecated in /customers/c/9/8/wpin4.1prod.one/httpd.www/landing-v2/wp-content/themes/onecom-landing-page-v2/functions.php on line 1442 Warning: Undefined variable $blocks in /customers/c/9/8/wpin4.1prod.one/httpd.www/landing-v2/wp-content/themes/onecom-landing-page-v2/functions.php on line 1441 Warning: Trying to access array offset on value of type null in /customers/c/9/8/wpin4.1prod.one/httpd.www/landing-v2/wp-content/themes/onecom-landing-page-v2/functions.php on line 1441 Warning: Trying to access array offset on value of type null in /customers/c/9/8/wpin4.1prod.one/httpd.www/landing-v2/wp-content/themes/onecom-landing-page-v2/functions.php on line 1441 Deprecated: preg_match(): Passing null to parameter #2 ($subject) of type string is deprecated in /customers/c/9/8/wpin4.1prod.one/httpd.www/landing-v2/wp-content/themes/onecom-landing-page-v2/functions.php on line 1442 Warning: Undefined variable $blocks in /customers/c/9/8/wpin4.1prod.one/httpd.www/landing-v2/wp-content/themes/onecom-landing-page-v2/functions.php on line 1441 Warning: Trying to access array offset on value of type null in /customers/c/9/8/wpin4.1prod.one/httpd.www/landing-v2/wp-content/themes/onecom-landing-page-v2/functions.php on line 1441 Warning: Trying to access array offset on value of type null in /customers/c/9/8/wpin4.1prod.one/httpd.www/landing-v2/wp-content/themes/onecom-landing-page-v2/functions.php on line 1441 Deprecated: preg_match(): Passing null to parameter #2 ($subject) of type string is deprecated in /customers/c/9/8/wpin4.1prod.one/httpd.www/landing-v2/wp-content/themes/onecom-landing-page-v2/functions.php on line 1442 Warning: Undefined variable $blocks in /customers/c/9/8/wpin4.1prod.one/httpd.www/landing-v2/wp-content/themes/onecom-landing-page-v2/functions.php on line 1441 Warning: Trying to access array offset on value of type null in /customers/c/9/8/wpin4.1prod.one/httpd.www/landing-v2/wp-content/themes/onecom-landing-page-v2/functions.php on line 1441 Warning: Trying to access array offset on value of type null in /customers/c/9/8/wpin4.1prod.one/httpd.www/landing-v2/wp-content/themes/onecom-landing-page-v2/functions.php on line 1441 Deprecated: preg_match(): Passing null to parameter #2 ($subject) of type string is deprecated in /customers/c/9/8/wpin4.1prod.one/httpd.www/landing-v2/wp-content/themes/onecom-landing-page-v2/functions.php on line 1442 Warning: Undefined variable $blocks in /customers/c/9/8/wpin4.1prod.one/httpd.www/landing-v2/wp-content/themes/onecom-landing-page-v2/functions.php on line 1441 Warning: Trying to access array offset on value of type null in /customers/c/9/8/wpin4.1prod.one/httpd.www/landing-v2/wp-content/themes/onecom-landing-page-v2/functions.php on line 1441 Warning: Trying to access array offset on value of type null in /customers/c/9/8/wpin4.1prod.one/httpd.www/landing-v2/wp-content/themes/onecom-landing-page-v2/functions.php on line 1441 Deprecated: preg_match(): Passing null to parameter #2 ($subject) of type string is deprecated in /customers/c/9/8/wpin4.1prod.one/httpd.www/landing-v2/wp-content/themes/onecom-landing-page-v2/functions.php on line 1442 Warning: Undefined variable $blocks in /customers/c/9/8/wpin4.1prod.one/httpd.www/landing-v2/wp-content/themes/onecom-landing-page-v2/functions.php on line 1441 Warning: Trying to access array offset on value of type null in /customers/c/9/8/wpin4.1prod.one/httpd.www/landing-v2/wp-content/themes/onecom-landing-page-v2/functions.php on line 1441 Warning: Trying to access array offset on value of type null in /customers/c/9/8/wpin4.1prod.one/httpd.www/landing-v2/wp-content/themes/onecom-landing-page-v2/functions.php on line 1441 Deprecated: preg_match(): Passing null to parameter #2 ($subject) of type string is deprecated in /customers/c/9/8/wpin4.1prod.one/httpd.www/landing-v2/wp-content/themes/onecom-landing-page-v2/functions.php on line 1442 Warning: Undefined variable $blocks in /customers/c/9/8/wpin4.1prod.one/httpd.www/landing-v2/wp-content/themes/onecom-landing-page-v2/functions.php on line 1441 Warning: Trying to access array offset on value of type null in /customers/c/9/8/wpin4.1prod.one/httpd.www/landing-v2/wp-content/themes/onecom-landing-page-v2/functions.php on line 1441 Warning: Trying to access array offset on value of type null in /customers/c/9/8/wpin4.1prod.one/httpd.www/landing-v2/wp-content/themes/onecom-landing-page-v2/functions.php on line 1441 Deprecated: preg_match(): Passing null to parameter #2 ($subject) of type string is deprecated in /customers/c/9/8/wpin4.1prod.one/httpd.www/landing-v2/wp-content/themes/onecom-landing-page-v2/functions.php on line 1442 Warning: Undefined variable $blocks in /customers/c/9/8/wpin4.1prod.one/httpd.www/landing-v2/wp-content/themes/onecom-landing-page-v2/functions.php on line 1441 Warning: Trying to access array offset on value of type null in /customers/c/9/8/wpin4.1prod.one/httpd.www/landing-v2/wp-content/themes/onecom-landing-page-v2/functions.php on line 1441 Warning: Trying to access array offset on value of type null in /customers/c/9/8/wpin4.1prod.one/httpd.www/landing-v2/wp-content/themes/onecom-landing-page-v2/functions.php on line 1441 Deprecated: preg_match(): Passing null to parameter #2 ($subject) of type string is deprecated in /customers/c/9/8/wpin4.1prod.one/httpd.www/landing-v2/wp-content/themes/onecom-landing-page-v2/functions.php on line 1442 Warning: Undefined variable $blocks in /customers/c/9/8/wpin4.1prod.one/httpd.www/landing-v2/wp-content/themes/onecom-landing-page-v2/functions.php on line 1441 Warning: Trying to access array offset on value of type null in /customers/c/9/8/wpin4.1prod.one/httpd.www/landing-v2/wp-content/themes/onecom-landing-page-v2/functions.php on line 1441 Warning: Trying to access array offset on value of type null in /customers/c/9/8/wpin4.1prod.one/httpd.www/landing-v2/wp-content/themes/onecom-landing-page-v2/functions.php on line 1441 Deprecated: preg_match(): Passing null to parameter #2 ($subject) of type string is deprecated in /customers/c/9/8/wpin4.1prod.one/httpd.www/landing-v2/wp-content/themes/onecom-landing-page-v2/functions.php on line 1442 Warning: Undefined variable $blocks in /customers/c/9/8/wpin4.1prod.one/httpd.www/landing-v2/wp-content/themes/onecom-landing-page-v2/functions.php on line 1441 Warning: Trying to access array offset on value of type null in /customers/c/9/8/wpin4.1prod.one/httpd.www/landing-v2/wp-content/themes/onecom-landing-page-v2/functions.php on line 1441 Warning: Trying to access array offset on value of type null in /customers/c/9/8/wpin4.1prod.one/httpd.www/landing-v2/wp-content/themes/onecom-landing-page-v2/functions.php on line 1441 Deprecated: preg_match(): Passing null to parameter #2 ($subject) of type string is deprecated in /customers/c/9/8/wpin4.1prod.one/httpd.www/landing-v2/wp-content/themes/onecom-landing-page-v2/functions.php on line 1442 Warning: Undefined variable $blocks in /customers/c/9/8/wpin4.1prod.one/httpd.www/landing-v2/wp-content/themes/onecom-landing-page-v2/functions.php on line 1441 Warning: Trying to access array offset on value of type null in /customers/c/9/8/wpin4.1prod.one/httpd.www/landing-v2/wp-content/themes/onecom-landing-page-v2/functions.php on line 1441 Warning: Trying to access array offset on value of type null in /customers/c/9/8/wpin4.1prod.one/httpd.www/landing-v2/wp-content/themes/onecom-landing-page-v2/functions.php on line 1441 Deprecated: preg_match(): Passing null to parameter #2 ($subject) of type string is deprecated in /customers/c/9/8/wpin4.1prod.one/httpd.www/landing-v2/wp-content/themes/onecom-landing-page-v2/functions.php on line 1442 Warning: Undefined variable $blocks in /customers/c/9/8/wpin4.1prod.one/httpd.www/landing-v2/wp-content/themes/onecom-landing-page-v2/functions.php on line 1441 Warning: Trying to access array offset on value of type null in /customers/c/9/8/wpin4.1prod.one/httpd.www/landing-v2/wp-content/themes/onecom-landing-page-v2/functions.php on line 1441 Warning: Trying to access array offset on value of type null in /customers/c/9/8/wpin4.1prod.one/httpd.www/landing-v2/wp-content/themes/onecom-landing-page-v2/functions.php on line 1441 Deprecated: preg_match(): Passing null to parameter #2 ($subject) of type string is deprecated in /customers/c/9/8/wpin4.1prod.one/httpd.www/landing-v2/wp-content/themes/onecom-landing-page-v2/functions.php on line 1442 Warning: Undefined variable $blocks in /customers/c/9/8/wpin4.1prod.one/httpd.www/landing-v2/wp-content/themes/onecom-landing-page-v2/functions.php on line 1441 Warning: Trying to access array offset on value of type null in /customers/c/9/8/wpin4.1prod.one/httpd.www/landing-v2/wp-content/themes/onecom-landing-page-v2/functions.php on line 1441 Warning: Trying to access array offset on value of type null in /customers/c/9/8/wpin4.1prod.one/httpd.www/landing-v2/wp-content/themes/onecom-landing-page-v2/functions.php on line 1441 Deprecated: preg_match(): Passing null to parameter #2 ($subject) of type string is deprecated in /customers/c/9/8/wpin4.1prod.one/httpd.www/landing-v2/wp-content/themes/onecom-landing-page-v2/functions.php on line 1442 Warning: Undefined variable $blocks in /customers/c/9/8/wpin4.1prod.one/httpd.www/landing-v2/wp-content/themes/onecom-landing-page-v2/functions.php on line 1441 Warning: Trying to access array offset on value of type null in /customers/c/9/8/wpin4.1prod.one/httpd.www/landing-v2/wp-content/themes/onecom-landing-page-v2/functions.php on line 1441 Warning: Trying to access array offset on value of type null in /customers/c/9/8/wpin4.1prod.one/httpd.www/landing-v2/wp-content/themes/onecom-landing-page-v2/functions.php on line 1441 Deprecated: preg_match(): Passing null to parameter #2 ($subject) of type string is deprecated in /customers/c/9/8/wpin4.1prod.one/httpd.www/landing-v2/wp-content/themes/onecom-landing-page-v2/functions.php on line 1442 Warning: Undefined variable $blocks in /customers/c/9/8/wpin4.1prod.one/httpd.www/landing-v2/wp-content/themes/onecom-landing-page-v2/functions.php on line 1441 Warning: Trying to access array offset on value of type null in /customers/c/9/8/wpin4.1prod.one/httpd.www/landing-v2/wp-content/themes/onecom-landing-page-v2/functions.php on line 1441 Warning: Trying to access array offset on value of type null in /customers/c/9/8/wpin4.1prod.one/httpd.www/landing-v2/wp-content/themes/onecom-landing-page-v2/functions.php on line 1441 Deprecated: preg_match(): Passing null to parameter #2 ($subject) of type string is deprecated in /customers/c/9/8/wpin4.1prod.one/httpd.www/landing-v2/wp-content/themes/onecom-landing-page-v2/functions.php on line 1442 Warning: Undefined variable $blocks in /customers/c/9/8/wpin4.1prod.one/httpd.www/landing-v2/wp-content/themes/onecom-landing-page-v2/functions.php on line 1441 Warning: Trying to access array offset on value of type null in /customers/c/9/8/wpin4.1prod.one/httpd.www/landing-v2/wp-content/themes/onecom-landing-page-v2/functions.php on line 1441 Warning: Trying to access array offset on value of type null in /customers/c/9/8/wpin4.1prod.one/httpd.www/landing-v2/wp-content/themes/onecom-landing-page-v2/functions.php on line 1441 Deprecated: preg_match(): Passing null to parameter #2 ($subject) of type string is deprecated in /customers/c/9/8/wpin4.1prod.one/httpd.www/landing-v2/wp-content/themes/onecom-landing-page-v2/functions.php on line 1442
De ultieme handleiding om jouw website sneller te maken
Optimaliseer je paginasnelheid en zeg vaarwel tegen lange en vervelende laadtijden
Er is nooit iets mis met het aandacht besteden aan je website met als doel de snelheid te verbeteren. In feite komt het alleen maar ten goede aan jouw website, merk en gebruikerservaring. Er zijn meerdere stappen die genomen kunnen worden om de snelheid van een website te optimaliseren. Omdat we je niet willen overrompelen met informatie, zullen we in dit artikel onze favoriete tips delen over hoe je de prestaties van de website kan verbeteren, zodat je jouw website sneller laadt.
De belangrijkste reden om te streven naar een snelle website is voor de hand liggend: Het verbeteren van de gebruiksvriendelijkheid. Als de snelheid van je website op peil is, heeft jouw website een grotere kans om hoog te scoren in de Google-zoekmachine. Als je hoog scoort op Google, trekt jij uiteraard meer bezoekers.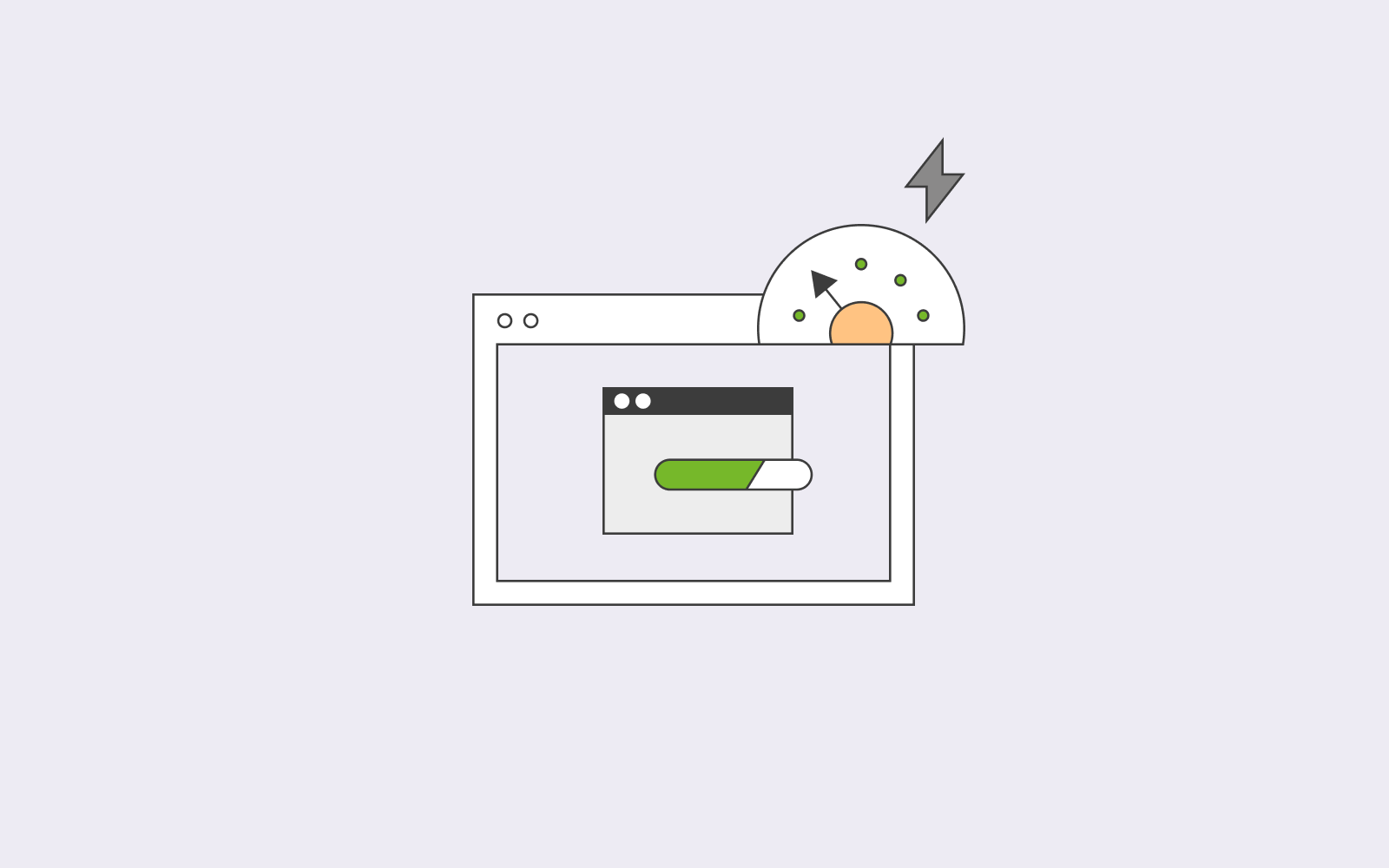 Zo werkt de laadsnelheid van een website
De 'paginasnelheid' is hoe lang het duurt voordat je webpagina is geladen, dus eigenlijk hoe lang het duurt voordat de inhoud van de website is gedownload van de webhostingserver. Het is altijd belangrijk om te streven naar een snellere laadtijd van de pagina. De paginasnelheid moet minder dan 2 seconden zijn. De volledige pagina moet binnen die 2 seconden met succes zijn gedownload om te spreken van een gedegen paginasnelheid. Dit zorgt ervoor dat de bezoeker niet hoeft te wachten, waarmee een prettige eindgebruikerservaring wordt gerealiseerd.
Het effect van website snelheid op SEO
Google besloot in 2018 dat het thema 'paginasnelheid' een rangschikking factor zal worden bij het zoeken op een mobiel apparaat. Mobiel zoeken is echter niet de enige bepalende factor die verantwoordelijk is voor hoe hoog je scoort op Google. De prestaties van je website op een desktop zijn daarvoor ook een doorslaggevende factor. Tegenwoordig noemt Google dit zelf de 'Core Web Vitals'.
We kunnen het belang van snelheid optimalisatie voor gebruikers van mobiele telefoons niet genoeg benadrukken. De meeste mensen surfen tegenwoordig op internet op hun mobiele telefoons of andere apparaten. Het is dus van vitaal belang om ervoor te zorgen dat de laadsnelheid van de pagina op peil is om zo alle soorten gebruikers te kunnen bedienen.
Als het niet hoeft, probeer ook niet om verkeer om te leiden naar een mobiele versie van de website met een responsief ontwerp. Tegenwoordig is het creëren van geweldige ervaringen met meerdere apparaten eenvoudiger dan ooit met een responsief ontwerp, waardoor de noodzaak om gebruikers om te leiden van de desktopversie van je website naar een voor mobiel geoptimaliseerde versie overbodig is. Een responsief ontwerp is een ontwerp wat reageert op het type apparaat wat er gebruikt wordt. Zo krijgt ieder apparaat een website ontwerp op maat.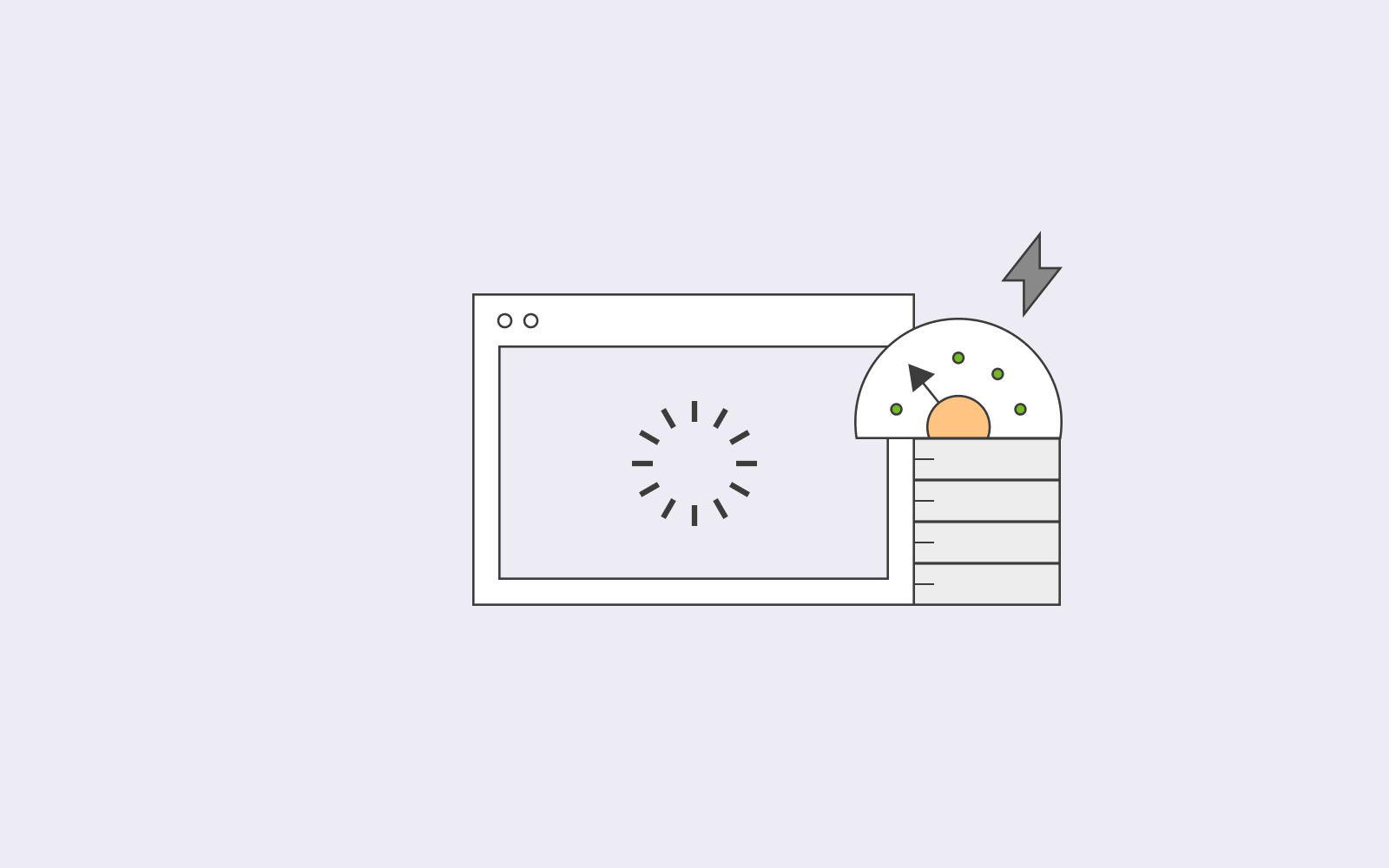 Mensen die op hun mobiele telefoon browsen, hebben een kortere aandachtsspanne en minder geduld. Bovendien mag het design van je website niet verloren gaan bij snelheids optimalisatie. Als een gebruiker het ontwerp van je website niet aantrekkelijk vindt, kan hij weggaan en niet meer terugkomen. Gebruikers van mobiele telefoons surfen altijd en overal op internet, of ze nu in de trein zitten, in een restaurant wachten of gewoon thuis chillen op de bank. Wij geloven dat als je aan deze aspecten denkt en de snelheid van de website voor mobiele telefoons verbetert, je waarschijnlijk het aantal bezoekers flink kan verhogen.
Website snelheid online testen
Het eerste dat je moet doen, is de paginasnelheid van je website controleren. Je kunt dit doen door naar Google PageSpeed Insights te gaan, de URL van de website in te typen en de resultaten daarvan in te zien. De tool weergeeft binnen enkele seconden de snelheid van je website op mobiele telefoons en desktops. De resultaten kunnen tussen de 0 en 100 liggen. Als de snelheid van een website ergens tussen de 0 en 49 ligt, moet je de snelheid van de website eigenlijk onmiddellijk optimaliseren. Als de snelheid van jouw website ergens tussen de 50 en 89 ligt, is dat niet erg, maar je moet de website snelheid nog steeds aanpassen om een prettige gebruikerservaring te genereren. Als de resultaten 90-100 zijn spreken we van een goede website snelheid. Je kunt deze tool ook gebruiken om de website van je concurrent te controleren om te zien hoe de prestaties en resultaten van hun website zijn. Kortom, Google beloont websites die snel laden, en daar moet je altijd rekening mee houden. 9 Stappen om jouw website snelheid vandaag nog te verbeteren
Het verhogen van de snelheid van een website heeft tal van voordelen. Van de nieuwe bezoekers die op je site klikken zullen er maar een paar afhaken – een vertraging van één seconde zorgt voor een daling van het verkeer! Daarnaast is het is algemeen bekend dat een goede website snelheid ook betere e-commerce-inkomsten oplevert.
Het verhogen van de snelheid van je website, zoals veel dingen in het leven, is eigenlijk een kwestie van kleine verbeteringen. Maar maak voordat je begint een back-up van de huidige site – je weet nooit of er verborgen risico's en gebreken zijn.
Laten we eens essentiële aspecten doornemen waarmee je rekening moet houden om de snelheid van je website te verbeteren.
Zorg ervoor dat je een kwalitatieve website host hebt. Een goede host is het begin van gewenste prestaties van je website. Er zijn verschillende soorten hosting beschikbaar.
Reactietijd van de server
De reactietijd van de server van je website wordt beïnvloed door hoeveel online verkeer je hebt, hoeveel verzoeken je ontvangt en hoeveel bronnen er worden gebruikt. Vervolgens heeft de reactietijd invloed op de snelheid van je website. Zoek naar alles dat van invloed kan zijn op de reactietijd van de server en los de problemen op.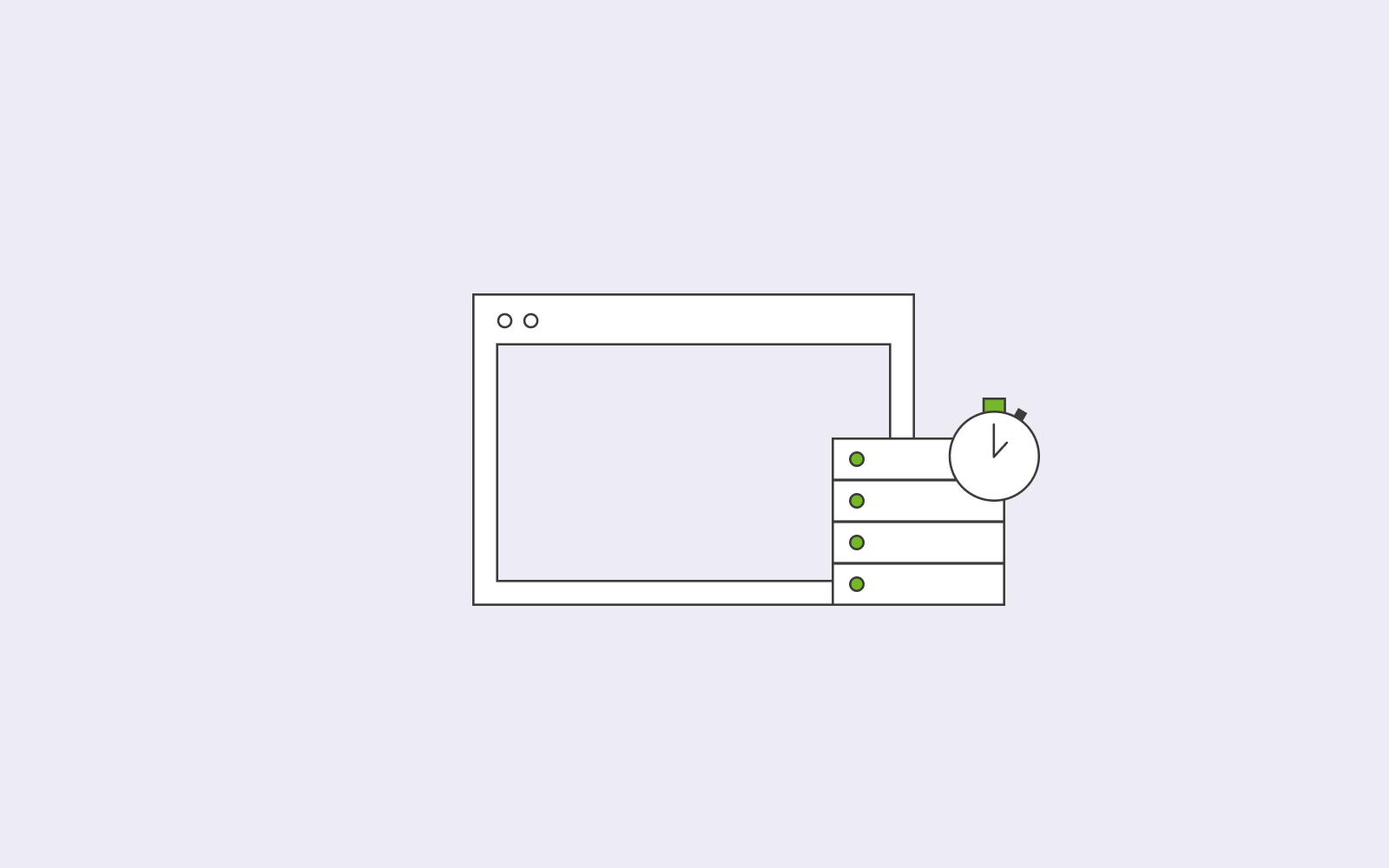 Het comprimeren van je bestanden optimaliseert je website prestaties. Je kan Gzip (een softwaretoepassing) gebruiken om de bestanden in te pakken en daarmee te comprimeren. Als je bestanden hebt van meer dan 150 bytes kan dat de prestaties van je website vertragen; Gzip kan bestanden zoals JavaScript, HTML enzovoorts bevatten om ze terug te brengen tot minder dan 150.
Je kan eerst een compressie-audit uitvoeren om te zien hoe deze compressie de snelheid van je website kan beïnvloeden en vervolgens verder gaan met comprimeren en verbeteren. Minimaliseer daarnaast altijd de tijd tot de eerste byte. Test eens hoe lang het duurt voordat je pagina is geladen en hoe lang het duurt om het daadwerkelijke laadproces te starten.
4. Optimaliseer je afbeeldingen
Afbeeldingen nemen aanzienlijke hoeveelheden ruimte in beslag wanneer je website wordt geladen. Zorg er dus voor dat ze niet onnodig groot zijn. Sites zoals Canva.com helpen je de resolutie te verlagen en de compressie van een afbeelding te verhogen, terwijl deze toch helder genoeg blijft voor bezoekers. De breedte van ons blogartikel is bijvoorbeeld 732px, dus al onze afbeeldingen worden aangepast om perfect in die dimensie te passen, zodat de laadtijd tot een minimum wordt beperkt.
Opmerkingen en spaties zijn pijlers van webontwikkeling. Het verbetert de leesbaarheid en biedt documentatie voor toekomstige wijzigingen. Dit is in natuurlijk erg fijn, behalve dat deze spaties en opmerkingen onnodige gegevens zijn die tijdens runtime moeten worden geserveerd. Het verkleinen van services zoals die van Will Peavy verwijdert deze overbodige opmerkingen en spaties, waardoor kostbare ruimte op de website niet wordt ingenomen.
Zet je CSS-tags bovenaan en Javascript-tags onderaan
Over het algemeen zouden CSS-declaraties zo vroeg mogelijk moeten komen, aangezien de meeste browsers geen pagina's weergeven voordat de CSS is geladen. Hierdoor kan voorkomen worden dat de website hapert wanneer de stylesheets worden geladen.
Met Javascript is het echter beter om het zo laag mogelijk te houden, omdat browsers de code die erna komt pas bekijken als de scripts zijn geladen en voltooid. Daarom wil je eigenlijk dat de visuele elementen al aanwezig zijn terwijl Javascript wordt geladen. Laad je JavaScript-bestanden bovendien asynchroon dan synchroon. Dit is om ervoor te zorgen dat in ieder geval sommige van de bestanden tegelijkertijd worden geladen in plaats van één voor één.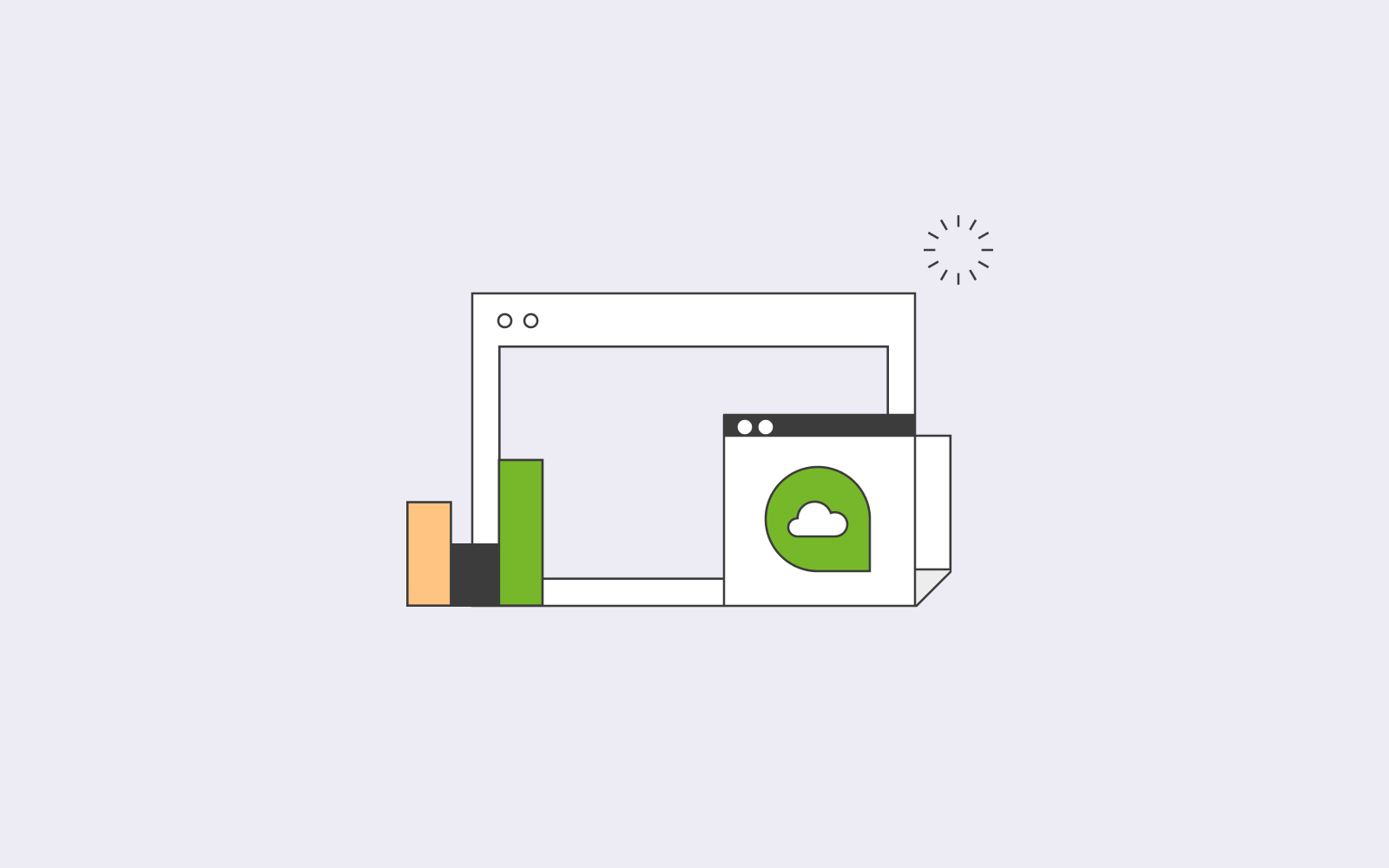 Een content delivery-netwerk is een systeem van gedistribueerde servers die content aan gebruikers leveren om de prestaties te optimaliseren. Dit betekent dat als jij een CDN gebruikt, bestanden aan je gebruikers worden aangeboden vanaf meerdere server locaties die zich dichter bij hen bevinden. Dit vermindert ook de belasting van een enkele server, waardoor de ervaring van de gebruikers wordt verbeterd. Een Amerikaanse bezoeker krijgt voor jouw website dan een server uit Amerika, terwijl eentje uit Japan een Japanse server krijgt. Zo wordt de website overal sneller geladen.
Verminder redirects en externe scripts
Elke keer dat je een link in je inhoud deelt, moet je bezoeker wachten tot die link is geladen. Omleidingen zijn goed, maar je moet er niet te veel hebben op je website. Houd er ook rekening mee dat je met zo'n omleiding een andere website betrekt: je weet niet hoe goed hun optimalisatie van de paginasnelheid is. Daarnaast raden we het aan om ook je externe scripts te verminderen. Mogelijk hebt je integraties van derden op je website die je wellicht vergeten bent, waardoor de snelheid van de website wordt vertraagd.
Een cache is iets goeds om te hebben. Het bewaart informatie zoals afbeeldingen en slaat deze op als een soort geheugen, zodat wanneer je bezoeker besluit je website opnieuw te bezoeken, je pagina niet helemaal opnieuw hoeft te worden geladen, wat resulteert in efficiëntie en soepelheid bij gebruik. Als je de cache niet inschakelt, moet een pagina tot 30 componenten laden wanneer dezelfde gebruiker de website opnieuw bezoekt. Soms duurt dat langer dan 2 seconden, waardoor bezoekers sneller afhaken. 
Kortom: de laadsnelheid van je website is essentieel (op desktops en mobiele apparaten) en iets waar je tijd aan moet besteden om te verbeteren. Het zal je alleen maar ten goede komen, helpen je merk te promoten en je gebruikerservaring te verbeteren.