Warning: Undefined variable $blocks in /customers/c/9/8/wpin4.1prod.one/httpd.www/landing-v2/wp-content/themes/onecom-landing-page-v2/functions.php on line 1431 Warning: Trying to access array offset on value of type null in /customers/c/9/8/wpin4.1prod.one/httpd.www/landing-v2/wp-content/themes/onecom-landing-page-v2/functions.php on line 1431 Warning: Trying to access array offset on value of type null in /customers/c/9/8/wpin4.1prod.one/httpd.www/landing-v2/wp-content/themes/onecom-landing-page-v2/functions.php on line 1431 Deprecated: str_replace(): Passing null to parameter #3 ($subject) of type array|string is deprecated in /customers/c/9/8/wpin4.1prod.one/httpd.www/landing-v2/wp-content/themes/onecom-landing-page-v2/functions.php on line 1431 Warning: Undefined variable $blocks in /customers/c/9/8/wpin4.1prod.one/httpd.www/landing-v2/wp-content/themes/onecom-landing-page-v2/functions.php on line 1441 Warning: Trying to access array offset on value of type null in /customers/c/9/8/wpin4.1prod.one/httpd.www/landing-v2/wp-content/themes/onecom-landing-page-v2/functions.php on line 1441 Warning: Trying to access array offset on value of type null in /customers/c/9/8/wpin4.1prod.one/httpd.www/landing-v2/wp-content/themes/onecom-landing-page-v2/functions.php on line 1441 Deprecated: preg_match(): Passing null to parameter #2 ($subject) of type string is deprecated in /customers/c/9/8/wpin4.1prod.one/httpd.www/landing-v2/wp-content/themes/onecom-landing-page-v2/functions.php on line 1442 Warning: Undefined variable $blocks in /customers/c/9/8/wpin4.1prod.one/httpd.www/landing-v2/wp-content/themes/onecom-landing-page-v2/functions.php on line 1441 Warning: Trying to access array offset on value of type null in /customers/c/9/8/wpin4.1prod.one/httpd.www/landing-v2/wp-content/themes/onecom-landing-page-v2/functions.php on line 1441 Warning: Trying to access array offset on value of type null in /customers/c/9/8/wpin4.1prod.one/httpd.www/landing-v2/wp-content/themes/onecom-landing-page-v2/functions.php on line 1441 Deprecated: preg_match(): Passing null to parameter #2 ($subject) of type string is deprecated in /customers/c/9/8/wpin4.1prod.one/httpd.www/landing-v2/wp-content/themes/onecom-landing-page-v2/functions.php on line 1442 Warning: Undefined variable $blocks in /customers/c/9/8/wpin4.1prod.one/httpd.www/landing-v2/wp-content/themes/onecom-landing-page-v2/functions.php on line 1441 Warning: Trying to access array offset on value of type null in /customers/c/9/8/wpin4.1prod.one/httpd.www/landing-v2/wp-content/themes/onecom-landing-page-v2/functions.php on line 1441 Warning: Trying to access array offset on value of type null in /customers/c/9/8/wpin4.1prod.one/httpd.www/landing-v2/wp-content/themes/onecom-landing-page-v2/functions.php on line 1441 Deprecated: preg_match(): Passing null to parameter #2 ($subject) of type string is deprecated in /customers/c/9/8/wpin4.1prod.one/httpd.www/landing-v2/wp-content/themes/onecom-landing-page-v2/functions.php on line 1442 Warning: Undefined variable $blocks in /customers/c/9/8/wpin4.1prod.one/httpd.www/landing-v2/wp-content/themes/onecom-landing-page-v2/functions.php on line 1441 Warning: Trying to access array offset on value of type null in /customers/c/9/8/wpin4.1prod.one/httpd.www/landing-v2/wp-content/themes/onecom-landing-page-v2/functions.php on line 1441 Warning: Trying to access array offset on value of type null in /customers/c/9/8/wpin4.1prod.one/httpd.www/landing-v2/wp-content/themes/onecom-landing-page-v2/functions.php on line 1441 Deprecated: preg_match(): Passing null to parameter #2 ($subject) of type string is deprecated in /customers/c/9/8/wpin4.1prod.one/httpd.www/landing-v2/wp-content/themes/onecom-landing-page-v2/functions.php on line 1442 Warning: Undefined variable $blocks in /customers/c/9/8/wpin4.1prod.one/httpd.www/landing-v2/wp-content/themes/onecom-landing-page-v2/functions.php on line 1441 Warning: Trying to access array offset on value of type null in /customers/c/9/8/wpin4.1prod.one/httpd.www/landing-v2/wp-content/themes/onecom-landing-page-v2/functions.php on line 1441 Warning: Trying to access array offset on value of type null in /customers/c/9/8/wpin4.1prod.one/httpd.www/landing-v2/wp-content/themes/onecom-landing-page-v2/functions.php on line 1441 Deprecated: preg_match(): Passing null to parameter #2 ($subject) of type string is deprecated in /customers/c/9/8/wpin4.1prod.one/httpd.www/landing-v2/wp-content/themes/onecom-landing-page-v2/functions.php on line 1442 Warning: Undefined variable $blocks in /customers/c/9/8/wpin4.1prod.one/httpd.www/landing-v2/wp-content/themes/onecom-landing-page-v2/functions.php on line 1441 Warning: Trying to access array offset on value of type null in /customers/c/9/8/wpin4.1prod.one/httpd.www/landing-v2/wp-content/themes/onecom-landing-page-v2/functions.php on line 1441 Warning: Trying to access array offset on value of type null in /customers/c/9/8/wpin4.1prod.one/httpd.www/landing-v2/wp-content/themes/onecom-landing-page-v2/functions.php on line 1441 Deprecated: preg_match(): Passing null to parameter #2 ($subject) of type string is deprecated in /customers/c/9/8/wpin4.1prod.one/httpd.www/landing-v2/wp-content/themes/onecom-landing-page-v2/functions.php on line 1442 Warning: Undefined variable $blocks in /customers/c/9/8/wpin4.1prod.one/httpd.www/landing-v2/wp-content/themes/onecom-landing-page-v2/functions.php on line 1441 Warning: Trying to access array offset on value of type null in /customers/c/9/8/wpin4.1prod.one/httpd.www/landing-v2/wp-content/themes/onecom-landing-page-v2/functions.php on line 1441 Warning: Trying to access array offset on value of type null in /customers/c/9/8/wpin4.1prod.one/httpd.www/landing-v2/wp-content/themes/onecom-landing-page-v2/functions.php on line 1441 Deprecated: preg_match(): Passing null to parameter #2 ($subject) of type string is deprecated in /customers/c/9/8/wpin4.1prod.one/httpd.www/landing-v2/wp-content/themes/onecom-landing-page-v2/functions.php on line 1442 Warning: Undefined variable $blocks in /customers/c/9/8/wpin4.1prod.one/httpd.www/landing-v2/wp-content/themes/onecom-landing-page-v2/functions.php on line 1441 Warning: Trying to access array offset on value of type null in /customers/c/9/8/wpin4.1prod.one/httpd.www/landing-v2/wp-content/themes/onecom-landing-page-v2/functions.php on line 1441 Warning: Trying to access array offset on value of type null in /customers/c/9/8/wpin4.1prod.one/httpd.www/landing-v2/wp-content/themes/onecom-landing-page-v2/functions.php on line 1441 Deprecated: preg_match(): Passing null to parameter #2 ($subject) of type string is deprecated in /customers/c/9/8/wpin4.1prod.one/httpd.www/landing-v2/wp-content/themes/onecom-landing-page-v2/functions.php on line 1442 Warning: Undefined variable $blocks in /customers/c/9/8/wpin4.1prod.one/httpd.www/landing-v2/wp-content/themes/onecom-landing-page-v2/functions.php on line 1441 Warning: Trying to access array offset on value of type null in /customers/c/9/8/wpin4.1prod.one/httpd.www/landing-v2/wp-content/themes/onecom-landing-page-v2/functions.php on line 1441 Warning: Trying to access array offset on value of type null in /customers/c/9/8/wpin4.1prod.one/httpd.www/landing-v2/wp-content/themes/onecom-landing-page-v2/functions.php on line 1441 Deprecated: preg_match(): Passing null to parameter #2 ($subject) of type string is deprecated in /customers/c/9/8/wpin4.1prod.one/httpd.www/landing-v2/wp-content/themes/onecom-landing-page-v2/functions.php on line 1442 Warning: Undefined variable $blocks in /customers/c/9/8/wpin4.1prod.one/httpd.www/landing-v2/wp-content/themes/onecom-landing-page-v2/functions.php on line 1441 Warning: Trying to access array offset on value of type null in /customers/c/9/8/wpin4.1prod.one/httpd.www/landing-v2/wp-content/themes/onecom-landing-page-v2/functions.php on line 1441 Warning: Trying to access array offset on value of type null in /customers/c/9/8/wpin4.1prod.one/httpd.www/landing-v2/wp-content/themes/onecom-landing-page-v2/functions.php on line 1441 Deprecated: preg_match(): Passing null to parameter #2 ($subject) of type string is deprecated in /customers/c/9/8/wpin4.1prod.one/httpd.www/landing-v2/wp-content/themes/onecom-landing-page-v2/functions.php on line 1442 Warning: Undefined variable $blocks in /customers/c/9/8/wpin4.1prod.one/httpd.www/landing-v2/wp-content/themes/onecom-landing-page-v2/functions.php on line 1441 Warning: Trying to access array offset on value of type null in /customers/c/9/8/wpin4.1prod.one/httpd.www/landing-v2/wp-content/themes/onecom-landing-page-v2/functions.php on line 1441 Warning: Trying to access array offset on value of type null in /customers/c/9/8/wpin4.1prod.one/httpd.www/landing-v2/wp-content/themes/onecom-landing-page-v2/functions.php on line 1441 Deprecated: preg_match(): Passing null to parameter #2 ($subject) of type string is deprecated in /customers/c/9/8/wpin4.1prod.one/httpd.www/landing-v2/wp-content/themes/onecom-landing-page-v2/functions.php on line 1442 Warning: Undefined variable $blocks in /customers/c/9/8/wpin4.1prod.one/httpd.www/landing-v2/wp-content/themes/onecom-landing-page-v2/functions.php on line 1441 Warning: Trying to access array offset on value of type null in /customers/c/9/8/wpin4.1prod.one/httpd.www/landing-v2/wp-content/themes/onecom-landing-page-v2/functions.php on line 1441 Warning: Trying to access array offset on value of type null in /customers/c/9/8/wpin4.1prod.one/httpd.www/landing-v2/wp-content/themes/onecom-landing-page-v2/functions.php on line 1441 Deprecated: preg_match(): Passing null to parameter #2 ($subject) of type string is deprecated in /customers/c/9/8/wpin4.1prod.one/httpd.www/landing-v2/wp-content/themes/onecom-landing-page-v2/functions.php on line 1442 Warning: Undefined variable $blocks in /customers/c/9/8/wpin4.1prod.one/httpd.www/landing-v2/wp-content/themes/onecom-landing-page-v2/functions.php on line 1441 Warning: Trying to access array offset on value of type null in /customers/c/9/8/wpin4.1prod.one/httpd.www/landing-v2/wp-content/themes/onecom-landing-page-v2/functions.php on line 1441 Warning: Trying to access array offset on value of type null in /customers/c/9/8/wpin4.1prod.one/httpd.www/landing-v2/wp-content/themes/onecom-landing-page-v2/functions.php on line 1441 Deprecated: preg_match(): Passing null to parameter #2 ($subject) of type string is deprecated in /customers/c/9/8/wpin4.1prod.one/httpd.www/landing-v2/wp-content/themes/onecom-landing-page-v2/functions.php on line 1442 Warning: Undefined variable $blocks in /customers/c/9/8/wpin4.1prod.one/httpd.www/landing-v2/wp-content/themes/onecom-landing-page-v2/functions.php on line 1441 Warning: Trying to access array offset on value of type null in /customers/c/9/8/wpin4.1prod.one/httpd.www/landing-v2/wp-content/themes/onecom-landing-page-v2/functions.php on line 1441 Warning: Trying to access array offset on value of type null in /customers/c/9/8/wpin4.1prod.one/httpd.www/landing-v2/wp-content/themes/onecom-landing-page-v2/functions.php on line 1441 Deprecated: preg_match(): Passing null to parameter #2 ($subject) of type string is deprecated in /customers/c/9/8/wpin4.1prod.one/httpd.www/landing-v2/wp-content/themes/onecom-landing-page-v2/functions.php on line 1442 Warning: Undefined variable $blocks in /customers/c/9/8/wpin4.1prod.one/httpd.www/landing-v2/wp-content/themes/onecom-landing-page-v2/functions.php on line 1441 Warning: Trying to access array offset on value of type null in /customers/c/9/8/wpin4.1prod.one/httpd.www/landing-v2/wp-content/themes/onecom-landing-page-v2/functions.php on line 1441 Warning: Trying to access array offset on value of type null in /customers/c/9/8/wpin4.1prod.one/httpd.www/landing-v2/wp-content/themes/onecom-landing-page-v2/functions.php on line 1441 Deprecated: preg_match(): Passing null to parameter #2 ($subject) of type string is deprecated in /customers/c/9/8/wpin4.1prod.one/httpd.www/landing-v2/wp-content/themes/onecom-landing-page-v2/functions.php on line 1442 Warning: Undefined variable $blocks in /customers/c/9/8/wpin4.1prod.one/httpd.www/landing-v2/wp-content/themes/onecom-landing-page-v2/functions.php on line 1441 Warning: Trying to access array offset on value of type null in /customers/c/9/8/wpin4.1prod.one/httpd.www/landing-v2/wp-content/themes/onecom-landing-page-v2/functions.php on line 1441 Warning: Trying to access array offset on value of type null in /customers/c/9/8/wpin4.1prod.one/httpd.www/landing-v2/wp-content/themes/onecom-landing-page-v2/functions.php on line 1441 Deprecated: preg_match(): Passing null to parameter #2 ($subject) of type string is deprecated in /customers/c/9/8/wpin4.1prod.one/httpd.www/landing-v2/wp-content/themes/onecom-landing-page-v2/functions.php on line 1442
Hoeveel RAM en CPU jouw website nodig hebben
Ontdek het belang van RAM en CPU voor jouw website
Hoeveel RAM en CPU je website nodig heeft, hangt af van wat voor soort website je gebruikt. Daarvoor moeten we eerst een van de belangrijkste vragen beantwoorden: "Wat is RAM?" RAM is een afkorting voor Random Access Memory. RAM is te vergelijken met je kortetermijngeheugen en je harde schijf voor de vergelijking als je langetermijngeheugen. De RAM-schijf bevat al het korte-termijngeheugen van jouw computer.
RAM is essentieel als je een snelle website en computer wil hebben. En dat wil iedereen natuurlijk. Gebruikerservaring is cruciaal en daarom moet je begrijpen hoe RAM en CPU werken en hoeveel je nodig hebt om een fijne online ervaring voor de gebruiker te realiseren. Als jouw website niet genoeg RAM heeft, krijgt de gebruiker namelijk een bericht met de melding "500 internal server error". Deze foutmelding zal hoogstwaarschijnlijk leiden tot een daling van je conversiepercentages en een negatief effect hebben op de betrouwbaarheid van je merk. Een gevolg hiervan is dat het online verkeer op je website zal verminderen.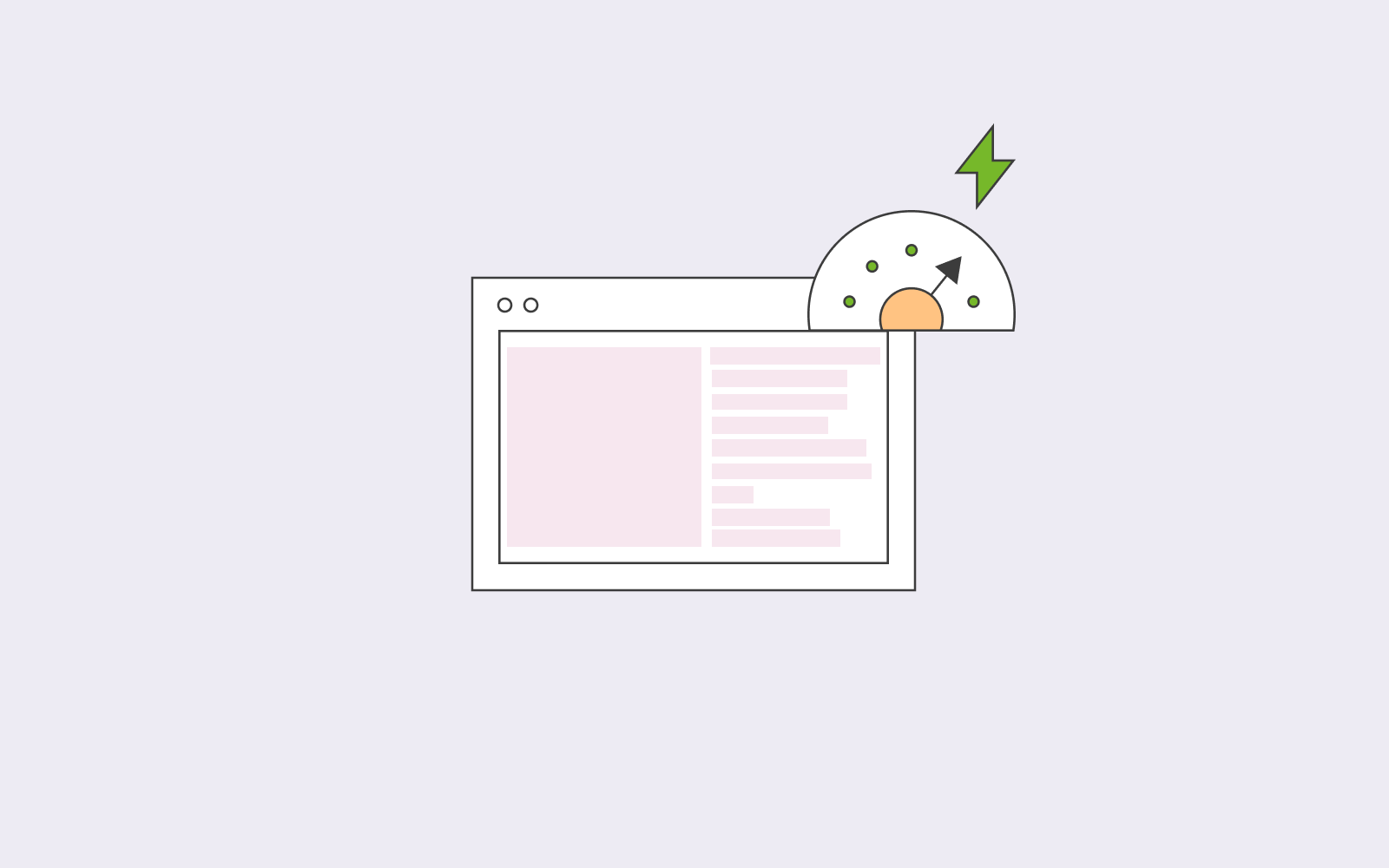 We zullen je in dit artikel meer vertellen over hoe RAM en CPU werken. We zullen ingaan op hoeveel RAM en CPU een website nodig heeft om snel te blijven en gebruikers optimaal te kunnen bedienen.
Hoe RAM geheugen werkt
RAM slaat het geheugen van je computer op en stelt je computer in staat om zeer snel toegang te krijgen tot dat geheugen. RAM is sneller dan SSD (Solid State Drive – een opslagapparaat op je computer) en een harde schijf. Het verschil tussen SSD, de harde schijf van een computer en RAM is dat RAM minder gegevens opslaat. Bovendien verliest RAM de gegevens wanneer je je computer van de elektriciteitsstroom haalt. Het is dus écht een tijdelijke opslag.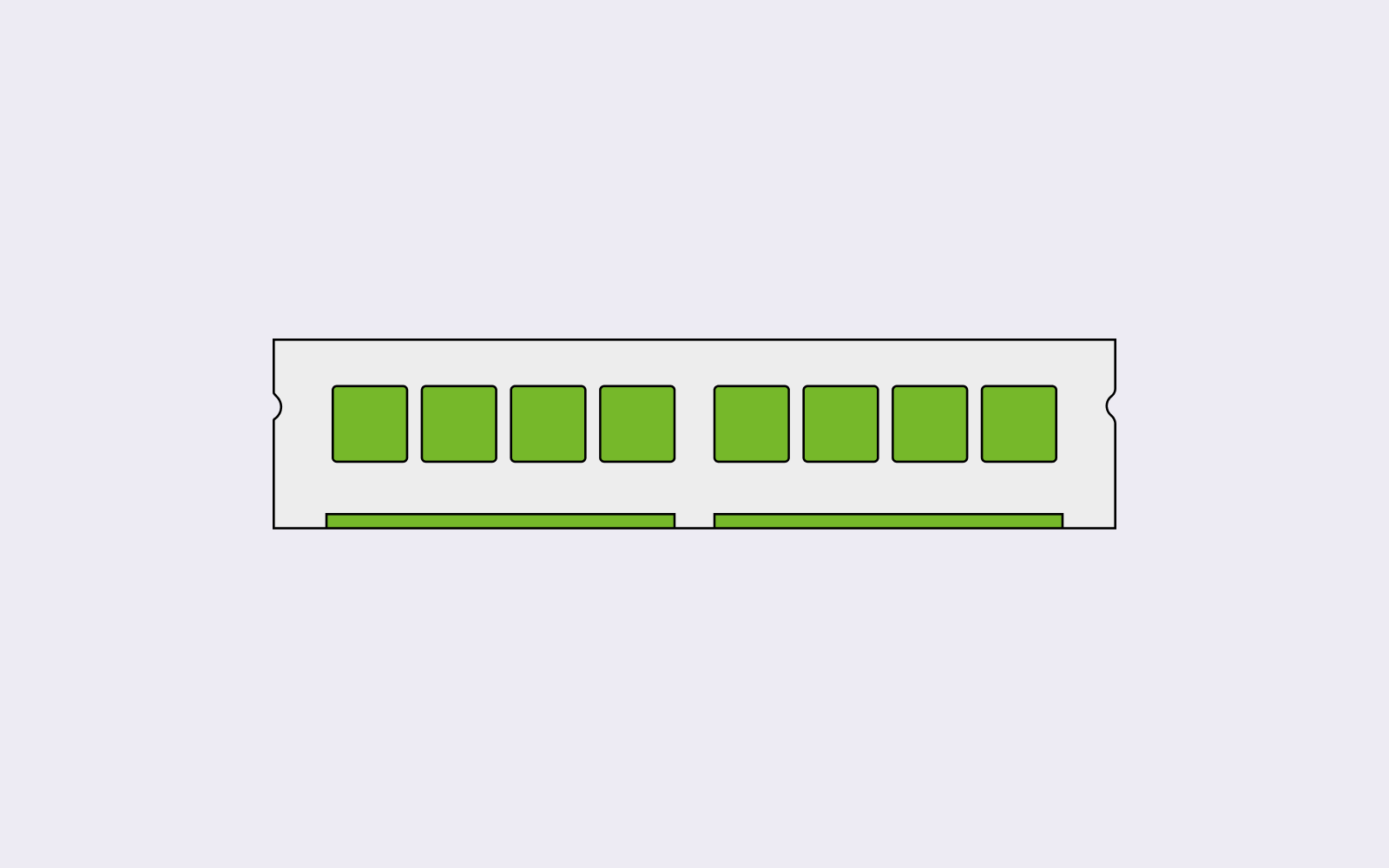 Maar hoe werkt RAM met betrekking tot je website? Hoe meer RAM je hebt, hoe meer je ervoor zorgt dat je website meerdere processen tegelijk kan draaien, omdat je server dit allemaal tegelijk kan 'onthouden'.
Zoveel RAM heeft jouw computer nodig
Hoe meer RAM jouw computer heeft, hoe sneller de computer toegang heeft tot informatie. Je kan uitzoeken hoeveel RAM je nodig heeft op basis van het soort werk waarvoor je je computer gebruikt, of deze nu wordt gebruikt voor gamen of voor het streamen van films. Als je meer RAM hebt dan je nodig hebt, doet dat extra RAM niets voor je, behalve dat het je meer geld kost.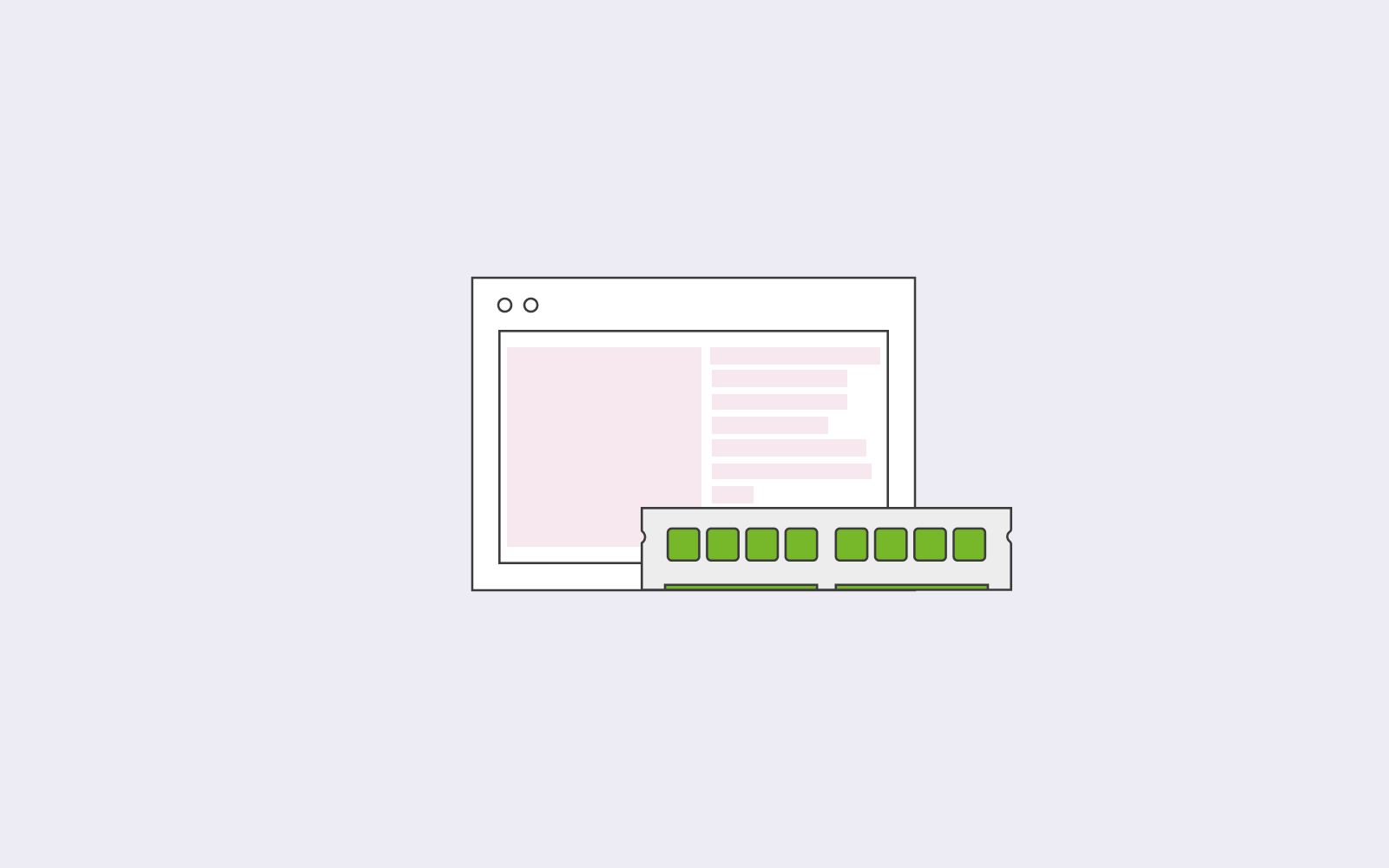 Probeer het eens zo te zien: voor elk tabblad dat je nu in je browser hebt geopend, is RAM vereist. Terwijl je dit artikel leest over hoeveel RAM en CPU een website nodig heeft, gebruikt het tabblad one.com RAM. Je achtergrond applicaties gebruiken ook RAM, zelfs als je ze niet actief 'gebruikt'.  Enkele factoren die kunnen worden toegeschreven aan hoeveel RAM een website nodig heeft, zijn:
Dagelijkse hoeveelheid bezoekers
Hoe meer verkeer jouw website heeft, hoe meer RAM je nodig hebt om inkomende server verzoeken te beantwoorden.
Content Management Systeem
Als je je website bijvoorbeeld via WordPress beheert, heb je meer RAM nodig.
Online applicaties nemen niet alleen steeds meer opslagruimte in beslag, ze vragen ook steeds meer RAM en CPU. Daarom is het essentieel om met deze factoren rekening te houden bij het kiezen van een hosting plan, met als doel dat je website snel functioneert en dat in de toekomst ook blijft doen. Vooral tijdens piekmomenten wil je natuurlijk dat je website vlotjes draait.
Bij one.com kan je kiezen uit een reeks hostingpakketten die jou een lagere of grotere hoeveelheid CPU en RAM bieden om aan je exacte behoeften te voldoen. Wanneer het voorkomt dat je op een dag je website uitbreidt en het online verkeer zal verhogen, kan je ook nog eens je hosting plan upgraden en daarmee opschalen bij one.com.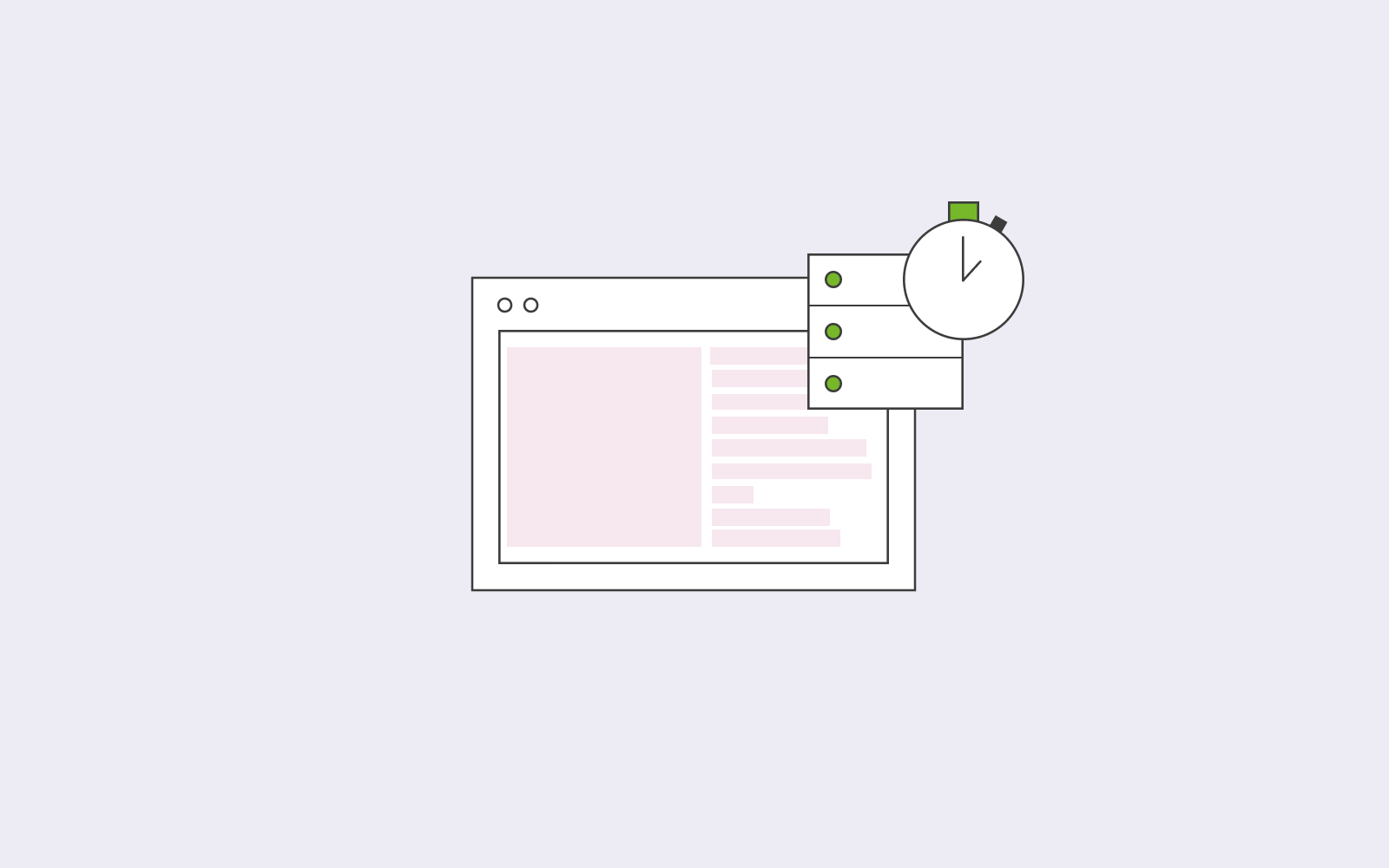 De functie van een CPU voor jouw computer
CPU staat voor Central Process Unit. CPU is het brein van een computer. Het luistert naar instructies die jij als gebruiker geeft en voert de genoemde instructies uit. CPU is een chip, dus deze moet niet worden verward met geheugenopslag. CPU werkt door programma's op je computer uit te voeren. In technische termen neemt de CPU richtlijnen van RAM, zoekt vervolgens uit wat RAM instrueert en voert vervolgens de opdrachten uit die vanuit RAM worden verzonden. Het is dus een soort van rekenmachine die de taken krijgt van het korte termijn geheugen om zo tot een correcte oplossing te komen.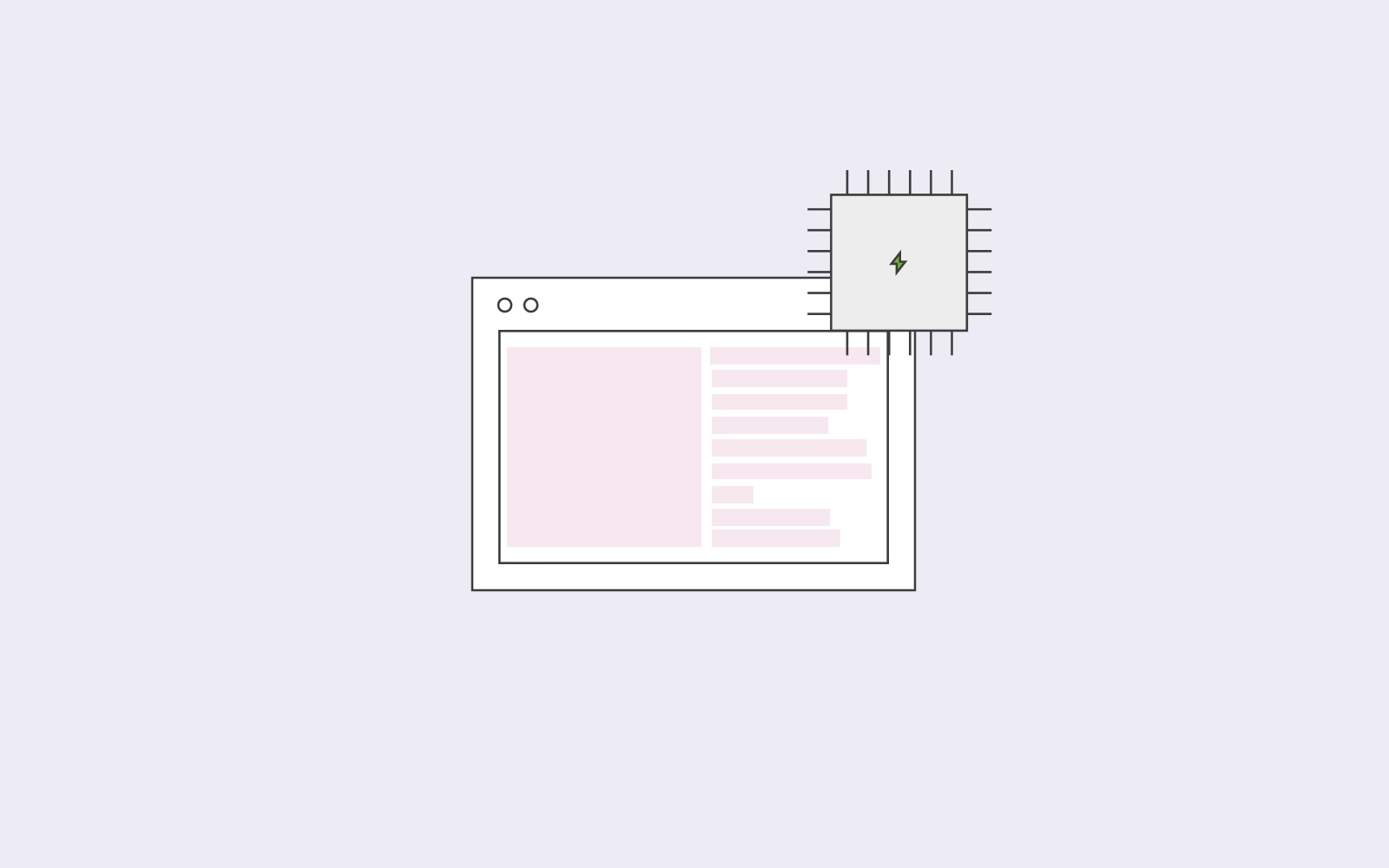 Zo werkt de CPU voor een website
Voor jouw website betekent dit dat hoe meer capaciteit jouw CPU heeft, hoe meer informatie de CPU kan opslaan en verwerken. Uiteindelijk zal je website sneller en soepeler werken als deze de vereiste CPU-capaciteit heeft die jij nodig hebt. Een geweldige functie die een CPU biedt, is dat het meerdere verzoeken tegelijkertijd kan uitvoeren. Dus als je een druk bezochte website hebt, is het het beste om een grote CPU-capaciteit te hebben, zodat deze meerdere verzoeken tegelijk kan uitvoeren zonder dat de gebruikerservaring daaronder lijdt.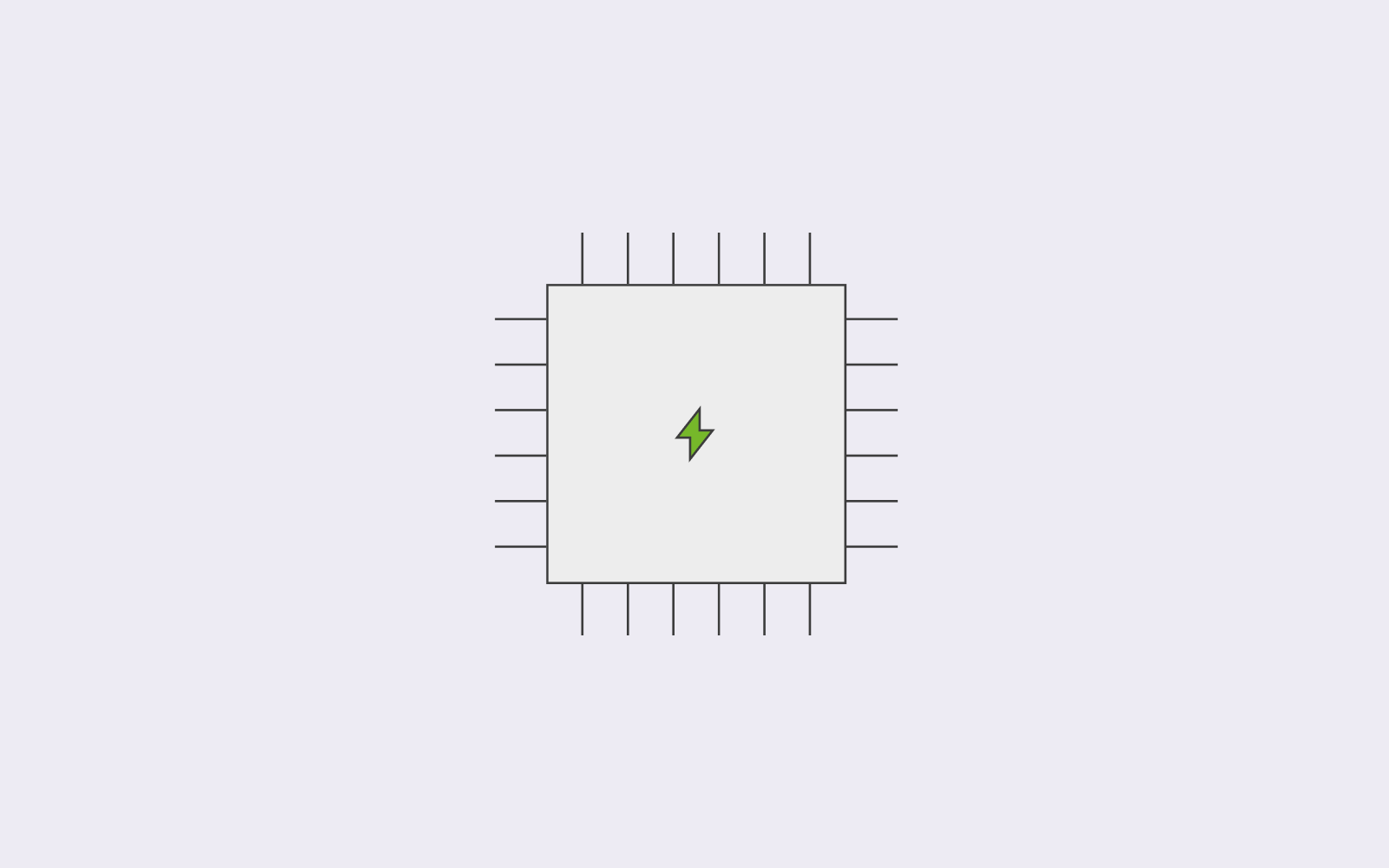 Het samenspel van RAM en CPU
Een laatste, maar belangrijke vraag die je vast in je hoofd zult stellen: hoe werken CPU en RAM dan samen?
Zoals hierboven vermeld, is RAM een kortetermijngeheugen dat een webruimte helpt om verschillende taken tegelijk te onthouden (bijvoorbeeld een website openen of een opmerking plaatsen). De CPU ontvangt en verwerkt die instructies vervolgens één voor één uit het geheugen. Ze werken samen en hebben elkaar nodig om goed te kunnen functioneren. Hoe meer RAM je hebt, hoe meer je ervoor zorgt dat de informatie niet geblokkeerd raakt. Bovendien zorg je ervoor dat het proces van het doorgeven van informatie aan de CPU niet kan worden vertraagd. Als een soort van rekenmachine lost de CPU dus alle vragen die de RAM onthoudt op.