Deprecated: Creation of dynamic property WP_Term::$cat_ID is deprecated in /customers/c/9/8/wpin4.1prod.one/httpd.www/landing-v2/wp-includes/category.php on line 378 Deprecated: Creation of dynamic property WP_Term::$category_count is deprecated in /customers/c/9/8/wpin4.1prod.one/httpd.www/landing-v2/wp-includes/category.php on line 379 Deprecated: Creation of dynamic property WP_Term::$category_description is deprecated in /customers/c/9/8/wpin4.1prod.one/httpd.www/landing-v2/wp-includes/category.php on line 380 Deprecated: Creation of dynamic property WP_Term::$cat_name is deprecated in /customers/c/9/8/wpin4.1prod.one/httpd.www/landing-v2/wp-includes/category.php on line 381 Deprecated: Creation of dynamic property WP_Term::$category_nicename is deprecated in /customers/c/9/8/wpin4.1prod.one/httpd.www/landing-v2/wp-includes/category.php on line 382 Deprecated: Creation of dynamic property WP_Term::$category_parent is deprecated in /customers/c/9/8/wpin4.1prod.one/httpd.www/landing-v2/wp-includes/category.php on line 383 Warning: Undefined variable $blocks in /customers/c/9/8/wpin4.1prod.one/httpd.www/landing-v2/wp-content/themes/onecom-landing-page-v2/functions.php on line 1431 Warning: Trying to access array offset on value of type null in /customers/c/9/8/wpin4.1prod.one/httpd.www/landing-v2/wp-content/themes/onecom-landing-page-v2/functions.php on line 1431 Warning: Trying to access array offset on value of type null in /customers/c/9/8/wpin4.1prod.one/httpd.www/landing-v2/wp-content/themes/onecom-landing-page-v2/functions.php on line 1431 Deprecated: str_replace(): Passing null to parameter #3 ($subject) of type array|string is deprecated in /customers/c/9/8/wpin4.1prod.one/httpd.www/landing-v2/wp-content/themes/onecom-landing-page-v2/functions.php on line 1431 Deprecated: Creation of dynamic property WP_Term::$cat_ID is deprecated in /customers/c/9/8/wpin4.1prod.one/httpd.www/landing-v2/wp-includes/category.php on line 378 Deprecated: Creation of dynamic property WP_Term::$category_count is deprecated in /customers/c/9/8/wpin4.1prod.one/httpd.www/landing-v2/wp-includes/category.php on line 379 Deprecated: Creation of dynamic property WP_Term::$category_description is deprecated in /customers/c/9/8/wpin4.1prod.one/httpd.www/landing-v2/wp-includes/category.php on line 380 Deprecated: Creation of dynamic property WP_Term::$cat_name is deprecated in /customers/c/9/8/wpin4.1prod.one/httpd.www/landing-v2/wp-includes/category.php on line 381 Deprecated: Creation of dynamic property WP_Term::$category_nicename is deprecated in /customers/c/9/8/wpin4.1prod.one/httpd.www/landing-v2/wp-includes/category.php on line 382 Deprecated: Creation of dynamic property WP_Term::$category_parent is deprecated in /customers/c/9/8/wpin4.1prod.one/httpd.www/landing-v2/wp-includes/category.php on line 383 Deprecated: Creation of dynamic property WP_Term::$cat_ID is deprecated in /customers/c/9/8/wpin4.1prod.one/httpd.www/landing-v2/wp-includes/category.php on line 378 Deprecated: Creation of dynamic property WP_Term::$category_count is deprecated in /customers/c/9/8/wpin4.1prod.one/httpd.www/landing-v2/wp-includes/category.php on line 379 Deprecated: Creation of dynamic property WP_Term::$category_description is deprecated in /customers/c/9/8/wpin4.1prod.one/httpd.www/landing-v2/wp-includes/category.php on line 380 Deprecated: Creation of dynamic property WP_Term::$cat_name is deprecated in /customers/c/9/8/wpin4.1prod.one/httpd.www/landing-v2/wp-includes/category.php on line 381 Deprecated: Creation of dynamic property WP_Term::$category_nicename is deprecated in /customers/c/9/8/wpin4.1prod.one/httpd.www/landing-v2/wp-includes/category.php on line 382 Deprecated: Creation of dynamic property WP_Term::$category_parent is deprecated in /customers/c/9/8/wpin4.1prod.one/httpd.www/landing-v2/wp-includes/category.php on line 383 Warning: Undefined variable $blocks in /customers/c/9/8/wpin4.1prod.one/httpd.www/landing-v2/wp-content/themes/onecom-landing-page-v2/functions.php on line 1441 Warning: Trying to access array offset on value of type null in /customers/c/9/8/wpin4.1prod.one/httpd.www/landing-v2/wp-content/themes/onecom-landing-page-v2/functions.php on line 1441 Warning: Trying to access array offset on value of type null in /customers/c/9/8/wpin4.1prod.one/httpd.www/landing-v2/wp-content/themes/onecom-landing-page-v2/functions.php on line 1441 Deprecated: preg_match(): Passing null to parameter #2 ($subject) of type string is deprecated in /customers/c/9/8/wpin4.1prod.one/httpd.www/landing-v2/wp-content/themes/onecom-landing-page-v2/functions.php on line 1442 Deprecated: Creation of dynamic property WP_Term::$cat_ID is deprecated in /customers/c/9/8/wpin4.1prod.one/httpd.www/landing-v2/wp-includes/category.php on line 378 Deprecated: Creation of dynamic property WP_Term::$category_count is deprecated in /customers/c/9/8/wpin4.1prod.one/httpd.www/landing-v2/wp-includes/category.php on line 379 Deprecated: Creation of dynamic property WP_Term::$category_description is deprecated in /customers/c/9/8/wpin4.1prod.one/httpd.www/landing-v2/wp-includes/category.php on line 380 Deprecated: Creation of dynamic property WP_Term::$cat_name is deprecated in /customers/c/9/8/wpin4.1prod.one/httpd.www/landing-v2/wp-includes/category.php on line 381 Deprecated: Creation of dynamic property WP_Term::$category_nicename is deprecated in /customers/c/9/8/wpin4.1prod.one/httpd.www/landing-v2/wp-includes/category.php on line 382 Deprecated: Creation of dynamic property WP_Term::$category_parent is deprecated in /customers/c/9/8/wpin4.1prod.one/httpd.www/landing-v2/wp-includes/category.php on line 383 Warning: Undefined variable $blocks in /customers/c/9/8/wpin4.1prod.one/httpd.www/landing-v2/wp-content/themes/onecom-landing-page-v2/functions.php on line 1441 Warning: Trying to access array offset on value of type null in /customers/c/9/8/wpin4.1prod.one/httpd.www/landing-v2/wp-content/themes/onecom-landing-page-v2/functions.php on line 1441 Warning: Trying to access array offset on value of type null in /customers/c/9/8/wpin4.1prod.one/httpd.www/landing-v2/wp-content/themes/onecom-landing-page-v2/functions.php on line 1441 Deprecated: preg_match(): Passing null to parameter #2 ($subject) of type string is deprecated in /customers/c/9/8/wpin4.1prod.one/httpd.www/landing-v2/wp-content/themes/onecom-landing-page-v2/functions.php on line 1442 Deprecated: Creation of dynamic property WP_Term::$cat_ID is deprecated in /customers/c/9/8/wpin4.1prod.one/httpd.www/landing-v2/wp-includes/category.php on line 378 Deprecated: Creation of dynamic property WP_Term::$category_count is deprecated in /customers/c/9/8/wpin4.1prod.one/httpd.www/landing-v2/wp-includes/category.php on line 379 Deprecated: Creation of dynamic property WP_Term::$category_description is deprecated in /customers/c/9/8/wpin4.1prod.one/httpd.www/landing-v2/wp-includes/category.php on line 380 Deprecated: Creation of dynamic property WP_Term::$cat_name is deprecated in /customers/c/9/8/wpin4.1prod.one/httpd.www/landing-v2/wp-includes/category.php on line 381 Deprecated: Creation of dynamic property WP_Term::$category_nicename is deprecated in /customers/c/9/8/wpin4.1prod.one/httpd.www/landing-v2/wp-includes/category.php on line 382 Deprecated: Creation of dynamic property WP_Term::$category_parent is deprecated in /customers/c/9/8/wpin4.1prod.one/httpd.www/landing-v2/wp-includes/category.php on line 383 Warning: Undefined variable $blocks in /customers/c/9/8/wpin4.1prod.one/httpd.www/landing-v2/wp-content/themes/onecom-landing-page-v2/functions.php on line 1441 Warning: Trying to access array offset on value of type null in /customers/c/9/8/wpin4.1prod.one/httpd.www/landing-v2/wp-content/themes/onecom-landing-page-v2/functions.php on line 1441 Warning: Trying to access array offset on value of type null in /customers/c/9/8/wpin4.1prod.one/httpd.www/landing-v2/wp-content/themes/onecom-landing-page-v2/functions.php on line 1441 Deprecated: preg_match(): Passing null to parameter #2 ($subject) of type string is deprecated in /customers/c/9/8/wpin4.1prod.one/httpd.www/landing-v2/wp-content/themes/onecom-landing-page-v2/functions.php on line 1442 Deprecated: Creation of dynamic property WP_Term::$cat_ID is deprecated in /customers/c/9/8/wpin4.1prod.one/httpd.www/landing-v2/wp-includes/category.php on line 378 Deprecated: Creation of dynamic property WP_Term::$category_count is deprecated in /customers/c/9/8/wpin4.1prod.one/httpd.www/landing-v2/wp-includes/category.php on line 379 Deprecated: Creation of dynamic property WP_Term::$category_description is deprecated in /customers/c/9/8/wpin4.1prod.one/httpd.www/landing-v2/wp-includes/category.php on line 380 Deprecated: Creation of dynamic property WP_Term::$cat_name is deprecated in /customers/c/9/8/wpin4.1prod.one/httpd.www/landing-v2/wp-includes/category.php on line 381 Deprecated: Creation of dynamic property WP_Term::$category_nicename is deprecated in /customers/c/9/8/wpin4.1prod.one/httpd.www/landing-v2/wp-includes/category.php on line 382 Deprecated: Creation of dynamic property WP_Term::$category_parent is deprecated in /customers/c/9/8/wpin4.1prod.one/httpd.www/landing-v2/wp-includes/category.php on line 383 Deprecated: Creation of dynamic property WP_Term::$cat_ID is deprecated in /customers/c/9/8/wpin4.1prod.one/httpd.www/landing-v2/wp-includes/category.php on line 378 Deprecated: Creation of dynamic property WP_Term::$category_count is deprecated in /customers/c/9/8/wpin4.1prod.one/httpd.www/landing-v2/wp-includes/category.php on line 379 Deprecated: Creation of dynamic property WP_Term::$category_description is deprecated in /customers/c/9/8/wpin4.1prod.one/httpd.www/landing-v2/wp-includes/category.php on line 380 Deprecated: Creation of dynamic property WP_Term::$cat_name is deprecated in /customers/c/9/8/wpin4.1prod.one/httpd.www/landing-v2/wp-includes/category.php on line 381 Deprecated: Creation of dynamic property WP_Term::$category_nicename is deprecated in /customers/c/9/8/wpin4.1prod.one/httpd.www/landing-v2/wp-includes/category.php on line 382 Deprecated: Creation of dynamic property WP_Term::$category_parent is deprecated in /customers/c/9/8/wpin4.1prod.one/httpd.www/landing-v2/wp-includes/category.php on line 383 Deprecated: Creation of dynamic property WP_Term::$cat_ID is deprecated in /customers/c/9/8/wpin4.1prod.one/httpd.www/landing-v2/wp-includes/category.php on line 378 Deprecated: Creation of dynamic property WP_Term::$category_count is deprecated in /customers/c/9/8/wpin4.1prod.one/httpd.www/landing-v2/wp-includes/category.php on line 379 Deprecated: Creation of dynamic property WP_Term::$category_description is deprecated in /customers/c/9/8/wpin4.1prod.one/httpd.www/landing-v2/wp-includes/category.php on line 380 Deprecated: Creation of dynamic property WP_Term::$cat_name is deprecated in /customers/c/9/8/wpin4.1prod.one/httpd.www/landing-v2/wp-includes/category.php on line 381 Deprecated: Creation of dynamic property WP_Term::$category_nicename is deprecated in /customers/c/9/8/wpin4.1prod.one/httpd.www/landing-v2/wp-includes/category.php on line 382 Deprecated: Creation of dynamic property WP_Term::$category_parent is deprecated in /customers/c/9/8/wpin4.1prod.one/httpd.www/landing-v2/wp-includes/category.php on line 383 Deprecated: Creation of dynamic property WP_Term::$cat_ID is deprecated in /customers/c/9/8/wpin4.1prod.one/httpd.www/landing-v2/wp-includes/category.php on line 378 Deprecated: Creation of dynamic property WP_Term::$category_count is deprecated in /customers/c/9/8/wpin4.1prod.one/httpd.www/landing-v2/wp-includes/category.php on line 379 Deprecated: Creation of dynamic property WP_Term::$category_description is deprecated in /customers/c/9/8/wpin4.1prod.one/httpd.www/landing-v2/wp-includes/category.php on line 380 Deprecated: Creation of dynamic property WP_Term::$cat_name is deprecated in /customers/c/9/8/wpin4.1prod.one/httpd.www/landing-v2/wp-includes/category.php on line 381 Deprecated: Creation of dynamic property WP_Term::$category_nicename is deprecated in /customers/c/9/8/wpin4.1prod.one/httpd.www/landing-v2/wp-includes/category.php on line 382 Deprecated: Creation of dynamic property WP_Term::$category_parent is deprecated in /customers/c/9/8/wpin4.1prod.one/httpd.www/landing-v2/wp-includes/category.php on line 383 Warning: Undefined variable $blocks in /customers/c/9/8/wpin4.1prod.one/httpd.www/landing-v2/wp-content/themes/onecom-landing-page-v2/functions.php on line 1441 Warning: Trying to access array offset on value of type null in /customers/c/9/8/wpin4.1prod.one/httpd.www/landing-v2/wp-content/themes/onecom-landing-page-v2/functions.php on line 1441 Warning: Trying to access array offset on value of type null in /customers/c/9/8/wpin4.1prod.one/httpd.www/landing-v2/wp-content/themes/onecom-landing-page-v2/functions.php on line 1441 Deprecated: preg_match(): Passing null to parameter #2 ($subject) of type string is deprecated in /customers/c/9/8/wpin4.1prod.one/httpd.www/landing-v2/wp-content/themes/onecom-landing-page-v2/functions.php on line 1442 Deprecated: Creation of dynamic property WP_Term::$cat_ID is deprecated in /customers/c/9/8/wpin4.1prod.one/httpd.www/landing-v2/wp-includes/category.php on line 378 Deprecated: Creation of dynamic property WP_Term::$category_count is deprecated in /customers/c/9/8/wpin4.1prod.one/httpd.www/landing-v2/wp-includes/category.php on line 379 Deprecated: Creation of dynamic property WP_Term::$category_description is deprecated in /customers/c/9/8/wpin4.1prod.one/httpd.www/landing-v2/wp-includes/category.php on line 380 Deprecated: Creation of dynamic property WP_Term::$cat_name is deprecated in /customers/c/9/8/wpin4.1prod.one/httpd.www/landing-v2/wp-includes/category.php on line 381 Deprecated: Creation of dynamic property WP_Term::$category_nicename is deprecated in /customers/c/9/8/wpin4.1prod.one/httpd.www/landing-v2/wp-includes/category.php on line 382 Deprecated: Creation of dynamic property WP_Term::$category_parent is deprecated in /customers/c/9/8/wpin4.1prod.one/httpd.www/landing-v2/wp-includes/category.php on line 383 Deprecated: Creation of dynamic property WP_Term::$cat_ID is deprecated in /customers/c/9/8/wpin4.1prod.one/httpd.www/landing-v2/wp-includes/category.php on line 378 Deprecated: Creation of dynamic property WP_Term::$category_count is deprecated in /customers/c/9/8/wpin4.1prod.one/httpd.www/landing-v2/wp-includes/category.php on line 379 Deprecated: Creation of dynamic property WP_Term::$category_description is deprecated in /customers/c/9/8/wpin4.1prod.one/httpd.www/landing-v2/wp-includes/category.php on line 380 Deprecated: Creation of dynamic property WP_Term::$cat_name is deprecated in /customers/c/9/8/wpin4.1prod.one/httpd.www/landing-v2/wp-includes/category.php on line 381 Deprecated: Creation of dynamic property WP_Term::$category_nicename is deprecated in /customers/c/9/8/wpin4.1prod.one/httpd.www/landing-v2/wp-includes/category.php on line 382 Deprecated: Creation of dynamic property WP_Term::$category_parent is deprecated in /customers/c/9/8/wpin4.1prod.one/httpd.www/landing-v2/wp-includes/category.php on line 383 Deprecated: Creation of dynamic property WP_Term::$cat_ID is deprecated in /customers/c/9/8/wpin4.1prod.one/httpd.www/landing-v2/wp-includes/category.php on line 378 Deprecated: Creation of dynamic property WP_Term::$category_count is deprecated in /customers/c/9/8/wpin4.1prod.one/httpd.www/landing-v2/wp-includes/category.php on line 379 Deprecated: Creation of dynamic property WP_Term::$category_description is deprecated in /customers/c/9/8/wpin4.1prod.one/httpd.www/landing-v2/wp-includes/category.php on line 380 Deprecated: Creation of dynamic property WP_Term::$cat_name is deprecated in /customers/c/9/8/wpin4.1prod.one/httpd.www/landing-v2/wp-includes/category.php on line 381 Deprecated: Creation of dynamic property WP_Term::$category_nicename is deprecated in /customers/c/9/8/wpin4.1prod.one/httpd.www/landing-v2/wp-includes/category.php on line 382 Deprecated: Creation of dynamic property WP_Term::$category_parent is deprecated in /customers/c/9/8/wpin4.1prod.one/httpd.www/landing-v2/wp-includes/category.php on line 383 Deprecated: Creation of dynamic property WP_Term::$cat_ID is deprecated in /customers/c/9/8/wpin4.1prod.one/httpd.www/landing-v2/wp-includes/category.php on line 378 Deprecated: Creation of dynamic property WP_Term::$category_count is deprecated in /customers/c/9/8/wpin4.1prod.one/httpd.www/landing-v2/wp-includes/category.php on line 379 Deprecated: Creation of dynamic property WP_Term::$category_description is deprecated in /customers/c/9/8/wpin4.1prod.one/httpd.www/landing-v2/wp-includes/category.php on line 380 Deprecated: Creation of dynamic property WP_Term::$cat_name is deprecated in /customers/c/9/8/wpin4.1prod.one/httpd.www/landing-v2/wp-includes/category.php on line 381 Deprecated: Creation of dynamic property WP_Term::$category_nicename is deprecated in /customers/c/9/8/wpin4.1prod.one/httpd.www/landing-v2/wp-includes/category.php on line 382 Deprecated: Creation of dynamic property WP_Term::$category_parent is deprecated in /customers/c/9/8/wpin4.1prod.one/httpd.www/landing-v2/wp-includes/category.php on line 383 Deprecated: Creation of dynamic property WP_Term::$cat_ID is deprecated in /customers/c/9/8/wpin4.1prod.one/httpd.www/landing-v2/wp-includes/category.php on line 378 Deprecated: Creation of dynamic property WP_Term::$category_count is deprecated in /customers/c/9/8/wpin4.1prod.one/httpd.www/landing-v2/wp-includes/category.php on line 379 Deprecated: Creation of dynamic property WP_Term::$category_description is deprecated in /customers/c/9/8/wpin4.1prod.one/httpd.www/landing-v2/wp-includes/category.php on line 380 Deprecated: Creation of dynamic property WP_Term::$cat_name is deprecated in /customers/c/9/8/wpin4.1prod.one/httpd.www/landing-v2/wp-includes/category.php on line 381 Deprecated: Creation of dynamic property WP_Term::$category_nicename is deprecated in /customers/c/9/8/wpin4.1prod.one/httpd.www/landing-v2/wp-includes/category.php on line 382 Deprecated: Creation of dynamic property WP_Term::$category_parent is deprecated in /customers/c/9/8/wpin4.1prod.one/httpd.www/landing-v2/wp-includes/category.php on line 383 Warning: Undefined variable $blocks in /customers/c/9/8/wpin4.1prod.one/httpd.www/landing-v2/wp-content/themes/onecom-landing-page-v2/functions.php on line 1441 Warning: Trying to access array offset on value of type null in /customers/c/9/8/wpin4.1prod.one/httpd.www/landing-v2/wp-content/themes/onecom-landing-page-v2/functions.php on line 1441 Warning: Trying to access array offset on value of type null in /customers/c/9/8/wpin4.1prod.one/httpd.www/landing-v2/wp-content/themes/onecom-landing-page-v2/functions.php on line 1441 Deprecated: preg_match(): Passing null to parameter #2 ($subject) of type string is deprecated in /customers/c/9/8/wpin4.1prod.one/httpd.www/landing-v2/wp-content/themes/onecom-landing-page-v2/functions.php on line 1442 Deprecated: Creation of dynamic property WP_Term::$cat_ID is deprecated in /customers/c/9/8/wpin4.1prod.one/httpd.www/landing-v2/wp-includes/category.php on line 378 Deprecated: Creation of dynamic property WP_Term::$category_count is deprecated in /customers/c/9/8/wpin4.1prod.one/httpd.www/landing-v2/wp-includes/category.php on line 379 Deprecated: Creation of dynamic property WP_Term::$category_description is deprecated in /customers/c/9/8/wpin4.1prod.one/httpd.www/landing-v2/wp-includes/category.php on line 380 Deprecated: Creation of dynamic property WP_Term::$cat_name is deprecated in /customers/c/9/8/wpin4.1prod.one/httpd.www/landing-v2/wp-includes/category.php on line 381 Deprecated: Creation of dynamic property WP_Term::$category_nicename is deprecated in /customers/c/9/8/wpin4.1prod.one/httpd.www/landing-v2/wp-includes/category.php on line 382 Deprecated: Creation of dynamic property WP_Term::$category_parent is deprecated in /customers/c/9/8/wpin4.1prod.one/httpd.www/landing-v2/wp-includes/category.php on line 383 Deprecated: Creation of dynamic property WP_Block::$attributes is deprecated in /customers/c/9/8/wpin4.1prod.one/httpd.www/landing-v2/wp-includes/class-wp-block.php on line 179 Deprecated: Creation of dynamic property WP_Term::$cat_ID is deprecated in /customers/c/9/8/wpin4.1prod.one/httpd.www/landing-v2/wp-includes/category.php on line 378 Deprecated: Creation of dynamic property WP_Term::$category_count is deprecated in /customers/c/9/8/wpin4.1prod.one/httpd.www/landing-v2/wp-includes/category.php on line 379 Deprecated: Creation of dynamic property WP_Term::$category_description is deprecated in /customers/c/9/8/wpin4.1prod.one/httpd.www/landing-v2/wp-includes/category.php on line 380 Deprecated: Creation of dynamic property WP_Term::$cat_name is deprecated in /customers/c/9/8/wpin4.1prod.one/httpd.www/landing-v2/wp-includes/category.php on line 381 Deprecated: Creation of dynamic property WP_Term::$category_nicename is deprecated in /customers/c/9/8/wpin4.1prod.one/httpd.www/landing-v2/wp-includes/category.php on line 382 Deprecated: Creation of dynamic property WP_Term::$category_parent is deprecated in /customers/c/9/8/wpin4.1prod.one/httpd.www/landing-v2/wp-includes/category.php on line 383 Deprecated: Creation of dynamic property WP_Term::$cat_ID is deprecated in /customers/c/9/8/wpin4.1prod.one/httpd.www/landing-v2/wp-includes/category.php on line 378 Deprecated: Creation of dynamic property WP_Term::$category_count is deprecated in /customers/c/9/8/wpin4.1prod.one/httpd.www/landing-v2/wp-includes/category.php on line 379 Deprecated: Creation of dynamic property WP_Term::$category_description is deprecated in /customers/c/9/8/wpin4.1prod.one/httpd.www/landing-v2/wp-includes/category.php on line 380 Deprecated: Creation of dynamic property WP_Term::$cat_name is deprecated in /customers/c/9/8/wpin4.1prod.one/httpd.www/landing-v2/wp-includes/category.php on line 381 Deprecated: Creation of dynamic property WP_Term::$category_nicename is deprecated in /customers/c/9/8/wpin4.1prod.one/httpd.www/landing-v2/wp-includes/category.php on line 382 Deprecated: Creation of dynamic property WP_Term::$category_parent is deprecated in /customers/c/9/8/wpin4.1prod.one/httpd.www/landing-v2/wp-includes/category.php on line 383 Warning: Undefined variable $blocks in /customers/c/9/8/wpin4.1prod.one/httpd.www/landing-v2/wp-content/themes/onecom-landing-page-v2/functions.php on line 1441 Warning: Trying to access array offset on value of type null in /customers/c/9/8/wpin4.1prod.one/httpd.www/landing-v2/wp-content/themes/onecom-landing-page-v2/functions.php on line 1441 Warning: Trying to access array offset on value of type null in /customers/c/9/8/wpin4.1prod.one/httpd.www/landing-v2/wp-content/themes/onecom-landing-page-v2/functions.php on line 1441 Deprecated: preg_match(): Passing null to parameter #2 ($subject) of type string is deprecated in /customers/c/9/8/wpin4.1prod.one/httpd.www/landing-v2/wp-content/themes/onecom-landing-page-v2/functions.php on line 1442 Deprecated: Creation of dynamic property WP_Term::$cat_ID is deprecated in /customers/c/9/8/wpin4.1prod.one/httpd.www/landing-v2/wp-includes/category.php on line 378 Deprecated: Creation of dynamic property WP_Term::$category_count is deprecated in /customers/c/9/8/wpin4.1prod.one/httpd.www/landing-v2/wp-includes/category.php on line 379 Deprecated: Creation of dynamic property WP_Term::$category_description is deprecated in /customers/c/9/8/wpin4.1prod.one/httpd.www/landing-v2/wp-includes/category.php on line 380 Deprecated: Creation of dynamic property WP_Term::$cat_name is deprecated in /customers/c/9/8/wpin4.1prod.one/httpd.www/landing-v2/wp-includes/category.php on line 381 Deprecated: Creation of dynamic property WP_Term::$category_nicename is deprecated in /customers/c/9/8/wpin4.1prod.one/httpd.www/landing-v2/wp-includes/category.php on line 382 Deprecated: Creation of dynamic property WP_Term::$category_parent is deprecated in /customers/c/9/8/wpin4.1prod.one/httpd.www/landing-v2/wp-includes/category.php on line 383 Warning: Undefined variable $blocks in /customers/c/9/8/wpin4.1prod.one/httpd.www/landing-v2/wp-content/themes/onecom-landing-page-v2/functions.php on line 1441 Warning: Trying to access array offset on value of type null in /customers/c/9/8/wpin4.1prod.one/httpd.www/landing-v2/wp-content/themes/onecom-landing-page-v2/functions.php on line 1441 Warning: Trying to access array offset on value of type null in /customers/c/9/8/wpin4.1prod.one/httpd.www/landing-v2/wp-content/themes/onecom-landing-page-v2/functions.php on line 1441 Deprecated: preg_match(): Passing null to parameter #2 ($subject) of type string is deprecated in /customers/c/9/8/wpin4.1prod.one/httpd.www/landing-v2/wp-content/themes/onecom-landing-page-v2/functions.php on line 1442 Deprecated: Creation of dynamic property WP_Term::$cat_ID is deprecated in /customers/c/9/8/wpin4.1prod.one/httpd.www/landing-v2/wp-includes/category.php on line 378 Deprecated: Creation of dynamic property WP_Term::$category_count is deprecated in /customers/c/9/8/wpin4.1prod.one/httpd.www/landing-v2/wp-includes/category.php on line 379 Deprecated: Creation of dynamic property WP_Term::$category_description is deprecated in /customers/c/9/8/wpin4.1prod.one/httpd.www/landing-v2/wp-includes/category.php on line 380 Deprecated: Creation of dynamic property WP_Term::$cat_name is deprecated in /customers/c/9/8/wpin4.1prod.one/httpd.www/landing-v2/wp-includes/category.php on line 381 Deprecated: Creation of dynamic property WP_Term::$category_nicename is deprecated in /customers/c/9/8/wpin4.1prod.one/httpd.www/landing-v2/wp-includes/category.php on line 382 Deprecated: Creation of dynamic property WP_Term::$category_parent is deprecated in /customers/c/9/8/wpin4.1prod.one/httpd.www/landing-v2/wp-includes/category.php on line 383 Warning: Undefined variable $blocks in /customers/c/9/8/wpin4.1prod.one/httpd.www/landing-v2/wp-content/themes/onecom-landing-page-v2/functions.php on line 1441 Warning: Trying to access array offset on value of type null in /customers/c/9/8/wpin4.1prod.one/httpd.www/landing-v2/wp-content/themes/onecom-landing-page-v2/functions.php on line 1441 Warning: Trying to access array offset on value of type null in /customers/c/9/8/wpin4.1prod.one/httpd.www/landing-v2/wp-content/themes/onecom-landing-page-v2/functions.php on line 1441 Deprecated: preg_match(): Passing null to parameter #2 ($subject) of type string is deprecated in /customers/c/9/8/wpin4.1prod.one/httpd.www/landing-v2/wp-content/themes/onecom-landing-page-v2/functions.php on line 1442 Deprecated: Creation of dynamic property WP_Term::$cat_ID is deprecated in /customers/c/9/8/wpin4.1prod.one/httpd.www/landing-v2/wp-includes/category.php on line 378 Deprecated: Creation of dynamic property WP_Term::$category_count is deprecated in /customers/c/9/8/wpin4.1prod.one/httpd.www/landing-v2/wp-includes/category.php on line 379 Deprecated: Creation of dynamic property WP_Term::$category_description is deprecated in /customers/c/9/8/wpin4.1prod.one/httpd.www/landing-v2/wp-includes/category.php on line 380 Deprecated: Creation of dynamic property WP_Term::$cat_name is deprecated in /customers/c/9/8/wpin4.1prod.one/httpd.www/landing-v2/wp-includes/category.php on line 381 Deprecated: Creation of dynamic property WP_Term::$category_nicename is deprecated in /customers/c/9/8/wpin4.1prod.one/httpd.www/landing-v2/wp-includes/category.php on line 382 Deprecated: Creation of dynamic property WP_Term::$category_parent is deprecated in /customers/c/9/8/wpin4.1prod.one/httpd.www/landing-v2/wp-includes/category.php on line 383 Warning: Undefined variable $blocks in /customers/c/9/8/wpin4.1prod.one/httpd.www/landing-v2/wp-content/themes/onecom-landing-page-v2/functions.php on line 1441 Warning: Trying to access array offset on value of type null in /customers/c/9/8/wpin4.1prod.one/httpd.www/landing-v2/wp-content/themes/onecom-landing-page-v2/functions.php on line 1441 Warning: Trying to access array offset on value of type null in /customers/c/9/8/wpin4.1prod.one/httpd.www/landing-v2/wp-content/themes/onecom-landing-page-v2/functions.php on line 1441 Deprecated: preg_match(): Passing null to parameter #2 ($subject) of type string is deprecated in /customers/c/9/8/wpin4.1prod.one/httpd.www/landing-v2/wp-content/themes/onecom-landing-page-v2/functions.php on line 1442 Deprecated: Creation of dynamic property WP_Term::$cat_ID is deprecated in /customers/c/9/8/wpin4.1prod.one/httpd.www/landing-v2/wp-includes/category.php on line 378 Deprecated: Creation of dynamic property WP_Term::$category_count is deprecated in /customers/c/9/8/wpin4.1prod.one/httpd.www/landing-v2/wp-includes/category.php on line 379 Deprecated: Creation of dynamic property WP_Term::$category_description is deprecated in /customers/c/9/8/wpin4.1prod.one/httpd.www/landing-v2/wp-includes/category.php on line 380 Deprecated: Creation of dynamic property WP_Term::$cat_name is deprecated in /customers/c/9/8/wpin4.1prod.one/httpd.www/landing-v2/wp-includes/category.php on line 381 Deprecated: Creation of dynamic property WP_Term::$category_nicename is deprecated in /customers/c/9/8/wpin4.1prod.one/httpd.www/landing-v2/wp-includes/category.php on line 382 Deprecated: Creation of dynamic property WP_Term::$category_parent is deprecated in /customers/c/9/8/wpin4.1prod.one/httpd.www/landing-v2/wp-includes/category.php on line 383 Warning: Undefined variable $blocks in /customers/c/9/8/wpin4.1prod.one/httpd.www/landing-v2/wp-content/themes/onecom-landing-page-v2/functions.php on line 1441 Warning: Trying to access array offset on value of type null in /customers/c/9/8/wpin4.1prod.one/httpd.www/landing-v2/wp-content/themes/onecom-landing-page-v2/functions.php on line 1441 Warning: Trying to access array offset on value of type null in /customers/c/9/8/wpin4.1prod.one/httpd.www/landing-v2/wp-content/themes/onecom-landing-page-v2/functions.php on line 1441 Deprecated: preg_match(): Passing null to parameter #2 ($subject) of type string is deprecated in /customers/c/9/8/wpin4.1prod.one/httpd.www/landing-v2/wp-content/themes/onecom-landing-page-v2/functions.php on line 1442 Deprecated: Creation of dynamic property WP_Term::$cat_ID is deprecated in /customers/c/9/8/wpin4.1prod.one/httpd.www/landing-v2/wp-includes/category.php on line 378 Deprecated: Creation of dynamic property WP_Term::$category_count is deprecated in /customers/c/9/8/wpin4.1prod.one/httpd.www/landing-v2/wp-includes/category.php on line 379 Deprecated: Creation of dynamic property WP_Term::$category_description is deprecated in /customers/c/9/8/wpin4.1prod.one/httpd.www/landing-v2/wp-includes/category.php on line 380 Deprecated: Creation of dynamic property WP_Term::$cat_name is deprecated in /customers/c/9/8/wpin4.1prod.one/httpd.www/landing-v2/wp-includes/category.php on line 381 Deprecated: Creation of dynamic property WP_Term::$category_nicename is deprecated in /customers/c/9/8/wpin4.1prod.one/httpd.www/landing-v2/wp-includes/category.php on line 382 Deprecated: Creation of dynamic property WP_Term::$category_parent is deprecated in /customers/c/9/8/wpin4.1prod.one/httpd.www/landing-v2/wp-includes/category.php on line 383 Warning: Undefined variable $blocks in /customers/c/9/8/wpin4.1prod.one/httpd.www/landing-v2/wp-content/themes/onecom-landing-page-v2/functions.php on line 1441 Warning: Trying to access array offset on value of type null in /customers/c/9/8/wpin4.1prod.one/httpd.www/landing-v2/wp-content/themes/onecom-landing-page-v2/functions.php on line 1441 Warning: Trying to access array offset on value of type null in /customers/c/9/8/wpin4.1prod.one/httpd.www/landing-v2/wp-content/themes/onecom-landing-page-v2/functions.php on line 1441 Deprecated: preg_match(): Passing null to parameter #2 ($subject) of type string is deprecated in /customers/c/9/8/wpin4.1prod.one/httpd.www/landing-v2/wp-content/themes/onecom-landing-page-v2/functions.php on line 1442 Deprecated: Creation of dynamic property WP_Term::$cat_ID is deprecated in /customers/c/9/8/wpin4.1prod.one/httpd.www/landing-v2/wp-includes/category.php on line 378 Deprecated: Creation of dynamic property WP_Term::$category_count is deprecated in /customers/c/9/8/wpin4.1prod.one/httpd.www/landing-v2/wp-includes/category.php on line 379 Deprecated: Creation of dynamic property WP_Term::$category_description is deprecated in /customers/c/9/8/wpin4.1prod.one/httpd.www/landing-v2/wp-includes/category.php on line 380 Deprecated: Creation of dynamic property WP_Term::$cat_name is deprecated in /customers/c/9/8/wpin4.1prod.one/httpd.www/landing-v2/wp-includes/category.php on line 381 Deprecated: Creation of dynamic property WP_Term::$category_nicename is deprecated in /customers/c/9/8/wpin4.1prod.one/httpd.www/landing-v2/wp-includes/category.php on line 382 Deprecated: Creation of dynamic property WP_Term::$category_parent is deprecated in /customers/c/9/8/wpin4.1prod.one/httpd.www/landing-v2/wp-includes/category.php on line 383 Warning: Undefined variable $blocks in /customers/c/9/8/wpin4.1prod.one/httpd.www/landing-v2/wp-content/themes/onecom-landing-page-v2/functions.php on line 1441 Warning: Trying to access array offset on value of type null in /customers/c/9/8/wpin4.1prod.one/httpd.www/landing-v2/wp-content/themes/onecom-landing-page-v2/functions.php on line 1441 Warning: Trying to access array offset on value of type null in /customers/c/9/8/wpin4.1prod.one/httpd.www/landing-v2/wp-content/themes/onecom-landing-page-v2/functions.php on line 1441 Deprecated: preg_match(): Passing null to parameter #2 ($subject) of type string is deprecated in /customers/c/9/8/wpin4.1prod.one/httpd.www/landing-v2/wp-content/themes/onecom-landing-page-v2/functions.php on line 1442 Deprecated: Creation of dynamic property WP_Term::$cat_ID is deprecated in /customers/c/9/8/wpin4.1prod.one/httpd.www/landing-v2/wp-includes/category.php on line 378 Deprecated: Creation of dynamic property WP_Term::$category_count is deprecated in /customers/c/9/8/wpin4.1prod.one/httpd.www/landing-v2/wp-includes/category.php on line 379 Deprecated: Creation of dynamic property WP_Term::$category_description is deprecated in /customers/c/9/8/wpin4.1prod.one/httpd.www/landing-v2/wp-includes/category.php on line 380 Deprecated: Creation of dynamic property WP_Term::$cat_name is deprecated in /customers/c/9/8/wpin4.1prod.one/httpd.www/landing-v2/wp-includes/category.php on line 381 Deprecated: Creation of dynamic property WP_Term::$category_nicename is deprecated in /customers/c/9/8/wpin4.1prod.one/httpd.www/landing-v2/wp-includes/category.php on line 382 Deprecated: Creation of dynamic property WP_Term::$category_parent is deprecated in /customers/c/9/8/wpin4.1prod.one/httpd.www/landing-v2/wp-includes/category.php on line 383 Warning: Undefined variable $blocks in /customers/c/9/8/wpin4.1prod.one/httpd.www/landing-v2/wp-content/themes/onecom-landing-page-v2/functions.php on line 1441 Warning: Trying to access array offset on value of type null in /customers/c/9/8/wpin4.1prod.one/httpd.www/landing-v2/wp-content/themes/onecom-landing-page-v2/functions.php on line 1441 Warning: Trying to access array offset on value of type null in /customers/c/9/8/wpin4.1prod.one/httpd.www/landing-v2/wp-content/themes/onecom-landing-page-v2/functions.php on line 1441 Deprecated: preg_match(): Passing null to parameter #2 ($subject) of type string is deprecated in /customers/c/9/8/wpin4.1prod.one/httpd.www/landing-v2/wp-content/themes/onecom-landing-page-v2/functions.php on line 1442 Deprecated: Creation of dynamic property WP_Term::$cat_ID is deprecated in /customers/c/9/8/wpin4.1prod.one/httpd.www/landing-v2/wp-includes/category.php on line 378 Deprecated: Creation of dynamic property WP_Term::$category_count is deprecated in /customers/c/9/8/wpin4.1prod.one/httpd.www/landing-v2/wp-includes/category.php on line 379 Deprecated: Creation of dynamic property WP_Term::$category_description is deprecated in /customers/c/9/8/wpin4.1prod.one/httpd.www/landing-v2/wp-includes/category.php on line 380 Deprecated: Creation of dynamic property WP_Term::$cat_name is deprecated in /customers/c/9/8/wpin4.1prod.one/httpd.www/landing-v2/wp-includes/category.php on line 381 Deprecated: Creation of dynamic property WP_Term::$category_nicename is deprecated in /customers/c/9/8/wpin4.1prod.one/httpd.www/landing-v2/wp-includes/category.php on line 382 Deprecated: Creation of dynamic property WP_Term::$category_parent is deprecated in /customers/c/9/8/wpin4.1prod.one/httpd.www/landing-v2/wp-includes/category.php on line 383 Deprecated: Creation of dynamic property WP_Term::$cat_ID is deprecated in /customers/c/9/8/wpin4.1prod.one/httpd.www/landing-v2/wp-includes/category.php on line 378 Deprecated: Creation of dynamic property WP_Term::$category_count is deprecated in /customers/c/9/8/wpin4.1prod.one/httpd.www/landing-v2/wp-includes/category.php on line 379 Deprecated: Creation of dynamic property WP_Term::$category_description is deprecated in /customers/c/9/8/wpin4.1prod.one/httpd.www/landing-v2/wp-includes/category.php on line 380 Deprecated: Creation of dynamic property WP_Term::$cat_name is deprecated in /customers/c/9/8/wpin4.1prod.one/httpd.www/landing-v2/wp-includes/category.php on line 381 Deprecated: Creation of dynamic property WP_Term::$category_nicename is deprecated in /customers/c/9/8/wpin4.1prod.one/httpd.www/landing-v2/wp-includes/category.php on line 382 Deprecated: Creation of dynamic property WP_Term::$category_parent is deprecated in /customers/c/9/8/wpin4.1prod.one/httpd.www/landing-v2/wp-includes/category.php on line 383 Warning: Undefined variable $blocks in /customers/c/9/8/wpin4.1prod.one/httpd.www/landing-v2/wp-content/themes/onecom-landing-page-v2/functions.php on line 1441 Warning: Trying to access array offset on value of type null in /customers/c/9/8/wpin4.1prod.one/httpd.www/landing-v2/wp-content/themes/onecom-landing-page-v2/functions.php on line 1441 Warning: Trying to access array offset on value of type null in /customers/c/9/8/wpin4.1prod.one/httpd.www/landing-v2/wp-content/themes/onecom-landing-page-v2/functions.php on line 1441 Deprecated: preg_match(): Passing null to parameter #2 ($subject) of type string is deprecated in /customers/c/9/8/wpin4.1prod.one/httpd.www/landing-v2/wp-content/themes/onecom-landing-page-v2/functions.php on line 1442 Deprecated: Creation of dynamic property WP_Term::$cat_ID is deprecated in /customers/c/9/8/wpin4.1prod.one/httpd.www/landing-v2/wp-includes/category.php on line 378 Deprecated: Creation of dynamic property WP_Term::$category_count is deprecated in /customers/c/9/8/wpin4.1prod.one/httpd.www/landing-v2/wp-includes/category.php on line 379 Deprecated: Creation of dynamic property WP_Term::$category_description is deprecated in /customers/c/9/8/wpin4.1prod.one/httpd.www/landing-v2/wp-includes/category.php on line 380 Deprecated: Creation of dynamic property WP_Term::$cat_name is deprecated in /customers/c/9/8/wpin4.1prod.one/httpd.www/landing-v2/wp-includes/category.php on line 381 Deprecated: Creation of dynamic property WP_Term::$category_nicename is deprecated in /customers/c/9/8/wpin4.1prod.one/httpd.www/landing-v2/wp-includes/category.php on line 382 Deprecated: Creation of dynamic property WP_Term::$category_parent is deprecated in /customers/c/9/8/wpin4.1prod.one/httpd.www/landing-v2/wp-includes/category.php on line 383 Warning: Undefined variable $blocks in /customers/c/9/8/wpin4.1prod.one/httpd.www/landing-v2/wp-content/themes/onecom-landing-page-v2/functions.php on line 1441 Warning: Trying to access array offset on value of type null in /customers/c/9/8/wpin4.1prod.one/httpd.www/landing-v2/wp-content/themes/onecom-landing-page-v2/functions.php on line 1441 Warning: Trying to access array offset on value of type null in /customers/c/9/8/wpin4.1prod.one/httpd.www/landing-v2/wp-content/themes/onecom-landing-page-v2/functions.php on line 1441 Deprecated: preg_match(): Passing null to parameter #2 ($subject) of type string is deprecated in /customers/c/9/8/wpin4.1prod.one/httpd.www/landing-v2/wp-content/themes/onecom-landing-page-v2/functions.php on line 1442 Deprecated: Creation of dynamic property WP_Term::$cat_ID is deprecated in /customers/c/9/8/wpin4.1prod.one/httpd.www/landing-v2/wp-includes/category.php on line 378 Deprecated: Creation of dynamic property WP_Term::$category_count is deprecated in /customers/c/9/8/wpin4.1prod.one/httpd.www/landing-v2/wp-includes/category.php on line 379 Deprecated: Creation of dynamic property WP_Term::$category_description is deprecated in /customers/c/9/8/wpin4.1prod.one/httpd.www/landing-v2/wp-includes/category.php on line 380 Deprecated: Creation of dynamic property WP_Term::$cat_name is deprecated in /customers/c/9/8/wpin4.1prod.one/httpd.www/landing-v2/wp-includes/category.php on line 381 Deprecated: Creation of dynamic property WP_Term::$category_nicename is deprecated in /customers/c/9/8/wpin4.1prod.one/httpd.www/landing-v2/wp-includes/category.php on line 382 Deprecated: Creation of dynamic property WP_Term::$category_parent is deprecated in /customers/c/9/8/wpin4.1prod.one/httpd.www/landing-v2/wp-includes/category.php on line 383 Warning: Undefined variable $blocks in /customers/c/9/8/wpin4.1prod.one/httpd.www/landing-v2/wp-content/themes/onecom-landing-page-v2/functions.php on line 1441 Warning: Trying to access array offset on value of type null in /customers/c/9/8/wpin4.1prod.one/httpd.www/landing-v2/wp-content/themes/onecom-landing-page-v2/functions.php on line 1441 Warning: Trying to access array offset on value of type null in /customers/c/9/8/wpin4.1prod.one/httpd.www/landing-v2/wp-content/themes/onecom-landing-page-v2/functions.php on line 1441 Deprecated: preg_match(): Passing null to parameter #2 ($subject) of type string is deprecated in /customers/c/9/8/wpin4.1prod.one/httpd.www/landing-v2/wp-content/themes/onecom-landing-page-v2/functions.php on line 1442 Deprecated: Creation of dynamic property WP_Term::$cat_ID is deprecated in /customers/c/9/8/wpin4.1prod.one/httpd.www/landing-v2/wp-includes/category.php on line 378 Deprecated: Creation of dynamic property WP_Term::$category_count is deprecated in /customers/c/9/8/wpin4.1prod.one/httpd.www/landing-v2/wp-includes/category.php on line 379 Deprecated: Creation of dynamic property WP_Term::$category_description is deprecated in /customers/c/9/8/wpin4.1prod.one/httpd.www/landing-v2/wp-includes/category.php on line 380 Deprecated: Creation of dynamic property WP_Term::$cat_name is deprecated in /customers/c/9/8/wpin4.1prod.one/httpd.www/landing-v2/wp-includes/category.php on line 381 Deprecated: Creation of dynamic property WP_Term::$category_nicename is deprecated in /customers/c/9/8/wpin4.1prod.one/httpd.www/landing-v2/wp-includes/category.php on line 382 Deprecated: Creation of dynamic property WP_Term::$category_parent is deprecated in /customers/c/9/8/wpin4.1prod.one/httpd.www/landing-v2/wp-includes/category.php on line 383 Warning: Undefined variable $blocks in /customers/c/9/8/wpin4.1prod.one/httpd.www/landing-v2/wp-content/themes/onecom-landing-page-v2/functions.php on line 1441 Warning: Trying to access array offset on value of type null in /customers/c/9/8/wpin4.1prod.one/httpd.www/landing-v2/wp-content/themes/onecom-landing-page-v2/functions.php on line 1441 Warning: Trying to access array offset on value of type null in /customers/c/9/8/wpin4.1prod.one/httpd.www/landing-v2/wp-content/themes/onecom-landing-page-v2/functions.php on line 1441 Deprecated: preg_match(): Passing null to parameter #2 ($subject) of type string is deprecated in /customers/c/9/8/wpin4.1prod.one/httpd.www/landing-v2/wp-content/themes/onecom-landing-page-v2/functions.php on line 1442 Deprecated: Creation of dynamic property WP_Term::$cat_ID is deprecated in /customers/c/9/8/wpin4.1prod.one/httpd.www/landing-v2/wp-includes/category.php on line 378 Deprecated: Creation of dynamic property WP_Term::$category_count is deprecated in /customers/c/9/8/wpin4.1prod.one/httpd.www/landing-v2/wp-includes/category.php on line 379 Deprecated: Creation of dynamic property WP_Term::$category_description is deprecated in /customers/c/9/8/wpin4.1prod.one/httpd.www/landing-v2/wp-includes/category.php on line 380 Deprecated: Creation of dynamic property WP_Term::$cat_name is deprecated in /customers/c/9/8/wpin4.1prod.one/httpd.www/landing-v2/wp-includes/category.php on line 381 Deprecated: Creation of dynamic property WP_Term::$category_nicename is deprecated in /customers/c/9/8/wpin4.1prod.one/httpd.www/landing-v2/wp-includes/category.php on line 382 Deprecated: Creation of dynamic property WP_Term::$category_parent is deprecated in /customers/c/9/8/wpin4.1prod.one/httpd.www/landing-v2/wp-includes/category.php on line 383 Warning: Undefined variable $blocks in /customers/c/9/8/wpin4.1prod.one/httpd.www/landing-v2/wp-content/themes/onecom-landing-page-v2/functions.php on line 1441 Warning: Trying to access array offset on value of type null in /customers/c/9/8/wpin4.1prod.one/httpd.www/landing-v2/wp-content/themes/onecom-landing-page-v2/functions.php on line 1441 Warning: Trying to access array offset on value of type null in /customers/c/9/8/wpin4.1prod.one/httpd.www/landing-v2/wp-content/themes/onecom-landing-page-v2/functions.php on line 1441 Deprecated: preg_match(): Passing null to parameter #2 ($subject) of type string is deprecated in /customers/c/9/8/wpin4.1prod.one/httpd.www/landing-v2/wp-content/themes/onecom-landing-page-v2/functions.php on line 1442 Deprecated: Creation of dynamic property WP_Block::$attributes is deprecated in /customers/c/9/8/wpin4.1prod.one/httpd.www/landing-v2/wp-includes/class-wp-block.php on line 179 Deprecated: Creation of dynamic property WP_Term::$cat_ID is deprecated in /customers/c/9/8/wpin4.1prod.one/httpd.www/landing-v2/wp-includes/category.php on line 378 Deprecated: Creation of dynamic property WP_Term::$category_count is deprecated in /customers/c/9/8/wpin4.1prod.one/httpd.www/landing-v2/wp-includes/category.php on line 379 Deprecated: Creation of dynamic property WP_Term::$category_description is deprecated in /customers/c/9/8/wpin4.1prod.one/httpd.www/landing-v2/wp-includes/category.php on line 380 Deprecated: Creation of dynamic property WP_Term::$cat_name is deprecated in /customers/c/9/8/wpin4.1prod.one/httpd.www/landing-v2/wp-includes/category.php on line 381 Deprecated: Creation of dynamic property WP_Term::$category_nicename is deprecated in /customers/c/9/8/wpin4.1prod.one/httpd.www/landing-v2/wp-includes/category.php on line 382 Deprecated: Creation of dynamic property WP_Term::$category_parent is deprecated in /customers/c/9/8/wpin4.1prod.one/httpd.www/landing-v2/wp-includes/category.php on line 383 Deprecated: Creation of dynamic property WP_Term::$cat_ID is deprecated in /customers/c/9/8/wpin4.1prod.one/httpd.www/landing-v2/wp-includes/category.php on line 378 Deprecated: Creation of dynamic property WP_Term::$category_count is deprecated in /customers/c/9/8/wpin4.1prod.one/httpd.www/landing-v2/wp-includes/category.php on line 379 Deprecated: Creation of dynamic property WP_Term::$category_description is deprecated in /customers/c/9/8/wpin4.1prod.one/httpd.www/landing-v2/wp-includes/category.php on line 380 Deprecated: Creation of dynamic property WP_Term::$cat_name is deprecated in /customers/c/9/8/wpin4.1prod.one/httpd.www/landing-v2/wp-includes/category.php on line 381 Deprecated: Creation of dynamic property WP_Term::$category_nicename is deprecated in /customers/c/9/8/wpin4.1prod.one/httpd.www/landing-v2/wp-includes/category.php on line 382 Deprecated: Creation of dynamic property WP_Term::$category_parent is deprecated in /customers/c/9/8/wpin4.1prod.one/httpd.www/landing-v2/wp-includes/category.php on line 383 Warning: Undefined variable $blocks in /customers/c/9/8/wpin4.1prod.one/httpd.www/landing-v2/wp-content/themes/onecom-landing-page-v2/functions.php on line 1441 Warning: Trying to access array offset on value of type null in /customers/c/9/8/wpin4.1prod.one/httpd.www/landing-v2/wp-content/themes/onecom-landing-page-v2/functions.php on line 1441 Warning: Trying to access array offset on value of type null in /customers/c/9/8/wpin4.1prod.one/httpd.www/landing-v2/wp-content/themes/onecom-landing-page-v2/functions.php on line 1441 Deprecated: preg_match(): Passing null to parameter #2 ($subject) of type string is deprecated in /customers/c/9/8/wpin4.1prod.one/httpd.www/landing-v2/wp-content/themes/onecom-landing-page-v2/functions.php on line 1442 Deprecated: Creation of dynamic property WP_Term::$cat_ID is deprecated in /customers/c/9/8/wpin4.1prod.one/httpd.www/landing-v2/wp-includes/category.php on line 378 Deprecated: Creation of dynamic property WP_Term::$category_count is deprecated in /customers/c/9/8/wpin4.1prod.one/httpd.www/landing-v2/wp-includes/category.php on line 379 Deprecated: Creation of dynamic property WP_Term::$category_description is deprecated in /customers/c/9/8/wpin4.1prod.one/httpd.www/landing-v2/wp-includes/category.php on line 380 Deprecated: Creation of dynamic property WP_Term::$cat_name is deprecated in /customers/c/9/8/wpin4.1prod.one/httpd.www/landing-v2/wp-includes/category.php on line 381 Deprecated: Creation of dynamic property WP_Term::$category_nicename is deprecated in /customers/c/9/8/wpin4.1prod.one/httpd.www/landing-v2/wp-includes/category.php on line 382 Deprecated: Creation of dynamic property WP_Term::$category_parent is deprecated in /customers/c/9/8/wpin4.1prod.one/httpd.www/landing-v2/wp-includes/category.php on line 383 Warning: Undefined variable $blocks in /customers/c/9/8/wpin4.1prod.one/httpd.www/landing-v2/wp-content/themes/onecom-landing-page-v2/functions.php on line 1441 Warning: Trying to access array offset on value of type null in /customers/c/9/8/wpin4.1prod.one/httpd.www/landing-v2/wp-content/themes/onecom-landing-page-v2/functions.php on line 1441 Warning: Trying to access array offset on value of type null in /customers/c/9/8/wpin4.1prod.one/httpd.www/landing-v2/wp-content/themes/onecom-landing-page-v2/functions.php on line 1441 Deprecated: preg_match(): Passing null to parameter #2 ($subject) of type string is deprecated in /customers/c/9/8/wpin4.1prod.one/httpd.www/landing-v2/wp-content/themes/onecom-landing-page-v2/functions.php on line 1442 Deprecated: Creation of dynamic property WP_Term::$cat_ID is deprecated in /customers/c/9/8/wpin4.1prod.one/httpd.www/landing-v2/wp-includes/category.php on line 378 Deprecated: Creation of dynamic property WP_Term::$category_count is deprecated in /customers/c/9/8/wpin4.1prod.one/httpd.www/landing-v2/wp-includes/category.php on line 379 Deprecated: Creation of dynamic property WP_Term::$category_description is deprecated in /customers/c/9/8/wpin4.1prod.one/httpd.www/landing-v2/wp-includes/category.php on line 380 Deprecated: Creation of dynamic property WP_Term::$cat_name is deprecated in /customers/c/9/8/wpin4.1prod.one/httpd.www/landing-v2/wp-includes/category.php on line 381 Deprecated: Creation of dynamic property WP_Term::$category_nicename is deprecated in /customers/c/9/8/wpin4.1prod.one/httpd.www/landing-v2/wp-includes/category.php on line 382 Deprecated: Creation of dynamic property WP_Term::$category_parent is deprecated in /customers/c/9/8/wpin4.1prod.one/httpd.www/landing-v2/wp-includes/category.php on line 383 Warning: Undefined variable $blocks in /customers/c/9/8/wpin4.1prod.one/httpd.www/landing-v2/wp-content/themes/onecom-landing-page-v2/functions.php on line 1441 Warning: Trying to access array offset on value of type null in /customers/c/9/8/wpin4.1prod.one/httpd.www/landing-v2/wp-content/themes/onecom-landing-page-v2/functions.php on line 1441 Warning: Trying to access array offset on value of type null in /customers/c/9/8/wpin4.1prod.one/httpd.www/landing-v2/wp-content/themes/onecom-landing-page-v2/functions.php on line 1441 Deprecated: preg_match(): Passing null to parameter #2 ($subject) of type string is deprecated in /customers/c/9/8/wpin4.1prod.one/httpd.www/landing-v2/wp-content/themes/onecom-landing-page-v2/functions.php on line 1442 Deprecated: Creation of dynamic property WP_Term::$cat_ID is deprecated in /customers/c/9/8/wpin4.1prod.one/httpd.www/landing-v2/wp-includes/category.php on line 378 Deprecated: Creation of dynamic property WP_Term::$category_count is deprecated in /customers/c/9/8/wpin4.1prod.one/httpd.www/landing-v2/wp-includes/category.php on line 379 Deprecated: Creation of dynamic property WP_Term::$category_description is deprecated in /customers/c/9/8/wpin4.1prod.one/httpd.www/landing-v2/wp-includes/category.php on line 380 Deprecated: Creation of dynamic property WP_Term::$cat_name is deprecated in /customers/c/9/8/wpin4.1prod.one/httpd.www/landing-v2/wp-includes/category.php on line 381 Deprecated: Creation of dynamic property WP_Term::$category_nicename is deprecated in /customers/c/9/8/wpin4.1prod.one/httpd.www/landing-v2/wp-includes/category.php on line 382 Deprecated: Creation of dynamic property WP_Term::$category_parent is deprecated in /customers/c/9/8/wpin4.1prod.one/httpd.www/landing-v2/wp-includes/category.php on line 383 Warning: Undefined variable $blocks in /customers/c/9/8/wpin4.1prod.one/httpd.www/landing-v2/wp-content/themes/onecom-landing-page-v2/functions.php on line 1441 Warning: Trying to access array offset on value of type null in /customers/c/9/8/wpin4.1prod.one/httpd.www/landing-v2/wp-content/themes/onecom-landing-page-v2/functions.php on line 1441 Warning: Trying to access array offset on value of type null in /customers/c/9/8/wpin4.1prod.one/httpd.www/landing-v2/wp-content/themes/onecom-landing-page-v2/functions.php on line 1441 Deprecated: preg_match(): Passing null to parameter #2 ($subject) of type string is deprecated in /customers/c/9/8/wpin4.1prod.one/httpd.www/landing-v2/wp-content/themes/onecom-landing-page-v2/functions.php on line 1442 Deprecated: Creation of dynamic property WP_Term::$cat_ID is deprecated in /customers/c/9/8/wpin4.1prod.one/httpd.www/landing-v2/wp-includes/category.php on line 378 Deprecated: Creation of dynamic property WP_Term::$category_count is deprecated in /customers/c/9/8/wpin4.1prod.one/httpd.www/landing-v2/wp-includes/category.php on line 379 Deprecated: Creation of dynamic property WP_Term::$category_description is deprecated in /customers/c/9/8/wpin4.1prod.one/httpd.www/landing-v2/wp-includes/category.php on line 380 Deprecated: Creation of dynamic property WP_Term::$cat_name is deprecated in /customers/c/9/8/wpin4.1prod.one/httpd.www/landing-v2/wp-includes/category.php on line 381 Deprecated: Creation of dynamic property WP_Term::$category_nicename is deprecated in /customers/c/9/8/wpin4.1prod.one/httpd.www/landing-v2/wp-includes/category.php on line 382 Deprecated: Creation of dynamic property WP_Term::$category_parent is deprecated in /customers/c/9/8/wpin4.1prod.one/httpd.www/landing-v2/wp-includes/category.php on line 383 Warning: Undefined variable $blocks in /customers/c/9/8/wpin4.1prod.one/httpd.www/landing-v2/wp-content/themes/onecom-landing-page-v2/functions.php on line 1441 Warning: Trying to access array offset on value of type null in /customers/c/9/8/wpin4.1prod.one/httpd.www/landing-v2/wp-content/themes/onecom-landing-page-v2/functions.php on line 1441 Warning: Trying to access array offset on value of type null in /customers/c/9/8/wpin4.1prod.one/httpd.www/landing-v2/wp-content/themes/onecom-landing-page-v2/functions.php on line 1441 Deprecated: preg_match(): Passing null to parameter #2 ($subject) of type string is deprecated in /customers/c/9/8/wpin4.1prod.one/httpd.www/landing-v2/wp-content/themes/onecom-landing-page-v2/functions.php on line 1442 Deprecated: Creation of dynamic property WP_Term::$cat_ID is deprecated in /customers/c/9/8/wpin4.1prod.one/httpd.www/landing-v2/wp-includes/category.php on line 378 Deprecated: Creation of dynamic property WP_Term::$category_count is deprecated in /customers/c/9/8/wpin4.1prod.one/httpd.www/landing-v2/wp-includes/category.php on line 379 Deprecated: Creation of dynamic property WP_Term::$category_description is deprecated in /customers/c/9/8/wpin4.1prod.one/httpd.www/landing-v2/wp-includes/category.php on line 380 Deprecated: Creation of dynamic property WP_Term::$cat_name is deprecated in /customers/c/9/8/wpin4.1prod.one/httpd.www/landing-v2/wp-includes/category.php on line 381 Deprecated: Creation of dynamic property WP_Term::$category_nicename is deprecated in /customers/c/9/8/wpin4.1prod.one/httpd.www/landing-v2/wp-includes/category.php on line 382 Deprecated: Creation of dynamic property WP_Term::$category_parent is deprecated in /customers/c/9/8/wpin4.1prod.one/httpd.www/landing-v2/wp-includes/category.php on line 383 Warning: Undefined variable $blocks in /customers/c/9/8/wpin4.1prod.one/httpd.www/landing-v2/wp-content/themes/onecom-landing-page-v2/functions.php on line 1441 Warning: Trying to access array offset on value of type null in /customers/c/9/8/wpin4.1prod.one/httpd.www/landing-v2/wp-content/themes/onecom-landing-page-v2/functions.php on line 1441 Warning: Trying to access array offset on value of type null in /customers/c/9/8/wpin4.1prod.one/httpd.www/landing-v2/wp-content/themes/onecom-landing-page-v2/functions.php on line 1441 Deprecated: preg_match(): Passing null to parameter #2 ($subject) of type string is deprecated in /customers/c/9/8/wpin4.1prod.one/httpd.www/landing-v2/wp-content/themes/onecom-landing-page-v2/functions.php on line 1442 Deprecated: Creation of dynamic property WP_Block::$attributes is deprecated in /customers/c/9/8/wpin4.1prod.one/httpd.www/landing-v2/wp-includes/class-wp-block.php on line 179 Deprecated: Creation of dynamic property WP_Term::$cat_ID is deprecated in /customers/c/9/8/wpin4.1prod.one/httpd.www/landing-v2/wp-includes/category.php on line 378 Deprecated: Creation of dynamic property WP_Term::$category_count is deprecated in /customers/c/9/8/wpin4.1prod.one/httpd.www/landing-v2/wp-includes/category.php on line 379 Deprecated: Creation of dynamic property WP_Term::$category_description is deprecated in /customers/c/9/8/wpin4.1prod.one/httpd.www/landing-v2/wp-includes/category.php on line 380 Deprecated: Creation of dynamic property WP_Term::$cat_name is deprecated in /customers/c/9/8/wpin4.1prod.one/httpd.www/landing-v2/wp-includes/category.php on line 381 Deprecated: Creation of dynamic property WP_Term::$category_nicename is deprecated in /customers/c/9/8/wpin4.1prod.one/httpd.www/landing-v2/wp-includes/category.php on line 382 Deprecated: Creation of dynamic property WP_Term::$category_parent is deprecated in /customers/c/9/8/wpin4.1prod.one/httpd.www/landing-v2/wp-includes/category.php on line 383 Deprecated: Creation of dynamic property WP_Term::$cat_ID is deprecated in /customers/c/9/8/wpin4.1prod.one/httpd.www/landing-v2/wp-includes/category.php on line 378 Deprecated: Creation of dynamic property WP_Term::$category_count is deprecated in /customers/c/9/8/wpin4.1prod.one/httpd.www/landing-v2/wp-includes/category.php on line 379 Deprecated: Creation of dynamic property WP_Term::$category_description is deprecated in /customers/c/9/8/wpin4.1prod.one/httpd.www/landing-v2/wp-includes/category.php on line 380 Deprecated: Creation of dynamic property WP_Term::$cat_name is deprecated in /customers/c/9/8/wpin4.1prod.one/httpd.www/landing-v2/wp-includes/category.php on line 381 Deprecated: Creation of dynamic property WP_Term::$category_nicename is deprecated in /customers/c/9/8/wpin4.1prod.one/httpd.www/landing-v2/wp-includes/category.php on line 382 Deprecated: Creation of dynamic property WP_Term::$category_parent is deprecated in /customers/c/9/8/wpin4.1prod.one/httpd.www/landing-v2/wp-includes/category.php on line 383 Warning: Undefined variable $blocks in /customers/c/9/8/wpin4.1prod.one/httpd.www/landing-v2/wp-content/themes/onecom-landing-page-v2/functions.php on line 1441 Warning: Trying to access array offset on value of type null in /customers/c/9/8/wpin4.1prod.one/httpd.www/landing-v2/wp-content/themes/onecom-landing-page-v2/functions.php on line 1441 Warning: Trying to access array offset on value of type null in /customers/c/9/8/wpin4.1prod.one/httpd.www/landing-v2/wp-content/themes/onecom-landing-page-v2/functions.php on line 1441 Deprecated: preg_match(): Passing null to parameter #2 ($subject) of type string is deprecated in /customers/c/9/8/wpin4.1prod.one/httpd.www/landing-v2/wp-content/themes/onecom-landing-page-v2/functions.php on line 1442 Deprecated: Creation of dynamic property WP_Term::$cat_ID is deprecated in /customers/c/9/8/wpin4.1prod.one/httpd.www/landing-v2/wp-includes/category.php on line 378 Deprecated: Creation of dynamic property WP_Term::$category_count is deprecated in /customers/c/9/8/wpin4.1prod.one/httpd.www/landing-v2/wp-includes/category.php on line 379 Deprecated: Creation of dynamic property WP_Term::$category_description is deprecated in /customers/c/9/8/wpin4.1prod.one/httpd.www/landing-v2/wp-includes/category.php on line 380 Deprecated: Creation of dynamic property WP_Term::$cat_name is deprecated in /customers/c/9/8/wpin4.1prod.one/httpd.www/landing-v2/wp-includes/category.php on line 381 Deprecated: Creation of dynamic property WP_Term::$category_nicename is deprecated in /customers/c/9/8/wpin4.1prod.one/httpd.www/landing-v2/wp-includes/category.php on line 382 Deprecated: Creation of dynamic property WP_Term::$category_parent is deprecated in /customers/c/9/8/wpin4.1prod.one/httpd.www/landing-v2/wp-includes/category.php on line 383 Warning: Undefined variable $blocks in /customers/c/9/8/wpin4.1prod.one/httpd.www/landing-v2/wp-content/themes/onecom-landing-page-v2/functions.php on line 1441 Warning: Trying to access array offset on value of type null in /customers/c/9/8/wpin4.1prod.one/httpd.www/landing-v2/wp-content/themes/onecom-landing-page-v2/functions.php on line 1441 Warning: Trying to access array offset on value of type null in /customers/c/9/8/wpin4.1prod.one/httpd.www/landing-v2/wp-content/themes/onecom-landing-page-v2/functions.php on line 1441 Deprecated: preg_match(): Passing null to parameter #2 ($subject) of type string is deprecated in /customers/c/9/8/wpin4.1prod.one/httpd.www/landing-v2/wp-content/themes/onecom-landing-page-v2/functions.php on line 1442 Deprecated: Creation of dynamic property WP_Term::$cat_ID is deprecated in /customers/c/9/8/wpin4.1prod.one/httpd.www/landing-v2/wp-includes/category.php on line 378 Deprecated: Creation of dynamic property WP_Term::$category_count is deprecated in /customers/c/9/8/wpin4.1prod.one/httpd.www/landing-v2/wp-includes/category.php on line 379 Deprecated: Creation of dynamic property WP_Term::$category_description is deprecated in /customers/c/9/8/wpin4.1prod.one/httpd.www/landing-v2/wp-includes/category.php on line 380 Deprecated: Creation of dynamic property WP_Term::$cat_name is deprecated in /customers/c/9/8/wpin4.1prod.one/httpd.www/landing-v2/wp-includes/category.php on line 381 Deprecated: Creation of dynamic property WP_Term::$category_nicename is deprecated in /customers/c/9/8/wpin4.1prod.one/httpd.www/landing-v2/wp-includes/category.php on line 382 Deprecated: Creation of dynamic property WP_Term::$category_parent is deprecated in /customers/c/9/8/wpin4.1prod.one/httpd.www/landing-v2/wp-includes/category.php on line 383 Warning: Undefined variable $blocks in /customers/c/9/8/wpin4.1prod.one/httpd.www/landing-v2/wp-content/themes/onecom-landing-page-v2/functions.php on line 1441 Warning: Trying to access array offset on value of type null in /customers/c/9/8/wpin4.1prod.one/httpd.www/landing-v2/wp-content/themes/onecom-landing-page-v2/functions.php on line 1441 Warning: Trying to access array offset on value of type null in /customers/c/9/8/wpin4.1prod.one/httpd.www/landing-v2/wp-content/themes/onecom-landing-page-v2/functions.php on line 1441 Deprecated: preg_match(): Passing null to parameter #2 ($subject) of type string is deprecated in /customers/c/9/8/wpin4.1prod.one/httpd.www/landing-v2/wp-content/themes/onecom-landing-page-v2/functions.php on line 1442 Deprecated: Creation of dynamic property WP_Term::$cat_ID is deprecated in /customers/c/9/8/wpin4.1prod.one/httpd.www/landing-v2/wp-includes/category.php on line 378 Deprecated: Creation of dynamic property WP_Term::$category_count is deprecated in /customers/c/9/8/wpin4.1prod.one/httpd.www/landing-v2/wp-includes/category.php on line 379 Deprecated: Creation of dynamic property WP_Term::$category_description is deprecated in /customers/c/9/8/wpin4.1prod.one/httpd.www/landing-v2/wp-includes/category.php on line 380 Deprecated: Creation of dynamic property WP_Term::$cat_name is deprecated in /customers/c/9/8/wpin4.1prod.one/httpd.www/landing-v2/wp-includes/category.php on line 381 Deprecated: Creation of dynamic property WP_Term::$category_nicename is deprecated in /customers/c/9/8/wpin4.1prod.one/httpd.www/landing-v2/wp-includes/category.php on line 382 Deprecated: Creation of dynamic property WP_Term::$category_parent is deprecated in /customers/c/9/8/wpin4.1prod.one/httpd.www/landing-v2/wp-includes/category.php on line 383 Warning: Undefined variable $blocks in /customers/c/9/8/wpin4.1prod.one/httpd.www/landing-v2/wp-content/themes/onecom-landing-page-v2/functions.php on line 1441 Warning: Trying to access array offset on value of type null in /customers/c/9/8/wpin4.1prod.one/httpd.www/landing-v2/wp-content/themes/onecom-landing-page-v2/functions.php on line 1441 Warning: Trying to access array offset on value of type null in /customers/c/9/8/wpin4.1prod.one/httpd.www/landing-v2/wp-content/themes/onecom-landing-page-v2/functions.php on line 1441 Deprecated: preg_match(): Passing null to parameter #2 ($subject) of type string is deprecated in /customers/c/9/8/wpin4.1prod.one/httpd.www/landing-v2/wp-content/themes/onecom-landing-page-v2/functions.php on line 1442 Deprecated: Creation of dynamic property WP_Term::$cat_ID is deprecated in /customers/c/9/8/wpin4.1prod.one/httpd.www/landing-v2/wp-includes/category.php on line 378 Deprecated: Creation of dynamic property WP_Term::$category_count is deprecated in /customers/c/9/8/wpin4.1prod.one/httpd.www/landing-v2/wp-includes/category.php on line 379 Deprecated: Creation of dynamic property WP_Term::$category_description is deprecated in /customers/c/9/8/wpin4.1prod.one/httpd.www/landing-v2/wp-includes/category.php on line 380 Deprecated: Creation of dynamic property WP_Term::$cat_name is deprecated in /customers/c/9/8/wpin4.1prod.one/httpd.www/landing-v2/wp-includes/category.php on line 381 Deprecated: Creation of dynamic property WP_Term::$category_nicename is deprecated in /customers/c/9/8/wpin4.1prod.one/httpd.www/landing-v2/wp-includes/category.php on line 382 Deprecated: Creation of dynamic property WP_Term::$category_parent is deprecated in /customers/c/9/8/wpin4.1prod.one/httpd.www/landing-v2/wp-includes/category.php on line 383 Warning: Undefined variable $blocks in /customers/c/9/8/wpin4.1prod.one/httpd.www/landing-v2/wp-content/themes/onecom-landing-page-v2/functions.php on line 1441 Warning: Trying to access array offset on value of type null in /customers/c/9/8/wpin4.1prod.one/httpd.www/landing-v2/wp-content/themes/onecom-landing-page-v2/functions.php on line 1441 Warning: Trying to access array offset on value of type null in /customers/c/9/8/wpin4.1prod.one/httpd.www/landing-v2/wp-content/themes/onecom-landing-page-v2/functions.php on line 1441 Deprecated: preg_match(): Passing null to parameter #2 ($subject) of type string is deprecated in /customers/c/9/8/wpin4.1prod.one/httpd.www/landing-v2/wp-content/themes/onecom-landing-page-v2/functions.php on line 1442 Deprecated: Creation of dynamic property WP_Term::$cat_ID is deprecated in /customers/c/9/8/wpin4.1prod.one/httpd.www/landing-v2/wp-includes/category.php on line 378 Deprecated: Creation of dynamic property WP_Term::$category_count is deprecated in /customers/c/9/8/wpin4.1prod.one/httpd.www/landing-v2/wp-includes/category.php on line 379 Deprecated: Creation of dynamic property WP_Term::$category_description is deprecated in /customers/c/9/8/wpin4.1prod.one/httpd.www/landing-v2/wp-includes/category.php on line 380 Deprecated: Creation of dynamic property WP_Term::$cat_name is deprecated in /customers/c/9/8/wpin4.1prod.one/httpd.www/landing-v2/wp-includes/category.php on line 381 Deprecated: Creation of dynamic property WP_Term::$category_nicename is deprecated in /customers/c/9/8/wpin4.1prod.one/httpd.www/landing-v2/wp-includes/category.php on line 382 Deprecated: Creation of dynamic property WP_Term::$category_parent is deprecated in /customers/c/9/8/wpin4.1prod.one/httpd.www/landing-v2/wp-includes/category.php on line 383 Deprecated: Creation of dynamic property WP_Term::$cat_ID is deprecated in /customers/c/9/8/wpin4.1prod.one/httpd.www/landing-v2/wp-includes/category.php on line 378 Deprecated: Creation of dynamic property WP_Term::$category_count is deprecated in /customers/c/9/8/wpin4.1prod.one/httpd.www/landing-v2/wp-includes/category.php on line 379 Deprecated: Creation of dynamic property WP_Term::$category_description is deprecated in /customers/c/9/8/wpin4.1prod.one/httpd.www/landing-v2/wp-includes/category.php on line 380 Deprecated: Creation of dynamic property WP_Term::$cat_name is deprecated in /customers/c/9/8/wpin4.1prod.one/httpd.www/landing-v2/wp-includes/category.php on line 381 Deprecated: Creation of dynamic property WP_Term::$category_nicename is deprecated in /customers/c/9/8/wpin4.1prod.one/httpd.www/landing-v2/wp-includes/category.php on line 382 Deprecated: Creation of dynamic property WP_Term::$category_parent is deprecated in /customers/c/9/8/wpin4.1prod.one/httpd.www/landing-v2/wp-includes/category.php on line 383 Deprecated: Creation of dynamic property WP_Term::$cat_ID is deprecated in /customers/c/9/8/wpin4.1prod.one/httpd.www/landing-v2/wp-includes/category.php on line 378 Deprecated: Creation of dynamic property WP_Term::$category_count is deprecated in /customers/c/9/8/wpin4.1prod.one/httpd.www/landing-v2/wp-includes/category.php on line 379 Deprecated: Creation of dynamic property WP_Term::$category_description is deprecated in /customers/c/9/8/wpin4.1prod.one/httpd.www/landing-v2/wp-includes/category.php on line 380 Deprecated: Creation of dynamic property WP_Term::$cat_name is deprecated in /customers/c/9/8/wpin4.1prod.one/httpd.www/landing-v2/wp-includes/category.php on line 381 Deprecated: Creation of dynamic property WP_Term::$category_nicename is deprecated in /customers/c/9/8/wpin4.1prod.one/httpd.www/landing-v2/wp-includes/category.php on line 382 Deprecated: Creation of dynamic property WP_Term::$category_parent is deprecated in /customers/c/9/8/wpin4.1prod.one/httpd.www/landing-v2/wp-includes/category.php on line 383 Warning: Undefined variable $blocks in /customers/c/9/8/wpin4.1prod.one/httpd.www/landing-v2/wp-content/themes/onecom-landing-page-v2/functions.php on line 1441 Warning: Trying to access array offset on value of type null in /customers/c/9/8/wpin4.1prod.one/httpd.www/landing-v2/wp-content/themes/onecom-landing-page-v2/functions.php on line 1441 Warning: Trying to access array offset on value of type null in /customers/c/9/8/wpin4.1prod.one/httpd.www/landing-v2/wp-content/themes/onecom-landing-page-v2/functions.php on line 1441 Deprecated: preg_match(): Passing null to parameter #2 ($subject) of type string is deprecated in /customers/c/9/8/wpin4.1prod.one/httpd.www/landing-v2/wp-content/themes/onecom-landing-page-v2/functions.php on line 1442 Deprecated: Creation of dynamic property WP_Term::$cat_ID is deprecated in /customers/c/9/8/wpin4.1prod.one/httpd.www/landing-v2/wp-includes/category.php on line 378 Deprecated: Creation of dynamic property WP_Term::$category_count is deprecated in /customers/c/9/8/wpin4.1prod.one/httpd.www/landing-v2/wp-includes/category.php on line 379 Deprecated: Creation of dynamic property WP_Term::$category_description is deprecated in /customers/c/9/8/wpin4.1prod.one/httpd.www/landing-v2/wp-includes/category.php on line 380 Deprecated: Creation of dynamic property WP_Term::$cat_name is deprecated in /customers/c/9/8/wpin4.1prod.one/httpd.www/landing-v2/wp-includes/category.php on line 381 Deprecated: Creation of dynamic property WP_Term::$category_nicename is deprecated in /customers/c/9/8/wpin4.1prod.one/httpd.www/landing-v2/wp-includes/category.php on line 382 Deprecated: Creation of dynamic property WP_Term::$category_parent is deprecated in /customers/c/9/8/wpin4.1prod.one/httpd.www/landing-v2/wp-includes/category.php on line 383 Warning: Undefined variable $blocks in /customers/c/9/8/wpin4.1prod.one/httpd.www/landing-v2/wp-content/themes/onecom-landing-page-v2/functions.php on line 1441 Warning: Trying to access array offset on value of type null in /customers/c/9/8/wpin4.1prod.one/httpd.www/landing-v2/wp-content/themes/onecom-landing-page-v2/functions.php on line 1441 Warning: Trying to access array offset on value of type null in /customers/c/9/8/wpin4.1prod.one/httpd.www/landing-v2/wp-content/themes/onecom-landing-page-v2/functions.php on line 1441 Deprecated: preg_match(): Passing null to parameter #2 ($subject) of type string is deprecated in /customers/c/9/8/wpin4.1prod.one/httpd.www/landing-v2/wp-content/themes/onecom-landing-page-v2/functions.php on line 1442 Deprecated: Creation of dynamic property WP_Term::$cat_ID is deprecated in /customers/c/9/8/wpin4.1prod.one/httpd.www/landing-v2/wp-includes/category.php on line 378 Deprecated: Creation of dynamic property WP_Term::$category_count is deprecated in /customers/c/9/8/wpin4.1prod.one/httpd.www/landing-v2/wp-includes/category.php on line 379 Deprecated: Creation of dynamic property WP_Term::$category_description is deprecated in /customers/c/9/8/wpin4.1prod.one/httpd.www/landing-v2/wp-includes/category.php on line 380 Deprecated: Creation of dynamic property WP_Term::$cat_name is deprecated in /customers/c/9/8/wpin4.1prod.one/httpd.www/landing-v2/wp-includes/category.php on line 381 Deprecated: Creation of dynamic property WP_Term::$category_nicename is deprecated in /customers/c/9/8/wpin4.1prod.one/httpd.www/landing-v2/wp-includes/category.php on line 382 Deprecated: Creation of dynamic property WP_Term::$category_parent is deprecated in /customers/c/9/8/wpin4.1prod.one/httpd.www/landing-v2/wp-includes/category.php on line 383 Warning: Undefined variable $blocks in /customers/c/9/8/wpin4.1prod.one/httpd.www/landing-v2/wp-content/themes/onecom-landing-page-v2/functions.php on line 1441 Warning: Trying to access array offset on value of type null in /customers/c/9/8/wpin4.1prod.one/httpd.www/landing-v2/wp-content/themes/onecom-landing-page-v2/functions.php on line 1441 Warning: Trying to access array offset on value of type null in /customers/c/9/8/wpin4.1prod.one/httpd.www/landing-v2/wp-content/themes/onecom-landing-page-v2/functions.php on line 1441 Deprecated: preg_match(): Passing null to parameter #2 ($subject) of type string is deprecated in /customers/c/9/8/wpin4.1prod.one/httpd.www/landing-v2/wp-content/themes/onecom-landing-page-v2/functions.php on line 1442 Deprecated: Creation of dynamic property WP_Term::$cat_ID is deprecated in /customers/c/9/8/wpin4.1prod.one/httpd.www/landing-v2/wp-includes/category.php on line 378 Deprecated: Creation of dynamic property WP_Term::$category_count is deprecated in /customers/c/9/8/wpin4.1prod.one/httpd.www/landing-v2/wp-includes/category.php on line 379 Deprecated: Creation of dynamic property WP_Term::$category_description is deprecated in /customers/c/9/8/wpin4.1prod.one/httpd.www/landing-v2/wp-includes/category.php on line 380 Deprecated: Creation of dynamic property WP_Term::$cat_name is deprecated in /customers/c/9/8/wpin4.1prod.one/httpd.www/landing-v2/wp-includes/category.php on line 381 Deprecated: Creation of dynamic property WP_Term::$category_nicename is deprecated in /customers/c/9/8/wpin4.1prod.one/httpd.www/landing-v2/wp-includes/category.php on line 382 Deprecated: Creation of dynamic property WP_Term::$category_parent is deprecated in /customers/c/9/8/wpin4.1prod.one/httpd.www/landing-v2/wp-includes/category.php on line 383 Warning: Undefined variable $blocks in /customers/c/9/8/wpin4.1prod.one/httpd.www/landing-v2/wp-content/themes/onecom-landing-page-v2/functions.php on line 1441 Warning: Trying to access array offset on value of type null in /customers/c/9/8/wpin4.1prod.one/httpd.www/landing-v2/wp-content/themes/onecom-landing-page-v2/functions.php on line 1441 Warning: Trying to access array offset on value of type null in /customers/c/9/8/wpin4.1prod.one/httpd.www/landing-v2/wp-content/themes/onecom-landing-page-v2/functions.php on line 1441 Deprecated: preg_match(): Passing null to parameter #2 ($subject) of type string is deprecated in /customers/c/9/8/wpin4.1prod.one/httpd.www/landing-v2/wp-content/themes/onecom-landing-page-v2/functions.php on line 1442 Deprecated: Creation of dynamic property WP_Term::$cat_ID is deprecated in /customers/c/9/8/wpin4.1prod.one/httpd.www/landing-v2/wp-includes/category.php on line 378 Deprecated: Creation of dynamic property WP_Term::$category_count is deprecated in /customers/c/9/8/wpin4.1prod.one/httpd.www/landing-v2/wp-includes/category.php on line 379 Deprecated: Creation of dynamic property WP_Term::$category_description is deprecated in /customers/c/9/8/wpin4.1prod.one/httpd.www/landing-v2/wp-includes/category.php on line 380 Deprecated: Creation of dynamic property WP_Term::$cat_name is deprecated in /customers/c/9/8/wpin4.1prod.one/httpd.www/landing-v2/wp-includes/category.php on line 381 Deprecated: Creation of dynamic property WP_Term::$category_nicename is deprecated in /customers/c/9/8/wpin4.1prod.one/httpd.www/landing-v2/wp-includes/category.php on line 382 Deprecated: Creation of dynamic property WP_Term::$category_parent is deprecated in /customers/c/9/8/wpin4.1prod.one/httpd.www/landing-v2/wp-includes/category.php on line 383 Deprecated: Creation of dynamic property WP_Term::$cat_ID is deprecated in /customers/c/9/8/wpin4.1prod.one/httpd.www/landing-v2/wp-includes/category.php on line 378 Deprecated: Creation of dynamic property WP_Term::$category_count is deprecated in /customers/c/9/8/wpin4.1prod.one/httpd.www/landing-v2/wp-includes/category.php on line 379 Deprecated: Creation of dynamic property WP_Term::$category_description is deprecated in /customers/c/9/8/wpin4.1prod.one/httpd.www/landing-v2/wp-includes/category.php on line 380 Deprecated: Creation of dynamic property WP_Term::$cat_name is deprecated in /customers/c/9/8/wpin4.1prod.one/httpd.www/landing-v2/wp-includes/category.php on line 381 Deprecated: Creation of dynamic property WP_Term::$category_nicename is deprecated in /customers/c/9/8/wpin4.1prod.one/httpd.www/landing-v2/wp-includes/category.php on line 382 Deprecated: Creation of dynamic property WP_Term::$category_parent is deprecated in /customers/c/9/8/wpin4.1prod.one/httpd.www/landing-v2/wp-includes/category.php on line 383 Deprecated: Creation of dynamic property WP_Term::$cat_ID is deprecated in /customers/c/9/8/wpin4.1prod.one/httpd.www/landing-v2/wp-includes/category.php on line 378 Deprecated: Creation of dynamic property WP_Term::$category_count is deprecated in /customers/c/9/8/wpin4.1prod.one/httpd.www/landing-v2/wp-includes/category.php on line 379 Deprecated: Creation of dynamic property WP_Term::$category_description is deprecated in /customers/c/9/8/wpin4.1prod.one/httpd.www/landing-v2/wp-includes/category.php on line 380 Deprecated: Creation of dynamic property WP_Term::$cat_name is deprecated in /customers/c/9/8/wpin4.1prod.one/httpd.www/landing-v2/wp-includes/category.php on line 381 Deprecated: Creation of dynamic property WP_Term::$category_nicename is deprecated in /customers/c/9/8/wpin4.1prod.one/httpd.www/landing-v2/wp-includes/category.php on line 382 Deprecated: Creation of dynamic property WP_Term::$category_parent is deprecated in /customers/c/9/8/wpin4.1prod.one/httpd.www/landing-v2/wp-includes/category.php on line 383 Warning: Undefined variable $blocks in /customers/c/9/8/wpin4.1prod.one/httpd.www/landing-v2/wp-content/themes/onecom-landing-page-v2/functions.php on line 1441 Warning: Trying to access array offset on value of type null in /customers/c/9/8/wpin4.1prod.one/httpd.www/landing-v2/wp-content/themes/onecom-landing-page-v2/functions.php on line 1441 Warning: Trying to access array offset on value of type null in /customers/c/9/8/wpin4.1prod.one/httpd.www/landing-v2/wp-content/themes/onecom-landing-page-v2/functions.php on line 1441 Deprecated: preg_match(): Passing null to parameter #2 ($subject) of type string is deprecated in /customers/c/9/8/wpin4.1prod.one/httpd.www/landing-v2/wp-content/themes/onecom-landing-page-v2/functions.php on line 1442 Deprecated: Creation of dynamic property WP_Term::$cat_ID is deprecated in /customers/c/9/8/wpin4.1prod.one/httpd.www/landing-v2/wp-includes/category.php on line 378 Deprecated: Creation of dynamic property WP_Term::$category_count is deprecated in /customers/c/9/8/wpin4.1prod.one/httpd.www/landing-v2/wp-includes/category.php on line 379 Deprecated: Creation of dynamic property WP_Term::$category_description is deprecated in /customers/c/9/8/wpin4.1prod.one/httpd.www/landing-v2/wp-includes/category.php on line 380 Deprecated: Creation of dynamic property WP_Term::$cat_name is deprecated in /customers/c/9/8/wpin4.1prod.one/httpd.www/landing-v2/wp-includes/category.php on line 381 Deprecated: Creation of dynamic property WP_Term::$category_nicename is deprecated in /customers/c/9/8/wpin4.1prod.one/httpd.www/landing-v2/wp-includes/category.php on line 382 Deprecated: Creation of dynamic property WP_Term::$category_parent is deprecated in /customers/c/9/8/wpin4.1prod.one/httpd.www/landing-v2/wp-includes/category.php on line 383 Deprecated: Creation of dynamic property WP_Term::$cat_ID is deprecated in /customers/c/9/8/wpin4.1prod.one/httpd.www/landing-v2/wp-includes/category.php on line 378 Deprecated: Creation of dynamic property WP_Term::$category_count is deprecated in /customers/c/9/8/wpin4.1prod.one/httpd.www/landing-v2/wp-includes/category.php on line 379 Deprecated: Creation of dynamic property WP_Term::$category_description is deprecated in /customers/c/9/8/wpin4.1prod.one/httpd.www/landing-v2/wp-includes/category.php on line 380 Deprecated: Creation of dynamic property WP_Term::$cat_name is deprecated in /customers/c/9/8/wpin4.1prod.one/httpd.www/landing-v2/wp-includes/category.php on line 381 Deprecated: Creation of dynamic property WP_Term::$category_nicename is deprecated in /customers/c/9/8/wpin4.1prod.one/httpd.www/landing-v2/wp-includes/category.php on line 382 Deprecated: Creation of dynamic property WP_Term::$category_parent is deprecated in /customers/c/9/8/wpin4.1prod.one/httpd.www/landing-v2/wp-includes/category.php on line 383 Deprecated: Creation of dynamic property WP_Term::$cat_ID is deprecated in /customers/c/9/8/wpin4.1prod.one/httpd.www/landing-v2/wp-includes/category.php on line 378 Deprecated: Creation of dynamic property WP_Term::$category_count is deprecated in /customers/c/9/8/wpin4.1prod.one/httpd.www/landing-v2/wp-includes/category.php on line 379 Deprecated: Creation of dynamic property WP_Term::$category_description is deprecated in /customers/c/9/8/wpin4.1prod.one/httpd.www/landing-v2/wp-includes/category.php on line 380 Deprecated: Creation of dynamic property WP_Term::$cat_name is deprecated in /customers/c/9/8/wpin4.1prod.one/httpd.www/landing-v2/wp-includes/category.php on line 381 Deprecated: Creation of dynamic property WP_Term::$category_nicename is deprecated in /customers/c/9/8/wpin4.1prod.one/httpd.www/landing-v2/wp-includes/category.php on line 382 Deprecated: Creation of dynamic property WP_Term::$category_parent is deprecated in /customers/c/9/8/wpin4.1prod.one/httpd.www/landing-v2/wp-includes/category.php on line 383 Deprecated: Creation of dynamic property WP_Term::$cat_ID is deprecated in /customers/c/9/8/wpin4.1prod.one/httpd.www/landing-v2/wp-includes/category.php on line 378 Deprecated: Creation of dynamic property WP_Term::$category_count is deprecated in /customers/c/9/8/wpin4.1prod.one/httpd.www/landing-v2/wp-includes/category.php on line 379 Deprecated: Creation of dynamic property WP_Term::$category_description is deprecated in /customers/c/9/8/wpin4.1prod.one/httpd.www/landing-v2/wp-includes/category.php on line 380 Deprecated: Creation of dynamic property WP_Term::$cat_name is deprecated in /customers/c/9/8/wpin4.1prod.one/httpd.www/landing-v2/wp-includes/category.php on line 381 Deprecated: Creation of dynamic property WP_Term::$category_nicename is deprecated in /customers/c/9/8/wpin4.1prod.one/httpd.www/landing-v2/wp-includes/category.php on line 382 Deprecated: Creation of dynamic property WP_Term::$category_parent is deprecated in /customers/c/9/8/wpin4.1prod.one/httpd.www/landing-v2/wp-includes/category.php on line 383 Warning: Undefined variable $blocks in /customers/c/9/8/wpin4.1prod.one/httpd.www/landing-v2/wp-content/themes/onecom-landing-page-v2/functions.php on line 1441 Warning: Trying to access array offset on value of type null in /customers/c/9/8/wpin4.1prod.one/httpd.www/landing-v2/wp-content/themes/onecom-landing-page-v2/functions.php on line 1441 Warning: Trying to access array offset on value of type null in /customers/c/9/8/wpin4.1prod.one/httpd.www/landing-v2/wp-content/themes/onecom-landing-page-v2/functions.php on line 1441 Deprecated: preg_match(): Passing null to parameter #2 ($subject) of type string is deprecated in /customers/c/9/8/wpin4.1prod.one/httpd.www/landing-v2/wp-content/themes/onecom-landing-page-v2/functions.php on line 1442
Website beveiliging bij digitale bedreigingen
Voorkom dat cyberdreigingen zoals malware en virussen je website infecteren
Computers zijn kwetsbaar voor verschillende bedreigingen. Dit geldt ook voor het internet. Door een virusaanval of malware kun je minder bezoekers krijgen of reputatieschade lijden. Het oplossen van deze problemen kan daarnaast veel tijd en geld kosten.
Veel mensen denken dat alleen populaire websites het doelwit van een dergelijke aanval worden, maar dat is niet zo. De meeste malware en virussen zijn geautomatiseerd, en richten zich op alle kwetsbare sites, ongeacht hoe groot of klein de website is. Gelukkig kan een effectief beveiligingsbeleid een digitale aanval voorkomen.
Alle premium pakketten van one.com komen met geavanceerde beveiligingsfuncties zodat je je geen zorgen hoeft te maken over de bescherming van je website en e-mail.
In dit artikel beschrijven we enkele veelvoorkomende dreigingen en de schade die ze mogelijk kunnen toebrengen, en kom je meer te weten over de beveiligingsmaatregelen van one.com.
Veelvoorkomende problemen met website beveiliging in 2020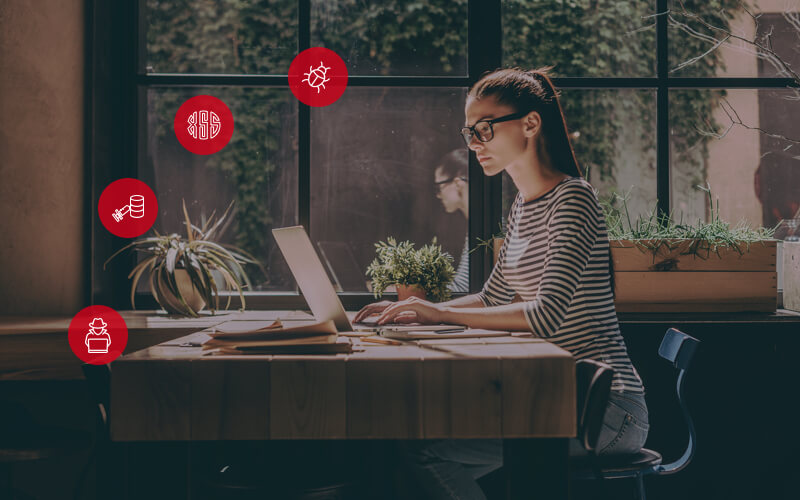 Malware
Malware is de verkorte term voor malicious software (schadelijke software). Dit is een verzamelnaam voor alle software die ontwikkeld wordt om bestaande software te beschadigen of om toegang te verkrijgen tot een bepaald systeem. Er zijn veel manieren waarop malware zich kan verspreiden, van het gebruiken van geïnfecteerde USB-sticks tot onbedoelde downloads van geïnfecteerde websites. Virussen, spyware en 'wormen' komen doorgaans voor in de definitie van malware.
Cross-site scripting
Cross-site Scripting (XSS) wordt door hackers gebruikt om beveiliging te omzeilen door schadelijke scripts te injecteren op webpagina's. Hoewel dit al heel lang bestaat, meldde ZDnet in 2017 dat het nog steeds een grote bedreiging vormt. Zo groot zelfs dat veel grote bedrijven bug bounty-programma's hebben voor XSS.
SQL-injectie
Een SQL-injectie vindt plaats wanneer een websiteformulier niet is beschermd tegen verschillende speciale tekens en opdrachten, waardoor een kwaadwillende partij gegevens uit een database kan openen, wijzigen of wissen.
Man-in-the-middle-aanvallen
Een man-in-the-middle-aanval is een aanval waarbij een externe partij berichten tussen twee partijen onderschept die denken dat ze met elkaar communiceren (een browser van een eindgebruiker en een webserver, bijvoorbeeld). Dit is vergelijkbaar met afluisteren om gegevens te verkrijgen, zoals wachtwoorden en creditcardinformatie.
Hoe bescherm je jouw website?
Door de uiteenlopende aard van digitale dreigingen, is het slim om verschillende voorzorgsmaatregelen te treffen. Een aantal daarvan zijn automatische programma's die je kunt installeren, en andere zijn best practices die je moet volgen om je website te beveiligen.
Beveilig je accounts en wachtwoorden
We adviseren om al je wachtwoorden op een veilige manier te bewaren. Indien een hacker jouw wachtwoord achterhaalt, heeft deze toegang tot het one.com configuratiescherm en daarmee tot veel data. De hacker kan bijvoorbeeld je website beschadigen of deze laten verwijzen naar de site van een concurrent, of zelfs klantgegevens stelen waarvoor jij verantwoordelijk bent. Controleer daarom goed wie er toegang heeft tot jouw inlog gegevens en zorg voor een goede wachtwoordbeveiliging: wijzig je wachtwoord regelmatig en gebruik niet hetzelfde wachtwoord voor verschillende sites.
We hebben onlangs extra beveiligingsmaatregelen genomen en ondersteuning voor het herstellen van je wachtwoord via een secundair e-mailadres of telefoon toegevoegd. Mocht je mailbox bedreigd worden, kun je je wachtwoord van one.com eenvoudig resetten en jouw online bedrijf beschermen.
Zorg dat je website en CMS altijd up-to-date zijn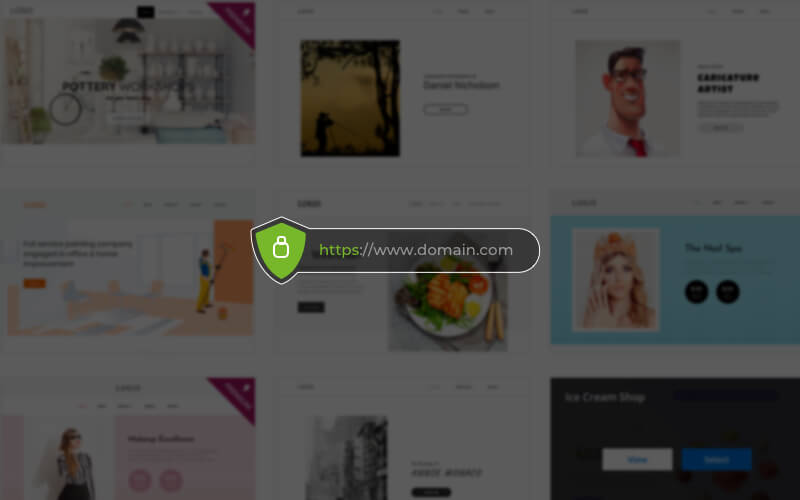 Binnen cybersecurity is het ontdekken van nieuwe kwetsbaarheden op websites altijd een uitdaging. Zorg er daarom voor dat je altijd de nieuwste versie van software voor WordPress of PHP gebruikt. Recentelijk hebben wij de PHP versie opgewaardeerd omdat er voor de oudere versies geen beveiligingsupdates meer werden aangeboden. Hierdoor profiteer je niet alleen van betere prestaties, maar ben je ook beter beschermd tegen misbruik.
Als je de Website Builder of Webwinkel van one.com gebruikt, hoef je je nergens zorgen over te maken. Ons team van experts is continu bezig om de nieuwste en beste beveiligingstechnieken te implementeren.
Zorg altijd voor een goede back-up
Het kan erg vervelend zijn wanneer je per ongeluk gegevens beschadigt door een schadelijke plugin te installeren of te klikken op een schadelijke link, en dit niet meer kunt terugdraaien. Een regelmatige back-up maken is daarom belangrijk. Met een back-up kunt je je website terugzetten naar de meest recente onbeschadigde versie. Zo raak je slechts een beperkte hoeveelheid data kwijt, en niet alles.
Wij slaan back-ups op en behouden deze 14 dagen met een hersteloptie als onderdeel van een premium pakket.
Versleutel de gegevens die worden uitgewisseld tussen de bezoeker en jouw website met SSL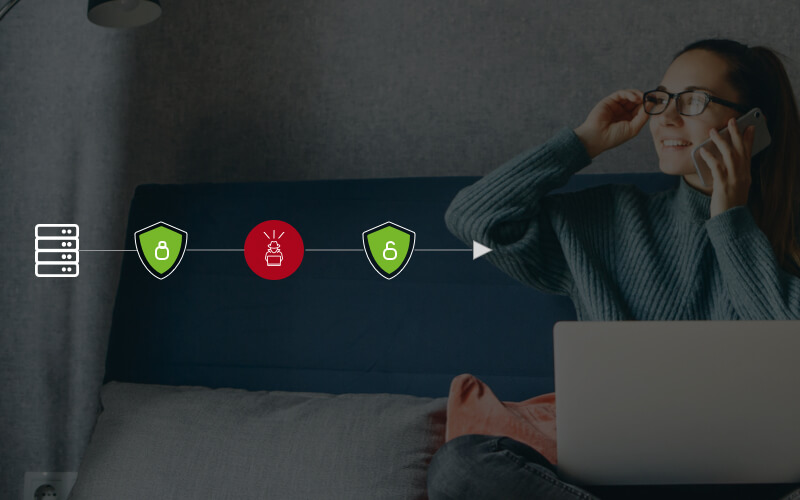 Met SSL-technologie (Secure Socket Layer) versleutel je alle gegevens van de bezoekers van jouw website, inclusief creditcardinformatie, e-mailadressen en namen. SSL voorkomt man-in-the-middle-aanvallen: als een hacker gegevens zou onderscheppen dan zijn deze vervormd. De versleutelde data kan alleen worden gedecodeerd met een privé-sleutel.
Omdat het beveiligen van gebruikersgegevens belangrijk is voor one.com, hebben alle pakketten een gratis SSL-certificaat die automatisch voor jou geconfigureerd wordt.
Schakel FTP uit en gebruik in plaats daarvan SFTP of File Manager
Het File Transfer Protocol (FTP) bestaat al meer dan 30 jaar en is niet beveiligd. Het staat bloot aan veel kwetsbaarheden en kent geen versleuteling, waardoor een hacker wachtwoorden en gegevens eenvoudig kan onderscheppen.
Gebruik in plaats daarvan SFTP, waarmee je bestanden verplaatst via een beveiligde SSH-verbinding. Je kunt uiteraard ook gebruik maken van de zeer goed beveiligde File Manager via het one.com configuratiescherm.
Scan je website regelmatig op malware
Het is verstandig om je website regelmatig te scannen op malware. Hiervoor bestaan gratis en betaalde opties. Wij werken samen met de beveiligingsexperts van SiteLock, een toonaangevend bedrijf in de beveiligingssector. Zij bieden onze klanten de beste beveiligingsoplossingen.
Stel waarschuwingen in voor verdachte activiteit
In onze Premium Mail feature bieden we sinds kort een functie aan waarmee je sms-meldingen kunt instellen voor logins op je e-mail vanuit het buitenland. In het geval je wordt gehackt, kunt je jouw e-mail hiermee snel deactiveren.
Voorkom ongewenste domeinoverdrachten
Domain Lock is een beveiligingsfunctie die we recent hebben toegevoegd. Hiermee kun je aanvullende bescherming instellen en voorkomen dat je domein wordt overgedragen zonder je toestemming, door middel van een verificatieproces in 2 stappen. Hiermee laat je jezelf niet verrassen door een kwaadwillend persoon die jouw domein probeert te stelen.