Warning: Undefined variable $blocks in /customers/c/9/8/wpin4.1prod.one/httpd.www/landing-v2/wp-content/themes/onecom-landing-page-v2/functions.php on line 1431 Warning: Trying to access array offset on value of type null in /customers/c/9/8/wpin4.1prod.one/httpd.www/landing-v2/wp-content/themes/onecom-landing-page-v2/functions.php on line 1431 Warning: Trying to access array offset on value of type null in /customers/c/9/8/wpin4.1prod.one/httpd.www/landing-v2/wp-content/themes/onecom-landing-page-v2/functions.php on line 1431 Warning: Undefined variable $blocks in /customers/c/9/8/wpin4.1prod.one/httpd.www/landing-v2/wp-content/themes/onecom-landing-page-v2/functions.php on line 1441 Warning: Trying to access array offset on value of type null in /customers/c/9/8/wpin4.1prod.one/httpd.www/landing-v2/wp-content/themes/onecom-landing-page-v2/functions.php on line 1441 Warning: Trying to access array offset on value of type null in /customers/c/9/8/wpin4.1prod.one/httpd.www/landing-v2/wp-content/themes/onecom-landing-page-v2/functions.php on line 1441 Warning: Undefined variable $blocks in /customers/c/9/8/wpin4.1prod.one/httpd.www/landing-v2/wp-content/themes/onecom-landing-page-v2/functions.php on line 1441 Warning: Trying to access array offset on value of type null in /customers/c/9/8/wpin4.1prod.one/httpd.www/landing-v2/wp-content/themes/onecom-landing-page-v2/functions.php on line 1441 Warning: Trying to access array offset on value of type null in /customers/c/9/8/wpin4.1prod.one/httpd.www/landing-v2/wp-content/themes/onecom-landing-page-v2/functions.php on line 1441 Warning: Undefined variable $blocks in /customers/c/9/8/wpin4.1prod.one/httpd.www/landing-v2/wp-content/themes/onecom-landing-page-v2/functions.php on line 1441 Warning: Trying to access array offset on value of type null in /customers/c/9/8/wpin4.1prod.one/httpd.www/landing-v2/wp-content/themes/onecom-landing-page-v2/functions.php on line 1441 Warning: Trying to access array offset on value of type null in /customers/c/9/8/wpin4.1prod.one/httpd.www/landing-v2/wp-content/themes/onecom-landing-page-v2/functions.php on line 1441 Warning: Undefined variable $blocks in /customers/c/9/8/wpin4.1prod.one/httpd.www/landing-v2/wp-content/themes/onecom-landing-page-v2/functions.php on line 1441 Warning: Trying to access array offset on value of type null in /customers/c/9/8/wpin4.1prod.one/httpd.www/landing-v2/wp-content/themes/onecom-landing-page-v2/functions.php on line 1441 Warning: Trying to access array offset on value of type null in /customers/c/9/8/wpin4.1prod.one/httpd.www/landing-v2/wp-content/themes/onecom-landing-page-v2/functions.php on line 1441 Warning: Undefined variable $blocks in /customers/c/9/8/wpin4.1prod.one/httpd.www/landing-v2/wp-content/themes/onecom-landing-page-v2/functions.php on line 1441 Warning: Trying to access array offset on value of type null in /customers/c/9/8/wpin4.1prod.one/httpd.www/landing-v2/wp-content/themes/onecom-landing-page-v2/functions.php on line 1441 Warning: Trying to access array offset on value of type null in /customers/c/9/8/wpin4.1prod.one/httpd.www/landing-v2/wp-content/themes/onecom-landing-page-v2/functions.php on line 1441 Warning: Undefined variable $blocks in /customers/c/9/8/wpin4.1prod.one/httpd.www/landing-v2/wp-content/themes/onecom-landing-page-v2/functions.php on line 1441 Warning: Trying to access array offset on value of type null in /customers/c/9/8/wpin4.1prod.one/httpd.www/landing-v2/wp-content/themes/onecom-landing-page-v2/functions.php on line 1441 Warning: Trying to access array offset on value of type null in /customers/c/9/8/wpin4.1prod.one/httpd.www/landing-v2/wp-content/themes/onecom-landing-page-v2/functions.php on line 1441 Warning: Undefined variable $blocks in /customers/c/9/8/wpin4.1prod.one/httpd.www/landing-v2/wp-content/themes/onecom-landing-page-v2/functions.php on line 1441 Warning: Trying to access array offset on value of type null in /customers/c/9/8/wpin4.1prod.one/httpd.www/landing-v2/wp-content/themes/onecom-landing-page-v2/functions.php on line 1441 Warning: Trying to access array offset on value of type null in /customers/c/9/8/wpin4.1prod.one/httpd.www/landing-v2/wp-content/themes/onecom-landing-page-v2/functions.php on line 1441 Warning: Undefined variable $blocks in /customers/c/9/8/wpin4.1prod.one/httpd.www/landing-v2/wp-content/themes/onecom-landing-page-v2/functions.php on line 1441 Warning: Trying to access array offset on value of type null in /customers/c/9/8/wpin4.1prod.one/httpd.www/landing-v2/wp-content/themes/onecom-landing-page-v2/functions.php on line 1441 Warning: Trying to access array offset on value of type null in /customers/c/9/8/wpin4.1prod.one/httpd.www/landing-v2/wp-content/themes/onecom-landing-page-v2/functions.php on line 1441 Warning: Undefined variable $blocks in /customers/c/9/8/wpin4.1prod.one/httpd.www/landing-v2/wp-content/themes/onecom-landing-page-v2/functions.php on line 1441 Warning: Trying to access array offset on value of type null in /customers/c/9/8/wpin4.1prod.one/httpd.www/landing-v2/wp-content/themes/onecom-landing-page-v2/functions.php on line 1441 Warning: Trying to access array offset on value of type null in /customers/c/9/8/wpin4.1prod.one/httpd.www/landing-v2/wp-content/themes/onecom-landing-page-v2/functions.php on line 1441 Warning: Undefined variable $blocks in /customers/c/9/8/wpin4.1prod.one/httpd.www/landing-v2/wp-content/themes/onecom-landing-page-v2/functions.php on line 1441 Warning: Trying to access array offset on value of type null in /customers/c/9/8/wpin4.1prod.one/httpd.www/landing-v2/wp-content/themes/onecom-landing-page-v2/functions.php on line 1441 Warning: Trying to access array offset on value of type null in /customers/c/9/8/wpin4.1prod.one/httpd.www/landing-v2/wp-content/themes/onecom-landing-page-v2/functions.php on line 1441
Online portfolio maken
Promoot je werk met een digitaal portfolio
Een online portfolio is een kans om je werk op het internet te tonen. Dit is ideaal voor freelancers, om potentiële klanten te laten zien wat ze in huis hebben. Maar een digitaal portfolio is ook leuk voor mensen die hun hobby's met de rest van de wereld willen delen.
Bij one.com kun je een website maken en hebben we verschillende templates voor ontwikkeld speciaal voor portfolio's, die gericht zijn op verschillende type portfolio's. Daarnaast maak je een portfolio website op je eigen domein, zodat jouw portfolio professioneel overkomt.
Hoe maak ik een online portfolio?
Een portfolio website is simpel en snel te maken met deze 4 stappen. Je hoeft geen enkele technische kennis te hebben.
Kies een hostingpakket dat bij jouw wensen past. Registreer vervolgens een domeinnaam en rond je bestelling af.
Bepaal of je je portfolio website met Website Builder of met WordPress wilt maken.
Selecteer een van de templates, die speciaal ontwikkeld zijn voor specifieke hobby's of freelancers, of ga zelf op zoek naar een thema in WordPress.
Vul je portfolio met projecten, foto's en informatie over jezelf.
Bij one.com kun je op twee manieren een portfolio website maken: Met Website Builder of met WordPress. Beide opties zitten in al onze pakketten, maar bij het "Beginner" pakket zit geen 1-click WordPress installatie inbegrepen. Je maakt de keuze voor Website Builder of WordPress pas nadat je bestelling afgerond is en je in het one.com dashboard bent.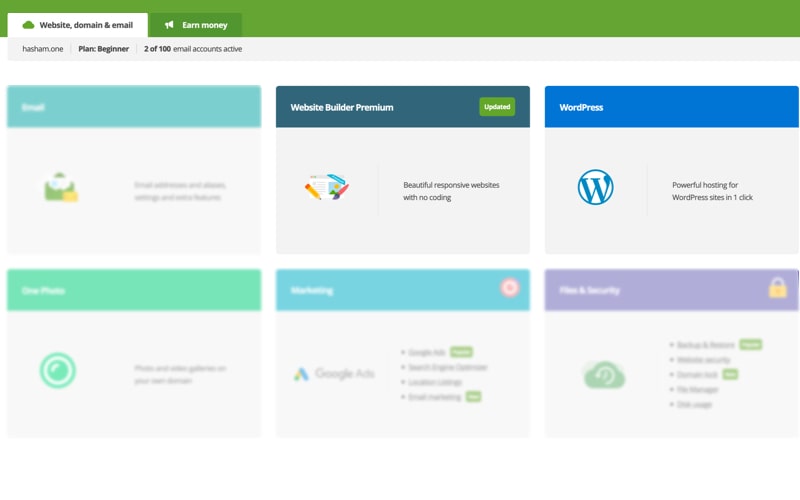 Een portfolio website maken met Website Builder
Als je snel en simpel een portfolio website wil maken, is Website Builder de beste optie. Hier kun je beginnen met kant en klare templates voor verschillende portfolio's. Of je nu fotograaf, model of freelancer bent. Het enige wat je hoeft te doen is een geschikte template kiezen onder "portfolio en cv", en de content vervangen door je eigen content. Uiteraard kun je ook met Website Builder aanpassingen maken aan de structuur en het uiterlijk van je portfolio website.
Een portfolio website maken met WordPress
Als je meer opties wilt en meer van je portfolio verlangt, kun je het beste voor WordPress kiezen. Met WordPress heb je wat meer vrijheid en functionaliteiten, maar het is ook lastiger voor beginners. Uiteindelijk kun je met WordPress kiezen uit meer gratis en betaalde thema's en heb je de beschikking over handige plugins.
Heb je geen projecten om te tonen, maar wil je wel je cv laten zien? Bij one.com kun je ook een cv website maken.
Een portfolio template kiezen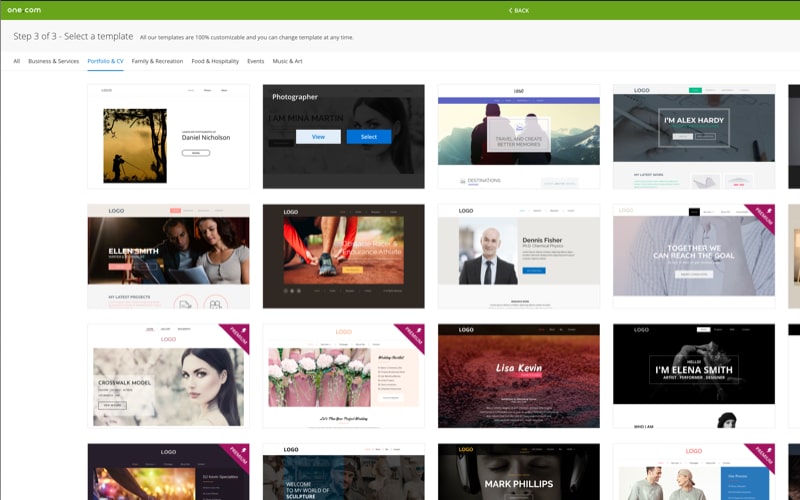 Kies een template die bij jou past. Bij one.com hebben we verschillende portfolio templates ontworpen voor specifieke hobby's en beroepen, zoals fotografen, dj's en artiesten. Met deze templates is de structuur van je portfolio website al gemaakt en hoef je alleen maar je content toe te voegen.
Niet tevreden met de beschikbare templates in WordPress? Ga dan zelf op zoek naar een geschikt thema in de WordPress bibliotheek. Gebruik bijvoorbeeld "portfolio" als zoekterm en je vindt meteen honderden geschikte portfolio templates.
4 tips voor een overtuigend online portfolio
Toon alleen je beste projecten. Misschien heb je al 100 verschillende projecten gedaan, maar je bezoekers gaan deze toch niet allemaal bekijken. Het is dus verstandig om alleen je allerbeste projecten in je online portfolio te plaatsen.
Maak social media pagina's aan om op meerdere plaatsen vindbaar te zijn en nieuwe projecten met je volgers te delen. En link naar deze social media pagina's vanaf je website.
Maak een pagina over jezelf en beschrijf wie jij bent en wat je verhaal is. Zo kunnen bezoekers een indruk krijgen van de persoon achter het portfolio.
Zorg ervoor dat mensen makkelijk met je in contact kunnen komen, zodat je geen potentiële kansen voor een nieuw project mist. Bijvoorbeeld door middel van een contact formulier, of buttons die linken naar je e-mail of social media.