Deprecated: Creation of dynamic property WP_Term::$cat_ID is deprecated in /customers/c/9/8/wpin4.1prod.one/httpd.www/landing-v2/wp-includes/category.php on line 378 Deprecated: Creation of dynamic property WP_Term::$category_count is deprecated in /customers/c/9/8/wpin4.1prod.one/httpd.www/landing-v2/wp-includes/category.php on line 379 Deprecated: Creation of dynamic property WP_Term::$category_description is deprecated in /customers/c/9/8/wpin4.1prod.one/httpd.www/landing-v2/wp-includes/category.php on line 380 Deprecated: Creation of dynamic property WP_Term::$cat_name is deprecated in /customers/c/9/8/wpin4.1prod.one/httpd.www/landing-v2/wp-includes/category.php on line 381 Deprecated: Creation of dynamic property WP_Term::$category_nicename is deprecated in /customers/c/9/8/wpin4.1prod.one/httpd.www/landing-v2/wp-includes/category.php on line 382 Deprecated: Creation of dynamic property WP_Term::$category_parent is deprecated in /customers/c/9/8/wpin4.1prod.one/httpd.www/landing-v2/wp-includes/category.php on line 383 Warning: Undefined variable $blocks in /customers/c/9/8/wpin4.1prod.one/httpd.www/landing-v2/wp-content/themes/onecom-landing-page-v2/functions.php on line 1431 Warning: Trying to access array offset on value of type null in /customers/c/9/8/wpin4.1prod.one/httpd.www/landing-v2/wp-content/themes/onecom-landing-page-v2/functions.php on line 1431 Warning: Trying to access array offset on value of type null in /customers/c/9/8/wpin4.1prod.one/httpd.www/landing-v2/wp-content/themes/onecom-landing-page-v2/functions.php on line 1431 Deprecated: str_replace(): Passing null to parameter #3 ($subject) of type array|string is deprecated in /customers/c/9/8/wpin4.1prod.one/httpd.www/landing-v2/wp-content/themes/onecom-landing-page-v2/functions.php on line 1431 Deprecated: Creation of dynamic property WP_Term::$cat_ID is deprecated in /customers/c/9/8/wpin4.1prod.one/httpd.www/landing-v2/wp-includes/category.php on line 378 Deprecated: Creation of dynamic property WP_Term::$category_count is deprecated in /customers/c/9/8/wpin4.1prod.one/httpd.www/landing-v2/wp-includes/category.php on line 379 Deprecated: Creation of dynamic property WP_Term::$category_description is deprecated in /customers/c/9/8/wpin4.1prod.one/httpd.www/landing-v2/wp-includes/category.php on line 380 Deprecated: Creation of dynamic property WP_Term::$cat_name is deprecated in /customers/c/9/8/wpin4.1prod.one/httpd.www/landing-v2/wp-includes/category.php on line 381 Deprecated: Creation of dynamic property WP_Term::$category_nicename is deprecated in /customers/c/9/8/wpin4.1prod.one/httpd.www/landing-v2/wp-includes/category.php on line 382 Deprecated: Creation of dynamic property WP_Term::$category_parent is deprecated in /customers/c/9/8/wpin4.1prod.one/httpd.www/landing-v2/wp-includes/category.php on line 383 Deprecated: Creation of dynamic property WP_Term::$cat_ID is deprecated in /customers/c/9/8/wpin4.1prod.one/httpd.www/landing-v2/wp-includes/category.php on line 378 Deprecated: Creation of dynamic property WP_Term::$category_count is deprecated in /customers/c/9/8/wpin4.1prod.one/httpd.www/landing-v2/wp-includes/category.php on line 379 Deprecated: Creation of dynamic property WP_Term::$category_description is deprecated in /customers/c/9/8/wpin4.1prod.one/httpd.www/landing-v2/wp-includes/category.php on line 380 Deprecated: Creation of dynamic property WP_Term::$cat_name is deprecated in /customers/c/9/8/wpin4.1prod.one/httpd.www/landing-v2/wp-includes/category.php on line 381 Deprecated: Creation of dynamic property WP_Term::$category_nicename is deprecated in /customers/c/9/8/wpin4.1prod.one/httpd.www/landing-v2/wp-includes/category.php on line 382 Deprecated: Creation of dynamic property WP_Term::$category_parent is deprecated in /customers/c/9/8/wpin4.1prod.one/httpd.www/landing-v2/wp-includes/category.php on line 383 Warning: Undefined variable $blocks in /customers/c/9/8/wpin4.1prod.one/httpd.www/landing-v2/wp-content/themes/onecom-landing-page-v2/functions.php on line 1441 Warning: Trying to access array offset on value of type null in /customers/c/9/8/wpin4.1prod.one/httpd.www/landing-v2/wp-content/themes/onecom-landing-page-v2/functions.php on line 1441 Warning: Trying to access array offset on value of type null in /customers/c/9/8/wpin4.1prod.one/httpd.www/landing-v2/wp-content/themes/onecom-landing-page-v2/functions.php on line 1441 Deprecated: preg_match(): Passing null to parameter #2 ($subject) of type string is deprecated in /customers/c/9/8/wpin4.1prod.one/httpd.www/landing-v2/wp-content/themes/onecom-landing-page-v2/functions.php on line 1442 Deprecated: Creation of dynamic property WP_Term::$cat_ID is deprecated in /customers/c/9/8/wpin4.1prod.one/httpd.www/landing-v2/wp-includes/category.php on line 378 Deprecated: Creation of dynamic property WP_Term::$category_count is deprecated in /customers/c/9/8/wpin4.1prod.one/httpd.www/landing-v2/wp-includes/category.php on line 379 Deprecated: Creation of dynamic property WP_Term::$category_description is deprecated in /customers/c/9/8/wpin4.1prod.one/httpd.www/landing-v2/wp-includes/category.php on line 380 Deprecated: Creation of dynamic property WP_Term::$cat_name is deprecated in /customers/c/9/8/wpin4.1prod.one/httpd.www/landing-v2/wp-includes/category.php on line 381 Deprecated: Creation of dynamic property WP_Term::$category_nicename is deprecated in /customers/c/9/8/wpin4.1prod.one/httpd.www/landing-v2/wp-includes/category.php on line 382 Deprecated: Creation of dynamic property WP_Term::$category_parent is deprecated in /customers/c/9/8/wpin4.1prod.one/httpd.www/landing-v2/wp-includes/category.php on line 383 Warning: Undefined variable $blocks in /customers/c/9/8/wpin4.1prod.one/httpd.www/landing-v2/wp-content/themes/onecom-landing-page-v2/functions.php on line 1441 Warning: Trying to access array offset on value of type null in /customers/c/9/8/wpin4.1prod.one/httpd.www/landing-v2/wp-content/themes/onecom-landing-page-v2/functions.php on line 1441 Warning: Trying to access array offset on value of type null in /customers/c/9/8/wpin4.1prod.one/httpd.www/landing-v2/wp-content/themes/onecom-landing-page-v2/functions.php on line 1441 Deprecated: preg_match(): Passing null to parameter #2 ($subject) of type string is deprecated in /customers/c/9/8/wpin4.1prod.one/httpd.www/landing-v2/wp-content/themes/onecom-landing-page-v2/functions.php on line 1442 Deprecated: Creation of dynamic property WP_Term::$cat_ID is deprecated in /customers/c/9/8/wpin4.1prod.one/httpd.www/landing-v2/wp-includes/category.php on line 378 Deprecated: Creation of dynamic property WP_Term::$category_count is deprecated in /customers/c/9/8/wpin4.1prod.one/httpd.www/landing-v2/wp-includes/category.php on line 379 Deprecated: Creation of dynamic property WP_Term::$category_description is deprecated in /customers/c/9/8/wpin4.1prod.one/httpd.www/landing-v2/wp-includes/category.php on line 380 Deprecated: Creation of dynamic property WP_Term::$cat_name is deprecated in /customers/c/9/8/wpin4.1prod.one/httpd.www/landing-v2/wp-includes/category.php on line 381 Deprecated: Creation of dynamic property WP_Term::$category_nicename is deprecated in /customers/c/9/8/wpin4.1prod.one/httpd.www/landing-v2/wp-includes/category.php on line 382 Deprecated: Creation of dynamic property WP_Term::$category_parent is deprecated in /customers/c/9/8/wpin4.1prod.one/httpd.www/landing-v2/wp-includes/category.php on line 383 Warning: Undefined variable $blocks in /customers/c/9/8/wpin4.1prod.one/httpd.www/landing-v2/wp-content/themes/onecom-landing-page-v2/functions.php on line 1441 Warning: Trying to access array offset on value of type null in /customers/c/9/8/wpin4.1prod.one/httpd.www/landing-v2/wp-content/themes/onecom-landing-page-v2/functions.php on line 1441 Warning: Trying to access array offset on value of type null in /customers/c/9/8/wpin4.1prod.one/httpd.www/landing-v2/wp-content/themes/onecom-landing-page-v2/functions.php on line 1441 Deprecated: preg_match(): Passing null to parameter #2 ($subject) of type string is deprecated in /customers/c/9/8/wpin4.1prod.one/httpd.www/landing-v2/wp-content/themes/onecom-landing-page-v2/functions.php on line 1442 Deprecated: Creation of dynamic property WP_Block::$attributes is deprecated in /customers/c/9/8/wpin4.1prod.one/httpd.www/landing-v2/wp-includes/class-wp-block.php on line 179 Deprecated: Creation of dynamic property WP_Term::$object_id is deprecated in /customers/c/9/8/wpin4.1prod.one/httpd.www/landing-v2/wp-includes/class-wp-term-query.php on line 1118 Deprecated: Creation of dynamic property WP_Term::$cat_ID is deprecated in /customers/c/9/8/wpin4.1prod.one/httpd.www/landing-v2/wp-includes/category.php on line 378 Deprecated: Creation of dynamic property WP_Term::$category_count is deprecated in /customers/c/9/8/wpin4.1prod.one/httpd.www/landing-v2/wp-includes/category.php on line 379 Deprecated: Creation of dynamic property WP_Term::$category_description is deprecated in /customers/c/9/8/wpin4.1prod.one/httpd.www/landing-v2/wp-includes/category.php on line 380 Deprecated: Creation of dynamic property WP_Term::$cat_name is deprecated in /customers/c/9/8/wpin4.1prod.one/httpd.www/landing-v2/wp-includes/category.php on line 381 Deprecated: Creation of dynamic property WP_Term::$category_nicename is deprecated in /customers/c/9/8/wpin4.1prod.one/httpd.www/landing-v2/wp-includes/category.php on line 382 Deprecated: Creation of dynamic property WP_Term::$category_parent is deprecated in /customers/c/9/8/wpin4.1prod.one/httpd.www/landing-v2/wp-includes/category.php on line 383 Deprecated: Creation of dynamic property WP_Term::$cat_ID is deprecated in /customers/c/9/8/wpin4.1prod.one/httpd.www/landing-v2/wp-includes/category.php on line 378 Deprecated: Creation of dynamic property WP_Term::$category_count is deprecated in /customers/c/9/8/wpin4.1prod.one/httpd.www/landing-v2/wp-includes/category.php on line 379 Deprecated: Creation of dynamic property WP_Term::$category_description is deprecated in /customers/c/9/8/wpin4.1prod.one/httpd.www/landing-v2/wp-includes/category.php on line 380 Deprecated: Creation of dynamic property WP_Term::$cat_name is deprecated in /customers/c/9/8/wpin4.1prod.one/httpd.www/landing-v2/wp-includes/category.php on line 381 Deprecated: Creation of dynamic property WP_Term::$category_nicename is deprecated in /customers/c/9/8/wpin4.1prod.one/httpd.www/landing-v2/wp-includes/category.php on line 382 Deprecated: Creation of dynamic property WP_Term::$category_parent is deprecated in /customers/c/9/8/wpin4.1prod.one/httpd.www/landing-v2/wp-includes/category.php on line 383 Deprecated: Creation of dynamic property WP_Term::$cat_ID is deprecated in /customers/c/9/8/wpin4.1prod.one/httpd.www/landing-v2/wp-includes/category.php on line 378 Deprecated: Creation of dynamic property WP_Term::$category_count is deprecated in /customers/c/9/8/wpin4.1prod.one/httpd.www/landing-v2/wp-includes/category.php on line 379 Deprecated: Creation of dynamic property WP_Term::$category_description is deprecated in /customers/c/9/8/wpin4.1prod.one/httpd.www/landing-v2/wp-includes/category.php on line 380 Deprecated: Creation of dynamic property WP_Term::$cat_name is deprecated in /customers/c/9/8/wpin4.1prod.one/httpd.www/landing-v2/wp-includes/category.php on line 381 Deprecated: Creation of dynamic property WP_Term::$category_nicename is deprecated in /customers/c/9/8/wpin4.1prod.one/httpd.www/landing-v2/wp-includes/category.php on line 382 Deprecated: Creation of dynamic property WP_Term::$category_parent is deprecated in /customers/c/9/8/wpin4.1prod.one/httpd.www/landing-v2/wp-includes/category.php on line 383 Deprecated: Creation of dynamic property WP_Term::$cat_ID is deprecated in /customers/c/9/8/wpin4.1prod.one/httpd.www/landing-v2/wp-includes/category.php on line 378 Deprecated: Creation of dynamic property WP_Term::$category_count is deprecated in /customers/c/9/8/wpin4.1prod.one/httpd.www/landing-v2/wp-includes/category.php on line 379 Deprecated: Creation of dynamic property WP_Term::$category_description is deprecated in /customers/c/9/8/wpin4.1prod.one/httpd.www/landing-v2/wp-includes/category.php on line 380 Deprecated: Creation of dynamic property WP_Term::$cat_name is deprecated in /customers/c/9/8/wpin4.1prod.one/httpd.www/landing-v2/wp-includes/category.php on line 381 Deprecated: Creation of dynamic property WP_Term::$category_nicename is deprecated in /customers/c/9/8/wpin4.1prod.one/httpd.www/landing-v2/wp-includes/category.php on line 382 Deprecated: Creation of dynamic property WP_Term::$category_parent is deprecated in /customers/c/9/8/wpin4.1prod.one/httpd.www/landing-v2/wp-includes/category.php on line 383 Deprecated: Creation of dynamic property WP_Term::$cat_ID is deprecated in /customers/c/9/8/wpin4.1prod.one/httpd.www/landing-v2/wp-includes/category.php on line 378 Deprecated: Creation of dynamic property WP_Term::$category_count is deprecated in /customers/c/9/8/wpin4.1prod.one/httpd.www/landing-v2/wp-includes/category.php on line 379 Deprecated: Creation of dynamic property WP_Term::$category_description is deprecated in /customers/c/9/8/wpin4.1prod.one/httpd.www/landing-v2/wp-includes/category.php on line 380 Deprecated: Creation of dynamic property WP_Term::$cat_name is deprecated in /customers/c/9/8/wpin4.1prod.one/httpd.www/landing-v2/wp-includes/category.php on line 381 Deprecated: Creation of dynamic property WP_Term::$category_nicename is deprecated in /customers/c/9/8/wpin4.1prod.one/httpd.www/landing-v2/wp-includes/category.php on line 382 Deprecated: Creation of dynamic property WP_Term::$category_parent is deprecated in /customers/c/9/8/wpin4.1prod.one/httpd.www/landing-v2/wp-includes/category.php on line 383 Warning: Undefined variable $blocks in /customers/c/9/8/wpin4.1prod.one/httpd.www/landing-v2/wp-content/themes/onecom-landing-page-v2/functions.php on line 1441 Warning: Trying to access array offset on value of type null in /customers/c/9/8/wpin4.1prod.one/httpd.www/landing-v2/wp-content/themes/onecom-landing-page-v2/functions.php on line 1441 Warning: Trying to access array offset on value of type null in /customers/c/9/8/wpin4.1prod.one/httpd.www/landing-v2/wp-content/themes/onecom-landing-page-v2/functions.php on line 1441 Deprecated: preg_match(): Passing null to parameter #2 ($subject) of type string is deprecated in /customers/c/9/8/wpin4.1prod.one/httpd.www/landing-v2/wp-content/themes/onecom-landing-page-v2/functions.php on line 1442 Deprecated: Creation of dynamic property WP_Term::$cat_ID is deprecated in /customers/c/9/8/wpin4.1prod.one/httpd.www/landing-v2/wp-includes/category.php on line 378 Deprecated: Creation of dynamic property WP_Term::$category_count is deprecated in /customers/c/9/8/wpin4.1prod.one/httpd.www/landing-v2/wp-includes/category.php on line 379 Deprecated: Creation of dynamic property WP_Term::$category_description is deprecated in /customers/c/9/8/wpin4.1prod.one/httpd.www/landing-v2/wp-includes/category.php on line 380 Deprecated: Creation of dynamic property WP_Term::$cat_name is deprecated in /customers/c/9/8/wpin4.1prod.one/httpd.www/landing-v2/wp-includes/category.php on line 381 Deprecated: Creation of dynamic property WP_Term::$category_nicename is deprecated in /customers/c/9/8/wpin4.1prod.one/httpd.www/landing-v2/wp-includes/category.php on line 382 Deprecated: Creation of dynamic property WP_Term::$category_parent is deprecated in /customers/c/9/8/wpin4.1prod.one/httpd.www/landing-v2/wp-includes/category.php on line 383 Deprecated: Creation of dynamic property WP_Term::$cat_ID is deprecated in /customers/c/9/8/wpin4.1prod.one/httpd.www/landing-v2/wp-includes/category.php on line 378 Deprecated: Creation of dynamic property WP_Term::$category_count is deprecated in /customers/c/9/8/wpin4.1prod.one/httpd.www/landing-v2/wp-includes/category.php on line 379 Deprecated: Creation of dynamic property WP_Term::$category_description is deprecated in /customers/c/9/8/wpin4.1prod.one/httpd.www/landing-v2/wp-includes/category.php on line 380 Deprecated: Creation of dynamic property WP_Term::$cat_name is deprecated in /customers/c/9/8/wpin4.1prod.one/httpd.www/landing-v2/wp-includes/category.php on line 381 Deprecated: Creation of dynamic property WP_Term::$category_nicename is deprecated in /customers/c/9/8/wpin4.1prod.one/httpd.www/landing-v2/wp-includes/category.php on line 382 Deprecated: Creation of dynamic property WP_Term::$category_parent is deprecated in /customers/c/9/8/wpin4.1prod.one/httpd.www/landing-v2/wp-includes/category.php on line 383 Deprecated: Creation of dynamic property WP_Term::$cat_ID is deprecated in /customers/c/9/8/wpin4.1prod.one/httpd.www/landing-v2/wp-includes/category.php on line 378 Deprecated: Creation of dynamic property WP_Term::$category_count is deprecated in /customers/c/9/8/wpin4.1prod.one/httpd.www/landing-v2/wp-includes/category.php on line 379 Deprecated: Creation of dynamic property WP_Term::$category_description is deprecated in /customers/c/9/8/wpin4.1prod.one/httpd.www/landing-v2/wp-includes/category.php on line 380 Deprecated: Creation of dynamic property WP_Term::$cat_name is deprecated in /customers/c/9/8/wpin4.1prod.one/httpd.www/landing-v2/wp-includes/category.php on line 381 Deprecated: Creation of dynamic property WP_Term::$category_nicename is deprecated in /customers/c/9/8/wpin4.1prod.one/httpd.www/landing-v2/wp-includes/category.php on line 382 Deprecated: Creation of dynamic property WP_Term::$category_parent is deprecated in /customers/c/9/8/wpin4.1prod.one/httpd.www/landing-v2/wp-includes/category.php on line 383 Deprecated: Creation of dynamic property WP_Term::$cat_ID is deprecated in /customers/c/9/8/wpin4.1prod.one/httpd.www/landing-v2/wp-includes/category.php on line 378 Deprecated: Creation of dynamic property WP_Term::$category_count is deprecated in /customers/c/9/8/wpin4.1prod.one/httpd.www/landing-v2/wp-includes/category.php on line 379 Deprecated: Creation of dynamic property WP_Term::$category_description is deprecated in /customers/c/9/8/wpin4.1prod.one/httpd.www/landing-v2/wp-includes/category.php on line 380 Deprecated: Creation of dynamic property WP_Term::$cat_name is deprecated in /customers/c/9/8/wpin4.1prod.one/httpd.www/landing-v2/wp-includes/category.php on line 381 Deprecated: Creation of dynamic property WP_Term::$category_nicename is deprecated in /customers/c/9/8/wpin4.1prod.one/httpd.www/landing-v2/wp-includes/category.php on line 382 Deprecated: Creation of dynamic property WP_Term::$category_parent is deprecated in /customers/c/9/8/wpin4.1prod.one/httpd.www/landing-v2/wp-includes/category.php on line 383 Deprecated: Creation of dynamic property WP_Term::$cat_ID is deprecated in /customers/c/9/8/wpin4.1prod.one/httpd.www/landing-v2/wp-includes/category.php on line 378 Deprecated: Creation of dynamic property WP_Term::$category_count is deprecated in /customers/c/9/8/wpin4.1prod.one/httpd.www/landing-v2/wp-includes/category.php on line 379 Deprecated: Creation of dynamic property WP_Term::$category_description is deprecated in /customers/c/9/8/wpin4.1prod.one/httpd.www/landing-v2/wp-includes/category.php on line 380 Deprecated: Creation of dynamic property WP_Term::$cat_name is deprecated in /customers/c/9/8/wpin4.1prod.one/httpd.www/landing-v2/wp-includes/category.php on line 381 Deprecated: Creation of dynamic property WP_Term::$category_nicename is deprecated in /customers/c/9/8/wpin4.1prod.one/httpd.www/landing-v2/wp-includes/category.php on line 382 Deprecated: Creation of dynamic property WP_Term::$category_parent is deprecated in /customers/c/9/8/wpin4.1prod.one/httpd.www/landing-v2/wp-includes/category.php on line 383 Deprecated: Creation of dynamic property WP_Term::$cat_ID is deprecated in /customers/c/9/8/wpin4.1prod.one/httpd.www/landing-v2/wp-includes/category.php on line 378 Deprecated: Creation of dynamic property WP_Term::$category_count is deprecated in /customers/c/9/8/wpin4.1prod.one/httpd.www/landing-v2/wp-includes/category.php on line 379 Deprecated: Creation of dynamic property WP_Term::$category_description is deprecated in /customers/c/9/8/wpin4.1prod.one/httpd.www/landing-v2/wp-includes/category.php on line 380 Deprecated: Creation of dynamic property WP_Term::$cat_name is deprecated in /customers/c/9/8/wpin4.1prod.one/httpd.www/landing-v2/wp-includes/category.php on line 381 Deprecated: Creation of dynamic property WP_Term::$category_nicename is deprecated in /customers/c/9/8/wpin4.1prod.one/httpd.www/landing-v2/wp-includes/category.php on line 382 Deprecated: Creation of dynamic property WP_Term::$category_parent is deprecated in /customers/c/9/8/wpin4.1prod.one/httpd.www/landing-v2/wp-includes/category.php on line 383 Warning: Undefined variable $blocks in /customers/c/9/8/wpin4.1prod.one/httpd.www/landing-v2/wp-content/themes/onecom-landing-page-v2/functions.php on line 1441 Warning: Trying to access array offset on value of type null in /customers/c/9/8/wpin4.1prod.one/httpd.www/landing-v2/wp-content/themes/onecom-landing-page-v2/functions.php on line 1441 Warning: Trying to access array offset on value of type null in /customers/c/9/8/wpin4.1prod.one/httpd.www/landing-v2/wp-content/themes/onecom-landing-page-v2/functions.php on line 1441 Deprecated: preg_match(): Passing null to parameter #2 ($subject) of type string is deprecated in /customers/c/9/8/wpin4.1prod.one/httpd.www/landing-v2/wp-content/themes/onecom-landing-page-v2/functions.php on line 1442 Deprecated: Creation of dynamic property WP_Term::$cat_ID is deprecated in /customers/c/9/8/wpin4.1prod.one/httpd.www/landing-v2/wp-includes/category.php on line 378 Deprecated: Creation of dynamic property WP_Term::$category_count is deprecated in /customers/c/9/8/wpin4.1prod.one/httpd.www/landing-v2/wp-includes/category.php on line 379 Deprecated: Creation of dynamic property WP_Term::$category_description is deprecated in /customers/c/9/8/wpin4.1prod.one/httpd.www/landing-v2/wp-includes/category.php on line 380 Deprecated: Creation of dynamic property WP_Term::$cat_name is deprecated in /customers/c/9/8/wpin4.1prod.one/httpd.www/landing-v2/wp-includes/category.php on line 381 Deprecated: Creation of dynamic property WP_Term::$category_nicename is deprecated in /customers/c/9/8/wpin4.1prod.one/httpd.www/landing-v2/wp-includes/category.php on line 382 Deprecated: Creation of dynamic property WP_Term::$category_parent is deprecated in /customers/c/9/8/wpin4.1prod.one/httpd.www/landing-v2/wp-includes/category.php on line 383 Warning: Undefined variable $blocks in /customers/c/9/8/wpin4.1prod.one/httpd.www/landing-v2/wp-content/themes/onecom-landing-page-v2/functions.php on line 1441 Warning: Trying to access array offset on value of type null in /customers/c/9/8/wpin4.1prod.one/httpd.www/landing-v2/wp-content/themes/onecom-landing-page-v2/functions.php on line 1441 Warning: Trying to access array offset on value of type null in /customers/c/9/8/wpin4.1prod.one/httpd.www/landing-v2/wp-content/themes/onecom-landing-page-v2/functions.php on line 1441 Deprecated: preg_match(): Passing null to parameter #2 ($subject) of type string is deprecated in /customers/c/9/8/wpin4.1prod.one/httpd.www/landing-v2/wp-content/themes/onecom-landing-page-v2/functions.php on line 1442 Deprecated: Creation of dynamic property WP_Term::$cat_ID is deprecated in /customers/c/9/8/wpin4.1prod.one/httpd.www/landing-v2/wp-includes/category.php on line 378 Deprecated: Creation of dynamic property WP_Term::$category_count is deprecated in /customers/c/9/8/wpin4.1prod.one/httpd.www/landing-v2/wp-includes/category.php on line 379 Deprecated: Creation of dynamic property WP_Term::$category_description is deprecated in /customers/c/9/8/wpin4.1prod.one/httpd.www/landing-v2/wp-includes/category.php on line 380 Deprecated: Creation of dynamic property WP_Term::$cat_name is deprecated in /customers/c/9/8/wpin4.1prod.one/httpd.www/landing-v2/wp-includes/category.php on line 381 Deprecated: Creation of dynamic property WP_Term::$category_nicename is deprecated in /customers/c/9/8/wpin4.1prod.one/httpd.www/landing-v2/wp-includes/category.php on line 382 Deprecated: Creation of dynamic property WP_Term::$category_parent is deprecated in /customers/c/9/8/wpin4.1prod.one/httpd.www/landing-v2/wp-includes/category.php on line 383 Warning: Undefined variable $blocks in /customers/c/9/8/wpin4.1prod.one/httpd.www/landing-v2/wp-content/themes/onecom-landing-page-v2/functions.php on line 1441 Warning: Trying to access array offset on value of type null in /customers/c/9/8/wpin4.1prod.one/httpd.www/landing-v2/wp-content/themes/onecom-landing-page-v2/functions.php on line 1441 Warning: Trying to access array offset on value of type null in /customers/c/9/8/wpin4.1prod.one/httpd.www/landing-v2/wp-content/themes/onecom-landing-page-v2/functions.php on line 1441 Deprecated: preg_match(): Passing null to parameter #2 ($subject) of type string is deprecated in /customers/c/9/8/wpin4.1prod.one/httpd.www/landing-v2/wp-content/themes/onecom-landing-page-v2/functions.php on line 1442 Deprecated: Creation of dynamic property WP_Term::$cat_ID is deprecated in /customers/c/9/8/wpin4.1prod.one/httpd.www/landing-v2/wp-includes/category.php on line 378 Deprecated: Creation of dynamic property WP_Term::$category_count is deprecated in /customers/c/9/8/wpin4.1prod.one/httpd.www/landing-v2/wp-includes/category.php on line 379 Deprecated: Creation of dynamic property WP_Term::$category_description is deprecated in /customers/c/9/8/wpin4.1prod.one/httpd.www/landing-v2/wp-includes/category.php on line 380 Deprecated: Creation of dynamic property WP_Term::$cat_name is deprecated in /customers/c/9/8/wpin4.1prod.one/httpd.www/landing-v2/wp-includes/category.php on line 381 Deprecated: Creation of dynamic property WP_Term::$category_nicename is deprecated in /customers/c/9/8/wpin4.1prod.one/httpd.www/landing-v2/wp-includes/category.php on line 382 Deprecated: Creation of dynamic property WP_Term::$category_parent is deprecated in /customers/c/9/8/wpin4.1prod.one/httpd.www/landing-v2/wp-includes/category.php on line 383 Warning: Undefined variable $blocks in /customers/c/9/8/wpin4.1prod.one/httpd.www/landing-v2/wp-content/themes/onecom-landing-page-v2/functions.php on line 1441 Warning: Trying to access array offset on value of type null in /customers/c/9/8/wpin4.1prod.one/httpd.www/landing-v2/wp-content/themes/onecom-landing-page-v2/functions.php on line 1441 Warning: Trying to access array offset on value of type null in /customers/c/9/8/wpin4.1prod.one/httpd.www/landing-v2/wp-content/themes/onecom-landing-page-v2/functions.php on line 1441 Deprecated: preg_match(): Passing null to parameter #2 ($subject) of type string is deprecated in /customers/c/9/8/wpin4.1prod.one/httpd.www/landing-v2/wp-content/themes/onecom-landing-page-v2/functions.php on line 1442 Deprecated: Creation of dynamic property WP_Term::$cat_ID is deprecated in /customers/c/9/8/wpin4.1prod.one/httpd.www/landing-v2/wp-includes/category.php on line 378 Deprecated: Creation of dynamic property WP_Term::$category_count is deprecated in /customers/c/9/8/wpin4.1prod.one/httpd.www/landing-v2/wp-includes/category.php on line 379 Deprecated: Creation of dynamic property WP_Term::$category_description is deprecated in /customers/c/9/8/wpin4.1prod.one/httpd.www/landing-v2/wp-includes/category.php on line 380 Deprecated: Creation of dynamic property WP_Term::$cat_name is deprecated in /customers/c/9/8/wpin4.1prod.one/httpd.www/landing-v2/wp-includes/category.php on line 381 Deprecated: Creation of dynamic property WP_Term::$category_nicename is deprecated in /customers/c/9/8/wpin4.1prod.one/httpd.www/landing-v2/wp-includes/category.php on line 382 Deprecated: Creation of dynamic property WP_Term::$category_parent is deprecated in /customers/c/9/8/wpin4.1prod.one/httpd.www/landing-v2/wp-includes/category.php on line 383 Deprecated: Creation of dynamic property WP_Term::$cat_ID is deprecated in /customers/c/9/8/wpin4.1prod.one/httpd.www/landing-v2/wp-includes/category.php on line 378 Deprecated: Creation of dynamic property WP_Term::$category_count is deprecated in /customers/c/9/8/wpin4.1prod.one/httpd.www/landing-v2/wp-includes/category.php on line 379 Deprecated: Creation of dynamic property WP_Term::$category_description is deprecated in /customers/c/9/8/wpin4.1prod.one/httpd.www/landing-v2/wp-includes/category.php on line 380 Deprecated: Creation of dynamic property WP_Term::$cat_name is deprecated in /customers/c/9/8/wpin4.1prod.one/httpd.www/landing-v2/wp-includes/category.php on line 381 Deprecated: Creation of dynamic property WP_Term::$category_nicename is deprecated in /customers/c/9/8/wpin4.1prod.one/httpd.www/landing-v2/wp-includes/category.php on line 382 Deprecated: Creation of dynamic property WP_Term::$category_parent is deprecated in /customers/c/9/8/wpin4.1prod.one/httpd.www/landing-v2/wp-includes/category.php on line 383 Warning: Undefined variable $blocks in /customers/c/9/8/wpin4.1prod.one/httpd.www/landing-v2/wp-content/themes/onecom-landing-page-v2/functions.php on line 1441 Warning: Trying to access array offset on value of type null in /customers/c/9/8/wpin4.1prod.one/httpd.www/landing-v2/wp-content/themes/onecom-landing-page-v2/functions.php on line 1441 Warning: Trying to access array offset on value of type null in /customers/c/9/8/wpin4.1prod.one/httpd.www/landing-v2/wp-content/themes/onecom-landing-page-v2/functions.php on line 1441 Deprecated: preg_match(): Passing null to parameter #2 ($subject) of type string is deprecated in /customers/c/9/8/wpin4.1prod.one/httpd.www/landing-v2/wp-content/themes/onecom-landing-page-v2/functions.php on line 1442 Deprecated: Creation of dynamic property WP_Term::$cat_ID is deprecated in /customers/c/9/8/wpin4.1prod.one/httpd.www/landing-v2/wp-includes/category.php on line 378 Deprecated: Creation of dynamic property WP_Term::$category_count is deprecated in /customers/c/9/8/wpin4.1prod.one/httpd.www/landing-v2/wp-includes/category.php on line 379 Deprecated: Creation of dynamic property WP_Term::$category_description is deprecated in /customers/c/9/8/wpin4.1prod.one/httpd.www/landing-v2/wp-includes/category.php on line 380 Deprecated: Creation of dynamic property WP_Term::$cat_name is deprecated in /customers/c/9/8/wpin4.1prod.one/httpd.www/landing-v2/wp-includes/category.php on line 381 Deprecated: Creation of dynamic property WP_Term::$category_nicename is deprecated in /customers/c/9/8/wpin4.1prod.one/httpd.www/landing-v2/wp-includes/category.php on line 382 Deprecated: Creation of dynamic property WP_Term::$category_parent is deprecated in /customers/c/9/8/wpin4.1prod.one/httpd.www/landing-v2/wp-includes/category.php on line 383 Warning: Undefined variable $blocks in /customers/c/9/8/wpin4.1prod.one/httpd.www/landing-v2/wp-content/themes/onecom-landing-page-v2/functions.php on line 1441 Warning: Trying to access array offset on value of type null in /customers/c/9/8/wpin4.1prod.one/httpd.www/landing-v2/wp-content/themes/onecom-landing-page-v2/functions.php on line 1441 Warning: Trying to access array offset on value of type null in /customers/c/9/8/wpin4.1prod.one/httpd.www/landing-v2/wp-content/themes/onecom-landing-page-v2/functions.php on line 1441 Deprecated: preg_match(): Passing null to parameter #2 ($subject) of type string is deprecated in /customers/c/9/8/wpin4.1prod.one/httpd.www/landing-v2/wp-content/themes/onecom-landing-page-v2/functions.php on line 1442 Deprecated: Creation of dynamic property WP_Term::$cat_ID is deprecated in /customers/c/9/8/wpin4.1prod.one/httpd.www/landing-v2/wp-includes/category.php on line 378 Deprecated: Creation of dynamic property WP_Term::$category_count is deprecated in /customers/c/9/8/wpin4.1prod.one/httpd.www/landing-v2/wp-includes/category.php on line 379 Deprecated: Creation of dynamic property WP_Term::$category_description is deprecated in /customers/c/9/8/wpin4.1prod.one/httpd.www/landing-v2/wp-includes/category.php on line 380 Deprecated: Creation of dynamic property WP_Term::$cat_name is deprecated in /customers/c/9/8/wpin4.1prod.one/httpd.www/landing-v2/wp-includes/category.php on line 381 Deprecated: Creation of dynamic property WP_Term::$category_nicename is deprecated in /customers/c/9/8/wpin4.1prod.one/httpd.www/landing-v2/wp-includes/category.php on line 382 Deprecated: Creation of dynamic property WP_Term::$category_parent is deprecated in /customers/c/9/8/wpin4.1prod.one/httpd.www/landing-v2/wp-includes/category.php on line 383 Warning: Undefined variable $blocks in /customers/c/9/8/wpin4.1prod.one/httpd.www/landing-v2/wp-content/themes/onecom-landing-page-v2/functions.php on line 1441 Warning: Trying to access array offset on value of type null in /customers/c/9/8/wpin4.1prod.one/httpd.www/landing-v2/wp-content/themes/onecom-landing-page-v2/functions.php on line 1441 Warning: Trying to access array offset on value of type null in /customers/c/9/8/wpin4.1prod.one/httpd.www/landing-v2/wp-content/themes/onecom-landing-page-v2/functions.php on line 1441 Deprecated: preg_match(): Passing null to parameter #2 ($subject) of type string is deprecated in /customers/c/9/8/wpin4.1prod.one/httpd.www/landing-v2/wp-content/themes/onecom-landing-page-v2/functions.php on line 1442 Deprecated: Creation of dynamic property WP_Term::$cat_ID is deprecated in /customers/c/9/8/wpin4.1prod.one/httpd.www/landing-v2/wp-includes/category.php on line 378 Deprecated: Creation of dynamic property WP_Term::$category_count is deprecated in /customers/c/9/8/wpin4.1prod.one/httpd.www/landing-v2/wp-includes/category.php on line 379 Deprecated: Creation of dynamic property WP_Term::$category_description is deprecated in /customers/c/9/8/wpin4.1prod.one/httpd.www/landing-v2/wp-includes/category.php on line 380 Deprecated: Creation of dynamic property WP_Term::$cat_name is deprecated in /customers/c/9/8/wpin4.1prod.one/httpd.www/landing-v2/wp-includes/category.php on line 381 Deprecated: Creation of dynamic property WP_Term::$category_nicename is deprecated in /customers/c/9/8/wpin4.1prod.one/httpd.www/landing-v2/wp-includes/category.php on line 382 Deprecated: Creation of dynamic property WP_Term::$category_parent is deprecated in /customers/c/9/8/wpin4.1prod.one/httpd.www/landing-v2/wp-includes/category.php on line 383 Deprecated: Creation of dynamic property WP_Term::$cat_ID is deprecated in /customers/c/9/8/wpin4.1prod.one/httpd.www/landing-v2/wp-includes/category.php on line 378 Deprecated: Creation of dynamic property WP_Term::$category_count is deprecated in /customers/c/9/8/wpin4.1prod.one/httpd.www/landing-v2/wp-includes/category.php on line 379 Deprecated: Creation of dynamic property WP_Term::$category_description is deprecated in /customers/c/9/8/wpin4.1prod.one/httpd.www/landing-v2/wp-includes/category.php on line 380 Deprecated: Creation of dynamic property WP_Term::$cat_name is deprecated in /customers/c/9/8/wpin4.1prod.one/httpd.www/landing-v2/wp-includes/category.php on line 381 Deprecated: Creation of dynamic property WP_Term::$category_nicename is deprecated in /customers/c/9/8/wpin4.1prod.one/httpd.www/landing-v2/wp-includes/category.php on line 382 Deprecated: Creation of dynamic property WP_Term::$category_parent is deprecated in /customers/c/9/8/wpin4.1prod.one/httpd.www/landing-v2/wp-includes/category.php on line 383 Deprecated: Creation of dynamic property WP_Term::$cat_ID is deprecated in /customers/c/9/8/wpin4.1prod.one/httpd.www/landing-v2/wp-includes/category.php on line 378 Deprecated: Creation of dynamic property WP_Term::$category_count is deprecated in /customers/c/9/8/wpin4.1prod.one/httpd.www/landing-v2/wp-includes/category.php on line 379 Deprecated: Creation of dynamic property WP_Term::$category_description is deprecated in /customers/c/9/8/wpin4.1prod.one/httpd.www/landing-v2/wp-includes/category.php on line 380 Deprecated: Creation of dynamic property WP_Term::$cat_name is deprecated in /customers/c/9/8/wpin4.1prod.one/httpd.www/landing-v2/wp-includes/category.php on line 381 Deprecated: Creation of dynamic property WP_Term::$category_nicename is deprecated in /customers/c/9/8/wpin4.1prod.one/httpd.www/landing-v2/wp-includes/category.php on line 382 Deprecated: Creation of dynamic property WP_Term::$category_parent is deprecated in /customers/c/9/8/wpin4.1prod.one/httpd.www/landing-v2/wp-includes/category.php on line 383 Deprecated: Creation of dynamic property WP_Term::$cat_ID is deprecated in /customers/c/9/8/wpin4.1prod.one/httpd.www/landing-v2/wp-includes/category.php on line 378 Deprecated: Creation of dynamic property WP_Term::$category_count is deprecated in /customers/c/9/8/wpin4.1prod.one/httpd.www/landing-v2/wp-includes/category.php on line 379 Deprecated: Creation of dynamic property WP_Term::$category_description is deprecated in /customers/c/9/8/wpin4.1prod.one/httpd.www/landing-v2/wp-includes/category.php on line 380 Deprecated: Creation of dynamic property WP_Term::$cat_name is deprecated in /customers/c/9/8/wpin4.1prod.one/httpd.www/landing-v2/wp-includes/category.php on line 381 Deprecated: Creation of dynamic property WP_Term::$category_nicename is deprecated in /customers/c/9/8/wpin4.1prod.one/httpd.www/landing-v2/wp-includes/category.php on line 382 Deprecated: Creation of dynamic property WP_Term::$category_parent is deprecated in /customers/c/9/8/wpin4.1prod.one/httpd.www/landing-v2/wp-includes/category.php on line 383 Deprecated: Creation of dynamic property WP_Term::$cat_ID is deprecated in /customers/c/9/8/wpin4.1prod.one/httpd.www/landing-v2/wp-includes/category.php on line 378 Deprecated: Creation of dynamic property WP_Term::$category_count is deprecated in /customers/c/9/8/wpin4.1prod.one/httpd.www/landing-v2/wp-includes/category.php on line 379 Deprecated: Creation of dynamic property WP_Term::$category_description is deprecated in /customers/c/9/8/wpin4.1prod.one/httpd.www/landing-v2/wp-includes/category.php on line 380 Deprecated: Creation of dynamic property WP_Term::$cat_name is deprecated in /customers/c/9/8/wpin4.1prod.one/httpd.www/landing-v2/wp-includes/category.php on line 381 Deprecated: Creation of dynamic property WP_Term::$category_nicename is deprecated in /customers/c/9/8/wpin4.1prod.one/httpd.www/landing-v2/wp-includes/category.php on line 382 Deprecated: Creation of dynamic property WP_Term::$category_parent is deprecated in /customers/c/9/8/wpin4.1prod.one/httpd.www/landing-v2/wp-includes/category.php on line 383 Deprecated: Creation of dynamic property WP_Block::$attributes is deprecated in /customers/c/9/8/wpin4.1prod.one/httpd.www/landing-v2/wp-includes/class-wp-block.php on line 179 Deprecated: Creation of dynamic property WP_Term::$cat_ID is deprecated in /customers/c/9/8/wpin4.1prod.one/httpd.www/landing-v2/wp-includes/category.php on line 378 Deprecated: Creation of dynamic property WP_Term::$category_count is deprecated in /customers/c/9/8/wpin4.1prod.one/httpd.www/landing-v2/wp-includes/category.php on line 379 Deprecated: Creation of dynamic property WP_Term::$category_description is deprecated in /customers/c/9/8/wpin4.1prod.one/httpd.www/landing-v2/wp-includes/category.php on line 380 Deprecated: Creation of dynamic property WP_Term::$cat_name is deprecated in /customers/c/9/8/wpin4.1prod.one/httpd.www/landing-v2/wp-includes/category.php on line 381 Deprecated: Creation of dynamic property WP_Term::$category_nicename is deprecated in /customers/c/9/8/wpin4.1prod.one/httpd.www/landing-v2/wp-includes/category.php on line 382 Deprecated: Creation of dynamic property WP_Term::$category_parent is deprecated in /customers/c/9/8/wpin4.1prod.one/httpd.www/landing-v2/wp-includes/category.php on line 383 Deprecated: Creation of dynamic property WP_Term::$cat_ID is deprecated in /customers/c/9/8/wpin4.1prod.one/httpd.www/landing-v2/wp-includes/category.php on line 378 Deprecated: Creation of dynamic property WP_Term::$category_count is deprecated in /customers/c/9/8/wpin4.1prod.one/httpd.www/landing-v2/wp-includes/category.php on line 379 Deprecated: Creation of dynamic property WP_Term::$category_description is deprecated in /customers/c/9/8/wpin4.1prod.one/httpd.www/landing-v2/wp-includes/category.php on line 380 Deprecated: Creation of dynamic property WP_Term::$cat_name is deprecated in /customers/c/9/8/wpin4.1prod.one/httpd.www/landing-v2/wp-includes/category.php on line 381 Deprecated: Creation of dynamic property WP_Term::$category_nicename is deprecated in /customers/c/9/8/wpin4.1prod.one/httpd.www/landing-v2/wp-includes/category.php on line 382 Deprecated: Creation of dynamic property WP_Term::$category_parent is deprecated in /customers/c/9/8/wpin4.1prod.one/httpd.www/landing-v2/wp-includes/category.php on line 383 Warning: Undefined variable $blocks in /customers/c/9/8/wpin4.1prod.one/httpd.www/landing-v2/wp-content/themes/onecom-landing-page-v2/functions.php on line 1441 Warning: Trying to access array offset on value of type null in /customers/c/9/8/wpin4.1prod.one/httpd.www/landing-v2/wp-content/themes/onecom-landing-page-v2/functions.php on line 1441 Warning: Trying to access array offset on value of type null in /customers/c/9/8/wpin4.1prod.one/httpd.www/landing-v2/wp-content/themes/onecom-landing-page-v2/functions.php on line 1441 Deprecated: preg_match(): Passing null to parameter #2 ($subject) of type string is deprecated in /customers/c/9/8/wpin4.1prod.one/httpd.www/landing-v2/wp-content/themes/onecom-landing-page-v2/functions.php on line 1442 Deprecated: Creation of dynamic property WP_Term::$cat_ID is deprecated in /customers/c/9/8/wpin4.1prod.one/httpd.www/landing-v2/wp-includes/category.php on line 378 Deprecated: Creation of dynamic property WP_Term::$category_count is deprecated in /customers/c/9/8/wpin4.1prod.one/httpd.www/landing-v2/wp-includes/category.php on line 379 Deprecated: Creation of dynamic property WP_Term::$category_description is deprecated in /customers/c/9/8/wpin4.1prod.one/httpd.www/landing-v2/wp-includes/category.php on line 380 Deprecated: Creation of dynamic property WP_Term::$cat_name is deprecated in /customers/c/9/8/wpin4.1prod.one/httpd.www/landing-v2/wp-includes/category.php on line 381 Deprecated: Creation of dynamic property WP_Term::$category_nicename is deprecated in /customers/c/9/8/wpin4.1prod.one/httpd.www/landing-v2/wp-includes/category.php on line 382 Deprecated: Creation of dynamic property WP_Term::$category_parent is deprecated in /customers/c/9/8/wpin4.1prod.one/httpd.www/landing-v2/wp-includes/category.php on line 383 Deprecated: Creation of dynamic property WP_Term::$cat_ID is deprecated in /customers/c/9/8/wpin4.1prod.one/httpd.www/landing-v2/wp-includes/category.php on line 378 Deprecated: Creation of dynamic property WP_Term::$category_count is deprecated in /customers/c/9/8/wpin4.1prod.one/httpd.www/landing-v2/wp-includes/category.php on line 379 Deprecated: Creation of dynamic property WP_Term::$category_description is deprecated in /customers/c/9/8/wpin4.1prod.one/httpd.www/landing-v2/wp-includes/category.php on line 380 Deprecated: Creation of dynamic property WP_Term::$cat_name is deprecated in /customers/c/9/8/wpin4.1prod.one/httpd.www/landing-v2/wp-includes/category.php on line 381 Deprecated: Creation of dynamic property WP_Term::$category_nicename is deprecated in /customers/c/9/8/wpin4.1prod.one/httpd.www/landing-v2/wp-includes/category.php on line 382 Deprecated: Creation of dynamic property WP_Term::$category_parent is deprecated in /customers/c/9/8/wpin4.1prod.one/httpd.www/landing-v2/wp-includes/category.php on line 383 Deprecated: Creation of dynamic property WP_Term::$cat_ID is deprecated in /customers/c/9/8/wpin4.1prod.one/httpd.www/landing-v2/wp-includes/category.php on line 378 Deprecated: Creation of dynamic property WP_Term::$category_count is deprecated in /customers/c/9/8/wpin4.1prod.one/httpd.www/landing-v2/wp-includes/category.php on line 379 Deprecated: Creation of dynamic property WP_Term::$category_description is deprecated in /customers/c/9/8/wpin4.1prod.one/httpd.www/landing-v2/wp-includes/category.php on line 380 Deprecated: Creation of dynamic property WP_Term::$cat_name is deprecated in /customers/c/9/8/wpin4.1prod.one/httpd.www/landing-v2/wp-includes/category.php on line 381 Deprecated: Creation of dynamic property WP_Term::$category_nicename is deprecated in /customers/c/9/8/wpin4.1prod.one/httpd.www/landing-v2/wp-includes/category.php on line 382 Deprecated: Creation of dynamic property WP_Term::$category_parent is deprecated in /customers/c/9/8/wpin4.1prod.one/httpd.www/landing-v2/wp-includes/category.php on line 383 Deprecated: Creation of dynamic property WP_Term::$cat_ID is deprecated in /customers/c/9/8/wpin4.1prod.one/httpd.www/landing-v2/wp-includes/category.php on line 378 Deprecated: Creation of dynamic property WP_Term::$category_count is deprecated in /customers/c/9/8/wpin4.1prod.one/httpd.www/landing-v2/wp-includes/category.php on line 379 Deprecated: Creation of dynamic property WP_Term::$category_description is deprecated in /customers/c/9/8/wpin4.1prod.one/httpd.www/landing-v2/wp-includes/category.php on line 380 Deprecated: Creation of dynamic property WP_Term::$cat_name is deprecated in /customers/c/9/8/wpin4.1prod.one/httpd.www/landing-v2/wp-includes/category.php on line 381 Deprecated: Creation of dynamic property WP_Term::$category_nicename is deprecated in /customers/c/9/8/wpin4.1prod.one/httpd.www/landing-v2/wp-includes/category.php on line 382 Deprecated: Creation of dynamic property WP_Term::$category_parent is deprecated in /customers/c/9/8/wpin4.1prod.one/httpd.www/landing-v2/wp-includes/category.php on line 383 Deprecated: Creation of dynamic property WP_Term::$cat_ID is deprecated in /customers/c/9/8/wpin4.1prod.one/httpd.www/landing-v2/wp-includes/category.php on line 378 Deprecated: Creation of dynamic property WP_Term::$category_count is deprecated in /customers/c/9/8/wpin4.1prod.one/httpd.www/landing-v2/wp-includes/category.php on line 379 Deprecated: Creation of dynamic property WP_Term::$category_description is deprecated in /customers/c/9/8/wpin4.1prod.one/httpd.www/landing-v2/wp-includes/category.php on line 380 Deprecated: Creation of dynamic property WP_Term::$cat_name is deprecated in /customers/c/9/8/wpin4.1prod.one/httpd.www/landing-v2/wp-includes/category.php on line 381 Deprecated: Creation of dynamic property WP_Term::$category_nicename is deprecated in /customers/c/9/8/wpin4.1prod.one/httpd.www/landing-v2/wp-includes/category.php on line 382 Deprecated: Creation of dynamic property WP_Term::$category_parent is deprecated in /customers/c/9/8/wpin4.1prod.one/httpd.www/landing-v2/wp-includes/category.php on line 383 Deprecated: Creation of dynamic property WP_Term::$cat_ID is deprecated in /customers/c/9/8/wpin4.1prod.one/httpd.www/landing-v2/wp-includes/category.php on line 378 Deprecated: Creation of dynamic property WP_Term::$category_count is deprecated in /customers/c/9/8/wpin4.1prod.one/httpd.www/landing-v2/wp-includes/category.php on line 379 Deprecated: Creation of dynamic property WP_Term::$category_description is deprecated in /customers/c/9/8/wpin4.1prod.one/httpd.www/landing-v2/wp-includes/category.php on line 380 Deprecated: Creation of dynamic property WP_Term::$cat_name is deprecated in /customers/c/9/8/wpin4.1prod.one/httpd.www/landing-v2/wp-includes/category.php on line 381 Deprecated: Creation of dynamic property WP_Term::$category_nicename is deprecated in /customers/c/9/8/wpin4.1prod.one/httpd.www/landing-v2/wp-includes/category.php on line 382 Deprecated: Creation of dynamic property WP_Term::$category_parent is deprecated in /customers/c/9/8/wpin4.1prod.one/httpd.www/landing-v2/wp-includes/category.php on line 383 Warning: Undefined variable $blocks in /customers/c/9/8/wpin4.1prod.one/httpd.www/landing-v2/wp-content/themes/onecom-landing-page-v2/functions.php on line 1441 Warning: Trying to access array offset on value of type null in /customers/c/9/8/wpin4.1prod.one/httpd.www/landing-v2/wp-content/themes/onecom-landing-page-v2/functions.php on line 1441 Warning: Trying to access array offset on value of type null in /customers/c/9/8/wpin4.1prod.one/httpd.www/landing-v2/wp-content/themes/onecom-landing-page-v2/functions.php on line 1441 Deprecated: preg_match(): Passing null to parameter #2 ($subject) of type string is deprecated in /customers/c/9/8/wpin4.1prod.one/httpd.www/landing-v2/wp-content/themes/onecom-landing-page-v2/functions.php on line 1442 Deprecated: Creation of dynamic property WP_Term::$cat_ID is deprecated in /customers/c/9/8/wpin4.1prod.one/httpd.www/landing-v2/wp-includes/category.php on line 378 Deprecated: Creation of dynamic property WP_Term::$category_count is deprecated in /customers/c/9/8/wpin4.1prod.one/httpd.www/landing-v2/wp-includes/category.php on line 379 Deprecated: Creation of dynamic property WP_Term::$category_description is deprecated in /customers/c/9/8/wpin4.1prod.one/httpd.www/landing-v2/wp-includes/category.php on line 380 Deprecated: Creation of dynamic property WP_Term::$cat_name is deprecated in /customers/c/9/8/wpin4.1prod.one/httpd.www/landing-v2/wp-includes/category.php on line 381 Deprecated: Creation of dynamic property WP_Term::$category_nicename is deprecated in /customers/c/9/8/wpin4.1prod.one/httpd.www/landing-v2/wp-includes/category.php on line 382 Deprecated: Creation of dynamic property WP_Term::$category_parent is deprecated in /customers/c/9/8/wpin4.1prod.one/httpd.www/landing-v2/wp-includes/category.php on line 383 Warning: Undefined variable $blocks in /customers/c/9/8/wpin4.1prod.one/httpd.www/landing-v2/wp-content/themes/onecom-landing-page-v2/functions.php on line 1441 Warning: Trying to access array offset on value of type null in /customers/c/9/8/wpin4.1prod.one/httpd.www/landing-v2/wp-content/themes/onecom-landing-page-v2/functions.php on line 1441 Warning: Trying to access array offset on value of type null in /customers/c/9/8/wpin4.1prod.one/httpd.www/landing-v2/wp-content/themes/onecom-landing-page-v2/functions.php on line 1441 Deprecated: preg_match(): Passing null to parameter #2 ($subject) of type string is deprecated in /customers/c/9/8/wpin4.1prod.one/httpd.www/landing-v2/wp-content/themes/onecom-landing-page-v2/functions.php on line 1442 Deprecated: Creation of dynamic property WP_Term::$cat_ID is deprecated in /customers/c/9/8/wpin4.1prod.one/httpd.www/landing-v2/wp-includes/category.php on line 378 Deprecated: Creation of dynamic property WP_Term::$category_count is deprecated in /customers/c/9/8/wpin4.1prod.one/httpd.www/landing-v2/wp-includes/category.php on line 379 Deprecated: Creation of dynamic property WP_Term::$category_description is deprecated in /customers/c/9/8/wpin4.1prod.one/httpd.www/landing-v2/wp-includes/category.php on line 380 Deprecated: Creation of dynamic property WP_Term::$cat_name is deprecated in /customers/c/9/8/wpin4.1prod.one/httpd.www/landing-v2/wp-includes/category.php on line 381 Deprecated: Creation of dynamic property WP_Term::$category_nicename is deprecated in /customers/c/9/8/wpin4.1prod.one/httpd.www/landing-v2/wp-includes/category.php on line 382 Deprecated: Creation of dynamic property WP_Term::$category_parent is deprecated in /customers/c/9/8/wpin4.1prod.one/httpd.www/landing-v2/wp-includes/category.php on line 383 Warning: Undefined variable $blocks in /customers/c/9/8/wpin4.1prod.one/httpd.www/landing-v2/wp-content/themes/onecom-landing-page-v2/functions.php on line 1441 Warning: Trying to access array offset on value of type null in /customers/c/9/8/wpin4.1prod.one/httpd.www/landing-v2/wp-content/themes/onecom-landing-page-v2/functions.php on line 1441 Warning: Trying to access array offset on value of type null in /customers/c/9/8/wpin4.1prod.one/httpd.www/landing-v2/wp-content/themes/onecom-landing-page-v2/functions.php on line 1441 Deprecated: preg_match(): Passing null to parameter #2 ($subject) of type string is deprecated in /customers/c/9/8/wpin4.1prod.one/httpd.www/landing-v2/wp-content/themes/onecom-landing-page-v2/functions.php on line 1442 Deprecated: Creation of dynamic property WP_Block::$attributes is deprecated in /customers/c/9/8/wpin4.1prod.one/httpd.www/landing-v2/wp-includes/class-wp-block.php on line 179 Deprecated: Creation of dynamic property WP_Term::$cat_ID is deprecated in /customers/c/9/8/wpin4.1prod.one/httpd.www/landing-v2/wp-includes/category.php on line 378 Deprecated: Creation of dynamic property WP_Term::$category_count is deprecated in /customers/c/9/8/wpin4.1prod.one/httpd.www/landing-v2/wp-includes/category.php on line 379 Deprecated: Creation of dynamic property WP_Term::$category_description is deprecated in /customers/c/9/8/wpin4.1prod.one/httpd.www/landing-v2/wp-includes/category.php on line 380 Deprecated: Creation of dynamic property WP_Term::$cat_name is deprecated in /customers/c/9/8/wpin4.1prod.one/httpd.www/landing-v2/wp-includes/category.php on line 381 Deprecated: Creation of dynamic property WP_Term::$category_nicename is deprecated in /customers/c/9/8/wpin4.1prod.one/httpd.www/landing-v2/wp-includes/category.php on line 382 Deprecated: Creation of dynamic property WP_Term::$category_parent is deprecated in /customers/c/9/8/wpin4.1prod.one/httpd.www/landing-v2/wp-includes/category.php on line 383 Deprecated: Creation of dynamic property WP_Term::$cat_ID is deprecated in /customers/c/9/8/wpin4.1prod.one/httpd.www/landing-v2/wp-includes/category.php on line 378 Deprecated: Creation of dynamic property WP_Term::$category_count is deprecated in /customers/c/9/8/wpin4.1prod.one/httpd.www/landing-v2/wp-includes/category.php on line 379 Deprecated: Creation of dynamic property WP_Term::$category_description is deprecated in /customers/c/9/8/wpin4.1prod.one/httpd.www/landing-v2/wp-includes/category.php on line 380 Deprecated: Creation of dynamic property WP_Term::$cat_name is deprecated in /customers/c/9/8/wpin4.1prod.one/httpd.www/landing-v2/wp-includes/category.php on line 381 Deprecated: Creation of dynamic property WP_Term::$category_nicename is deprecated in /customers/c/9/8/wpin4.1prod.one/httpd.www/landing-v2/wp-includes/category.php on line 382 Deprecated: Creation of dynamic property WP_Term::$category_parent is deprecated in /customers/c/9/8/wpin4.1prod.one/httpd.www/landing-v2/wp-includes/category.php on line 383 Deprecated: Creation of dynamic property WP_Term::$cat_ID is deprecated in /customers/c/9/8/wpin4.1prod.one/httpd.www/landing-v2/wp-includes/category.php on line 378 Deprecated: Creation of dynamic property WP_Term::$category_count is deprecated in /customers/c/9/8/wpin4.1prod.one/httpd.www/landing-v2/wp-includes/category.php on line 379 Deprecated: Creation of dynamic property WP_Term::$category_description is deprecated in /customers/c/9/8/wpin4.1prod.one/httpd.www/landing-v2/wp-includes/category.php on line 380 Deprecated: Creation of dynamic property WP_Term::$cat_name is deprecated in /customers/c/9/8/wpin4.1prod.one/httpd.www/landing-v2/wp-includes/category.php on line 381 Deprecated: Creation of dynamic property WP_Term::$category_nicename is deprecated in /customers/c/9/8/wpin4.1prod.one/httpd.www/landing-v2/wp-includes/category.php on line 382 Deprecated: Creation of dynamic property WP_Term::$category_parent is deprecated in /customers/c/9/8/wpin4.1prod.one/httpd.www/landing-v2/wp-includes/category.php on line 383 Warning: Undefined variable $blocks in /customers/c/9/8/wpin4.1prod.one/httpd.www/landing-v2/wp-content/themes/onecom-landing-page-v2/functions.php on line 1441 Warning: Trying to access array offset on value of type null in /customers/c/9/8/wpin4.1prod.one/httpd.www/landing-v2/wp-content/themes/onecom-landing-page-v2/functions.php on line 1441 Warning: Trying to access array offset on value of type null in /customers/c/9/8/wpin4.1prod.one/httpd.www/landing-v2/wp-content/themes/onecom-landing-page-v2/functions.php on line 1441 Deprecated: preg_match(): Passing null to parameter #2 ($subject) of type string is deprecated in /customers/c/9/8/wpin4.1prod.one/httpd.www/landing-v2/wp-content/themes/onecom-landing-page-v2/functions.php on line 1442 Deprecated: Creation of dynamic property WP_Term::$cat_ID is deprecated in /customers/c/9/8/wpin4.1prod.one/httpd.www/landing-v2/wp-includes/category.php on line 378 Deprecated: Creation of dynamic property WP_Term::$category_count is deprecated in /customers/c/9/8/wpin4.1prod.one/httpd.www/landing-v2/wp-includes/category.php on line 379 Deprecated: Creation of dynamic property WP_Term::$category_description is deprecated in /customers/c/9/8/wpin4.1prod.one/httpd.www/landing-v2/wp-includes/category.php on line 380 Deprecated: Creation of dynamic property WP_Term::$cat_name is deprecated in /customers/c/9/8/wpin4.1prod.one/httpd.www/landing-v2/wp-includes/category.php on line 381 Deprecated: Creation of dynamic property WP_Term::$category_nicename is deprecated in /customers/c/9/8/wpin4.1prod.one/httpd.www/landing-v2/wp-includes/category.php on line 382 Deprecated: Creation of dynamic property WP_Term::$category_parent is deprecated in /customers/c/9/8/wpin4.1prod.one/httpd.www/landing-v2/wp-includes/category.php on line 383 Warning: Undefined variable $blocks in /customers/c/9/8/wpin4.1prod.one/httpd.www/landing-v2/wp-content/themes/onecom-landing-page-v2/functions.php on line 1441 Warning: Trying to access array offset on value of type null in /customers/c/9/8/wpin4.1prod.one/httpd.www/landing-v2/wp-content/themes/onecom-landing-page-v2/functions.php on line 1441 Warning: Trying to access array offset on value of type null in /customers/c/9/8/wpin4.1prod.one/httpd.www/landing-v2/wp-content/themes/onecom-landing-page-v2/functions.php on line 1441 Deprecated: preg_match(): Passing null to parameter #2 ($subject) of type string is deprecated in /customers/c/9/8/wpin4.1prod.one/httpd.www/landing-v2/wp-content/themes/onecom-landing-page-v2/functions.php on line 1442 Deprecated: Creation of dynamic property WP_Term::$cat_ID is deprecated in /customers/c/9/8/wpin4.1prod.one/httpd.www/landing-v2/wp-includes/category.php on line 378 Deprecated: Creation of dynamic property WP_Term::$category_count is deprecated in /customers/c/9/8/wpin4.1prod.one/httpd.www/landing-v2/wp-includes/category.php on line 379 Deprecated: Creation of dynamic property WP_Term::$category_description is deprecated in /customers/c/9/8/wpin4.1prod.one/httpd.www/landing-v2/wp-includes/category.php on line 380 Deprecated: Creation of dynamic property WP_Term::$cat_name is deprecated in /customers/c/9/8/wpin4.1prod.one/httpd.www/landing-v2/wp-includes/category.php on line 381 Deprecated: Creation of dynamic property WP_Term::$category_nicename is deprecated in /customers/c/9/8/wpin4.1prod.one/httpd.www/landing-v2/wp-includes/category.php on line 382 Deprecated: Creation of dynamic property WP_Term::$category_parent is deprecated in /customers/c/9/8/wpin4.1prod.one/httpd.www/landing-v2/wp-includes/category.php on line 383 Warning: Undefined variable $blocks in /customers/c/9/8/wpin4.1prod.one/httpd.www/landing-v2/wp-content/themes/onecom-landing-page-v2/functions.php on line 1441 Warning: Trying to access array offset on value of type null in /customers/c/9/8/wpin4.1prod.one/httpd.www/landing-v2/wp-content/themes/onecom-landing-page-v2/functions.php on line 1441 Warning: Trying to access array offset on value of type null in /customers/c/9/8/wpin4.1prod.one/httpd.www/landing-v2/wp-content/themes/onecom-landing-page-v2/functions.php on line 1441 Deprecated: preg_match(): Passing null to parameter #2 ($subject) of type string is deprecated in /customers/c/9/8/wpin4.1prod.one/httpd.www/landing-v2/wp-content/themes/onecom-landing-page-v2/functions.php on line 1442 Deprecated: Creation of dynamic property WP_Block::$attributes is deprecated in /customers/c/9/8/wpin4.1prod.one/httpd.www/landing-v2/wp-includes/class-wp-block.php on line 179 Deprecated: Creation of dynamic property WP_Term::$cat_ID is deprecated in /customers/c/9/8/wpin4.1prod.one/httpd.www/landing-v2/wp-includes/category.php on line 378 Deprecated: Creation of dynamic property WP_Term::$category_count is deprecated in /customers/c/9/8/wpin4.1prod.one/httpd.www/landing-v2/wp-includes/category.php on line 379 Deprecated: Creation of dynamic property WP_Term::$category_description is deprecated in /customers/c/9/8/wpin4.1prod.one/httpd.www/landing-v2/wp-includes/category.php on line 380 Deprecated: Creation of dynamic property WP_Term::$cat_name is deprecated in /customers/c/9/8/wpin4.1prod.one/httpd.www/landing-v2/wp-includes/category.php on line 381 Deprecated: Creation of dynamic property WP_Term::$category_nicename is deprecated in /customers/c/9/8/wpin4.1prod.one/httpd.www/landing-v2/wp-includes/category.php on line 382 Deprecated: Creation of dynamic property WP_Term::$category_parent is deprecated in /customers/c/9/8/wpin4.1prod.one/httpd.www/landing-v2/wp-includes/category.php on line 383 Deprecated: Creation of dynamic property WP_Term::$cat_ID is deprecated in /customers/c/9/8/wpin4.1prod.one/httpd.www/landing-v2/wp-includes/category.php on line 378 Deprecated: Creation of dynamic property WP_Term::$category_count is deprecated in /customers/c/9/8/wpin4.1prod.one/httpd.www/landing-v2/wp-includes/category.php on line 379 Deprecated: Creation of dynamic property WP_Term::$category_description is deprecated in /customers/c/9/8/wpin4.1prod.one/httpd.www/landing-v2/wp-includes/category.php on line 380 Deprecated: Creation of dynamic property WP_Term::$cat_name is deprecated in /customers/c/9/8/wpin4.1prod.one/httpd.www/landing-v2/wp-includes/category.php on line 381 Deprecated: Creation of dynamic property WP_Term::$category_nicename is deprecated in /customers/c/9/8/wpin4.1prod.one/httpd.www/landing-v2/wp-includes/category.php on line 382 Deprecated: Creation of dynamic property WP_Term::$category_parent is deprecated in /customers/c/9/8/wpin4.1prod.one/httpd.www/landing-v2/wp-includes/category.php on line 383 Deprecated: Creation of dynamic property WP_Term::$cat_ID is deprecated in /customers/c/9/8/wpin4.1prod.one/httpd.www/landing-v2/wp-includes/category.php on line 378 Deprecated: Creation of dynamic property WP_Term::$category_count is deprecated in /customers/c/9/8/wpin4.1prod.one/httpd.www/landing-v2/wp-includes/category.php on line 379 Deprecated: Creation of dynamic property WP_Term::$category_description is deprecated in /customers/c/9/8/wpin4.1prod.one/httpd.www/landing-v2/wp-includes/category.php on line 380 Deprecated: Creation of dynamic property WP_Term::$cat_name is deprecated in /customers/c/9/8/wpin4.1prod.one/httpd.www/landing-v2/wp-includes/category.php on line 381 Deprecated: Creation of dynamic property WP_Term::$category_nicename is deprecated in /customers/c/9/8/wpin4.1prod.one/httpd.www/landing-v2/wp-includes/category.php on line 382 Deprecated: Creation of dynamic property WP_Term::$category_parent is deprecated in /customers/c/9/8/wpin4.1prod.one/httpd.www/landing-v2/wp-includes/category.php on line 383 Warning: Undefined variable $blocks in /customers/c/9/8/wpin4.1prod.one/httpd.www/landing-v2/wp-content/themes/onecom-landing-page-v2/functions.php on line 1441 Warning: Trying to access array offset on value of type null in /customers/c/9/8/wpin4.1prod.one/httpd.www/landing-v2/wp-content/themes/onecom-landing-page-v2/functions.php on line 1441 Warning: Trying to access array offset on value of type null in /customers/c/9/8/wpin4.1prod.one/httpd.www/landing-v2/wp-content/themes/onecom-landing-page-v2/functions.php on line 1441 Deprecated: preg_match(): Passing null to parameter #2 ($subject) of type string is deprecated in /customers/c/9/8/wpin4.1prod.one/httpd.www/landing-v2/wp-content/themes/onecom-landing-page-v2/functions.php on line 1442 Deprecated: Creation of dynamic property WP_Term::$cat_ID is deprecated in /customers/c/9/8/wpin4.1prod.one/httpd.www/landing-v2/wp-includes/category.php on line 378 Deprecated: Creation of dynamic property WP_Term::$category_count is deprecated in /customers/c/9/8/wpin4.1prod.one/httpd.www/landing-v2/wp-includes/category.php on line 379 Deprecated: Creation of dynamic property WP_Term::$category_description is deprecated in /customers/c/9/8/wpin4.1prod.one/httpd.www/landing-v2/wp-includes/category.php on line 380 Deprecated: Creation of dynamic property WP_Term::$cat_name is deprecated in /customers/c/9/8/wpin4.1prod.one/httpd.www/landing-v2/wp-includes/category.php on line 381 Deprecated: Creation of dynamic property WP_Term::$category_nicename is deprecated in /customers/c/9/8/wpin4.1prod.one/httpd.www/landing-v2/wp-includes/category.php on line 382 Deprecated: Creation of dynamic property WP_Term::$category_parent is deprecated in /customers/c/9/8/wpin4.1prod.one/httpd.www/landing-v2/wp-includes/category.php on line 383 Deprecated: Creation of dynamic property WP_Term::$cat_ID is deprecated in /customers/c/9/8/wpin4.1prod.one/httpd.www/landing-v2/wp-includes/category.php on line 378 Deprecated: Creation of dynamic property WP_Term::$category_count is deprecated in /customers/c/9/8/wpin4.1prod.one/httpd.www/landing-v2/wp-includes/category.php on line 379 Deprecated: Creation of dynamic property WP_Term::$category_description is deprecated in /customers/c/9/8/wpin4.1prod.one/httpd.www/landing-v2/wp-includes/category.php on line 380 Deprecated: Creation of dynamic property WP_Term::$cat_name is deprecated in /customers/c/9/8/wpin4.1prod.one/httpd.www/landing-v2/wp-includes/category.php on line 381 Deprecated: Creation of dynamic property WP_Term::$category_nicename is deprecated in /customers/c/9/8/wpin4.1prod.one/httpd.www/landing-v2/wp-includes/category.php on line 382 Deprecated: Creation of dynamic property WP_Term::$category_parent is deprecated in /customers/c/9/8/wpin4.1prod.one/httpd.www/landing-v2/wp-includes/category.php on line 383 Warning: Undefined variable $blocks in /customers/c/9/8/wpin4.1prod.one/httpd.www/landing-v2/wp-content/themes/onecom-landing-page-v2/functions.php on line 1441 Warning: Trying to access array offset on value of type null in /customers/c/9/8/wpin4.1prod.one/httpd.www/landing-v2/wp-content/themes/onecom-landing-page-v2/functions.php on line 1441 Warning: Trying to access array offset on value of type null in /customers/c/9/8/wpin4.1prod.one/httpd.www/landing-v2/wp-content/themes/onecom-landing-page-v2/functions.php on line 1441 Deprecated: preg_match(): Passing null to parameter #2 ($subject) of type string is deprecated in /customers/c/9/8/wpin4.1prod.one/httpd.www/landing-v2/wp-content/themes/onecom-landing-page-v2/functions.php on line 1442 Deprecated: Creation of dynamic property WP_Term::$cat_ID is deprecated in /customers/c/9/8/wpin4.1prod.one/httpd.www/landing-v2/wp-includes/category.php on line 378 Deprecated: Creation of dynamic property WP_Term::$category_count is deprecated in /customers/c/9/8/wpin4.1prod.one/httpd.www/landing-v2/wp-includes/category.php on line 379 Deprecated: Creation of dynamic property WP_Term::$category_description is deprecated in /customers/c/9/8/wpin4.1prod.one/httpd.www/landing-v2/wp-includes/category.php on line 380 Deprecated: Creation of dynamic property WP_Term::$cat_name is deprecated in /customers/c/9/8/wpin4.1prod.one/httpd.www/landing-v2/wp-includes/category.php on line 381 Deprecated: Creation of dynamic property WP_Term::$category_nicename is deprecated in /customers/c/9/8/wpin4.1prod.one/httpd.www/landing-v2/wp-includes/category.php on line 382 Deprecated: Creation of dynamic property WP_Term::$category_parent is deprecated in /customers/c/9/8/wpin4.1prod.one/httpd.www/landing-v2/wp-includes/category.php on line 383 Warning: Undefined variable $blocks in /customers/c/9/8/wpin4.1prod.one/httpd.www/landing-v2/wp-content/themes/onecom-landing-page-v2/functions.php on line 1441 Warning: Trying to access array offset on value of type null in /customers/c/9/8/wpin4.1prod.one/httpd.www/landing-v2/wp-content/themes/onecom-landing-page-v2/functions.php on line 1441 Warning: Trying to access array offset on value of type null in /customers/c/9/8/wpin4.1prod.one/httpd.www/landing-v2/wp-content/themes/onecom-landing-page-v2/functions.php on line 1441 Deprecated: preg_match(): Passing null to parameter #2 ($subject) of type string is deprecated in /customers/c/9/8/wpin4.1prod.one/httpd.www/landing-v2/wp-content/themes/onecom-landing-page-v2/functions.php on line 1442 Deprecated: Creation of dynamic property WP_Term::$cat_ID is deprecated in /customers/c/9/8/wpin4.1prod.one/httpd.www/landing-v2/wp-includes/category.php on line 378 Deprecated: Creation of dynamic property WP_Term::$category_count is deprecated in /customers/c/9/8/wpin4.1prod.one/httpd.www/landing-v2/wp-includes/category.php on line 379 Deprecated: Creation of dynamic property WP_Term::$category_description is deprecated in /customers/c/9/8/wpin4.1prod.one/httpd.www/landing-v2/wp-includes/category.php on line 380 Deprecated: Creation of dynamic property WP_Term::$cat_name is deprecated in /customers/c/9/8/wpin4.1prod.one/httpd.www/landing-v2/wp-includes/category.php on line 381 Deprecated: Creation of dynamic property WP_Term::$category_nicename is deprecated in /customers/c/9/8/wpin4.1prod.one/httpd.www/landing-v2/wp-includes/category.php on line 382 Deprecated: Creation of dynamic property WP_Term::$category_parent is deprecated in /customers/c/9/8/wpin4.1prod.one/httpd.www/landing-v2/wp-includes/category.php on line 383 Deprecated: Creation of dynamic property WP_Term::$cat_ID is deprecated in /customers/c/9/8/wpin4.1prod.one/httpd.www/landing-v2/wp-includes/category.php on line 378 Deprecated: Creation of dynamic property WP_Term::$category_count is deprecated in /customers/c/9/8/wpin4.1prod.one/httpd.www/landing-v2/wp-includes/category.php on line 379 Deprecated: Creation of dynamic property WP_Term::$category_description is deprecated in /customers/c/9/8/wpin4.1prod.one/httpd.www/landing-v2/wp-includes/category.php on line 380 Deprecated: Creation of dynamic property WP_Term::$cat_name is deprecated in /customers/c/9/8/wpin4.1prod.one/httpd.www/landing-v2/wp-includes/category.php on line 381 Deprecated: Creation of dynamic property WP_Term::$category_nicename is deprecated in /customers/c/9/8/wpin4.1prod.one/httpd.www/landing-v2/wp-includes/category.php on line 382 Deprecated: Creation of dynamic property WP_Term::$category_parent is deprecated in /customers/c/9/8/wpin4.1prod.one/httpd.www/landing-v2/wp-includes/category.php on line 383 Warning: Undefined variable $blocks in /customers/c/9/8/wpin4.1prod.one/httpd.www/landing-v2/wp-content/themes/onecom-landing-page-v2/functions.php on line 1441 Warning: Trying to access array offset on value of type null in /customers/c/9/8/wpin4.1prod.one/httpd.www/landing-v2/wp-content/themes/onecom-landing-page-v2/functions.php on line 1441 Warning: Trying to access array offset on value of type null in /customers/c/9/8/wpin4.1prod.one/httpd.www/landing-v2/wp-content/themes/onecom-landing-page-v2/functions.php on line 1441 Deprecated: preg_match(): Passing null to parameter #2 ($subject) of type string is deprecated in /customers/c/9/8/wpin4.1prod.one/httpd.www/landing-v2/wp-content/themes/onecom-landing-page-v2/functions.php on line 1442 Deprecated: Creation of dynamic property WP_Term::$cat_ID is deprecated in /customers/c/9/8/wpin4.1prod.one/httpd.www/landing-v2/wp-includes/category.php on line 378 Deprecated: Creation of dynamic property WP_Term::$category_count is deprecated in /customers/c/9/8/wpin4.1prod.one/httpd.www/landing-v2/wp-includes/category.php on line 379 Deprecated: Creation of dynamic property WP_Term::$category_description is deprecated in /customers/c/9/8/wpin4.1prod.one/httpd.www/landing-v2/wp-includes/category.php on line 380 Deprecated: Creation of dynamic property WP_Term::$cat_name is deprecated in /customers/c/9/8/wpin4.1prod.one/httpd.www/landing-v2/wp-includes/category.php on line 381 Deprecated: Creation of dynamic property WP_Term::$category_nicename is deprecated in /customers/c/9/8/wpin4.1prod.one/httpd.www/landing-v2/wp-includes/category.php on line 382 Deprecated: Creation of dynamic property WP_Term::$category_parent is deprecated in /customers/c/9/8/wpin4.1prod.one/httpd.www/landing-v2/wp-includes/category.php on line 383 Warning: Undefined variable $blocks in /customers/c/9/8/wpin4.1prod.one/httpd.www/landing-v2/wp-content/themes/onecom-landing-page-v2/functions.php on line 1441 Warning: Trying to access array offset on value of type null in /customers/c/9/8/wpin4.1prod.one/httpd.www/landing-v2/wp-content/themes/onecom-landing-page-v2/functions.php on line 1441 Warning: Trying to access array offset on value of type null in /customers/c/9/8/wpin4.1prod.one/httpd.www/landing-v2/wp-content/themes/onecom-landing-page-v2/functions.php on line 1441 Deprecated: preg_match(): Passing null to parameter #2 ($subject) of type string is deprecated in /customers/c/9/8/wpin4.1prod.one/httpd.www/landing-v2/wp-content/themes/onecom-landing-page-v2/functions.php on line 1442 Deprecated: Creation of dynamic property WP_Term::$cat_ID is deprecated in /customers/c/9/8/wpin4.1prod.one/httpd.www/landing-v2/wp-includes/category.php on line 378 Deprecated: Creation of dynamic property WP_Term::$category_count is deprecated in /customers/c/9/8/wpin4.1prod.one/httpd.www/landing-v2/wp-includes/category.php on line 379 Deprecated: Creation of dynamic property WP_Term::$category_description is deprecated in /customers/c/9/8/wpin4.1prod.one/httpd.www/landing-v2/wp-includes/category.php on line 380 Deprecated: Creation of dynamic property WP_Term::$cat_name is deprecated in /customers/c/9/8/wpin4.1prod.one/httpd.www/landing-v2/wp-includes/category.php on line 381 Deprecated: Creation of dynamic property WP_Term::$category_nicename is deprecated in /customers/c/9/8/wpin4.1prod.one/httpd.www/landing-v2/wp-includes/category.php on line 382 Deprecated: Creation of dynamic property WP_Term::$category_parent is deprecated in /customers/c/9/8/wpin4.1prod.one/httpd.www/landing-v2/wp-includes/category.php on line 383 Warning: Undefined variable $blocks in /customers/c/9/8/wpin4.1prod.one/httpd.www/landing-v2/wp-content/themes/onecom-landing-page-v2/functions.php on line 1441 Warning: Trying to access array offset on value of type null in /customers/c/9/8/wpin4.1prod.one/httpd.www/landing-v2/wp-content/themes/onecom-landing-page-v2/functions.php on line 1441 Warning: Trying to access array offset on value of type null in /customers/c/9/8/wpin4.1prod.one/httpd.www/landing-v2/wp-content/themes/onecom-landing-page-v2/functions.php on line 1441 Deprecated: preg_match(): Passing null to parameter #2 ($subject) of type string is deprecated in /customers/c/9/8/wpin4.1prod.one/httpd.www/landing-v2/wp-content/themes/onecom-landing-page-v2/functions.php on line 1442 Deprecated: Creation of dynamic property WP_Term::$cat_ID is deprecated in /customers/c/9/8/wpin4.1prod.one/httpd.www/landing-v2/wp-includes/category.php on line 378 Deprecated: Creation of dynamic property WP_Term::$category_count is deprecated in /customers/c/9/8/wpin4.1prod.one/httpd.www/landing-v2/wp-includes/category.php on line 379 Deprecated: Creation of dynamic property WP_Term::$category_description is deprecated in /customers/c/9/8/wpin4.1prod.one/httpd.www/landing-v2/wp-includes/category.php on line 380 Deprecated: Creation of dynamic property WP_Term::$cat_name is deprecated in /customers/c/9/8/wpin4.1prod.one/httpd.www/landing-v2/wp-includes/category.php on line 381 Deprecated: Creation of dynamic property WP_Term::$category_nicename is deprecated in /customers/c/9/8/wpin4.1prod.one/httpd.www/landing-v2/wp-includes/category.php on line 382 Deprecated: Creation of dynamic property WP_Term::$category_parent is deprecated in /customers/c/9/8/wpin4.1prod.one/httpd.www/landing-v2/wp-includes/category.php on line 383 Deprecated: Creation of dynamic property WP_Term::$cat_ID is deprecated in /customers/c/9/8/wpin4.1prod.one/httpd.www/landing-v2/wp-includes/category.php on line 378 Deprecated: Creation of dynamic property WP_Term::$category_count is deprecated in /customers/c/9/8/wpin4.1prod.one/httpd.www/landing-v2/wp-includes/category.php on line 379 Deprecated: Creation of dynamic property WP_Term::$category_description is deprecated in /customers/c/9/8/wpin4.1prod.one/httpd.www/landing-v2/wp-includes/category.php on line 380 Deprecated: Creation of dynamic property WP_Term::$cat_name is deprecated in /customers/c/9/8/wpin4.1prod.one/httpd.www/landing-v2/wp-includes/category.php on line 381 Deprecated: Creation of dynamic property WP_Term::$category_nicename is deprecated in /customers/c/9/8/wpin4.1prod.one/httpd.www/landing-v2/wp-includes/category.php on line 382 Deprecated: Creation of dynamic property WP_Term::$category_parent is deprecated in /customers/c/9/8/wpin4.1prod.one/httpd.www/landing-v2/wp-includes/category.php on line 383 Warning: Undefined variable $blocks in /customers/c/9/8/wpin4.1prod.one/httpd.www/landing-v2/wp-content/themes/onecom-landing-page-v2/functions.php on line 1441 Warning: Trying to access array offset on value of type null in /customers/c/9/8/wpin4.1prod.one/httpd.www/landing-v2/wp-content/themes/onecom-landing-page-v2/functions.php on line 1441 Warning: Trying to access array offset on value of type null in /customers/c/9/8/wpin4.1prod.one/httpd.www/landing-v2/wp-content/themes/onecom-landing-page-v2/functions.php on line 1441 Deprecated: preg_match(): Passing null to parameter #2 ($subject) of type string is deprecated in /customers/c/9/8/wpin4.1prod.one/httpd.www/landing-v2/wp-content/themes/onecom-landing-page-v2/functions.php on line 1442 Deprecated: Creation of dynamic property WP_Term::$cat_ID is deprecated in /customers/c/9/8/wpin4.1prod.one/httpd.www/landing-v2/wp-includes/category.php on line 378 Deprecated: Creation of dynamic property WP_Term::$category_count is deprecated in /customers/c/9/8/wpin4.1prod.one/httpd.www/landing-v2/wp-includes/category.php on line 379 Deprecated: Creation of dynamic property WP_Term::$category_description is deprecated in /customers/c/9/8/wpin4.1prod.one/httpd.www/landing-v2/wp-includes/category.php on line 380 Deprecated: Creation of dynamic property WP_Term::$cat_name is deprecated in /customers/c/9/8/wpin4.1prod.one/httpd.www/landing-v2/wp-includes/category.php on line 381 Deprecated: Creation of dynamic property WP_Term::$category_nicename is deprecated in /customers/c/9/8/wpin4.1prod.one/httpd.www/landing-v2/wp-includes/category.php on line 382 Deprecated: Creation of dynamic property WP_Term::$category_parent is deprecated in /customers/c/9/8/wpin4.1prod.one/httpd.www/landing-v2/wp-includes/category.php on line 383 Deprecated: Creation of dynamic property WP_Term::$cat_ID is deprecated in /customers/c/9/8/wpin4.1prod.one/httpd.www/landing-v2/wp-includes/category.php on line 378 Deprecated: Creation of dynamic property WP_Term::$category_count is deprecated in /customers/c/9/8/wpin4.1prod.one/httpd.www/landing-v2/wp-includes/category.php on line 379 Deprecated: Creation of dynamic property WP_Term::$category_description is deprecated in /customers/c/9/8/wpin4.1prod.one/httpd.www/landing-v2/wp-includes/category.php on line 380 Deprecated: Creation of dynamic property WP_Term::$cat_name is deprecated in /customers/c/9/8/wpin4.1prod.one/httpd.www/landing-v2/wp-includes/category.php on line 381 Deprecated: Creation of dynamic property WP_Term::$category_nicename is deprecated in /customers/c/9/8/wpin4.1prod.one/httpd.www/landing-v2/wp-includes/category.php on line 382 Deprecated: Creation of dynamic property WP_Term::$category_parent is deprecated in /customers/c/9/8/wpin4.1prod.one/httpd.www/landing-v2/wp-includes/category.php on line 383 Warning: Undefined variable $blocks in /customers/c/9/8/wpin4.1prod.one/httpd.www/landing-v2/wp-content/themes/onecom-landing-page-v2/functions.php on line 1441 Warning: Trying to access array offset on value of type null in /customers/c/9/8/wpin4.1prod.one/httpd.www/landing-v2/wp-content/themes/onecom-landing-page-v2/functions.php on line 1441 Warning: Trying to access array offset on value of type null in /customers/c/9/8/wpin4.1prod.one/httpd.www/landing-v2/wp-content/themes/onecom-landing-page-v2/functions.php on line 1441 Deprecated: preg_match(): Passing null to parameter #2 ($subject) of type string is deprecated in /customers/c/9/8/wpin4.1prod.one/httpd.www/landing-v2/wp-content/themes/onecom-landing-page-v2/functions.php on line 1442 Deprecated: Creation of dynamic property WP_Block::$attributes is deprecated in /customers/c/9/8/wpin4.1prod.one/httpd.www/landing-v2/wp-includes/class-wp-block.php on line 179 Deprecated: Creation of dynamic property WP_Block::$attributes is deprecated in /customers/c/9/8/wpin4.1prod.one/httpd.www/landing-v2/wp-includes/class-wp-block.php on line 179 Deprecated: Creation of dynamic property WP_Term::$cat_ID is deprecated in /customers/c/9/8/wpin4.1prod.one/httpd.www/landing-v2/wp-includes/category.php on line 378 Deprecated: Creation of dynamic property WP_Term::$category_count is deprecated in /customers/c/9/8/wpin4.1prod.one/httpd.www/landing-v2/wp-includes/category.php on line 379 Deprecated: Creation of dynamic property WP_Term::$category_description is deprecated in /customers/c/9/8/wpin4.1prod.one/httpd.www/landing-v2/wp-includes/category.php on line 380 Deprecated: Creation of dynamic property WP_Term::$cat_name is deprecated in /customers/c/9/8/wpin4.1prod.one/httpd.www/landing-v2/wp-includes/category.php on line 381 Deprecated: Creation of dynamic property WP_Term::$category_nicename is deprecated in /customers/c/9/8/wpin4.1prod.one/httpd.www/landing-v2/wp-includes/category.php on line 382 Deprecated: Creation of dynamic property WP_Term::$category_parent is deprecated in /customers/c/9/8/wpin4.1prod.one/httpd.www/landing-v2/wp-includes/category.php on line 383 Deprecated: Creation of dynamic property WP_Block::$attributes is deprecated in /customers/c/9/8/wpin4.1prod.one/httpd.www/landing-v2/wp-includes/class-wp-block.php on line 179 Deprecated: Creation of dynamic property WP_Term::$cat_ID is deprecated in /customers/c/9/8/wpin4.1prod.one/httpd.www/landing-v2/wp-includes/category.php on line 378 Deprecated: Creation of dynamic property WP_Term::$category_count is deprecated in /customers/c/9/8/wpin4.1prod.one/httpd.www/landing-v2/wp-includes/category.php on line 379 Deprecated: Creation of dynamic property WP_Term::$category_description is deprecated in /customers/c/9/8/wpin4.1prod.one/httpd.www/landing-v2/wp-includes/category.php on line 380 Deprecated: Creation of dynamic property WP_Term::$cat_name is deprecated in /customers/c/9/8/wpin4.1prod.one/httpd.www/landing-v2/wp-includes/category.php on line 381 Deprecated: Creation of dynamic property WP_Term::$category_nicename is deprecated in /customers/c/9/8/wpin4.1prod.one/httpd.www/landing-v2/wp-includes/category.php on line 382 Deprecated: Creation of dynamic property WP_Term::$category_parent is deprecated in /customers/c/9/8/wpin4.1prod.one/httpd.www/landing-v2/wp-includes/category.php on line 383 Deprecated: Creation of dynamic property WP_Block::$attributes is deprecated in /customers/c/9/8/wpin4.1prod.one/httpd.www/landing-v2/wp-includes/class-wp-block.php on line 179 Deprecated: Creation of dynamic property WP_Term::$cat_ID is deprecated in /customers/c/9/8/wpin4.1prod.one/httpd.www/landing-v2/wp-includes/category.php on line 378 Deprecated: Creation of dynamic property WP_Term::$category_count is deprecated in /customers/c/9/8/wpin4.1prod.one/httpd.www/landing-v2/wp-includes/category.php on line 379 Deprecated: Creation of dynamic property WP_Term::$category_description is deprecated in /customers/c/9/8/wpin4.1prod.one/httpd.www/landing-v2/wp-includes/category.php on line 380 Deprecated: Creation of dynamic property WP_Term::$cat_name is deprecated in /customers/c/9/8/wpin4.1prod.one/httpd.www/landing-v2/wp-includes/category.php on line 381 Deprecated: Creation of dynamic property WP_Term::$category_nicename is deprecated in /customers/c/9/8/wpin4.1prod.one/httpd.www/landing-v2/wp-includes/category.php on line 382 Deprecated: Creation of dynamic property WP_Term::$category_parent is deprecated in /customers/c/9/8/wpin4.1prod.one/httpd.www/landing-v2/wp-includes/category.php on line 383 Deprecated: Creation of dynamic property WP_Term::$cat_ID is deprecated in /customers/c/9/8/wpin4.1prod.one/httpd.www/landing-v2/wp-includes/category.php on line 378 Deprecated: Creation of dynamic property WP_Term::$category_count is deprecated in /customers/c/9/8/wpin4.1prod.one/httpd.www/landing-v2/wp-includes/category.php on line 379 Deprecated: Creation of dynamic property WP_Term::$category_description is deprecated in /customers/c/9/8/wpin4.1prod.one/httpd.www/landing-v2/wp-includes/category.php on line 380 Deprecated: Creation of dynamic property WP_Term::$cat_name is deprecated in /customers/c/9/8/wpin4.1prod.one/httpd.www/landing-v2/wp-includes/category.php on line 381 Deprecated: Creation of dynamic property WP_Term::$category_nicename is deprecated in /customers/c/9/8/wpin4.1prod.one/httpd.www/landing-v2/wp-includes/category.php on line 382 Deprecated: Creation of dynamic property WP_Term::$category_parent is deprecated in /customers/c/9/8/wpin4.1prod.one/httpd.www/landing-v2/wp-includes/category.php on line 383 Deprecated: Creation of dynamic property WP_Term::$cat_ID is deprecated in /customers/c/9/8/wpin4.1prod.one/httpd.www/landing-v2/wp-includes/category.php on line 378 Deprecated: Creation of dynamic property WP_Term::$category_count is deprecated in /customers/c/9/8/wpin4.1prod.one/httpd.www/landing-v2/wp-includes/category.php on line 379 Deprecated: Creation of dynamic property WP_Term::$category_description is deprecated in /customers/c/9/8/wpin4.1prod.one/httpd.www/landing-v2/wp-includes/category.php on line 380 Deprecated: Creation of dynamic property WP_Term::$cat_name is deprecated in /customers/c/9/8/wpin4.1prod.one/httpd.www/landing-v2/wp-includes/category.php on line 381 Deprecated: Creation of dynamic property WP_Term::$category_nicename is deprecated in /customers/c/9/8/wpin4.1prod.one/httpd.www/landing-v2/wp-includes/category.php on line 382 Deprecated: Creation of dynamic property WP_Term::$category_parent is deprecated in /customers/c/9/8/wpin4.1prod.one/httpd.www/landing-v2/wp-includes/category.php on line 383 Deprecated: Creation of dynamic property WP_Term::$cat_ID is deprecated in /customers/c/9/8/wpin4.1prod.one/httpd.www/landing-v2/wp-includes/category.php on line 378 Deprecated: Creation of dynamic property WP_Term::$category_count is deprecated in /customers/c/9/8/wpin4.1prod.one/httpd.www/landing-v2/wp-includes/category.php on line 379 Deprecated: Creation of dynamic property WP_Term::$category_description is deprecated in /customers/c/9/8/wpin4.1prod.one/httpd.www/landing-v2/wp-includes/category.php on line 380 Deprecated: Creation of dynamic property WP_Term::$cat_name is deprecated in /customers/c/9/8/wpin4.1prod.one/httpd.www/landing-v2/wp-includes/category.php on line 381 Deprecated: Creation of dynamic property WP_Term::$category_nicename is deprecated in /customers/c/9/8/wpin4.1prod.one/httpd.www/landing-v2/wp-includes/category.php on line 382 Deprecated: Creation of dynamic property WP_Term::$category_parent is deprecated in /customers/c/9/8/wpin4.1prod.one/httpd.www/landing-v2/wp-includes/category.php on line 383 Deprecated: Creation of dynamic property WP_Term::$cat_ID is deprecated in /customers/c/9/8/wpin4.1prod.one/httpd.www/landing-v2/wp-includes/category.php on line 378 Deprecated: Creation of dynamic property WP_Term::$category_count is deprecated in /customers/c/9/8/wpin4.1prod.one/httpd.www/landing-v2/wp-includes/category.php on line 379 Deprecated: Creation of dynamic property WP_Term::$category_description is deprecated in /customers/c/9/8/wpin4.1prod.one/httpd.www/landing-v2/wp-includes/category.php on line 380 Deprecated: Creation of dynamic property WP_Term::$cat_name is deprecated in /customers/c/9/8/wpin4.1prod.one/httpd.www/landing-v2/wp-includes/category.php on line 381 Deprecated: Creation of dynamic property WP_Term::$category_nicename is deprecated in /customers/c/9/8/wpin4.1prod.one/httpd.www/landing-v2/wp-includes/category.php on line 382 Deprecated: Creation of dynamic property WP_Term::$category_parent is deprecated in /customers/c/9/8/wpin4.1prod.one/httpd.www/landing-v2/wp-includes/category.php on line 383 Deprecated: Creation of dynamic property WP_Term::$cat_ID is deprecated in /customers/c/9/8/wpin4.1prod.one/httpd.www/landing-v2/wp-includes/category.php on line 378 Deprecated: Creation of dynamic property WP_Term::$category_count is deprecated in /customers/c/9/8/wpin4.1prod.one/httpd.www/landing-v2/wp-includes/category.php on line 379 Deprecated: Creation of dynamic property WP_Term::$category_description is deprecated in /customers/c/9/8/wpin4.1prod.one/httpd.www/landing-v2/wp-includes/category.php on line 380 Deprecated: Creation of dynamic property WP_Term::$cat_name is deprecated in /customers/c/9/8/wpin4.1prod.one/httpd.www/landing-v2/wp-includes/category.php on line 381 Deprecated: Creation of dynamic property WP_Term::$category_nicename is deprecated in /customers/c/9/8/wpin4.1prod.one/httpd.www/landing-v2/wp-includes/category.php on line 382 Deprecated: Creation of dynamic property WP_Term::$category_parent is deprecated in /customers/c/9/8/wpin4.1prod.one/httpd.www/landing-v2/wp-includes/category.php on line 383 Deprecated: Creation of dynamic property WP_Term::$cat_ID is deprecated in /customers/c/9/8/wpin4.1prod.one/httpd.www/landing-v2/wp-includes/category.php on line 378 Deprecated: Creation of dynamic property WP_Term::$category_count is deprecated in /customers/c/9/8/wpin4.1prod.one/httpd.www/landing-v2/wp-includes/category.php on line 379 Deprecated: Creation of dynamic property WP_Term::$category_description is deprecated in /customers/c/9/8/wpin4.1prod.one/httpd.www/landing-v2/wp-includes/category.php on line 380 Deprecated: Creation of dynamic property WP_Term::$cat_name is deprecated in /customers/c/9/8/wpin4.1prod.one/httpd.www/landing-v2/wp-includes/category.php on line 381 Deprecated: Creation of dynamic property WP_Term::$category_nicename is deprecated in /customers/c/9/8/wpin4.1prod.one/httpd.www/landing-v2/wp-includes/category.php on line 382 Deprecated: Creation of dynamic property WP_Term::$category_parent is deprecated in /customers/c/9/8/wpin4.1prod.one/httpd.www/landing-v2/wp-includes/category.php on line 383 Deprecated: Creation of dynamic property WP_Term::$object_id is deprecated in /customers/c/9/8/wpin4.1prod.one/httpd.www/landing-v2/wp-includes/class-wp-term-query.php on line 1118 Deprecated: Creation of dynamic property WP_Term::$object_id is deprecated in /customers/c/9/8/wpin4.1prod.one/httpd.www/landing-v2/wp-includes/class-wp-term-query.php on line 1118 Deprecated: Creation of dynamic property WP_Term::$object_id is deprecated in /customers/c/9/8/wpin4.1prod.one/httpd.www/landing-v2/wp-includes/class-wp-term-query.php on line 1118 Deprecated: Creation of dynamic property WP_Term::$object_id is deprecated in /customers/c/9/8/wpin4.1prod.one/httpd.www/landing-v2/wp-includes/class-wp-term-query.php on line 1118 Deprecated: Creation of dynamic property WP_Term::$object_id is deprecated in /customers/c/9/8/wpin4.1prod.one/httpd.www/landing-v2/wp-includes/class-wp-term-query.php on line 1118 Deprecated: Creation of dynamic property WP_Term::$object_id is deprecated in /customers/c/9/8/wpin4.1prod.one/httpd.www/landing-v2/wp-includes/class-wp-term-query.php on line 1118 Deprecated: Creation of dynamic property WP_Term::$object_id is deprecated in /customers/c/9/8/wpin4.1prod.one/httpd.www/landing-v2/wp-includes/class-wp-term-query.php on line 1118 Deprecated: Creation of dynamic property WP_Term::$object_id is deprecated in /customers/c/9/8/wpin4.1prod.one/httpd.www/landing-v2/wp-includes/class-wp-term-query.php on line 1118 Deprecated: Creation of dynamic property WP_Term::$object_id is deprecated in /customers/c/9/8/wpin4.1prod.one/httpd.www/landing-v2/wp-includes/class-wp-term-query.php on line 1118 Deprecated: Creation of dynamic property WP_Term::$object_id is deprecated in /customers/c/9/8/wpin4.1prod.one/httpd.www/landing-v2/wp-includes/class-wp-term-query.php on line 1118 Deprecated: Creation of dynamic property WP_Term::$object_id is deprecated in /customers/c/9/8/wpin4.1prod.one/httpd.www/landing-v2/wp-includes/class-wp-term-query.php on line 1118 Deprecated: Creation of dynamic property WP_Term::$object_id is deprecated in /customers/c/9/8/wpin4.1prod.one/httpd.www/landing-v2/wp-includes/class-wp-term-query.php on line 1118 Deprecated: Creation of dynamic property WP_Term::$object_id is deprecated in /customers/c/9/8/wpin4.1prod.one/httpd.www/landing-v2/wp-includes/class-wp-term-query.php on line 1118 Deprecated: Creation of dynamic property WP_Term::$object_id is deprecated in /customers/c/9/8/wpin4.1prod.one/httpd.www/landing-v2/wp-includes/class-wp-term-query.php on line 1118 Deprecated: Creation of dynamic property WP_Term::$object_id is deprecated in /customers/c/9/8/wpin4.1prod.one/httpd.www/landing-v2/wp-includes/class-wp-term-query.php on line 1118 Deprecated: Creation of dynamic property WP_Term::$object_id is deprecated in /customers/c/9/8/wpin4.1prod.one/httpd.www/landing-v2/wp-includes/class-wp-term-query.php on line 1118 Deprecated: Creation of dynamic property WP_Term::$object_id is deprecated in /customers/c/9/8/wpin4.1prod.one/httpd.www/landing-v2/wp-includes/class-wp-term-query.php on line 1118 Deprecated: Creation of dynamic property WP_Term::$object_id is deprecated in /customers/c/9/8/wpin4.1prod.one/httpd.www/landing-v2/wp-includes/class-wp-term-query.php on line 1118
Eigen webshop maken
Begin een webwinkel en verkoop je producten online
Het starten van een eigen webshop is een uitstekende manier om je merk uit te breiden en meer klanten aan te trekken. Een webshop is niet alleen een goede toevoeging aan fysieke winkels, maar kan ook prima op zich eigen functioneren.
Een webshop heeft verschillende voordelen. Zo kost het weinig geld om een webshop te runnen in vergelijking met een fysieke winkel, en is een webshop altijd geopend. Daarnaast is heel goedkoop en eenvoudig om een webshop te beginnen!
Met one.com, kun je in korte tijd een webshop maken. Kies gewoon een van onze bestaande templates, voeg je producten toe en stel de betaalmethodes in.
Voor bedrijven die online succesvol willen zijn
Eerste jaar gratis
met elk hosting plan
Eerste jaar gratis
met elk hosting plan
Waarom een webshop maken met one.com?
Bij one.com heb je verschillende opties om een webshop te maken. Zo kun je je webshop bouwen met Website Builder, je webshop maken in combinatie met WordPress, of voor de snelste weg te kiezen en een 1-click shop te installeren. Daarnaast biedt het maken van een webshop bij one.com verschillende voordelen:
Responsief design
Je webshop ziet er op ieder apparaat top uit dankzij onze responsieve ontwerpen.
Een veilige webshop
Een gratis SSL certificaat wordt geïnstalleerd om de gegevens van klanten te beschermen.

Diverse betaalmethodes
Verschillende betaalmethodes zodat je klanten geen problemen krijgen bij het betalen.
Geen transactiekosten
Wij rekenen geen transactiekosten over de producten en services die jij verkoopt.
Marketing tools
Promoot je producten en krijg meer bezoekers met behulp van onze optionele marketing tools.

24/7 support
Als je vragen hebt of hulp nodig hebt, is onze support altijd beschikbaar om je te helpen.

Wat onze klanten over ons zeggen
"Ik heb nog nooit een website gemaakt, maar via one.com is het me toch gelukt om een website te maken met webshop. En 't ziet er nog leuk uit ook!" – Evelyn
Een eigen webshop maken in 4 stappen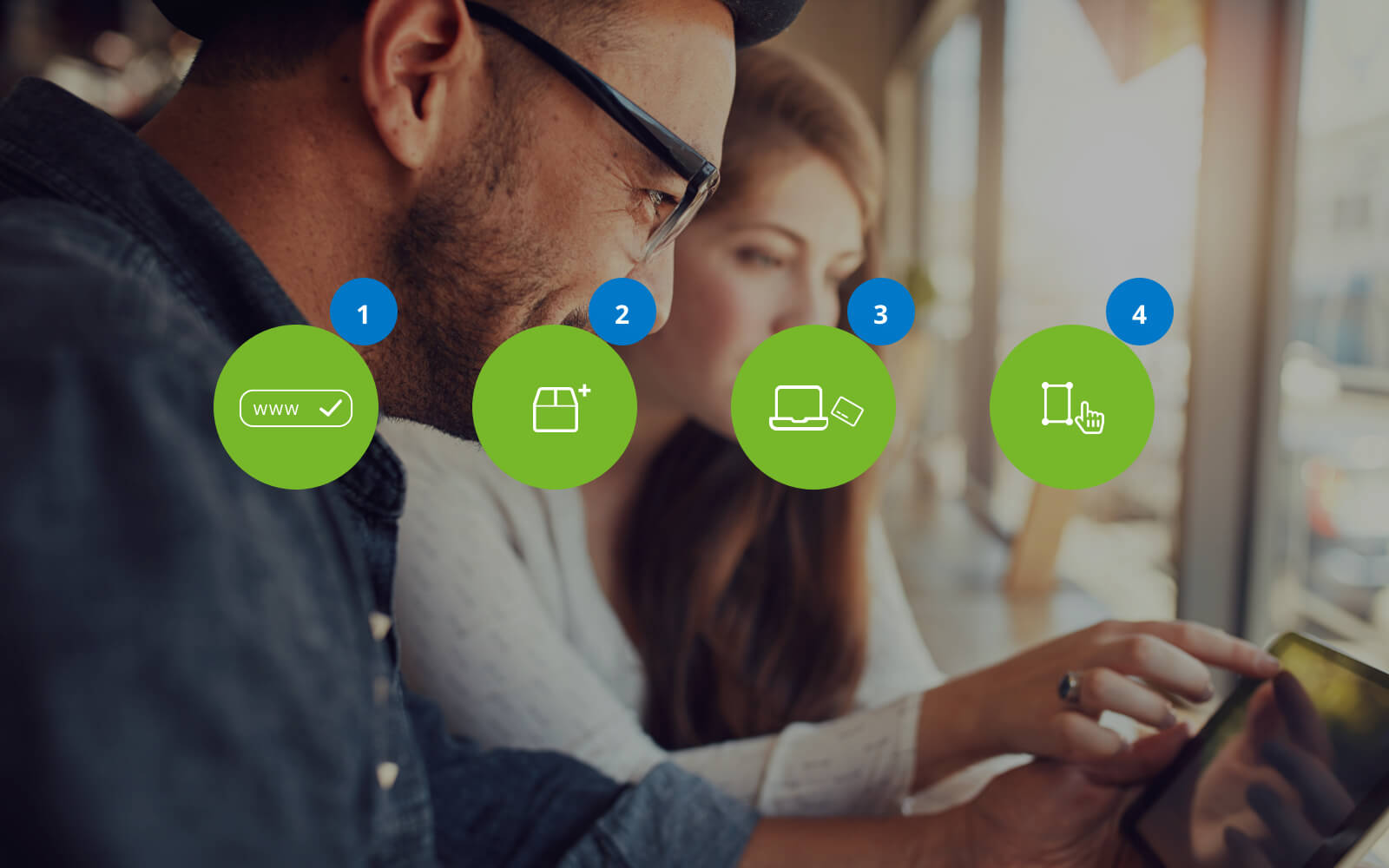 Door deze stappen te volgen, heb je binnen no time je webshop online en kun je beginnen met het online verkopen van je producten.
1. Registreer een domeinnaam
De eerste stap voor het maken van een webshop is het registreren van een domeinnaam. We raden je aan om de naam van je winkel of webshop als domeinnaam te gebruiken. Als deze domeinnaam niet meer beschikbaar is, tonen we geschikte alternatieven.
Kies de domeinextensie van het land waarin je wilt verkopen. Als je je producten internationaal wilt verkopen, is het een goed idee om een meer generieke extensie te kiezen, zoals .com of .eu.
Nadat je jouw bestelling hebt afgerond, kun je inloggen bij one.com en navigeren naar Webwinkel. Klik vervolgens op Mijn shop aanmaken.
2. Voeg producten toe
Nadat je webwinkel geïnstalleerd is, kunnen we deze met producten gaan vullen. Het is mogelijk om zowel fysieke als digitale producten toe te voegen. Je kunt dit doen via Producten.
Klik op Product toevoegen, vul de productdetails in een upload een afbeelding van je product. Je kunt ook extra opties inschakelen en bijvoorbeeld verschillende kleuren of groottes van je product toevoegen.
Creëer categorieën om gerelateerde producten te groeperen en het voor bezoekers gemakkelijker om door je webshop te navigeren en het juiste product te vinden.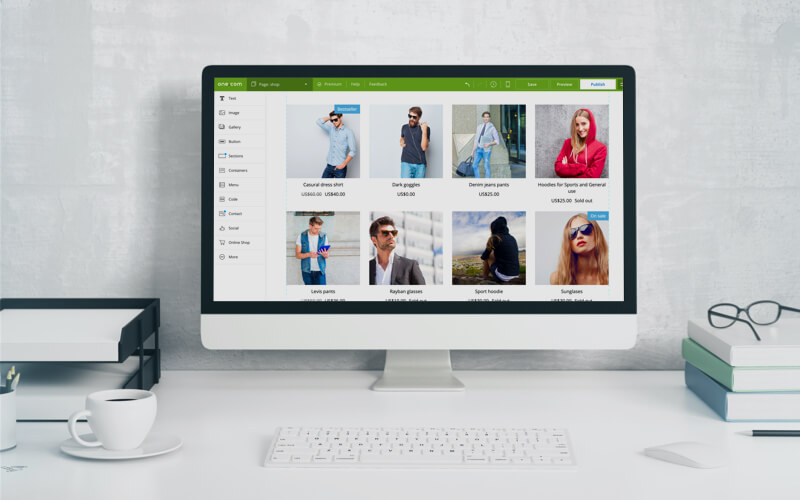 3. Stel betaalmethodes in
Stel je gewenste betaalmethodes in via Instellingen. Je klanten kunnen gebruik maken van de volgende betalingsmogelijkheden:
Stripe

Creditcard, iDEAL, Giropay, Bancontact & SOFORT

PayPal
Handmatige betaling, zoals bankoverschrijving
Hoewel we zelf geen transactiekosten in rekening brengen, kunnen services van derden zoals Stripe dat wel doen.
We raden je aan om andere instellingen, zoals verzendkosten, factuurgegevens en algemene voorwaarden, vast te stellen voordat je webshop live gaat. Bekijk onze webwinkel gidsen als je hulp nodig hebt.
4. Ontwerp je webshop
Ga naar webwinkelvoorkant en kies een methode om je webshop te maken. We raden je aan om Website Builder te gebruiken, omdat je hiermee snel je webshop online kunt krijgen, met een mooi en professioneel design dat makkelijk te onderhouden is.
Om je webshop aan je website toe te voegen, open je de Website Builder. Sleep vervolgens het Webwinkel-component naar je werkruimte. Vergeet niet om de mobiele editor te gebruiken zodat je zeker weet dat je webshop er ook op mobiele apparaten goed uit ziet.
Als alles er goed uit ziet, kun je je webshop publiceren.
Wat doe ik na het maken van mijn webshop?
Zodra je webshop live is, kun je doorgaan met aanpassingen, producten toevoegen en bestellingen volgen. Hier zijn nog enkele tips om het meeste uit je nieuwe webshop te halen:
Maak een professioneel e-mailadres aan. E-mail op je eigen domein geeft je webshop een professionele look en bevordert de communicatie met klanten. Je kunt meerdere accounts maken, zodat elke afdeling of elke medewerker een eigen e-mailadres kan hebben.
Volg bestellingen en informeer klanten. Je kunt alle bestellingen online volgen en deze exporteren voor je persoonlijke administratie. En met onze ingebouwde e-mailtool kun je klanten een update sturen over hun bestelstatus, met je nieuw gecreëerde professionele e-mailadres.
Ga aan de slag met online marketing om meer bezoekers naar je webshop te krijgen en meer producten te verkopen. We bieden een aantal handige marketingtools die je helpen met zoekmachineoptimalisatie, zoekmachine adverteren, lokale marketing en e-mailmarketing. Deze marketingtools zijn niet in alle plannen opgenomen.
Volg ons op social media