Deprecated: Creation of dynamic property WP_Term::$cat_ID is deprecated in /customers/c/9/8/wpin4.1prod.one/httpd.www/landing-v2/wp-includes/category.php on line 378 Deprecated: Creation of dynamic property WP_Term::$category_count is deprecated in /customers/c/9/8/wpin4.1prod.one/httpd.www/landing-v2/wp-includes/category.php on line 379 Deprecated: Creation of dynamic property WP_Term::$category_description is deprecated in /customers/c/9/8/wpin4.1prod.one/httpd.www/landing-v2/wp-includes/category.php on line 380 Deprecated: Creation of dynamic property WP_Term::$cat_name is deprecated in /customers/c/9/8/wpin4.1prod.one/httpd.www/landing-v2/wp-includes/category.php on line 381 Deprecated: Creation of dynamic property WP_Term::$category_nicename is deprecated in /customers/c/9/8/wpin4.1prod.one/httpd.www/landing-v2/wp-includes/category.php on line 382 Deprecated: Creation of dynamic property WP_Term::$category_parent is deprecated in /customers/c/9/8/wpin4.1prod.one/httpd.www/landing-v2/wp-includes/category.php on line 383 Warning: Undefined variable $blocks in /customers/c/9/8/wpin4.1prod.one/httpd.www/landing-v2/wp-content/themes/onecom-landing-page-v2/functions.php on line 1431 Warning: Trying to access array offset on value of type null in /customers/c/9/8/wpin4.1prod.one/httpd.www/landing-v2/wp-content/themes/onecom-landing-page-v2/functions.php on line 1431 Warning: Trying to access array offset on value of type null in /customers/c/9/8/wpin4.1prod.one/httpd.www/landing-v2/wp-content/themes/onecom-landing-page-v2/functions.php on line 1431 Deprecated: str_replace(): Passing null to parameter #3 ($subject) of type array|string is deprecated in /customers/c/9/8/wpin4.1prod.one/httpd.www/landing-v2/wp-content/themes/onecom-landing-page-v2/functions.php on line 1431 Deprecated: Creation of dynamic property WP_Term::$cat_ID is deprecated in /customers/c/9/8/wpin4.1prod.one/httpd.www/landing-v2/wp-includes/category.php on line 378 Deprecated: Creation of dynamic property WP_Term::$category_count is deprecated in /customers/c/9/8/wpin4.1prod.one/httpd.www/landing-v2/wp-includes/category.php on line 379 Deprecated: Creation of dynamic property WP_Term::$category_description is deprecated in /customers/c/9/8/wpin4.1prod.one/httpd.www/landing-v2/wp-includes/category.php on line 380 Deprecated: Creation of dynamic property WP_Term::$cat_name is deprecated in /customers/c/9/8/wpin4.1prod.one/httpd.www/landing-v2/wp-includes/category.php on line 381 Deprecated: Creation of dynamic property WP_Term::$category_nicename is deprecated in /customers/c/9/8/wpin4.1prod.one/httpd.www/landing-v2/wp-includes/category.php on line 382 Deprecated: Creation of dynamic property WP_Term::$category_parent is deprecated in /customers/c/9/8/wpin4.1prod.one/httpd.www/landing-v2/wp-includes/category.php on line 383 Deprecated: Creation of dynamic property WP_Term::$cat_ID is deprecated in /customers/c/9/8/wpin4.1prod.one/httpd.www/landing-v2/wp-includes/category.php on line 378 Deprecated: Creation of dynamic property WP_Term::$category_count is deprecated in /customers/c/9/8/wpin4.1prod.one/httpd.www/landing-v2/wp-includes/category.php on line 379 Deprecated: Creation of dynamic property WP_Term::$category_description is deprecated in /customers/c/9/8/wpin4.1prod.one/httpd.www/landing-v2/wp-includes/category.php on line 380 Deprecated: Creation of dynamic property WP_Term::$cat_name is deprecated in /customers/c/9/8/wpin4.1prod.one/httpd.www/landing-v2/wp-includes/category.php on line 381 Deprecated: Creation of dynamic property WP_Term::$category_nicename is deprecated in /customers/c/9/8/wpin4.1prod.one/httpd.www/landing-v2/wp-includes/category.php on line 382 Deprecated: Creation of dynamic property WP_Term::$category_parent is deprecated in /customers/c/9/8/wpin4.1prod.one/httpd.www/landing-v2/wp-includes/category.php on line 383 Warning: Undefined variable $blocks in /customers/c/9/8/wpin4.1prod.one/httpd.www/landing-v2/wp-content/themes/onecom-landing-page-v2/functions.php on line 1441 Warning: Trying to access array offset on value of type null in /customers/c/9/8/wpin4.1prod.one/httpd.www/landing-v2/wp-content/themes/onecom-landing-page-v2/functions.php on line 1441 Warning: Trying to access array offset on value of type null in /customers/c/9/8/wpin4.1prod.one/httpd.www/landing-v2/wp-content/themes/onecom-landing-page-v2/functions.php on line 1441 Deprecated: preg_match(): Passing null to parameter #2 ($subject) of type string is deprecated in /customers/c/9/8/wpin4.1prod.one/httpd.www/landing-v2/wp-content/themes/onecom-landing-page-v2/functions.php on line 1442 Deprecated: Creation of dynamic property WP_Term::$cat_ID is deprecated in /customers/c/9/8/wpin4.1prod.one/httpd.www/landing-v2/wp-includes/category.php on line 378 Deprecated: Creation of dynamic property WP_Term::$category_count is deprecated in /customers/c/9/8/wpin4.1prod.one/httpd.www/landing-v2/wp-includes/category.php on line 379 Deprecated: Creation of dynamic property WP_Term::$category_description is deprecated in /customers/c/9/8/wpin4.1prod.one/httpd.www/landing-v2/wp-includes/category.php on line 380 Deprecated: Creation of dynamic property WP_Term::$cat_name is deprecated in /customers/c/9/8/wpin4.1prod.one/httpd.www/landing-v2/wp-includes/category.php on line 381 Deprecated: Creation of dynamic property WP_Term::$category_nicename is deprecated in /customers/c/9/8/wpin4.1prod.one/httpd.www/landing-v2/wp-includes/category.php on line 382 Deprecated: Creation of dynamic property WP_Term::$category_parent is deprecated in /customers/c/9/8/wpin4.1prod.one/httpd.www/landing-v2/wp-includes/category.php on line 383 Warning: Undefined variable $blocks in /customers/c/9/8/wpin4.1prod.one/httpd.www/landing-v2/wp-content/themes/onecom-landing-page-v2/functions.php on line 1441 Warning: Trying to access array offset on value of type null in /customers/c/9/8/wpin4.1prod.one/httpd.www/landing-v2/wp-content/themes/onecom-landing-page-v2/functions.php on line 1441 Warning: Trying to access array offset on value of type null in /customers/c/9/8/wpin4.1prod.one/httpd.www/landing-v2/wp-content/themes/onecom-landing-page-v2/functions.php on line 1441 Deprecated: preg_match(): Passing null to parameter #2 ($subject) of type string is deprecated in /customers/c/9/8/wpin4.1prod.one/httpd.www/landing-v2/wp-content/themes/onecom-landing-page-v2/functions.php on line 1442 Deprecated: Creation of dynamic property WP_Term::$cat_ID is deprecated in /customers/c/9/8/wpin4.1prod.one/httpd.www/landing-v2/wp-includes/category.php on line 378 Deprecated: Creation of dynamic property WP_Term::$category_count is deprecated in /customers/c/9/8/wpin4.1prod.one/httpd.www/landing-v2/wp-includes/category.php on line 379 Deprecated: Creation of dynamic property WP_Term::$category_description is deprecated in /customers/c/9/8/wpin4.1prod.one/httpd.www/landing-v2/wp-includes/category.php on line 380 Deprecated: Creation of dynamic property WP_Term::$cat_name is deprecated in /customers/c/9/8/wpin4.1prod.one/httpd.www/landing-v2/wp-includes/category.php on line 381 Deprecated: Creation of dynamic property WP_Term::$category_nicename is deprecated in /customers/c/9/8/wpin4.1prod.one/httpd.www/landing-v2/wp-includes/category.php on line 382 Deprecated: Creation of dynamic property WP_Term::$category_parent is deprecated in /customers/c/9/8/wpin4.1prod.one/httpd.www/landing-v2/wp-includes/category.php on line 383 Warning: Undefined variable $blocks in /customers/c/9/8/wpin4.1prod.one/httpd.www/landing-v2/wp-content/themes/onecom-landing-page-v2/functions.php on line 1441 Warning: Trying to access array offset on value of type null in /customers/c/9/8/wpin4.1prod.one/httpd.www/landing-v2/wp-content/themes/onecom-landing-page-v2/functions.php on line 1441 Warning: Trying to access array offset on value of type null in /customers/c/9/8/wpin4.1prod.one/httpd.www/landing-v2/wp-content/themes/onecom-landing-page-v2/functions.php on line 1441 Deprecated: preg_match(): Passing null to parameter #2 ($subject) of type string is deprecated in /customers/c/9/8/wpin4.1prod.one/httpd.www/landing-v2/wp-content/themes/onecom-landing-page-v2/functions.php on line 1442 Deprecated: Creation of dynamic property WP_Term::$cat_ID is deprecated in /customers/c/9/8/wpin4.1prod.one/httpd.www/landing-v2/wp-includes/category.php on line 378 Deprecated: Creation of dynamic property WP_Term::$category_count is deprecated in /customers/c/9/8/wpin4.1prod.one/httpd.www/landing-v2/wp-includes/category.php on line 379 Deprecated: Creation of dynamic property WP_Term::$category_description is deprecated in /customers/c/9/8/wpin4.1prod.one/httpd.www/landing-v2/wp-includes/category.php on line 380 Deprecated: Creation of dynamic property WP_Term::$cat_name is deprecated in /customers/c/9/8/wpin4.1prod.one/httpd.www/landing-v2/wp-includes/category.php on line 381 Deprecated: Creation of dynamic property WP_Term::$category_nicename is deprecated in /customers/c/9/8/wpin4.1prod.one/httpd.www/landing-v2/wp-includes/category.php on line 382 Deprecated: Creation of dynamic property WP_Term::$category_parent is deprecated in /customers/c/9/8/wpin4.1prod.one/httpd.www/landing-v2/wp-includes/category.php on line 383 Deprecated: Creation of dynamic property WP_Term::$cat_ID is deprecated in /customers/c/9/8/wpin4.1prod.one/httpd.www/landing-v2/wp-includes/category.php on line 378 Deprecated: Creation of dynamic property WP_Term::$category_count is deprecated in /customers/c/9/8/wpin4.1prod.one/httpd.www/landing-v2/wp-includes/category.php on line 379 Deprecated: Creation of dynamic property WP_Term::$category_description is deprecated in /customers/c/9/8/wpin4.1prod.one/httpd.www/landing-v2/wp-includes/category.php on line 380 Deprecated: Creation of dynamic property WP_Term::$cat_name is deprecated in /customers/c/9/8/wpin4.1prod.one/httpd.www/landing-v2/wp-includes/category.php on line 381 Deprecated: Creation of dynamic property WP_Term::$category_nicename is deprecated in /customers/c/9/8/wpin4.1prod.one/httpd.www/landing-v2/wp-includes/category.php on line 382 Deprecated: Creation of dynamic property WP_Term::$category_parent is deprecated in /customers/c/9/8/wpin4.1prod.one/httpd.www/landing-v2/wp-includes/category.php on line 383 Warning: Undefined variable $blocks in /customers/c/9/8/wpin4.1prod.one/httpd.www/landing-v2/wp-content/themes/onecom-landing-page-v2/functions.php on line 1441 Warning: Trying to access array offset on value of type null in /customers/c/9/8/wpin4.1prod.one/httpd.www/landing-v2/wp-content/themes/onecom-landing-page-v2/functions.php on line 1441 Warning: Trying to access array offset on value of type null in /customers/c/9/8/wpin4.1prod.one/httpd.www/landing-v2/wp-content/themes/onecom-landing-page-v2/functions.php on line 1441 Deprecated: preg_match(): Passing null to parameter #2 ($subject) of type string is deprecated in /customers/c/9/8/wpin4.1prod.one/httpd.www/landing-v2/wp-content/themes/onecom-landing-page-v2/functions.php on line 1442 Deprecated: Creation of dynamic property WP_Term::$cat_ID is deprecated in /customers/c/9/8/wpin4.1prod.one/httpd.www/landing-v2/wp-includes/category.php on line 378 Deprecated: Creation of dynamic property WP_Term::$category_count is deprecated in /customers/c/9/8/wpin4.1prod.one/httpd.www/landing-v2/wp-includes/category.php on line 379 Deprecated: Creation of dynamic property WP_Term::$category_description is deprecated in /customers/c/9/8/wpin4.1prod.one/httpd.www/landing-v2/wp-includes/category.php on line 380 Deprecated: Creation of dynamic property WP_Term::$cat_name is deprecated in /customers/c/9/8/wpin4.1prod.one/httpd.www/landing-v2/wp-includes/category.php on line 381 Deprecated: Creation of dynamic property WP_Term::$category_nicename is deprecated in /customers/c/9/8/wpin4.1prod.one/httpd.www/landing-v2/wp-includes/category.php on line 382 Deprecated: Creation of dynamic property WP_Term::$category_parent is deprecated in /customers/c/9/8/wpin4.1prod.one/httpd.www/landing-v2/wp-includes/category.php on line 383 Deprecated: Creation of dynamic property WP_Term::$cat_ID is deprecated in /customers/c/9/8/wpin4.1prod.one/httpd.www/landing-v2/wp-includes/category.php on line 378 Deprecated: Creation of dynamic property WP_Term::$category_count is deprecated in /customers/c/9/8/wpin4.1prod.one/httpd.www/landing-v2/wp-includes/category.php on line 379 Deprecated: Creation of dynamic property WP_Term::$category_description is deprecated in /customers/c/9/8/wpin4.1prod.one/httpd.www/landing-v2/wp-includes/category.php on line 380 Deprecated: Creation of dynamic property WP_Term::$cat_name is deprecated in /customers/c/9/8/wpin4.1prod.one/httpd.www/landing-v2/wp-includes/category.php on line 381 Deprecated: Creation of dynamic property WP_Term::$category_nicename is deprecated in /customers/c/9/8/wpin4.1prod.one/httpd.www/landing-v2/wp-includes/category.php on line 382 Deprecated: Creation of dynamic property WP_Term::$category_parent is deprecated in /customers/c/9/8/wpin4.1prod.one/httpd.www/landing-v2/wp-includes/category.php on line 383 Deprecated: Creation of dynamic property WP_Term::$cat_ID is deprecated in /customers/c/9/8/wpin4.1prod.one/httpd.www/landing-v2/wp-includes/category.php on line 378 Deprecated: Creation of dynamic property WP_Term::$category_count is deprecated in /customers/c/9/8/wpin4.1prod.one/httpd.www/landing-v2/wp-includes/category.php on line 379 Deprecated: Creation of dynamic property WP_Term::$category_description is deprecated in /customers/c/9/8/wpin4.1prod.one/httpd.www/landing-v2/wp-includes/category.php on line 380 Deprecated: Creation of dynamic property WP_Term::$cat_name is deprecated in /customers/c/9/8/wpin4.1prod.one/httpd.www/landing-v2/wp-includes/category.php on line 381 Deprecated: Creation of dynamic property WP_Term::$category_nicename is deprecated in /customers/c/9/8/wpin4.1prod.one/httpd.www/landing-v2/wp-includes/category.php on line 382 Deprecated: Creation of dynamic property WP_Term::$category_parent is deprecated in /customers/c/9/8/wpin4.1prod.one/httpd.www/landing-v2/wp-includes/category.php on line 383 Deprecated: Creation of dynamic property WP_Term::$cat_ID is deprecated in /customers/c/9/8/wpin4.1prod.one/httpd.www/landing-v2/wp-includes/category.php on line 378 Deprecated: Creation of dynamic property WP_Term::$category_count is deprecated in /customers/c/9/8/wpin4.1prod.one/httpd.www/landing-v2/wp-includes/category.php on line 379 Deprecated: Creation of dynamic property WP_Term::$category_description is deprecated in /customers/c/9/8/wpin4.1prod.one/httpd.www/landing-v2/wp-includes/category.php on line 380 Deprecated: Creation of dynamic property WP_Term::$cat_name is deprecated in /customers/c/9/8/wpin4.1prod.one/httpd.www/landing-v2/wp-includes/category.php on line 381 Deprecated: Creation of dynamic property WP_Term::$category_nicename is deprecated in /customers/c/9/8/wpin4.1prod.one/httpd.www/landing-v2/wp-includes/category.php on line 382 Deprecated: Creation of dynamic property WP_Term::$category_parent is deprecated in /customers/c/9/8/wpin4.1prod.one/httpd.www/landing-v2/wp-includes/category.php on line 383 Deprecated: Creation of dynamic property WP_Term::$cat_ID is deprecated in /customers/c/9/8/wpin4.1prod.one/httpd.www/landing-v2/wp-includes/category.php on line 378 Deprecated: Creation of dynamic property WP_Term::$category_count is deprecated in /customers/c/9/8/wpin4.1prod.one/httpd.www/landing-v2/wp-includes/category.php on line 379 Deprecated: Creation of dynamic property WP_Term::$category_description is deprecated in /customers/c/9/8/wpin4.1prod.one/httpd.www/landing-v2/wp-includes/category.php on line 380 Deprecated: Creation of dynamic property WP_Term::$cat_name is deprecated in /customers/c/9/8/wpin4.1prod.one/httpd.www/landing-v2/wp-includes/category.php on line 381 Deprecated: Creation of dynamic property WP_Term::$category_nicename is deprecated in /customers/c/9/8/wpin4.1prod.one/httpd.www/landing-v2/wp-includes/category.php on line 382 Deprecated: Creation of dynamic property WP_Term::$category_parent is deprecated in /customers/c/9/8/wpin4.1prod.one/httpd.www/landing-v2/wp-includes/category.php on line 383 Deprecated: Creation of dynamic property WP_Term::$cat_ID is deprecated in /customers/c/9/8/wpin4.1prod.one/httpd.www/landing-v2/wp-includes/category.php on line 378 Deprecated: Creation of dynamic property WP_Term::$category_count is deprecated in /customers/c/9/8/wpin4.1prod.one/httpd.www/landing-v2/wp-includes/category.php on line 379 Deprecated: Creation of dynamic property WP_Term::$category_description is deprecated in /customers/c/9/8/wpin4.1prod.one/httpd.www/landing-v2/wp-includes/category.php on line 380 Deprecated: Creation of dynamic property WP_Term::$cat_name is deprecated in /customers/c/9/8/wpin4.1prod.one/httpd.www/landing-v2/wp-includes/category.php on line 381 Deprecated: Creation of dynamic property WP_Term::$category_nicename is deprecated in /customers/c/9/8/wpin4.1prod.one/httpd.www/landing-v2/wp-includes/category.php on line 382 Deprecated: Creation of dynamic property WP_Term::$category_parent is deprecated in /customers/c/9/8/wpin4.1prod.one/httpd.www/landing-v2/wp-includes/category.php on line 383 Warning: Undefined variable $blocks in /customers/c/9/8/wpin4.1prod.one/httpd.www/landing-v2/wp-content/themes/onecom-landing-page-v2/functions.php on line 1441 Warning: Trying to access array offset on value of type null in /customers/c/9/8/wpin4.1prod.one/httpd.www/landing-v2/wp-content/themes/onecom-landing-page-v2/functions.php on line 1441 Warning: Trying to access array offset on value of type null in /customers/c/9/8/wpin4.1prod.one/httpd.www/landing-v2/wp-content/themes/onecom-landing-page-v2/functions.php on line 1441 Deprecated: preg_match(): Passing null to parameter #2 ($subject) of type string is deprecated in /customers/c/9/8/wpin4.1prod.one/httpd.www/landing-v2/wp-content/themes/onecom-landing-page-v2/functions.php on line 1442 Deprecated: Creation of dynamic property WP_Term::$cat_ID is deprecated in /customers/c/9/8/wpin4.1prod.one/httpd.www/landing-v2/wp-includes/category.php on line 378 Deprecated: Creation of dynamic property WP_Term::$category_count is deprecated in /customers/c/9/8/wpin4.1prod.one/httpd.www/landing-v2/wp-includes/category.php on line 379 Deprecated: Creation of dynamic property WP_Term::$category_description is deprecated in /customers/c/9/8/wpin4.1prod.one/httpd.www/landing-v2/wp-includes/category.php on line 380 Deprecated: Creation of dynamic property WP_Term::$cat_name is deprecated in /customers/c/9/8/wpin4.1prod.one/httpd.www/landing-v2/wp-includes/category.php on line 381 Deprecated: Creation of dynamic property WP_Term::$category_nicename is deprecated in /customers/c/9/8/wpin4.1prod.one/httpd.www/landing-v2/wp-includes/category.php on line 382 Deprecated: Creation of dynamic property WP_Term::$category_parent is deprecated in /customers/c/9/8/wpin4.1prod.one/httpd.www/landing-v2/wp-includes/category.php on line 383 Deprecated: Creation of dynamic property WP_Term::$cat_ID is deprecated in /customers/c/9/8/wpin4.1prod.one/httpd.www/landing-v2/wp-includes/category.php on line 378 Deprecated: Creation of dynamic property WP_Term::$category_count is deprecated in /customers/c/9/8/wpin4.1prod.one/httpd.www/landing-v2/wp-includes/category.php on line 379 Deprecated: Creation of dynamic property WP_Term::$category_description is deprecated in /customers/c/9/8/wpin4.1prod.one/httpd.www/landing-v2/wp-includes/category.php on line 380 Deprecated: Creation of dynamic property WP_Term::$cat_name is deprecated in /customers/c/9/8/wpin4.1prod.one/httpd.www/landing-v2/wp-includes/category.php on line 381 Deprecated: Creation of dynamic property WP_Term::$category_nicename is deprecated in /customers/c/9/8/wpin4.1prod.one/httpd.www/landing-v2/wp-includes/category.php on line 382 Deprecated: Creation of dynamic property WP_Term::$category_parent is deprecated in /customers/c/9/8/wpin4.1prod.one/httpd.www/landing-v2/wp-includes/category.php on line 383 Warning: Undefined variable $blocks in /customers/c/9/8/wpin4.1prod.one/httpd.www/landing-v2/wp-content/themes/onecom-landing-page-v2/functions.php on line 1441 Warning: Trying to access array offset on value of type null in /customers/c/9/8/wpin4.1prod.one/httpd.www/landing-v2/wp-content/themes/onecom-landing-page-v2/functions.php on line 1441 Warning: Trying to access array offset on value of type null in /customers/c/9/8/wpin4.1prod.one/httpd.www/landing-v2/wp-content/themes/onecom-landing-page-v2/functions.php on line 1441 Deprecated: preg_match(): Passing null to parameter #2 ($subject) of type string is deprecated in /customers/c/9/8/wpin4.1prod.one/httpd.www/landing-v2/wp-content/themes/onecom-landing-page-v2/functions.php on line 1442 Deprecated: Creation of dynamic property WP_Term::$cat_ID is deprecated in /customers/c/9/8/wpin4.1prod.one/httpd.www/landing-v2/wp-includes/category.php on line 378 Deprecated: Creation of dynamic property WP_Term::$category_count is deprecated in /customers/c/9/8/wpin4.1prod.one/httpd.www/landing-v2/wp-includes/category.php on line 379 Deprecated: Creation of dynamic property WP_Term::$category_description is deprecated in /customers/c/9/8/wpin4.1prod.one/httpd.www/landing-v2/wp-includes/category.php on line 380 Deprecated: Creation of dynamic property WP_Term::$cat_name is deprecated in /customers/c/9/8/wpin4.1prod.one/httpd.www/landing-v2/wp-includes/category.php on line 381 Deprecated: Creation of dynamic property WP_Term::$category_nicename is deprecated in /customers/c/9/8/wpin4.1prod.one/httpd.www/landing-v2/wp-includes/category.php on line 382 Deprecated: Creation of dynamic property WP_Term::$category_parent is deprecated in /customers/c/9/8/wpin4.1prod.one/httpd.www/landing-v2/wp-includes/category.php on line 383 Warning: Undefined variable $blocks in /customers/c/9/8/wpin4.1prod.one/httpd.www/landing-v2/wp-content/themes/onecom-landing-page-v2/functions.php on line 1441 Warning: Trying to access array offset on value of type null in /customers/c/9/8/wpin4.1prod.one/httpd.www/landing-v2/wp-content/themes/onecom-landing-page-v2/functions.php on line 1441 Warning: Trying to access array offset on value of type null in /customers/c/9/8/wpin4.1prod.one/httpd.www/landing-v2/wp-content/themes/onecom-landing-page-v2/functions.php on line 1441 Deprecated: preg_match(): Passing null to parameter #2 ($subject) of type string is deprecated in /customers/c/9/8/wpin4.1prod.one/httpd.www/landing-v2/wp-content/themes/onecom-landing-page-v2/functions.php on line 1442 Deprecated: Creation of dynamic property WP_Term::$cat_ID is deprecated in /customers/c/9/8/wpin4.1prod.one/httpd.www/landing-v2/wp-includes/category.php on line 378 Deprecated: Creation of dynamic property WP_Term::$category_count is deprecated in /customers/c/9/8/wpin4.1prod.one/httpd.www/landing-v2/wp-includes/category.php on line 379 Deprecated: Creation of dynamic property WP_Term::$category_description is deprecated in /customers/c/9/8/wpin4.1prod.one/httpd.www/landing-v2/wp-includes/category.php on line 380 Deprecated: Creation of dynamic property WP_Term::$cat_name is deprecated in /customers/c/9/8/wpin4.1prod.one/httpd.www/landing-v2/wp-includes/category.php on line 381 Deprecated: Creation of dynamic property WP_Term::$category_nicename is deprecated in /customers/c/9/8/wpin4.1prod.one/httpd.www/landing-v2/wp-includes/category.php on line 382 Deprecated: Creation of dynamic property WP_Term::$category_parent is deprecated in /customers/c/9/8/wpin4.1prod.one/httpd.www/landing-v2/wp-includes/category.php on line 383 Deprecated: Creation of dynamic property WP_Term::$cat_ID is deprecated in /customers/c/9/8/wpin4.1prod.one/httpd.www/landing-v2/wp-includes/category.php on line 378 Deprecated: Creation of dynamic property WP_Term::$category_count is deprecated in /customers/c/9/8/wpin4.1prod.one/httpd.www/landing-v2/wp-includes/category.php on line 379 Deprecated: Creation of dynamic property WP_Term::$category_description is deprecated in /customers/c/9/8/wpin4.1prod.one/httpd.www/landing-v2/wp-includes/category.php on line 380 Deprecated: Creation of dynamic property WP_Term::$cat_name is deprecated in /customers/c/9/8/wpin4.1prod.one/httpd.www/landing-v2/wp-includes/category.php on line 381 Deprecated: Creation of dynamic property WP_Term::$category_nicename is deprecated in /customers/c/9/8/wpin4.1prod.one/httpd.www/landing-v2/wp-includes/category.php on line 382 Deprecated: Creation of dynamic property WP_Term::$category_parent is deprecated in /customers/c/9/8/wpin4.1prod.one/httpd.www/landing-v2/wp-includes/category.php on line 383 Warning: Undefined variable $blocks in /customers/c/9/8/wpin4.1prod.one/httpd.www/landing-v2/wp-content/themes/onecom-landing-page-v2/functions.php on line 1441 Warning: Trying to access array offset on value of type null in /customers/c/9/8/wpin4.1prod.one/httpd.www/landing-v2/wp-content/themes/onecom-landing-page-v2/functions.php on line 1441 Warning: Trying to access array offset on value of type null in /customers/c/9/8/wpin4.1prod.one/httpd.www/landing-v2/wp-content/themes/onecom-landing-page-v2/functions.php on line 1441 Deprecated: preg_match(): Passing null to parameter #2 ($subject) of type string is deprecated in /customers/c/9/8/wpin4.1prod.one/httpd.www/landing-v2/wp-content/themes/onecom-landing-page-v2/functions.php on line 1442 Deprecated: Creation of dynamic property WP_Term::$cat_ID is deprecated in /customers/c/9/8/wpin4.1prod.one/httpd.www/landing-v2/wp-includes/category.php on line 378 Deprecated: Creation of dynamic property WP_Term::$category_count is deprecated in /customers/c/9/8/wpin4.1prod.one/httpd.www/landing-v2/wp-includes/category.php on line 379 Deprecated: Creation of dynamic property WP_Term::$category_description is deprecated in /customers/c/9/8/wpin4.1prod.one/httpd.www/landing-v2/wp-includes/category.php on line 380 Deprecated: Creation of dynamic property WP_Term::$cat_name is deprecated in /customers/c/9/8/wpin4.1prod.one/httpd.www/landing-v2/wp-includes/category.php on line 381 Deprecated: Creation of dynamic property WP_Term::$category_nicename is deprecated in /customers/c/9/8/wpin4.1prod.one/httpd.www/landing-v2/wp-includes/category.php on line 382 Deprecated: Creation of dynamic property WP_Term::$category_parent is deprecated in /customers/c/9/8/wpin4.1prod.one/httpd.www/landing-v2/wp-includes/category.php on line 383 Deprecated: Creation of dynamic property WP_Term::$cat_ID is deprecated in /customers/c/9/8/wpin4.1prod.one/httpd.www/landing-v2/wp-includes/category.php on line 378 Deprecated: Creation of dynamic property WP_Term::$category_count is deprecated in /customers/c/9/8/wpin4.1prod.one/httpd.www/landing-v2/wp-includes/category.php on line 379 Deprecated: Creation of dynamic property WP_Term::$category_description is deprecated in /customers/c/9/8/wpin4.1prod.one/httpd.www/landing-v2/wp-includes/category.php on line 380 Deprecated: Creation of dynamic property WP_Term::$cat_name is deprecated in /customers/c/9/8/wpin4.1prod.one/httpd.www/landing-v2/wp-includes/category.php on line 381 Deprecated: Creation of dynamic property WP_Term::$category_nicename is deprecated in /customers/c/9/8/wpin4.1prod.one/httpd.www/landing-v2/wp-includes/category.php on line 382 Deprecated: Creation of dynamic property WP_Term::$category_parent is deprecated in /customers/c/9/8/wpin4.1prod.one/httpd.www/landing-v2/wp-includes/category.php on line 383 Warning: Undefined variable $blocks in /customers/c/9/8/wpin4.1prod.one/httpd.www/landing-v2/wp-content/themes/onecom-landing-page-v2/functions.php on line 1441 Warning: Trying to access array offset on value of type null in /customers/c/9/8/wpin4.1prod.one/httpd.www/landing-v2/wp-content/themes/onecom-landing-page-v2/functions.php on line 1441 Warning: Trying to access array offset on value of type null in /customers/c/9/8/wpin4.1prod.one/httpd.www/landing-v2/wp-content/themes/onecom-landing-page-v2/functions.php on line 1441 Deprecated: preg_match(): Passing null to parameter #2 ($subject) of type string is deprecated in /customers/c/9/8/wpin4.1prod.one/httpd.www/landing-v2/wp-content/themes/onecom-landing-page-v2/functions.php on line 1442 Deprecated: Creation of dynamic property WP_Term::$cat_ID is deprecated in /customers/c/9/8/wpin4.1prod.one/httpd.www/landing-v2/wp-includes/category.php on line 378 Deprecated: Creation of dynamic property WP_Term::$category_count is deprecated in /customers/c/9/8/wpin4.1prod.one/httpd.www/landing-v2/wp-includes/category.php on line 379 Deprecated: Creation of dynamic property WP_Term::$category_description is deprecated in /customers/c/9/8/wpin4.1prod.one/httpd.www/landing-v2/wp-includes/category.php on line 380 Deprecated: Creation of dynamic property WP_Term::$cat_name is deprecated in /customers/c/9/8/wpin4.1prod.one/httpd.www/landing-v2/wp-includes/category.php on line 381 Deprecated: Creation of dynamic property WP_Term::$category_nicename is deprecated in /customers/c/9/8/wpin4.1prod.one/httpd.www/landing-v2/wp-includes/category.php on line 382 Deprecated: Creation of dynamic property WP_Term::$category_parent is deprecated in /customers/c/9/8/wpin4.1prod.one/httpd.www/landing-v2/wp-includes/category.php on line 383 Deprecated: Creation of dynamic property WP_Term::$cat_ID is deprecated in /customers/c/9/8/wpin4.1prod.one/httpd.www/landing-v2/wp-includes/category.php on line 378 Deprecated: Creation of dynamic property WP_Term::$category_count is deprecated in /customers/c/9/8/wpin4.1prod.one/httpd.www/landing-v2/wp-includes/category.php on line 379 Deprecated: Creation of dynamic property WP_Term::$category_description is deprecated in /customers/c/9/8/wpin4.1prod.one/httpd.www/landing-v2/wp-includes/category.php on line 380 Deprecated: Creation of dynamic property WP_Term::$cat_name is deprecated in /customers/c/9/8/wpin4.1prod.one/httpd.www/landing-v2/wp-includes/category.php on line 381 Deprecated: Creation of dynamic property WP_Term::$category_nicename is deprecated in /customers/c/9/8/wpin4.1prod.one/httpd.www/landing-v2/wp-includes/category.php on line 382 Deprecated: Creation of dynamic property WP_Term::$category_parent is deprecated in /customers/c/9/8/wpin4.1prod.one/httpd.www/landing-v2/wp-includes/category.php on line 383 Warning: Undefined variable $blocks in /customers/c/9/8/wpin4.1prod.one/httpd.www/landing-v2/wp-content/themes/onecom-landing-page-v2/functions.php on line 1441 Warning: Trying to access array offset on value of type null in /customers/c/9/8/wpin4.1prod.one/httpd.www/landing-v2/wp-content/themes/onecom-landing-page-v2/functions.php on line 1441 Warning: Trying to access array offset on value of type null in /customers/c/9/8/wpin4.1prod.one/httpd.www/landing-v2/wp-content/themes/onecom-landing-page-v2/functions.php on line 1441 Deprecated: preg_match(): Passing null to parameter #2 ($subject) of type string is deprecated in /customers/c/9/8/wpin4.1prod.one/httpd.www/landing-v2/wp-content/themes/onecom-landing-page-v2/functions.php on line 1442 Deprecated: Creation of dynamic property WP_Term::$cat_ID is deprecated in /customers/c/9/8/wpin4.1prod.one/httpd.www/landing-v2/wp-includes/category.php on line 378 Deprecated: Creation of dynamic property WP_Term::$category_count is deprecated in /customers/c/9/8/wpin4.1prod.one/httpd.www/landing-v2/wp-includes/category.php on line 379 Deprecated: Creation of dynamic property WP_Term::$category_description is deprecated in /customers/c/9/8/wpin4.1prod.one/httpd.www/landing-v2/wp-includes/category.php on line 380 Deprecated: Creation of dynamic property WP_Term::$cat_name is deprecated in /customers/c/9/8/wpin4.1prod.one/httpd.www/landing-v2/wp-includes/category.php on line 381 Deprecated: Creation of dynamic property WP_Term::$category_nicename is deprecated in /customers/c/9/8/wpin4.1prod.one/httpd.www/landing-v2/wp-includes/category.php on line 382 Deprecated: Creation of dynamic property WP_Term::$category_parent is deprecated in /customers/c/9/8/wpin4.1prod.one/httpd.www/landing-v2/wp-includes/category.php on line 383 Deprecated: Creation of dynamic property WP_Term::$cat_ID is deprecated in /customers/c/9/8/wpin4.1prod.one/httpd.www/landing-v2/wp-includes/category.php on line 378 Deprecated: Creation of dynamic property WP_Term::$category_count is deprecated in /customers/c/9/8/wpin4.1prod.one/httpd.www/landing-v2/wp-includes/category.php on line 379 Deprecated: Creation of dynamic property WP_Term::$category_description is deprecated in /customers/c/9/8/wpin4.1prod.one/httpd.www/landing-v2/wp-includes/category.php on line 380 Deprecated: Creation of dynamic property WP_Term::$cat_name is deprecated in /customers/c/9/8/wpin4.1prod.one/httpd.www/landing-v2/wp-includes/category.php on line 381 Deprecated: Creation of dynamic property WP_Term::$category_nicename is deprecated in /customers/c/9/8/wpin4.1prod.one/httpd.www/landing-v2/wp-includes/category.php on line 382 Deprecated: Creation of dynamic property WP_Term::$category_parent is deprecated in /customers/c/9/8/wpin4.1prod.one/httpd.www/landing-v2/wp-includes/category.php on line 383 Warning: Undefined variable $blocks in /customers/c/9/8/wpin4.1prod.one/httpd.www/landing-v2/wp-content/themes/onecom-landing-page-v2/functions.php on line 1441 Warning: Trying to access array offset on value of type null in /customers/c/9/8/wpin4.1prod.one/httpd.www/landing-v2/wp-content/themes/onecom-landing-page-v2/functions.php on line 1441 Warning: Trying to access array offset on value of type null in /customers/c/9/8/wpin4.1prod.one/httpd.www/landing-v2/wp-content/themes/onecom-landing-page-v2/functions.php on line 1441 Deprecated: preg_match(): Passing null to parameter #2 ($subject) of type string is deprecated in /customers/c/9/8/wpin4.1prod.one/httpd.www/landing-v2/wp-content/themes/onecom-landing-page-v2/functions.php on line 1442 Deprecated: Creation of dynamic property WP_Term::$cat_ID is deprecated in /customers/c/9/8/wpin4.1prod.one/httpd.www/landing-v2/wp-includes/category.php on line 378 Deprecated: Creation of dynamic property WP_Term::$category_count is deprecated in /customers/c/9/8/wpin4.1prod.one/httpd.www/landing-v2/wp-includes/category.php on line 379 Deprecated: Creation of dynamic property WP_Term::$category_description is deprecated in /customers/c/9/8/wpin4.1prod.one/httpd.www/landing-v2/wp-includes/category.php on line 380 Deprecated: Creation of dynamic property WP_Term::$cat_name is deprecated in /customers/c/9/8/wpin4.1prod.one/httpd.www/landing-v2/wp-includes/category.php on line 381 Deprecated: Creation of dynamic property WP_Term::$category_nicename is deprecated in /customers/c/9/8/wpin4.1prod.one/httpd.www/landing-v2/wp-includes/category.php on line 382 Deprecated: Creation of dynamic property WP_Term::$category_parent is deprecated in /customers/c/9/8/wpin4.1prod.one/httpd.www/landing-v2/wp-includes/category.php on line 383 Deprecated: Creation of dynamic property WP_Term::$cat_ID is deprecated in /customers/c/9/8/wpin4.1prod.one/httpd.www/landing-v2/wp-includes/category.php on line 378 Deprecated: Creation of dynamic property WP_Term::$category_count is deprecated in /customers/c/9/8/wpin4.1prod.one/httpd.www/landing-v2/wp-includes/category.php on line 379 Deprecated: Creation of dynamic property WP_Term::$category_description is deprecated in /customers/c/9/8/wpin4.1prod.one/httpd.www/landing-v2/wp-includes/category.php on line 380 Deprecated: Creation of dynamic property WP_Term::$cat_name is deprecated in /customers/c/9/8/wpin4.1prod.one/httpd.www/landing-v2/wp-includes/category.php on line 381 Deprecated: Creation of dynamic property WP_Term::$category_nicename is deprecated in /customers/c/9/8/wpin4.1prod.one/httpd.www/landing-v2/wp-includes/category.php on line 382 Deprecated: Creation of dynamic property WP_Term::$category_parent is deprecated in /customers/c/9/8/wpin4.1prod.one/httpd.www/landing-v2/wp-includes/category.php on line 383 Warning: Undefined variable $blocks in /customers/c/9/8/wpin4.1prod.one/httpd.www/landing-v2/wp-content/themes/onecom-landing-page-v2/functions.php on line 1441 Warning: Trying to access array offset on value of type null in /customers/c/9/8/wpin4.1prod.one/httpd.www/landing-v2/wp-content/themes/onecom-landing-page-v2/functions.php on line 1441 Warning: Trying to access array offset on value of type null in /customers/c/9/8/wpin4.1prod.one/httpd.www/landing-v2/wp-content/themes/onecom-landing-page-v2/functions.php on line 1441 Deprecated: preg_match(): Passing null to parameter #2 ($subject) of type string is deprecated in /customers/c/9/8/wpin4.1prod.one/httpd.www/landing-v2/wp-content/themes/onecom-landing-page-v2/functions.php on line 1442 Deprecated: Creation of dynamic property WP_Term::$cat_ID is deprecated in /customers/c/9/8/wpin4.1prod.one/httpd.www/landing-v2/wp-includes/category.php on line 378 Deprecated: Creation of dynamic property WP_Term::$category_count is deprecated in /customers/c/9/8/wpin4.1prod.one/httpd.www/landing-v2/wp-includes/category.php on line 379 Deprecated: Creation of dynamic property WP_Term::$category_description is deprecated in /customers/c/9/8/wpin4.1prod.one/httpd.www/landing-v2/wp-includes/category.php on line 380 Deprecated: Creation of dynamic property WP_Term::$cat_name is deprecated in /customers/c/9/8/wpin4.1prod.one/httpd.www/landing-v2/wp-includes/category.php on line 381 Deprecated: Creation of dynamic property WP_Term::$category_nicename is deprecated in /customers/c/9/8/wpin4.1prod.one/httpd.www/landing-v2/wp-includes/category.php on line 382 Deprecated: Creation of dynamic property WP_Term::$category_parent is deprecated in /customers/c/9/8/wpin4.1prod.one/httpd.www/landing-v2/wp-includes/category.php on line 383 Deprecated: Creation of dynamic property WP_Term::$cat_ID is deprecated in /customers/c/9/8/wpin4.1prod.one/httpd.www/landing-v2/wp-includes/category.php on line 378 Deprecated: Creation of dynamic property WP_Term::$category_count is deprecated in /customers/c/9/8/wpin4.1prod.one/httpd.www/landing-v2/wp-includes/category.php on line 379 Deprecated: Creation of dynamic property WP_Term::$category_description is deprecated in /customers/c/9/8/wpin4.1prod.one/httpd.www/landing-v2/wp-includes/category.php on line 380 Deprecated: Creation of dynamic property WP_Term::$cat_name is deprecated in /customers/c/9/8/wpin4.1prod.one/httpd.www/landing-v2/wp-includes/category.php on line 381 Deprecated: Creation of dynamic property WP_Term::$category_nicename is deprecated in /customers/c/9/8/wpin4.1prod.one/httpd.www/landing-v2/wp-includes/category.php on line 382 Deprecated: Creation of dynamic property WP_Term::$category_parent is deprecated in /customers/c/9/8/wpin4.1prod.one/httpd.www/landing-v2/wp-includes/category.php on line 383 Warning: Undefined variable $blocks in /customers/c/9/8/wpin4.1prod.one/httpd.www/landing-v2/wp-content/themes/onecom-landing-page-v2/functions.php on line 1441 Warning: Trying to access array offset on value of type null in /customers/c/9/8/wpin4.1prod.one/httpd.www/landing-v2/wp-content/themes/onecom-landing-page-v2/functions.php on line 1441 Warning: Trying to access array offset on value of type null in /customers/c/9/8/wpin4.1prod.one/httpd.www/landing-v2/wp-content/themes/onecom-landing-page-v2/functions.php on line 1441 Deprecated: preg_match(): Passing null to parameter #2 ($subject) of type string is deprecated in /customers/c/9/8/wpin4.1prod.one/httpd.www/landing-v2/wp-content/themes/onecom-landing-page-v2/functions.php on line 1442 Deprecated: Creation of dynamic property WP_Term::$cat_ID is deprecated in /customers/c/9/8/wpin4.1prod.one/httpd.www/landing-v2/wp-includes/category.php on line 378 Deprecated: Creation of dynamic property WP_Term::$category_count is deprecated in /customers/c/9/8/wpin4.1prod.one/httpd.www/landing-v2/wp-includes/category.php on line 379 Deprecated: Creation of dynamic property WP_Term::$category_description is deprecated in /customers/c/9/8/wpin4.1prod.one/httpd.www/landing-v2/wp-includes/category.php on line 380 Deprecated: Creation of dynamic property WP_Term::$cat_name is deprecated in /customers/c/9/8/wpin4.1prod.one/httpd.www/landing-v2/wp-includes/category.php on line 381 Deprecated: Creation of dynamic property WP_Term::$category_nicename is deprecated in /customers/c/9/8/wpin4.1prod.one/httpd.www/landing-v2/wp-includes/category.php on line 382 Deprecated: Creation of dynamic property WP_Term::$category_parent is deprecated in /customers/c/9/8/wpin4.1prod.one/httpd.www/landing-v2/wp-includes/category.php on line 383 Deprecated: Creation of dynamic property WP_Term::$cat_ID is deprecated in /customers/c/9/8/wpin4.1prod.one/httpd.www/landing-v2/wp-includes/category.php on line 378 Deprecated: Creation of dynamic property WP_Term::$category_count is deprecated in /customers/c/9/8/wpin4.1prod.one/httpd.www/landing-v2/wp-includes/category.php on line 379 Deprecated: Creation of dynamic property WP_Term::$category_description is deprecated in /customers/c/9/8/wpin4.1prod.one/httpd.www/landing-v2/wp-includes/category.php on line 380 Deprecated: Creation of dynamic property WP_Term::$cat_name is deprecated in /customers/c/9/8/wpin4.1prod.one/httpd.www/landing-v2/wp-includes/category.php on line 381 Deprecated: Creation of dynamic property WP_Term::$category_nicename is deprecated in /customers/c/9/8/wpin4.1prod.one/httpd.www/landing-v2/wp-includes/category.php on line 382 Deprecated: Creation of dynamic property WP_Term::$category_parent is deprecated in /customers/c/9/8/wpin4.1prod.one/httpd.www/landing-v2/wp-includes/category.php on line 383 Warning: Undefined variable $blocks in /customers/c/9/8/wpin4.1prod.one/httpd.www/landing-v2/wp-content/themes/onecom-landing-page-v2/functions.php on line 1441 Warning: Trying to access array offset on value of type null in /customers/c/9/8/wpin4.1prod.one/httpd.www/landing-v2/wp-content/themes/onecom-landing-page-v2/functions.php on line 1441 Warning: Trying to access array offset on value of type null in /customers/c/9/8/wpin4.1prod.one/httpd.www/landing-v2/wp-content/themes/onecom-landing-page-v2/functions.php on line 1441 Deprecated: preg_match(): Passing null to parameter #2 ($subject) of type string is deprecated in /customers/c/9/8/wpin4.1prod.one/httpd.www/landing-v2/wp-content/themes/onecom-landing-page-v2/functions.php on line 1442 Deprecated: Creation of dynamic property WP_Term::$cat_ID is deprecated in /customers/c/9/8/wpin4.1prod.one/httpd.www/landing-v2/wp-includes/category.php on line 378 Deprecated: Creation of dynamic property WP_Term::$category_count is deprecated in /customers/c/9/8/wpin4.1prod.one/httpd.www/landing-v2/wp-includes/category.php on line 379 Deprecated: Creation of dynamic property WP_Term::$category_description is deprecated in /customers/c/9/8/wpin4.1prod.one/httpd.www/landing-v2/wp-includes/category.php on line 380 Deprecated: Creation of dynamic property WP_Term::$cat_name is deprecated in /customers/c/9/8/wpin4.1prod.one/httpd.www/landing-v2/wp-includes/category.php on line 381 Deprecated: Creation of dynamic property WP_Term::$category_nicename is deprecated in /customers/c/9/8/wpin4.1prod.one/httpd.www/landing-v2/wp-includes/category.php on line 382 Deprecated: Creation of dynamic property WP_Term::$category_parent is deprecated in /customers/c/9/8/wpin4.1prod.one/httpd.www/landing-v2/wp-includes/category.php on line 383 Warning: Undefined variable $blocks in /customers/c/9/8/wpin4.1prod.one/httpd.www/landing-v2/wp-content/themes/onecom-landing-page-v2/functions.php on line 1441 Warning: Trying to access array offset on value of type null in /customers/c/9/8/wpin4.1prod.one/httpd.www/landing-v2/wp-content/themes/onecom-landing-page-v2/functions.php on line 1441 Warning: Trying to access array offset on value of type null in /customers/c/9/8/wpin4.1prod.one/httpd.www/landing-v2/wp-content/themes/onecom-landing-page-v2/functions.php on line 1441 Deprecated: preg_match(): Passing null to parameter #2 ($subject) of type string is deprecated in /customers/c/9/8/wpin4.1prod.one/httpd.www/landing-v2/wp-content/themes/onecom-landing-page-v2/functions.php on line 1442 Deprecated: Creation of dynamic property WP_Block::$attributes is deprecated in /customers/c/9/8/wpin4.1prod.one/httpd.www/landing-v2/wp-includes/class-wp-block.php on line 179 Deprecated: Creation of dynamic property WP_Term::$cat_ID is deprecated in /customers/c/9/8/wpin4.1prod.one/httpd.www/landing-v2/wp-includes/category.php on line 378 Deprecated: Creation of dynamic property WP_Term::$category_count is deprecated in /customers/c/9/8/wpin4.1prod.one/httpd.www/landing-v2/wp-includes/category.php on line 379 Deprecated: Creation of dynamic property WP_Term::$category_description is deprecated in /customers/c/9/8/wpin4.1prod.one/httpd.www/landing-v2/wp-includes/category.php on line 380 Deprecated: Creation of dynamic property WP_Term::$cat_name is deprecated in /customers/c/9/8/wpin4.1prod.one/httpd.www/landing-v2/wp-includes/category.php on line 381 Deprecated: Creation of dynamic property WP_Term::$category_nicename is deprecated in /customers/c/9/8/wpin4.1prod.one/httpd.www/landing-v2/wp-includes/category.php on line 382 Deprecated: Creation of dynamic property WP_Term::$category_parent is deprecated in /customers/c/9/8/wpin4.1prod.one/httpd.www/landing-v2/wp-includes/category.php on line 383 Deprecated: Creation of dynamic property WP_Term::$cat_ID is deprecated in /customers/c/9/8/wpin4.1prod.one/httpd.www/landing-v2/wp-includes/category.php on line 378 Deprecated: Creation of dynamic property WP_Term::$category_count is deprecated in /customers/c/9/8/wpin4.1prod.one/httpd.www/landing-v2/wp-includes/category.php on line 379 Deprecated: Creation of dynamic property WP_Term::$category_description is deprecated in /customers/c/9/8/wpin4.1prod.one/httpd.www/landing-v2/wp-includes/category.php on line 380 Deprecated: Creation of dynamic property WP_Term::$cat_name is deprecated in /customers/c/9/8/wpin4.1prod.one/httpd.www/landing-v2/wp-includes/category.php on line 381 Deprecated: Creation of dynamic property WP_Term::$category_nicename is deprecated in /customers/c/9/8/wpin4.1prod.one/httpd.www/landing-v2/wp-includes/category.php on line 382 Deprecated: Creation of dynamic property WP_Term::$category_parent is deprecated in /customers/c/9/8/wpin4.1prod.one/httpd.www/landing-v2/wp-includes/category.php on line 383 Deprecated: Creation of dynamic property WP_Term::$cat_ID is deprecated in /customers/c/9/8/wpin4.1prod.one/httpd.www/landing-v2/wp-includes/category.php on line 378 Deprecated: Creation of dynamic property WP_Term::$category_count is deprecated in /customers/c/9/8/wpin4.1prod.one/httpd.www/landing-v2/wp-includes/category.php on line 379 Deprecated: Creation of dynamic property WP_Term::$category_description is deprecated in /customers/c/9/8/wpin4.1prod.one/httpd.www/landing-v2/wp-includes/category.php on line 380 Deprecated: Creation of dynamic property WP_Term::$cat_name is deprecated in /customers/c/9/8/wpin4.1prod.one/httpd.www/landing-v2/wp-includes/category.php on line 381 Deprecated: Creation of dynamic property WP_Term::$category_nicename is deprecated in /customers/c/9/8/wpin4.1prod.one/httpd.www/landing-v2/wp-includes/category.php on line 382 Deprecated: Creation of dynamic property WP_Term::$category_parent is deprecated in /customers/c/9/8/wpin4.1prod.one/httpd.www/landing-v2/wp-includes/category.php on line 383 Warning: Undefined variable $blocks in /customers/c/9/8/wpin4.1prod.one/httpd.www/landing-v2/wp-content/themes/onecom-landing-page-v2/functions.php on line 1441 Warning: Trying to access array offset on value of type null in /customers/c/9/8/wpin4.1prod.one/httpd.www/landing-v2/wp-content/themes/onecom-landing-page-v2/functions.php on line 1441 Warning: Trying to access array offset on value of type null in /customers/c/9/8/wpin4.1prod.one/httpd.www/landing-v2/wp-content/themes/onecom-landing-page-v2/functions.php on line 1441 Deprecated: preg_match(): Passing null to parameter #2 ($subject) of type string is deprecated in /customers/c/9/8/wpin4.1prod.one/httpd.www/landing-v2/wp-content/themes/onecom-landing-page-v2/functions.php on line 1442 Deprecated: Creation of dynamic property WP_Term::$cat_ID is deprecated in /customers/c/9/8/wpin4.1prod.one/httpd.www/landing-v2/wp-includes/category.php on line 378 Deprecated: Creation of dynamic property WP_Term::$category_count is deprecated in /customers/c/9/8/wpin4.1prod.one/httpd.www/landing-v2/wp-includes/category.php on line 379 Deprecated: Creation of dynamic property WP_Term::$category_description is deprecated in /customers/c/9/8/wpin4.1prod.one/httpd.www/landing-v2/wp-includes/category.php on line 380 Deprecated: Creation of dynamic property WP_Term::$cat_name is deprecated in /customers/c/9/8/wpin4.1prod.one/httpd.www/landing-v2/wp-includes/category.php on line 381 Deprecated: Creation of dynamic property WP_Term::$category_nicename is deprecated in /customers/c/9/8/wpin4.1prod.one/httpd.www/landing-v2/wp-includes/category.php on line 382 Deprecated: Creation of dynamic property WP_Term::$category_parent is deprecated in /customers/c/9/8/wpin4.1prod.one/httpd.www/landing-v2/wp-includes/category.php on line 383 Deprecated: Creation of dynamic property WP_Term::$cat_ID is deprecated in /customers/c/9/8/wpin4.1prod.one/httpd.www/landing-v2/wp-includes/category.php on line 378 Deprecated: Creation of dynamic property WP_Term::$category_count is deprecated in /customers/c/9/8/wpin4.1prod.one/httpd.www/landing-v2/wp-includes/category.php on line 379 Deprecated: Creation of dynamic property WP_Term::$category_description is deprecated in /customers/c/9/8/wpin4.1prod.one/httpd.www/landing-v2/wp-includes/category.php on line 380 Deprecated: Creation of dynamic property WP_Term::$cat_name is deprecated in /customers/c/9/8/wpin4.1prod.one/httpd.www/landing-v2/wp-includes/category.php on line 381 Deprecated: Creation of dynamic property WP_Term::$category_nicename is deprecated in /customers/c/9/8/wpin4.1prod.one/httpd.www/landing-v2/wp-includes/category.php on line 382 Deprecated: Creation of dynamic property WP_Term::$category_parent is deprecated in /customers/c/9/8/wpin4.1prod.one/httpd.www/landing-v2/wp-includes/category.php on line 383 Warning: Undefined variable $blocks in /customers/c/9/8/wpin4.1prod.one/httpd.www/landing-v2/wp-content/themes/onecom-landing-page-v2/functions.php on line 1441 Warning: Trying to access array offset on value of type null in /customers/c/9/8/wpin4.1prod.one/httpd.www/landing-v2/wp-content/themes/onecom-landing-page-v2/functions.php on line 1441 Warning: Trying to access array offset on value of type null in /customers/c/9/8/wpin4.1prod.one/httpd.www/landing-v2/wp-content/themes/onecom-landing-page-v2/functions.php on line 1441 Deprecated: preg_match(): Passing null to parameter #2 ($subject) of type string is deprecated in /customers/c/9/8/wpin4.1prod.one/httpd.www/landing-v2/wp-content/themes/onecom-landing-page-v2/functions.php on line 1442 Deprecated: Creation of dynamic property WP_Term::$cat_ID is deprecated in /customers/c/9/8/wpin4.1prod.one/httpd.www/landing-v2/wp-includes/category.php on line 378 Deprecated: Creation of dynamic property WP_Term::$category_count is deprecated in /customers/c/9/8/wpin4.1prod.one/httpd.www/landing-v2/wp-includes/category.php on line 379 Deprecated: Creation of dynamic property WP_Term::$category_description is deprecated in /customers/c/9/8/wpin4.1prod.one/httpd.www/landing-v2/wp-includes/category.php on line 380 Deprecated: Creation of dynamic property WP_Term::$cat_name is deprecated in /customers/c/9/8/wpin4.1prod.one/httpd.www/landing-v2/wp-includes/category.php on line 381 Deprecated: Creation of dynamic property WP_Term::$category_nicename is deprecated in /customers/c/9/8/wpin4.1prod.one/httpd.www/landing-v2/wp-includes/category.php on line 382 Deprecated: Creation of dynamic property WP_Term::$category_parent is deprecated in /customers/c/9/8/wpin4.1prod.one/httpd.www/landing-v2/wp-includes/category.php on line 383 Deprecated: Creation of dynamic property WP_Term::$cat_ID is deprecated in /customers/c/9/8/wpin4.1prod.one/httpd.www/landing-v2/wp-includes/category.php on line 378 Deprecated: Creation of dynamic property WP_Term::$category_count is deprecated in /customers/c/9/8/wpin4.1prod.one/httpd.www/landing-v2/wp-includes/category.php on line 379 Deprecated: Creation of dynamic property WP_Term::$category_description is deprecated in /customers/c/9/8/wpin4.1prod.one/httpd.www/landing-v2/wp-includes/category.php on line 380 Deprecated: Creation of dynamic property WP_Term::$cat_name is deprecated in /customers/c/9/8/wpin4.1prod.one/httpd.www/landing-v2/wp-includes/category.php on line 381 Deprecated: Creation of dynamic property WP_Term::$category_nicename is deprecated in /customers/c/9/8/wpin4.1prod.one/httpd.www/landing-v2/wp-includes/category.php on line 382 Deprecated: Creation of dynamic property WP_Term::$category_parent is deprecated in /customers/c/9/8/wpin4.1prod.one/httpd.www/landing-v2/wp-includes/category.php on line 383 Warning: Undefined variable $blocks in /customers/c/9/8/wpin4.1prod.one/httpd.www/landing-v2/wp-content/themes/onecom-landing-page-v2/functions.php on line 1441 Warning: Trying to access array offset on value of type null in /customers/c/9/8/wpin4.1prod.one/httpd.www/landing-v2/wp-content/themes/onecom-landing-page-v2/functions.php on line 1441 Warning: Trying to access array offset on value of type null in /customers/c/9/8/wpin4.1prod.one/httpd.www/landing-v2/wp-content/themes/onecom-landing-page-v2/functions.php on line 1441 Deprecated: preg_match(): Passing null to parameter #2 ($subject) of type string is deprecated in /customers/c/9/8/wpin4.1prod.one/httpd.www/landing-v2/wp-content/themes/onecom-landing-page-v2/functions.php on line 1442 Deprecated: Creation of dynamic property WP_Term::$cat_ID is deprecated in /customers/c/9/8/wpin4.1prod.one/httpd.www/landing-v2/wp-includes/category.php on line 378 Deprecated: Creation of dynamic property WP_Term::$category_count is deprecated in /customers/c/9/8/wpin4.1prod.one/httpd.www/landing-v2/wp-includes/category.php on line 379 Deprecated: Creation of dynamic property WP_Term::$category_description is deprecated in /customers/c/9/8/wpin4.1prod.one/httpd.www/landing-v2/wp-includes/category.php on line 380 Deprecated: Creation of dynamic property WP_Term::$cat_name is deprecated in /customers/c/9/8/wpin4.1prod.one/httpd.www/landing-v2/wp-includes/category.php on line 381 Deprecated: Creation of dynamic property WP_Term::$category_nicename is deprecated in /customers/c/9/8/wpin4.1prod.one/httpd.www/landing-v2/wp-includes/category.php on line 382 Deprecated: Creation of dynamic property WP_Term::$category_parent is deprecated in /customers/c/9/8/wpin4.1prod.one/httpd.www/landing-v2/wp-includes/category.php on line 383 Deprecated: Creation of dynamic property WP_Term::$cat_ID is deprecated in /customers/c/9/8/wpin4.1prod.one/httpd.www/landing-v2/wp-includes/category.php on line 378 Deprecated: Creation of dynamic property WP_Term::$category_count is deprecated in /customers/c/9/8/wpin4.1prod.one/httpd.www/landing-v2/wp-includes/category.php on line 379 Deprecated: Creation of dynamic property WP_Term::$category_description is deprecated in /customers/c/9/8/wpin4.1prod.one/httpd.www/landing-v2/wp-includes/category.php on line 380 Deprecated: Creation of dynamic property WP_Term::$cat_name is deprecated in /customers/c/9/8/wpin4.1prod.one/httpd.www/landing-v2/wp-includes/category.php on line 381 Deprecated: Creation of dynamic property WP_Term::$category_nicename is deprecated in /customers/c/9/8/wpin4.1prod.one/httpd.www/landing-v2/wp-includes/category.php on line 382 Deprecated: Creation of dynamic property WP_Term::$category_parent is deprecated in /customers/c/9/8/wpin4.1prod.one/httpd.www/landing-v2/wp-includes/category.php on line 383 Warning: Undefined variable $blocks in /customers/c/9/8/wpin4.1prod.one/httpd.www/landing-v2/wp-content/themes/onecom-landing-page-v2/functions.php on line 1441 Warning: Trying to access array offset on value of type null in /customers/c/9/8/wpin4.1prod.one/httpd.www/landing-v2/wp-content/themes/onecom-landing-page-v2/functions.php on line 1441 Warning: Trying to access array offset on value of type null in /customers/c/9/8/wpin4.1prod.one/httpd.www/landing-v2/wp-content/themes/onecom-landing-page-v2/functions.php on line 1441 Deprecated: preg_match(): Passing null to parameter #2 ($subject) of type string is deprecated in /customers/c/9/8/wpin4.1prod.one/httpd.www/landing-v2/wp-content/themes/onecom-landing-page-v2/functions.php on line 1442 Deprecated: Creation of dynamic property WP_Term::$cat_ID is deprecated in /customers/c/9/8/wpin4.1prod.one/httpd.www/landing-v2/wp-includes/category.php on line 378 Deprecated: Creation of dynamic property WP_Term::$category_count is deprecated in /customers/c/9/8/wpin4.1prod.one/httpd.www/landing-v2/wp-includes/category.php on line 379 Deprecated: Creation of dynamic property WP_Term::$category_description is deprecated in /customers/c/9/8/wpin4.1prod.one/httpd.www/landing-v2/wp-includes/category.php on line 380 Deprecated: Creation of dynamic property WP_Term::$cat_name is deprecated in /customers/c/9/8/wpin4.1prod.one/httpd.www/landing-v2/wp-includes/category.php on line 381 Deprecated: Creation of dynamic property WP_Term::$category_nicename is deprecated in /customers/c/9/8/wpin4.1prod.one/httpd.www/landing-v2/wp-includes/category.php on line 382 Deprecated: Creation of dynamic property WP_Term::$category_parent is deprecated in /customers/c/9/8/wpin4.1prod.one/httpd.www/landing-v2/wp-includes/category.php on line 383 Deprecated: Creation of dynamic property WP_Term::$cat_ID is deprecated in /customers/c/9/8/wpin4.1prod.one/httpd.www/landing-v2/wp-includes/category.php on line 378 Deprecated: Creation of dynamic property WP_Term::$category_count is deprecated in /customers/c/9/8/wpin4.1prod.one/httpd.www/landing-v2/wp-includes/category.php on line 379 Deprecated: Creation of dynamic property WP_Term::$category_description is deprecated in /customers/c/9/8/wpin4.1prod.one/httpd.www/landing-v2/wp-includes/category.php on line 380 Deprecated: Creation of dynamic property WP_Term::$cat_name is deprecated in /customers/c/9/8/wpin4.1prod.one/httpd.www/landing-v2/wp-includes/category.php on line 381 Deprecated: Creation of dynamic property WP_Term::$category_nicename is deprecated in /customers/c/9/8/wpin4.1prod.one/httpd.www/landing-v2/wp-includes/category.php on line 382 Deprecated: Creation of dynamic property WP_Term::$category_parent is deprecated in /customers/c/9/8/wpin4.1prod.one/httpd.www/landing-v2/wp-includes/category.php on line 383 Warning: Undefined variable $blocks in /customers/c/9/8/wpin4.1prod.one/httpd.www/landing-v2/wp-content/themes/onecom-landing-page-v2/functions.php on line 1441 Warning: Trying to access array offset on value of type null in /customers/c/9/8/wpin4.1prod.one/httpd.www/landing-v2/wp-content/themes/onecom-landing-page-v2/functions.php on line 1441 Warning: Trying to access array offset on value of type null in /customers/c/9/8/wpin4.1prod.one/httpd.www/landing-v2/wp-content/themes/onecom-landing-page-v2/functions.php on line 1441 Deprecated: preg_match(): Passing null to parameter #2 ($subject) of type string is deprecated in /customers/c/9/8/wpin4.1prod.one/httpd.www/landing-v2/wp-content/themes/onecom-landing-page-v2/functions.php on line 1442 Deprecated: Creation of dynamic property WP_Term::$cat_ID is deprecated in /customers/c/9/8/wpin4.1prod.one/httpd.www/landing-v2/wp-includes/category.php on line 378 Deprecated: Creation of dynamic property WP_Term::$category_count is deprecated in /customers/c/9/8/wpin4.1prod.one/httpd.www/landing-v2/wp-includes/category.php on line 379 Deprecated: Creation of dynamic property WP_Term::$category_description is deprecated in /customers/c/9/8/wpin4.1prod.one/httpd.www/landing-v2/wp-includes/category.php on line 380 Deprecated: Creation of dynamic property WP_Term::$cat_name is deprecated in /customers/c/9/8/wpin4.1prod.one/httpd.www/landing-v2/wp-includes/category.php on line 381 Deprecated: Creation of dynamic property WP_Term::$category_nicename is deprecated in /customers/c/9/8/wpin4.1prod.one/httpd.www/landing-v2/wp-includes/category.php on line 382 Deprecated: Creation of dynamic property WP_Term::$category_parent is deprecated in /customers/c/9/8/wpin4.1prod.one/httpd.www/landing-v2/wp-includes/category.php on line 383 Deprecated: Creation of dynamic property WP_Term::$cat_ID is deprecated in /customers/c/9/8/wpin4.1prod.one/httpd.www/landing-v2/wp-includes/category.php on line 378 Deprecated: Creation of dynamic property WP_Term::$category_count is deprecated in /customers/c/9/8/wpin4.1prod.one/httpd.www/landing-v2/wp-includes/category.php on line 379 Deprecated: Creation of dynamic property WP_Term::$category_description is deprecated in /customers/c/9/8/wpin4.1prod.one/httpd.www/landing-v2/wp-includes/category.php on line 380 Deprecated: Creation of dynamic property WP_Term::$cat_name is deprecated in /customers/c/9/8/wpin4.1prod.one/httpd.www/landing-v2/wp-includes/category.php on line 381 Deprecated: Creation of dynamic property WP_Term::$category_nicename is deprecated in /customers/c/9/8/wpin4.1prod.one/httpd.www/landing-v2/wp-includes/category.php on line 382 Deprecated: Creation of dynamic property WP_Term::$category_parent is deprecated in /customers/c/9/8/wpin4.1prod.one/httpd.www/landing-v2/wp-includes/category.php on line 383 Warning: Undefined variable $blocks in /customers/c/9/8/wpin4.1prod.one/httpd.www/landing-v2/wp-content/themes/onecom-landing-page-v2/functions.php on line 1441 Warning: Trying to access array offset on value of type null in /customers/c/9/8/wpin4.1prod.one/httpd.www/landing-v2/wp-content/themes/onecom-landing-page-v2/functions.php on line 1441 Warning: Trying to access array offset on value of type null in /customers/c/9/8/wpin4.1prod.one/httpd.www/landing-v2/wp-content/themes/onecom-landing-page-v2/functions.php on line 1441 Deprecated: preg_match(): Passing null to parameter #2 ($subject) of type string is deprecated in /customers/c/9/8/wpin4.1prod.one/httpd.www/landing-v2/wp-content/themes/onecom-landing-page-v2/functions.php on line 1442 Deprecated: Creation of dynamic property WP_Term::$cat_ID is deprecated in /customers/c/9/8/wpin4.1prod.one/httpd.www/landing-v2/wp-includes/category.php on line 378 Deprecated: Creation of dynamic property WP_Term::$category_count is deprecated in /customers/c/9/8/wpin4.1prod.one/httpd.www/landing-v2/wp-includes/category.php on line 379 Deprecated: Creation of dynamic property WP_Term::$category_description is deprecated in /customers/c/9/8/wpin4.1prod.one/httpd.www/landing-v2/wp-includes/category.php on line 380 Deprecated: Creation of dynamic property WP_Term::$cat_name is deprecated in /customers/c/9/8/wpin4.1prod.one/httpd.www/landing-v2/wp-includes/category.php on line 381 Deprecated: Creation of dynamic property WP_Term::$category_nicename is deprecated in /customers/c/9/8/wpin4.1prod.one/httpd.www/landing-v2/wp-includes/category.php on line 382 Deprecated: Creation of dynamic property WP_Term::$category_parent is deprecated in /customers/c/9/8/wpin4.1prod.one/httpd.www/landing-v2/wp-includes/category.php on line 383 Warning: Undefined variable $blocks in /customers/c/9/8/wpin4.1prod.one/httpd.www/landing-v2/wp-content/themes/onecom-landing-page-v2/functions.php on line 1441 Warning: Trying to access array offset on value of type null in /customers/c/9/8/wpin4.1prod.one/httpd.www/landing-v2/wp-content/themes/onecom-landing-page-v2/functions.php on line 1441 Warning: Trying to access array offset on value of type null in /customers/c/9/8/wpin4.1prod.one/httpd.www/landing-v2/wp-content/themes/onecom-landing-page-v2/functions.php on line 1441 Deprecated: preg_match(): Passing null to parameter #2 ($subject) of type string is deprecated in /customers/c/9/8/wpin4.1prod.one/httpd.www/landing-v2/wp-content/themes/onecom-landing-page-v2/functions.php on line 1442 Deprecated: Creation of dynamic property WP_Term::$cat_ID is deprecated in /customers/c/9/8/wpin4.1prod.one/httpd.www/landing-v2/wp-includes/category.php on line 378 Deprecated: Creation of dynamic property WP_Term::$category_count is deprecated in /customers/c/9/8/wpin4.1prod.one/httpd.www/landing-v2/wp-includes/category.php on line 379 Deprecated: Creation of dynamic property WP_Term::$category_description is deprecated in /customers/c/9/8/wpin4.1prod.one/httpd.www/landing-v2/wp-includes/category.php on line 380 Deprecated: Creation of dynamic property WP_Term::$cat_name is deprecated in /customers/c/9/8/wpin4.1prod.one/httpd.www/landing-v2/wp-includes/category.php on line 381 Deprecated: Creation of dynamic property WP_Term::$category_nicename is deprecated in /customers/c/9/8/wpin4.1prod.one/httpd.www/landing-v2/wp-includes/category.php on line 382 Deprecated: Creation of dynamic property WP_Term::$category_parent is deprecated in /customers/c/9/8/wpin4.1prod.one/httpd.www/landing-v2/wp-includes/category.php on line 383 Deprecated: Creation of dynamic property WP_Term::$cat_ID is deprecated in /customers/c/9/8/wpin4.1prod.one/httpd.www/landing-v2/wp-includes/category.php on line 378 Deprecated: Creation of dynamic property WP_Term::$category_count is deprecated in /customers/c/9/8/wpin4.1prod.one/httpd.www/landing-v2/wp-includes/category.php on line 379 Deprecated: Creation of dynamic property WP_Term::$category_description is deprecated in /customers/c/9/8/wpin4.1prod.one/httpd.www/landing-v2/wp-includes/category.php on line 380 Deprecated: Creation of dynamic property WP_Term::$cat_name is deprecated in /customers/c/9/8/wpin4.1prod.one/httpd.www/landing-v2/wp-includes/category.php on line 381 Deprecated: Creation of dynamic property WP_Term::$category_nicename is deprecated in /customers/c/9/8/wpin4.1prod.one/httpd.www/landing-v2/wp-includes/category.php on line 382 Deprecated: Creation of dynamic property WP_Term::$category_parent is deprecated in /customers/c/9/8/wpin4.1prod.one/httpd.www/landing-v2/wp-includes/category.php on line 383 Warning: Undefined variable $blocks in /customers/c/9/8/wpin4.1prod.one/httpd.www/landing-v2/wp-content/themes/onecom-landing-page-v2/functions.php on line 1441 Warning: Trying to access array offset on value of type null in /customers/c/9/8/wpin4.1prod.one/httpd.www/landing-v2/wp-content/themes/onecom-landing-page-v2/functions.php on line 1441 Warning: Trying to access array offset on value of type null in /customers/c/9/8/wpin4.1prod.one/httpd.www/landing-v2/wp-content/themes/onecom-landing-page-v2/functions.php on line 1441 Deprecated: preg_match(): Passing null to parameter #2 ($subject) of type string is deprecated in /customers/c/9/8/wpin4.1prod.one/httpd.www/landing-v2/wp-content/themes/onecom-landing-page-v2/functions.php on line 1442 Deprecated: Creation of dynamic property WP_Term::$cat_ID is deprecated in /customers/c/9/8/wpin4.1prod.one/httpd.www/landing-v2/wp-includes/category.php on line 378 Deprecated: Creation of dynamic property WP_Term::$category_count is deprecated in /customers/c/9/8/wpin4.1prod.one/httpd.www/landing-v2/wp-includes/category.php on line 379 Deprecated: Creation of dynamic property WP_Term::$category_description is deprecated in /customers/c/9/8/wpin4.1prod.one/httpd.www/landing-v2/wp-includes/category.php on line 380 Deprecated: Creation of dynamic property WP_Term::$cat_name is deprecated in /customers/c/9/8/wpin4.1prod.one/httpd.www/landing-v2/wp-includes/category.php on line 381 Deprecated: Creation of dynamic property WP_Term::$category_nicename is deprecated in /customers/c/9/8/wpin4.1prod.one/httpd.www/landing-v2/wp-includes/category.php on line 382 Deprecated: Creation of dynamic property WP_Term::$category_parent is deprecated in /customers/c/9/8/wpin4.1prod.one/httpd.www/landing-v2/wp-includes/category.php on line 383 Warning: Undefined variable $blocks in /customers/c/9/8/wpin4.1prod.one/httpd.www/landing-v2/wp-content/themes/onecom-landing-page-v2/functions.php on line 1441 Warning: Trying to access array offset on value of type null in /customers/c/9/8/wpin4.1prod.one/httpd.www/landing-v2/wp-content/themes/onecom-landing-page-v2/functions.php on line 1441 Warning: Trying to access array offset on value of type null in /customers/c/9/8/wpin4.1prod.one/httpd.www/landing-v2/wp-content/themes/onecom-landing-page-v2/functions.php on line 1441 Deprecated: preg_match(): Passing null to parameter #2 ($subject) of type string is deprecated in /customers/c/9/8/wpin4.1prod.one/httpd.www/landing-v2/wp-content/themes/onecom-landing-page-v2/functions.php on line 1442 Deprecated: Creation of dynamic property WP_Term::$cat_ID is deprecated in /customers/c/9/8/wpin4.1prod.one/httpd.www/landing-v2/wp-includes/category.php on line 378 Deprecated: Creation of dynamic property WP_Term::$category_count is deprecated in /customers/c/9/8/wpin4.1prod.one/httpd.www/landing-v2/wp-includes/category.php on line 379 Deprecated: Creation of dynamic property WP_Term::$category_description is deprecated in /customers/c/9/8/wpin4.1prod.one/httpd.www/landing-v2/wp-includes/category.php on line 380 Deprecated: Creation of dynamic property WP_Term::$cat_name is deprecated in /customers/c/9/8/wpin4.1prod.one/httpd.www/landing-v2/wp-includes/category.php on line 381 Deprecated: Creation of dynamic property WP_Term::$category_nicename is deprecated in /customers/c/9/8/wpin4.1prod.one/httpd.www/landing-v2/wp-includes/category.php on line 382 Deprecated: Creation of dynamic property WP_Term::$category_parent is deprecated in /customers/c/9/8/wpin4.1prod.one/httpd.www/landing-v2/wp-includes/category.php on line 383 Warning: Undefined variable $blocks in /customers/c/9/8/wpin4.1prod.one/httpd.www/landing-v2/wp-content/themes/onecom-landing-page-v2/functions.php on line 1441 Warning: Trying to access array offset on value of type null in /customers/c/9/8/wpin4.1prod.one/httpd.www/landing-v2/wp-content/themes/onecom-landing-page-v2/functions.php on line 1441 Warning: Trying to access array offset on value of type null in /customers/c/9/8/wpin4.1prod.one/httpd.www/landing-v2/wp-content/themes/onecom-landing-page-v2/functions.php on line 1441 Deprecated: preg_match(): Passing null to parameter #2 ($subject) of type string is deprecated in /customers/c/9/8/wpin4.1prod.one/httpd.www/landing-v2/wp-content/themes/onecom-landing-page-v2/functions.php on line 1442 Deprecated: Creation of dynamic property WP_Term::$cat_ID is deprecated in /customers/c/9/8/wpin4.1prod.one/httpd.www/landing-v2/wp-includes/category.php on line 378 Deprecated: Creation of dynamic property WP_Term::$category_count is deprecated in /customers/c/9/8/wpin4.1prod.one/httpd.www/landing-v2/wp-includes/category.php on line 379 Deprecated: Creation of dynamic property WP_Term::$category_description is deprecated in /customers/c/9/8/wpin4.1prod.one/httpd.www/landing-v2/wp-includes/category.php on line 380 Deprecated: Creation of dynamic property WP_Term::$cat_name is deprecated in /customers/c/9/8/wpin4.1prod.one/httpd.www/landing-v2/wp-includes/category.php on line 381 Deprecated: Creation of dynamic property WP_Term::$category_nicename is deprecated in /customers/c/9/8/wpin4.1prod.one/httpd.www/landing-v2/wp-includes/category.php on line 382 Deprecated: Creation of dynamic property WP_Term::$category_parent is deprecated in /customers/c/9/8/wpin4.1prod.one/httpd.www/landing-v2/wp-includes/category.php on line 383 Warning: Undefined variable $blocks in /customers/c/9/8/wpin4.1prod.one/httpd.www/landing-v2/wp-content/themes/onecom-landing-page-v2/functions.php on line 1441 Warning: Trying to access array offset on value of type null in /customers/c/9/8/wpin4.1prod.one/httpd.www/landing-v2/wp-content/themes/onecom-landing-page-v2/functions.php on line 1441 Warning: Trying to access array offset on value of type null in /customers/c/9/8/wpin4.1prod.one/httpd.www/landing-v2/wp-content/themes/onecom-landing-page-v2/functions.php on line 1441 Deprecated: preg_match(): Passing null to parameter #2 ($subject) of type string is deprecated in /customers/c/9/8/wpin4.1prod.one/httpd.www/landing-v2/wp-content/themes/onecom-landing-page-v2/functions.php on line 1442 Deprecated: Creation of dynamic property WP_Term::$cat_ID is deprecated in /customers/c/9/8/wpin4.1prod.one/httpd.www/landing-v2/wp-includes/category.php on line 378 Deprecated: Creation of dynamic property WP_Term::$category_count is deprecated in /customers/c/9/8/wpin4.1prod.one/httpd.www/landing-v2/wp-includes/category.php on line 379 Deprecated: Creation of dynamic property WP_Term::$category_description is deprecated in /customers/c/9/8/wpin4.1prod.one/httpd.www/landing-v2/wp-includes/category.php on line 380 Deprecated: Creation of dynamic property WP_Term::$cat_name is deprecated in /customers/c/9/8/wpin4.1prod.one/httpd.www/landing-v2/wp-includes/category.php on line 381 Deprecated: Creation of dynamic property WP_Term::$category_nicename is deprecated in /customers/c/9/8/wpin4.1prod.one/httpd.www/landing-v2/wp-includes/category.php on line 382 Deprecated: Creation of dynamic property WP_Term::$category_parent is deprecated in /customers/c/9/8/wpin4.1prod.one/httpd.www/landing-v2/wp-includes/category.php on line 383 Deprecated: Creation of dynamic property WP_Term::$cat_ID is deprecated in /customers/c/9/8/wpin4.1prod.one/httpd.www/landing-v2/wp-includes/category.php on line 378 Deprecated: Creation of dynamic property WP_Term::$category_count is deprecated in /customers/c/9/8/wpin4.1prod.one/httpd.www/landing-v2/wp-includes/category.php on line 379 Deprecated: Creation of dynamic property WP_Term::$category_description is deprecated in /customers/c/9/8/wpin4.1prod.one/httpd.www/landing-v2/wp-includes/category.php on line 380 Deprecated: Creation of dynamic property WP_Term::$cat_name is deprecated in /customers/c/9/8/wpin4.1prod.one/httpd.www/landing-v2/wp-includes/category.php on line 381 Deprecated: Creation of dynamic property WP_Term::$category_nicename is deprecated in /customers/c/9/8/wpin4.1prod.one/httpd.www/landing-v2/wp-includes/category.php on line 382 Deprecated: Creation of dynamic property WP_Term::$category_parent is deprecated in /customers/c/9/8/wpin4.1prod.one/httpd.www/landing-v2/wp-includes/category.php on line 383 Warning: Undefined variable $blocks in /customers/c/9/8/wpin4.1prod.one/httpd.www/landing-v2/wp-content/themes/onecom-landing-page-v2/functions.php on line 1441 Warning: Trying to access array offset on value of type null in /customers/c/9/8/wpin4.1prod.one/httpd.www/landing-v2/wp-content/themes/onecom-landing-page-v2/functions.php on line 1441 Warning: Trying to access array offset on value of type null in /customers/c/9/8/wpin4.1prod.one/httpd.www/landing-v2/wp-content/themes/onecom-landing-page-v2/functions.php on line 1441 Deprecated: preg_match(): Passing null to parameter #2 ($subject) of type string is deprecated in /customers/c/9/8/wpin4.1prod.one/httpd.www/landing-v2/wp-content/themes/onecom-landing-page-v2/functions.php on line 1442 Deprecated: Creation of dynamic property WP_Term::$cat_ID is deprecated in /customers/c/9/8/wpin4.1prod.one/httpd.www/landing-v2/wp-includes/category.php on line 378 Deprecated: Creation of dynamic property WP_Term::$category_count is deprecated in /customers/c/9/8/wpin4.1prod.one/httpd.www/landing-v2/wp-includes/category.php on line 379 Deprecated: Creation of dynamic property WP_Term::$category_description is deprecated in /customers/c/9/8/wpin4.1prod.one/httpd.www/landing-v2/wp-includes/category.php on line 380 Deprecated: Creation of dynamic property WP_Term::$cat_name is deprecated in /customers/c/9/8/wpin4.1prod.one/httpd.www/landing-v2/wp-includes/category.php on line 381 Deprecated: Creation of dynamic property WP_Term::$category_nicename is deprecated in /customers/c/9/8/wpin4.1prod.one/httpd.www/landing-v2/wp-includes/category.php on line 382 Deprecated: Creation of dynamic property WP_Term::$category_parent is deprecated in /customers/c/9/8/wpin4.1prod.one/httpd.www/landing-v2/wp-includes/category.php on line 383 Warning: Undefined variable $blocks in /customers/c/9/8/wpin4.1prod.one/httpd.www/landing-v2/wp-content/themes/onecom-landing-page-v2/functions.php on line 1441 Warning: Trying to access array offset on value of type null in /customers/c/9/8/wpin4.1prod.one/httpd.www/landing-v2/wp-content/themes/onecom-landing-page-v2/functions.php on line 1441 Warning: Trying to access array offset on value of type null in /customers/c/9/8/wpin4.1prod.one/httpd.www/landing-v2/wp-content/themes/onecom-landing-page-v2/functions.php on line 1441 Deprecated: preg_match(): Passing null to parameter #2 ($subject) of type string is deprecated in /customers/c/9/8/wpin4.1prod.one/httpd.www/landing-v2/wp-content/themes/onecom-landing-page-v2/functions.php on line 1442 Deprecated: Creation of dynamic property WP_Term::$cat_ID is deprecated in /customers/c/9/8/wpin4.1prod.one/httpd.www/landing-v2/wp-includes/category.php on line 378 Deprecated: Creation of dynamic property WP_Term::$category_count is deprecated in /customers/c/9/8/wpin4.1prod.one/httpd.www/landing-v2/wp-includes/category.php on line 379 Deprecated: Creation of dynamic property WP_Term::$category_description is deprecated in /customers/c/9/8/wpin4.1prod.one/httpd.www/landing-v2/wp-includes/category.php on line 380 Deprecated: Creation of dynamic property WP_Term::$cat_name is deprecated in /customers/c/9/8/wpin4.1prod.one/httpd.www/landing-v2/wp-includes/category.php on line 381 Deprecated: Creation of dynamic property WP_Term::$category_nicename is deprecated in /customers/c/9/8/wpin4.1prod.one/httpd.www/landing-v2/wp-includes/category.php on line 382 Deprecated: Creation of dynamic property WP_Term::$category_parent is deprecated in /customers/c/9/8/wpin4.1prod.one/httpd.www/landing-v2/wp-includes/category.php on line 383 Deprecated: Creation of dynamic property WP_Term::$cat_ID is deprecated in /customers/c/9/8/wpin4.1prod.one/httpd.www/landing-v2/wp-includes/category.php on line 378 Deprecated: Creation of dynamic property WP_Term::$category_count is deprecated in /customers/c/9/8/wpin4.1prod.one/httpd.www/landing-v2/wp-includes/category.php on line 379 Deprecated: Creation of dynamic property WP_Term::$category_description is deprecated in /customers/c/9/8/wpin4.1prod.one/httpd.www/landing-v2/wp-includes/category.php on line 380 Deprecated: Creation of dynamic property WP_Term::$cat_name is deprecated in /customers/c/9/8/wpin4.1prod.one/httpd.www/landing-v2/wp-includes/category.php on line 381 Deprecated: Creation of dynamic property WP_Term::$category_nicename is deprecated in /customers/c/9/8/wpin4.1prod.one/httpd.www/landing-v2/wp-includes/category.php on line 382 Deprecated: Creation of dynamic property WP_Term::$category_parent is deprecated in /customers/c/9/8/wpin4.1prod.one/httpd.www/landing-v2/wp-includes/category.php on line 383 Deprecated: Creation of dynamic property WP_Term::$cat_ID is deprecated in /customers/c/9/8/wpin4.1prod.one/httpd.www/landing-v2/wp-includes/category.php on line 378 Deprecated: Creation of dynamic property WP_Term::$category_count is deprecated in /customers/c/9/8/wpin4.1prod.one/httpd.www/landing-v2/wp-includes/category.php on line 379 Deprecated: Creation of dynamic property WP_Term::$category_description is deprecated in /customers/c/9/8/wpin4.1prod.one/httpd.www/landing-v2/wp-includes/category.php on line 380 Deprecated: Creation of dynamic property WP_Term::$cat_name is deprecated in /customers/c/9/8/wpin4.1prod.one/httpd.www/landing-v2/wp-includes/category.php on line 381 Deprecated: Creation of dynamic property WP_Term::$category_nicename is deprecated in /customers/c/9/8/wpin4.1prod.one/httpd.www/landing-v2/wp-includes/category.php on line 382 Deprecated: Creation of dynamic property WP_Term::$category_parent is deprecated in /customers/c/9/8/wpin4.1prod.one/httpd.www/landing-v2/wp-includes/category.php on line 383 Deprecated: Creation of dynamic property WP_Term::$object_id is deprecated in /customers/c/9/8/wpin4.1prod.one/httpd.www/landing-v2/wp-includes/class-wp-term-query.php on line 1118 Deprecated: Creation of dynamic property WP_Term::$object_id is deprecated in /customers/c/9/8/wpin4.1prod.one/httpd.www/landing-v2/wp-includes/class-wp-term-query.php on line 1118 Deprecated: Creation of dynamic property WP_Term::$object_id is deprecated in /customers/c/9/8/wpin4.1prod.one/httpd.www/landing-v2/wp-includes/class-wp-term-query.php on line 1118 Deprecated: Creation of dynamic property WP_Term::$object_id is deprecated in /customers/c/9/8/wpin4.1prod.one/httpd.www/landing-v2/wp-includes/class-wp-term-query.php on line 1118 Deprecated: Creation of dynamic property WP_Term::$object_id is deprecated in /customers/c/9/8/wpin4.1prod.one/httpd.www/landing-v2/wp-includes/class-wp-term-query.php on line 1118 Deprecated: Creation of dynamic property WP_Term::$object_id is deprecated in /customers/c/9/8/wpin4.1prod.one/httpd.www/landing-v2/wp-includes/class-wp-term-query.php on line 1118 Deprecated: Creation of dynamic property WP_Term::$object_id is deprecated in /customers/c/9/8/wpin4.1prod.one/httpd.www/landing-v2/wp-includes/class-wp-term-query.php on line 1118 Deprecated: Creation of dynamic property WP_Term::$object_id is deprecated in /customers/c/9/8/wpin4.1prod.one/httpd.www/landing-v2/wp-includes/class-wp-term-query.php on line 1118 Deprecated: Creation of dynamic property WP_Term::$object_id is deprecated in /customers/c/9/8/wpin4.1prod.one/httpd.www/landing-v2/wp-includes/class-wp-term-query.php on line 1118 Deprecated: Creation of dynamic property WP_Term::$object_id is deprecated in /customers/c/9/8/wpin4.1prod.one/httpd.www/landing-v2/wp-includes/class-wp-term-query.php on line 1118 Deprecated: Creation of dynamic property WP_Term::$object_id is deprecated in /customers/c/9/8/wpin4.1prod.one/httpd.www/landing-v2/wp-includes/class-wp-term-query.php on line 1118 Deprecated: Creation of dynamic property WP_Term::$object_id is deprecated in /customers/c/9/8/wpin4.1prod.one/httpd.www/landing-v2/wp-includes/class-wp-term-query.php on line 1118 Deprecated: Creation of dynamic property WP_Term::$object_id is deprecated in /customers/c/9/8/wpin4.1prod.one/httpd.www/landing-v2/wp-includes/class-wp-term-query.php on line 1118 Deprecated: Creation of dynamic property WP_Term::$object_id is deprecated in /customers/c/9/8/wpin4.1prod.one/httpd.www/landing-v2/wp-includes/class-wp-term-query.php on line 1118 Deprecated: Creation of dynamic property WP_Term::$object_id is deprecated in /customers/c/9/8/wpin4.1prod.one/httpd.www/landing-v2/wp-includes/class-wp-term-query.php on line 1118 Deprecated: Creation of dynamic property WP_Term::$object_id is deprecated in /customers/c/9/8/wpin4.1prod.one/httpd.www/landing-v2/wp-includes/class-wp-term-query.php on line 1118 Deprecated: Creation of dynamic property WP_Term::$object_id is deprecated in /customers/c/9/8/wpin4.1prod.one/httpd.www/landing-v2/wp-includes/class-wp-term-query.php on line 1118 Deprecated: Creation of dynamic property WP_Term::$object_id is deprecated in /customers/c/9/8/wpin4.1prod.one/httpd.www/landing-v2/wp-includes/class-wp-term-query.php on line 1118 Deprecated: Creation of dynamic property WP_Term::$object_id is deprecated in /customers/c/9/8/wpin4.1prod.one/httpd.www/landing-v2/wp-includes/class-wp-term-query.php on line 1118 Deprecated: Creation of dynamic property WP_Term::$object_id is deprecated in /customers/c/9/8/wpin4.1prod.one/httpd.www/landing-v2/wp-includes/class-wp-term-query.php on line 1118
Zo kun je je WordPress site beschermen tegen spam
Leer hoe je jouw WordPress website op verschillende manieren tegen spam kunt beschermen!
WordPress: we weten allemaal wat voor eindeloze mogelijkheden dit platform ons biedt. Er is echter één ding dat met deze website is verbonden waardoor wij grijze haren krijgen: spam. Spambots blijven maar komen vanuit alle hoeken, ondanks alle moeite die je erin hebt gestoken om spam te detecteren en te bestrijden. Je weet vast al dat je WordPress en formulieren tegen spam kan beschermen door plugins te installeren en de antispam functies te activeren die WordPress biedt om spam te bestrijden. Daarnaast heb je vast al vaker gegoogled naar de beste gratis anti spam voor WordPress of de beste ReCaptcha-plugin.
Toch is spam hardnekkig. Dit komt omdat Spambots evolueren net zoals wij dat doen, waardoor ze steeds slimmer worden om informatie op te dringen aan jou. Elke keer dat spam een nieuwe manier vindt om je website binnen te komen, moet een nieuwe manier gevonden worden om het weer te bestrijden. Daarom de vraag: hoe kunnen we onze comments & formulieren filteren en beschermen tegen spam?
Meestal wordt er in een bepaalde vorm een contactformulier aan een website toegevoegd, zodat bezoekers met je in contact kunnen komen. Dat is ook juist het leuke, wetende dat iemand met jouw bedrijf in contact wil komen. Toch wordt dit idee belemmert als je de hele tijd spam ontvangt via deze contactformulieren. Daarom geven we in dit artikel eenvoudige tips om deze ongewenste bezoekers de online deur te wijzen. Noem ons maar gewoon het 'anti-spam team van WordPress'.
5 Alternatieve WordPress Anti Spam oplossingen voor de comments
Voordat we gaan praten over externe hulpmiddelen, gaan we eerst eens na wat WordPress voor ons kan betekenen in deze kwestie. WordPress heeft namelijk ingebouwde functies die jou en je WordPress-site kunnen beschermen:
Beheer reacties of schakel ze uit.
Je kan 'opmerkingen' op de pagina's uitschakelen door op Instellingen → Discussie te klikken. Lastig is wel dat je daarmee ook de reacties van oprecht geïnteresseerde mensen uitsluit. En wie houdt er nou niet van potentiële klanten die interactie zoeken met je website?
Onthoud daarom dat deze instelling vooral van toepassing is op een persoon die een website beheert, waarvoor bezoekers geen opmerkingen hoeven te maken. Of het kan zijn dat je een artikel hebt geschreven over een gevoelig onderwerp waarvan je niet wilt dat mensen er commentaar op geven omdat je geen debat wilt beginnen? In dat geval kun je opmerkingen over dat specifieke bericht of post uitschakelen. Hier leggen we in ieder geval in 5 alternatieven uit hoe jij de controle krijgt over de comments of reacties op jouw WordPress site:
Schakel anonieme reacties uit
Het is een goede spam bescherming om via WordPress de anonieme opmerkingen uit te schakelen. Als je dit doet, dan kies je ervoor om alleen opmerkingen te ontvangen van mensen die bereid zijn hun naam en andere contactgegevens op te schrijven. Dit maakt het voor de spambots moeilijker om je spam te sturen.
Actief je reacties beheren
Deze optie is echt voor de nauwkeurige en actievere website host. Het modereren van reacties houdt in dat je elke opmerking leest en goedkeurt voordat deze zichtbaar wordt gemaakt voor bezoekers. Dit is echter wel een tijdrovend proces, aangezien het niet per se spam voorkomt en je nog steeds spam ontvangt. Maar omdat je zelf alle spam gerelateerde opmerkingen hebt verwijderd, zullen je bezoekers alleen opmerkingen van topkwaliteit te zien krijgen. Je kunt ook opmerkingen automatisch achter laten houden voor moderatie op basis van links, cijfers, bepaalde woorden, URL's of namen. Op deze manier worden sommige opmerkingen automatisch goedgekeurd en wachten andere op jouw goedkeuring.
Zorg dat je ingelogd moet zijn
Er bestaat ook een mogelijkheid om te kiezen voor het toelaten van reacties van gebruikers of bezoekers die ingelogd zijn op jouw website. Dit werkt meestal alleen als je werkt met lidmaatschappen en op zoek bent naar interessante debatten binnen jouw community. Daarom zou je jezelf moeten afvragen of je wil dat iedereen onderdeel mag worden van de community, of dat je het registratieproces wil modereren om zo grip te hebben op wie er lid wordt.
Filter op bepaalde woorden
We komen nog even terug op ons eerdere punt, met betrekking tot het beheren van reacties. Het is een optie om bezoekers de vrijheid te geven om commentaar te geven, terwijl je tegelijkertijd bepaalde woorden kiest om te voorkomen dat je ongewenst commentaar ontvang. Dit kunnen bijvoorbeeld woorden zijn waarvan je zeker weet dat spammers ze zullen gebruiken. Of misschien wil je niet dat gebruikers jou volledig belachelijk maken, of gaan gaan vergelijken met het merk van je concurrent. Wij vinden dit een geweldige functie die WordPress in zijn instellingen heeft opgenomen.
Links in de reacties uitschakelen
Spambots gebruiken eigenlijk altijd meerdere links in de reactie. Dit gebeurt omdat op deze manier het online verkeer naar de websites van de spambots geleid kunnen worden. Je kunt ervoor kiezen om links volledig te verbieden of dat mensen er alleen één of twee in hun opmerking mogen opnemen. We schatten in dat deze functies op je WordPress-website jou tegen de simpele spam problemen beschermen. Mocht je meer geavanceerde problemen hebben met spam, dan helpen we jou daar uiteraard graag mee.
Gebruik WordPress plugins om spam terug te dringen
Naast de besproken functies die WordPress biedt, kun je ook een andere WordPress-spambestrijder 'inzetten'. Deze noemen wij 'plugins'. Er zijn geweldige plugins beschikbaar die je kunnen helpen spam te bestrijden en ongewenste opmerkingen in WordPress te voorkomen. Een van de plugins waar we extra fan van zijn en vaak aanraden aan onze klanten, is 'Akismet'.
Vooral als je besluit om opmerkingen van anonieme gebruikers toe te staan, is de Akismet-plugin essentieel. De Akismet-plugin wordt standaard op je WordPress geïnstalleerd en is gratis als je bijvoorbeeld een blog beheert. Echter moet je wel voor een licentie betalen als je een commerciële website beheert. Wanneer je hebt bepaald wat het doel is van je website, ontvang je een zogenoemde 'API-sleutel' die zich leent voor wat jij graag wil doen. Vervolgens moet je de plugin activeren met de API-sleutel van Akismet.
Zodra je de Akismet-plugin hebt geactiveerd, monitort en controleert Akismet alle opmerkingen op spam. Alleen legitieme opmerkingen zullen dan in de moderatie lijst verschijnen.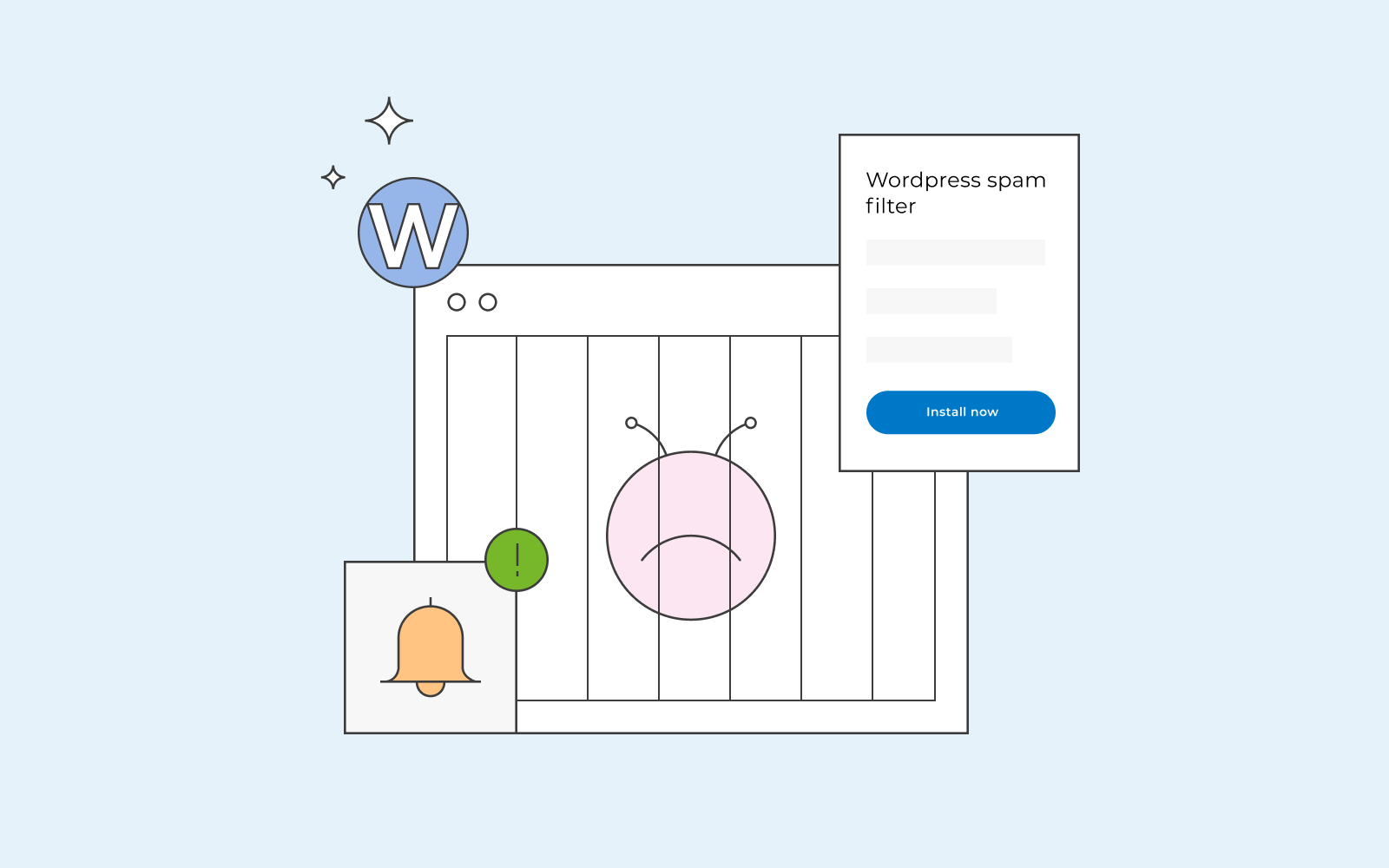 Andere WordPress anti-spam Plugins
De Akismet-plugin is niet de enige manier om spam te bestrijden. Hieronder tref je een lijst met andere, bekende WordPress anti-spam plugins waarvan wij weten dat deze jouw website kunnen beschermen tegen spam. Daarnaast geven we wat 'tips en tricks' om je te helpen in de strijd tegen spam.
Antispam Bee
In tegenstelling tot de Akismet-plugin, is de Antispam Bee-plugin gratis, of je nu een blog of een commerciële website beheert. Een mooie 'feature' aan deze plugin is dat Antispam Bee maandelijkse statistieken presenteert over hoeveel spam je ontvangt. Daarnaast is deze plugin tevens ook GDPR vriendelijk.
Titan Anti-spam & Security
De Titan Anti-spam & Security-plugin blokkeert spambots. Als je de pro-versie van deze plugin aanschaft, blokkeert deze ook spam die handmatig is ingediend. Deze plugin bied je ook andere beveiligingsfuncties.
WPBruiser
De WPBruiser-plugin, voorheen bekend als Goodbye Captcha, is een gratis plugin die spam bestrijdt tijdens het proces in je formulieren, of het nu gaat om registratieformulieren of contactformulieren. Dit door zijn anti spam bescherming al te activeren tijdens aanmeldingen, wanneer iemand wachtwoorden wil resetten, enzovoorts.
Spam protection, Antispam, Firewall by Cleantalk
Deze plugin zorgt ervoor dat alle opmerkingen een validatieproces doorlopen. De plugin controleert of JavaScript voor de opmerking is uitgeschakeld of dat op de zwarte lijst geplaatste HTTP-links in de opmerking zijn opgenomen. Bovendien kijkt de plugin terug in de archieven en verwijdert hij oude spam commentaar en spam gebruikers.
Hoe schakel ik gebruikersregistratie uit?
Als je website geen lidmaatschap community heeft, raden we je aan de gebruikersregistratie uit te schakelen. Je moet deze functie alleen toestaan als gebruikers perse ingelogd moeten zijn om op je berichten te reageren. Een andere reden om deze functie toe te staan is wanneer de inhoud van de website alleen beperkt zou moeten zijn voor leden. Dit komt door het feit dat de functie voor gebruikersregistratie meestal wordt gebruikt voor het verzenden van spam als je er geen legitiem gebruik voor hebt.
Het is simpel om je gebruikersregistratie uit te schakelen. Ga naar Instellingen → Algemeen en je kunt de instellingen voor lidmaatschap vinden. Zorg ervoor dat het vakje voor "Iedereen kan registreren" niet is aangevinkt.
Het gebruik van Recaptcha voor WordPress
Je kan je vast voor de geest halen dat wanneer je ergens op een website een formulier invult, aan je wordt gevraagd of je een robot bent. Dit is precies wat Captcha doet. Een ReCAPTCHA-plugin wordt aan een WordPress-website toegevoegd om spam te stoppen. Het is daarom handig om Captcha voor WordPress op te nemen in je formulieren, zodat je kan verifiëren dat de gebruiker een mens is en geen robot, of in dit geval een spambot.
Als mensen vinden wij het lastig om om bijvoorbeeld alle mooie knikkers uit een doos te selecteren. Geloof ons maar dat robots niet eens een flauw benul hebben van wat überhaupt een knikker is. De plugin zal onderscheid maken tussen echte mensen die een authentieke opmerking schrijven of spambots die de zoveelste spam reactie willen plaatsen.
Om deze reden raden we Google's eigen 'Google Captcha (Recaptcha)' van BestWebSoft aan. Zodra deze plugin aan je WordPress is toegevoegd, wordt de bezoeker gevraagd om het vakje aan te vinken elke keer dat ze zich gaan registreren of een formulier invullen. Naarmate de spambots slimmer worden, wordt Captcha dat ook. Als jouw gedrag op de website verdacht veel op op die van een robot lijkt, zal je gevraagd worden om nog eens een test te doen om te checken of je wel echt mens bent. Hiermee behoud je de kwaliteit van het online verkeer op je website.
Zo. Wij geloven dat je nu klaar bent om het wereldwijde web te bestormen, in een modern harnas, a.k.a. een anti spam voor je WordPress-website, uitgerust met verschillende plugins die alle webformulieren tegen spam beschermen. Je zal nu ook meer kunnen genieten van alle opmerkingen die je ontvangt, wetende dat deze echt authentiek zijn van mensen die je niets anders dan positieve energie willen sturen. Nog een laatste toevoeging aan je harnas is het installeren van een firewall, waarmee je het aantal spam commentaar aanzienlijk kan verminderen.
Bonustip: Maak een speciaal wordpress@jouwdomein.com adres aan
WordPress gebruikt standaard wordpress@jouwdomein.com als het "van" -adres bij het verzenden van meldingen. Door een account aan te maken in je e-mail administratie, word je op de hoogte gebracht wanneer WordPress heeft geprobeerd een bericht te verzenden dat niet is aangekomen. Om het beheer gemakkelijker te maken, kun je de e-mails doorsturen naar je primaire e-mailaccount op jouw domein. Ook kan je een filter aanmaken om berichten naar een specifieke map te verplaatsen.
Als je inbox zich opstapelt met e-mails met niet-bezorgde berichten, dan is dat een indicatie dat je website wordt gebruikt om spam te verzenden. Om deze vervelende situatie een halt toe te roepen, moet je de contactformulieren op jouw website dubbelchecken. We hopen dat onze favoriete plugins en tips en trucs jou zullen helpen in de strijd tegen spambots.